Regional, seasonal, sustainable and organic!
We are very pleased to welcome you in Winterberg-Altastenberg. At the foot of the popular excursion destination Kahler Asten, we ensure with a lot of commitment and cordiality that you will spend a relaxing stay in our hotel. Our lovingly furnished rooms and suites, vitalising wellness offers and regional cuisine take you on a well-deserved break from everyday life in the middle of the Sauerland. Here you can relax all year round with exciting activities.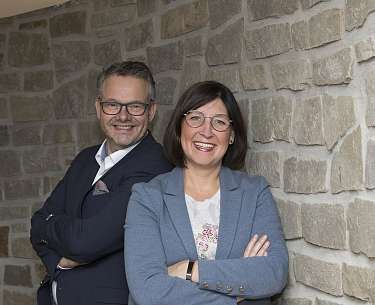 Your hosts
At the Romantik Berghotel Astenkrone, the well-being and satisfaction of our valued guests and valuable employees is very important to us. Whether in conversation with our guests, in the team with all employees or in cooperation with partners and suppliers, we always treat each other as equals and place particular emphasis on respectful interaction, regardless of age and gender as well as origin, religion and sexuality.
Diversity is of great importance to us and the key to an outstanding team in which we can all contribute our strengths and talents. We approach the daily tasks and challenges in our house with a lot of commitment, joy and creativity. Cordiality, fairness, honesty, reliability and an open communication culture are the basis of our work.
Our facilities
at Romantik Berghotel Astenkrone
Child Friendly
Fitness
Free Wifi
Indoor Pool
Lift
Meeting Facilities
Parking Area
Parking Garage
Pets Friendly
Quiet Location
Sauna
Terrace
Wheelchair Friendly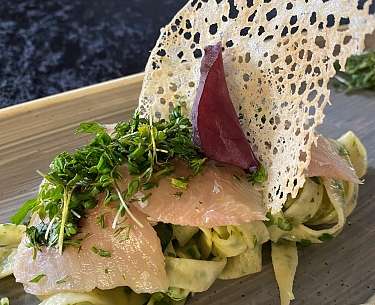 Organic-certified cuisine
BIO - seasonal, regional, versatile and refined, this is how the certified organic cuisine of the hotel's own restaurant, which has been awarded the Bioland Gold status, presents itself to you.
In a cosy atmosphere, the Kronenrestaurant, the Kronenstube or the Wein- & Genießbar await you with regionally typical and also international delicacies that will delight you.
When it comes to organic ingredients, only the best is good enough.
And good to know: The kitchen is regularly inspected by an independent inspection body and has a valid organic certificate (DE-ÖKO-006).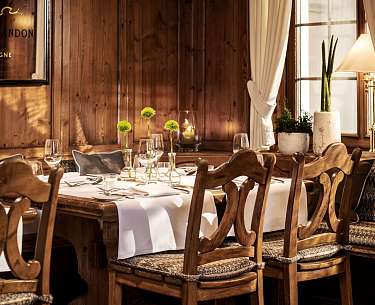 Culinary discovery tour
Versatile, refined, surprising - at the Romantik Berghotel Astenkrone we invite you on a culinary discovery tour in a cosy atmosphere with our regional cuisine and international dishes. Whether you like it savoury, sweet, vegetarian or vegan, only the best of each season is good enough for us when selecting ingredients, so that the full flavour of our first-class creations can unfold. We serve selected wines to go with them for an all-round delicious experience in our stylish restaurants.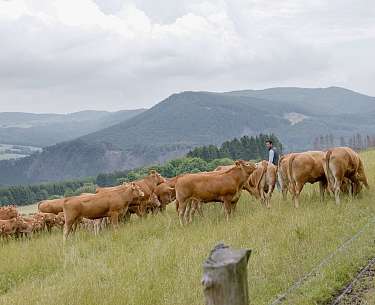 Regional
We source our food from local and regional producers. This is especially true for staples such as bread, eggs, meat, vegetables, potatoes and flour. Through further processing on site and much shorter transport routes, we keep our carbon footprint low and support the economy of our region in close, partnership-based cooperation with producers and suppliers.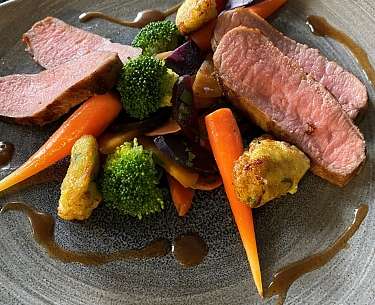 Seasonal
Being in harmony with nature also means buying and cooking seasonally. Only through the excellent interplay of local and regional products can the full flavour unfold, offering culinary experiences through new creations.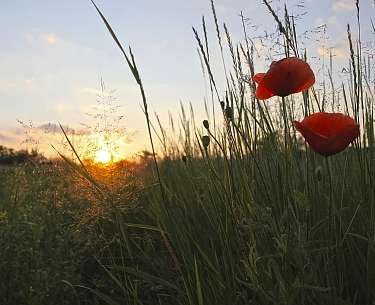 Sustainable
For us, sustainable action is a careful and conscious use of resources. We are responsible for how we pass on our blue planet to future generations. Therefore, in everything we do, we ask ourselves whether it is compatible with the environment and whether it is sustainable. We take our ecological responsibility very seriously and integrate sustainability in all areas of our house.
In 2012, we put our combined heat and power plant into operation. We use it to heat the entire swimming pool area and produce most of our own electricity. In 2018, we modernised our heating system and replaced all existing pumps with high-efficiency pumps including electronic control and monitoring of the heating system. We have been intensively pursuing our goal of digitising as many analogue processes as possible since 2018. This has enabled us to reduce our paper consumption by almost 70 %, for example. Since January 2021, we have officially been a climate-neutral hotel. By purchasing certificates from the VCS Forest Conservation Brazil project, we are currently offsetting our carbon footprint. Our goal is to use less of this in the future.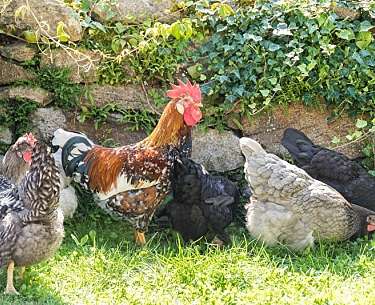 Bio
Many of our local, regional, seasonal and other products bear a BIO seal, which guarantees organic cultivation. By using such organically certified products, we contribute to environmentally conscious living.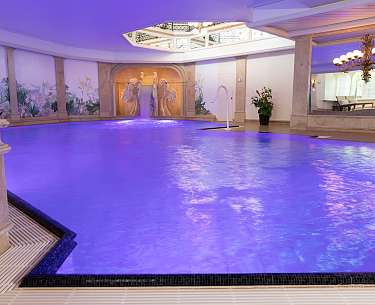 Feel good
The AstenSPA with swimming pool, whirlpool, Roman sauna and steam bath, let long hiking days, as well as cold days in the snow, come to an end and provide the right relaxation.
Immerse yourself with us in a world full of joie de vivre and well-being! We cordially invite you to get to know our high-quality products from the companies Klapp Cosmetics and Cellagon as well as our special treatments.
KLAPP Cosmetics is a pioneer in the world of beauty and synonymous with innovative cosmetic treatments that are ahead of their time. Gerhard Klapp understands "Made in Germany" as a special promise of quality!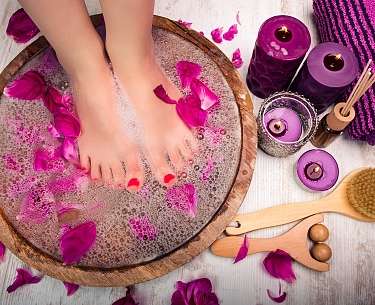 Luxury treatment to dream about
SKIN CONCEPT from Cellagon has been awarded the NATURE seal. This means that you receive the highest quality for high demands. A special pumping process of this active cosmetic enables the best possible hygiene and the refill cosmetic gels ensure sustainable protection of the environment.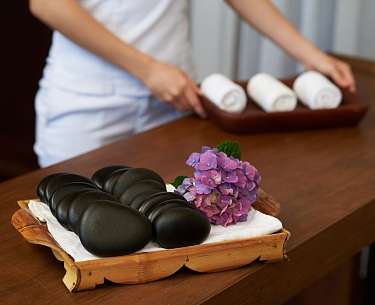 Well-being with all senses
The stylish ambience and exclusive atmosphere at the AstenSpa, combined with our personal service, help you to leave your everyday life behind for a few hours.
Indulgent treatment with exclusive active ingredients from the special CAVIAR POWER series. After cleansing and peeling, we apply a caviar concentrate. We then pamper you with the caviar luxury mask during a face, neck and décolleté massage.
Alpine skiing
SKIING FUN GUARANTEED

81 runs in a total length of 45 kilometres from easy to difficult, including the steepest slope north of the Main line. Most of the 56 lifts, including 13 chairlifts, are connected to a common ticket system. These key cards not only enable fast, contactless passage, but are also valid in the six largest of Winterberg's ten ski areas. And that until late in the evening, 32 floodlit slopes shine in bright light many evenings a week.
Snowboard
FAT BOARDS IN THE FINEST POWDER

In the Postwiesen ski area and in the skilift kurssell there are fun parks in competition format. With jump lines, boxes, rails and wall rides - everything that makes snowboarders' hearts beat faster. Winterberg is the perfect place to carve or cruise a little. By the way, the Snowboard World Cup takes place in Winterberg every now and then. Other snowboard contests regularly stop off at the fun park in Neuastenberg.
Cross-country skiing
GLIDING INSTEAD OF RUSHING
The snow crunches softly under the skis, the only sound to be heard. And your own steady breath rising to the sky in little clouds: Gliding instead of rushing, experiencing nature, getting away from it all and simply feeling good. Up to 165 well-maintained kilometres of cross-country ski trails await guests in Winterberg and the surrounding area. A large part of them lead over the heights of the Asten area and the Rothaar ridge. There, cross-country skiers experience the pleasure of movement and landscape in front of an impressive panorama.
Hiking
WALK THROUGH FAIRYTALE WINTER CLOTHES
Wintertime is hiking time, and this is especially true for Ferienwelt Winterberg. Guests can experience nature and enjoy views during a short walk or an extensive hike in the healthy Winterberg healing climate. On numerous hiking trails, the landscape presents itself in a fairytale dress in winter. Certified premium winter hiking trails lead to the most beautiful corners of the region. Cleared, rolled or natural as a snow trail - but always particularly snow-sure - just as you wish and demand.
Nordic Walking
THE HEALTHY WHOLE BODY WORKOUT
In Ferienwelt Winterberg, everyone can quickly find their favourite route. The Nordic Walking route network meets the quality criteria of the German Ski Association. The trails are optimally signposted and divided into different levels of difficulty.
Cycling
IT'S THE MIX THAT MAKES IT
Sweat-inducing climbs, descents that get the adrenalin pumping and a landscape that offers new views and sights around every bend. And then again, relaxed tours through picturesque valleys, over gentle hilltops. The Bike Arena Sauerland offers a route network of 1,700 kilometres for every demand and taste. And right in the middle, "on-top" so to speak, is the Winterberg holiday world with 600 kilometres of designated cycle paths. Popular and well-known cycle paths such as the Ruhr Valley Cycle Path and the Lenne Valley Route begin and end in Winterberg.
Adventure mountain 'Kappe'
FOR THE WHOLE FAMILY
The Kappe Adventure Mountain with bike park, summer toboggan run, Panorama Adventure Bridge and climbing forest is a complete mountain full of leisure activities for young and old. The nature adventure trail at the Panorama Erlebnis Brücke is a kind of outdoor classroom. Adults and children learn about the local forest and its inhabitants. The interactive stations invite you to join in and try things out.
Seminars and conferences
For events of all kinds, but also simply for a casual get-together among colleagues or friends, you are offered a prestigious setting in an idyllic location. A place to listen, participate and communicate.
You will find a stylish ambience and an inspiring environment for innovative and successful conferences and seminars.
JAB Anstoetz Showhotel
In the mid-70s, when the previous skiing in the region lost much of its glamour, many creative minds in Winterberg set out to find new guests. The individualist Heinz Anstoetz provided the idea to create a unique hotel in the Hochsauerland: The Berghotel Astenkrone, which opened in 1982.
Even today, the Romantik Berghotel Astenkrone JAB Anstoetz Showhotel and each of the lovingly designed rooms is unique and ensures an unforgettable stay with first-class culinary delights and relaxing treatments in the AstenSPA.
Bikepark Winterberg
The meeting place for the national and international mountain bike scene in the middle of the Sauerland. The largest and most modern bike park in Germany is just a stone's throw away from the Romantik Berghotel Astenkrone, on the Kappe adventure mountain, offering everything a mountain biker's heart desires. Those who don't (yet) dare to ride a mountain bike can in the meantime watch the pros plunge down the mountain. At the bike station on the mountain you can get everything you need for biking, from first-class mountain bikes to protectors.
Romantik Berghotel Astenkrone
Romantik Berghotel
Astenkrone
Romantik Berghotel Astenkrone
Familie Templin
Astenstr. 24
Germany-59955 Winterberg
DE - Sauerland region -

From the north: A7 Hamburg-Hannover - A2 Bielefeld - A33 Paderborn - exit Wünnenberg, direction Brilon > Olsberg > Winterberg
From the south: A5 Frankfurt-Giessen - exit Marburg, direction Allendorf > Winterberg

From the west: A44 Dortmund-Kassel - exit Werl junction, direction A46 Arnsberg > Meschede > Bestwig > Olsberg > Winterberg

From the east: A44 Kassel-Dortmund - exit Zierenberg, direction B251 Korbach > Medebach > Winterberg

The nearest train stations are Winterberg, Lennestadt and Meschede. The nearest ICE train station is Hagen.

We recommend the airports of Paderborn-Lippstadt and Dortmund for travel by air.