"Behaglichkeit mit Flair in historischem Ambiente"
Welcome to the picturesque Dhünn Valley! In front of the impressive backdrop of the Altenberg Cathedral and surrounded by beautiful forests, you are welcomed by the family-run house, which skillfully combines historical ambience with modern elegance. Where once monks of the Cistercian abbey sought seclusion, guests find peace and relaxation here today. The first-class cuisine of the house, which does not only delight gourmets, provides for moments of pleasure. Experience the hospitality of the mountains and the best service, which will make you forget everyday life from the first to the last moment.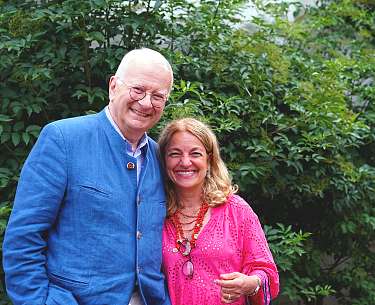 Your hosts
Once the farmyard of Altenberg Abbey, the ensemble of buildings between the cathedral and St. Mark's Chapel still radiates peace and permanence today. Inside, in harmonious contrast, the rooms have been revitalised with new esprit. The philosophy of the host family Prinz zu Sayn-Wittgenstein, which has been running the house since January 2020, reveals a personal signature and a stylish eye for upscale living comfort. Unobtrusive elegance and selected modern touches go hand in hand and revive the monastic past of the place with new flair. The dedicated team continues the long tradition of mountain hospitality with great passion and makes your holiday feel beautiful.
Central Location
Free Wifi
Meeting Facilities
Parking Area
Quiet Location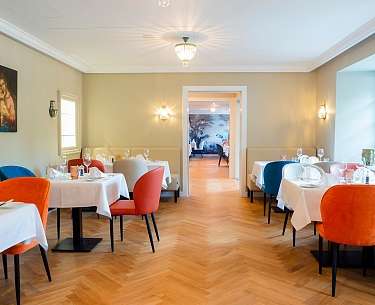 Restaurant St. Markus
Enjoying Bergisch in an elegant atmosphere - this is what our chef Hedi Ben Maouia stands for, who in his many years of experience has dealt with classical culinary art, modern techniques and innovative approaches. With his kitchen team, he creates seasonal menus and dishes á la carte that skillfully combine tradition with cosmopolitanism - with ingredients sourced from farms and suppliers in the region.
We recommend reserving a table by calling +49 2174 497-0 or via email.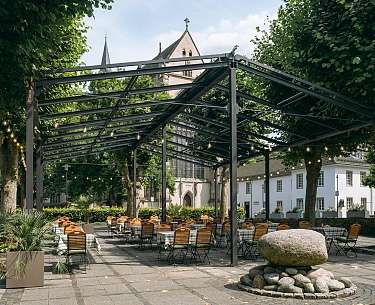 Cathedral Garden
Tall lime trees and old chestnut trees line our terrace and invite you to linger casually. The monastic tranquillity and the special atmosphere with the cathedral in view promise pleasant hours in convivial company. The Domgarten menu offers a small but fine selection of simple dishes. In the afternoon we serve Bergische waffles, ice cream specialities and a selection of cakes and tarts.
We recommend a table reservation by phone +49 2174 497-0 or via email.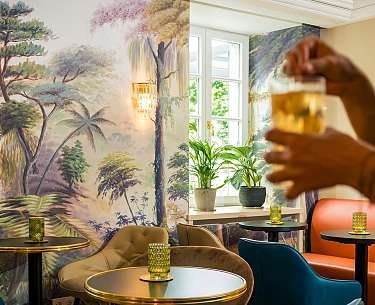 Orinoco Bar
The charming ambience of the hotel bar, which is dedicated to the explorer Alexander von Humboldt, surprises with a touch of the exotic. A signature drink is dedicated to his expedition along the Orinoco in search of the connection to the Amazon. A wide range of drinks and a small snack menu await our guests to end the day on a relaxed note.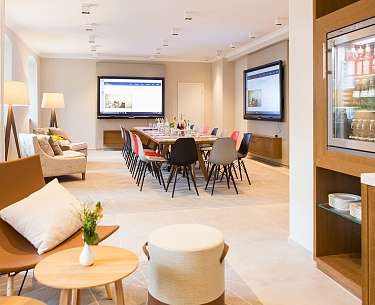 Meetings
Our three spacious meeting rooms with room for up to 50 people offer the ideal setting for your meeting. Here you have room to give free rein to creativity. With state-of-the-art technology and an elegant ambience, every meeting will be a success here.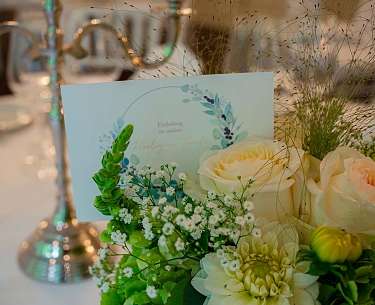 Your individual celebration
Special occasions need a special setting to spend beautiful hours with family and friends. Whether it's a wedding vow, a milestone birthday or a family reunion - the elegant charm of our rooms and the picturesque backdrop of Altenberg Cathedral will add a special sparkle to your celebration. We take care of the details and ensure that you celebrate carefree with individual planning, excellent cuisine and professional service. Whether romantic-elegant or stylish-rustic - a unique ambience with versatile possibilities awaits you. How about a stylish dinner wedding or an elegant reception in the herb garden?
Our tip: Celebrate on Fridays!
It doesn't always have to be Saturday. Because they are scarce in our calendar and quickly booked up. Especially in summer. That's why we've come up with something special for you: on Fridays we offer you a Black&White discount of 5 percent on our wedding package. And because some of our service providers also discount their offers during the week, it pays off.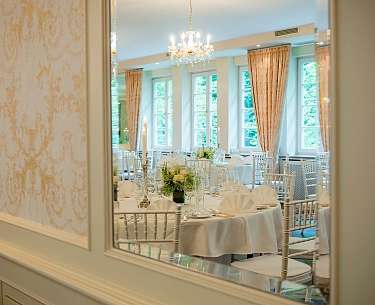 Burgundy Hall
Our ballroom captivates with its romantic elegance. The light-flooded room has a unique flair with parquet flooring, wood panelling in light décor and French wallpaper, which makes every celebration glamorous. Festively decorated, generous celebrations can be held here, accompanied by our excellent cuisine, which conjures up rich buffets as well as stylish dinners. The hall is located on the first floor of our main building and is accessible by lift.
This is what awaits you:
Room size 100sqm
Window front with a view of the idyllic greenery along the Dhünn river
Parquet flooring

Usage options:
The room can accommodate up to 64 people. Round tables for up to 8 people give your celebration an intimate setting.
Row seating for up to 80 people is possible for wedding ceremonies.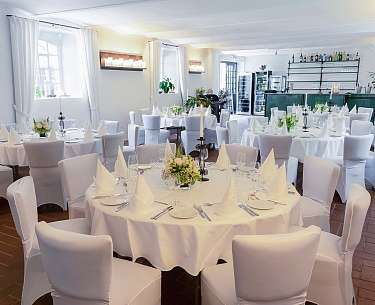 Fountain Hall in the Kitchen Courtyard
Just a stone's throw away from our main house, next to St. Mark's Chapel, is the Küchenhof. Once the farmyard of the Cistercian monks, you will find here a perfect location to celebrate in a family atmosphere and the minimalist charm of the monastic ambience in a carefree yet elegant way. The herb garden next to it is also inviting, and it is not only in high summer that its dreamy charms come into play.
Perfect for celebrations with up to 48 guests, seated at round tables with up to 8 people. A maximum of 60 people can be seated here for a standing reception.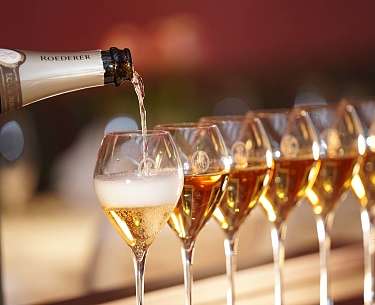 Saal Fonteny
The former Kristallsaal with its traditional-classic charm is ideal for smaller festive occasions. Whether family or representative - this hall can be individually designed for any occasion. The adjoining outdoor terrace is perfect for framing your celebration with a reception or an aperitif. The hall is located on the ground floor at the back of our main building and is barrier-free.

On just under 60 sqm, there is room for between 20 and 40 people at round or rectangular banquet tables.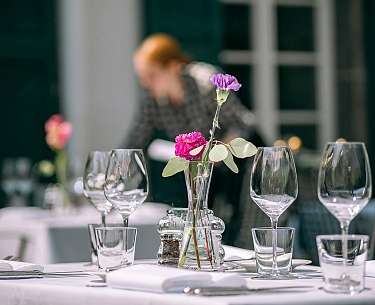 Room Morimond
If you want to celebrate a smaller party in an elegant ambience, we offer a separate room in our St. Markus restaurant. Named in the tradition of the place after a Cistercian monastery in France, the large outdoor terrace adjoins the light-flooded room and offers a picturesque view of Altenberg Cathedral.
Up to 20 people can be seated here and enjoy their own terrace with a view of the cathedral in summer or the fireplace in winter.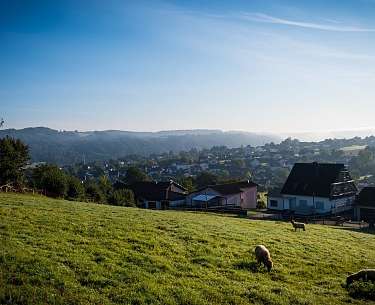 Hiking in Odenthal
Take a deep breath and set off on a voyage of discovery through the Bergisches Land in the midst of rolling hills and rustic stream valleys. The Odenthal theme trails offer fantastic views as far as the Rhine plain with Cologne Cathedral, but also exciting traces of the past and typical mountain half-timbered houses. The region's lifeline is the Dhünn river, along whose course you can take a relaxed hike to the Great Dhünn Dam.
A hiking bus supplements the well-developed network of paths and connects the towns of Wermelskirchen, Altenberg, Odenthal, Bergisch Gladbach and Rösrath from April to November. You can view the current flyer here.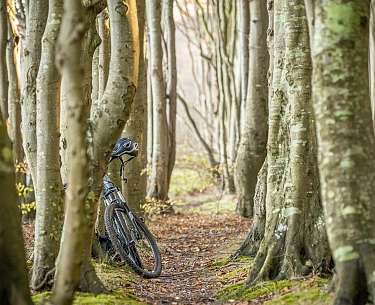 Cycling in Odenthal
Versatile routes through idyllic river valleys or over heights with wonderful views invite mountain bikers as well as racing bike pros and families to cycle. Using the simple node system, you can put together routes according to your own needs. At weekends and on public holidays between July and October, the Bergisches Fahrradbus will take you to the starting point of your route.
Our tip:
Cycle the Dhünnrunde from Odenthal through the Dhünn floodplain, to where the river flows into the Rhine at Leverkusen.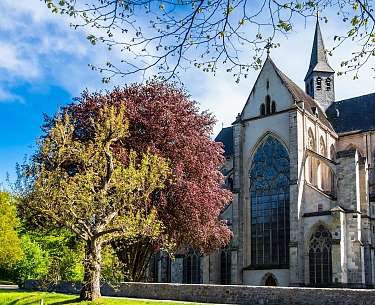 Culture
One of the most beautiful Gothic churches in Germany and the landmark of the Bergisch region is located directly opposite the hotel: Altenberg Cathedral. You can experience the impressive sound of the organ at one of the more than 100 concerts. During a walk around the cathedral, the historic buildings tell the story of the former Cistercian monastery. Also plan a detour to the Romanesque pillar basilica of St. Pancras and the witches' well in nearby Odenthal.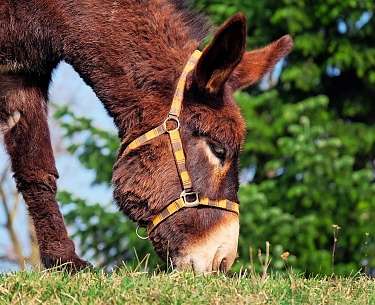 Donkey walk
Experience the picturesque landscape in the Dhünn valley in the company of donkeys. In the presence of the animals, you will experience the landscape in your own way and notice things that you might otherwise have carelessly walked past. Perfect for families and all those who want to enjoy nature at a slower pace.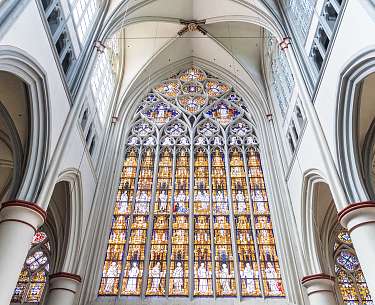 Guided tour of Altenberg Cathedral
Would you like to gain an insight into the secrets of Cistercian architecture and life? A guided tour of the BERGIAN DOM invites you to look and linger, to listen and, of course, to pray, and bears witness to the faith of times past and to the coexistence of two confessions.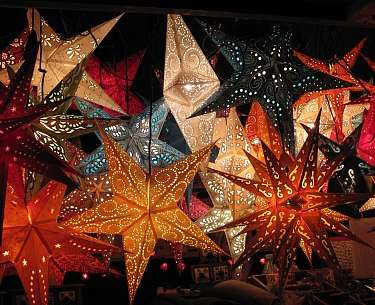 Altenberg Advent Market
Handicrafts, Christmas decorations and a gastronomic village await you again this year on the second Advent weekend, from 01 to 04 December 2022, on Thursdays from 17:00 to 21:00, on Fridays from 15:00 to 21:00, on Saturdays from 11:00 to 21:00, and on Sundays from 11:00 to 19:00 with a nostalgic atmosphere directly in front of the fantastic backdrop of Altenberg Cathedral.
Romantik Hotel-Restaurant
Altenberger Hof
Romantik Hotel-Restaurant Altenberger Hof
Herr Hubertus Prinz zu Sayn-Wittgenstein
Eugen-Heinen-Platz 7
Germany-51519 Odental-Altenberg
DE - Bergisches Land -

By car, you can reach us easily after just under 30 kilometres from Cologne. Follow the A3 to Willy-Brandt-Ring and then take Bensberger Straße and Altenberger-Dom-Straße to Carl-Mosterts-Straße in Odenthal.


You can also reach us easily by public transport in about 1 hour from Cologne. The bus stop Odenthal-Altenberg is about 450 metres from the hotel.



The nearest airports are:
Cologne airport approx. 27km
Düsseldorf airport approx. 58km
Frankfurt am Main Airport approx. 190km