"Seduction on the national border"
With its own chocolate manufactory and its most beautiful hotel garden, idyllically located on the outskirts of the city, the former post office offers warm hospitality and modern comfort directly on the Saxony/Thuringia border. The new Schwanefeld SPA and excellent cuisine also make the hotel a charming domicile for experiences, holidays or celebrations as well as a top starting point for excursions to Weimar, Chemnitz, Leipzig, Dresden and the castles and palaces of the region.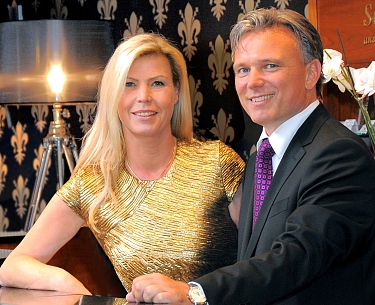 Your hosts
The host family Barth is proud of the long tradition of the house, which they honour with their hospitality. As early as 1692, today's hotel was an important station for coachmen who sought shelter at night to recharge their batteries for the onward journey. Today, the former station is a 4-star establishment where family-like, warm hospitality is lived.
Facilities
at Romantik Hotel Schwanefeld
Child Friendly
Fitness
Free Wifi
Lift
Meeting Facilities
Outdoor Pool
Parking Area
Pets Friendly
Quiet Location
Sauna
Smoking Lounge
Terrace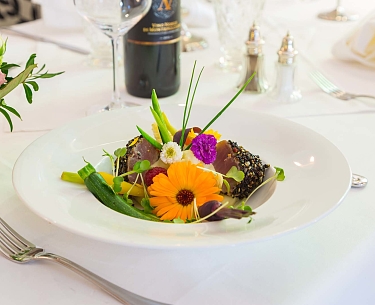 Culinary delights at its best
Regardless of whether you have taken a seat in "Saxony" or "Thuringia" - i.e. either in the stylish restaurant or the rustic cosy coachman's parlour - here our service lovingly takes care of you. Our kitchen team spoils guests with excellent, sophisticated cuisine, regionally influenced by typical Saxon and Thuringian specialities. On our wine list you will of course also find the top regional wines from Saxony (Meissen), from Saxony-Anhalt (Saale-Unstrut) and Thuringia (Würchwitz). Sustainability of regional culture is close to our hearts as a promoter of "Slow Food".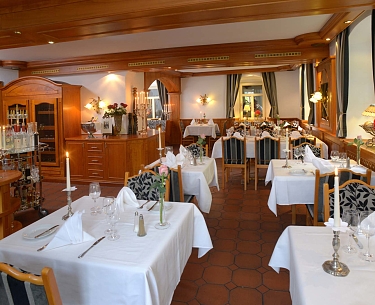 Restaurant "Schwanefeld"
"Schwanefeld" means tradition and change. In this sense, you will experience sophisticated culinary variety here, regionally influenced - freshly prepared, of course. We use high-quality products from our regional suppliers, e.g. fresh fish, fruit and vegetables from local fishermen and farmers and fresh herbs from our own herb garden as well as game from the hunters of our local forests. We also take the use of pure raw materials to heart in the production of the finest cakes and tarts in our in-house patisserie as well as the handmade chocolate and praline specialities.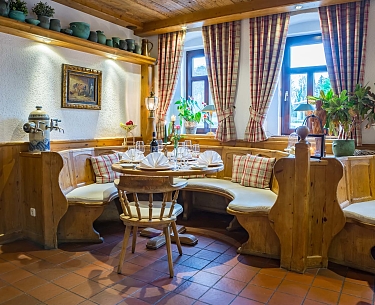 Kutscherstube
In the coachman's parlour you can sit in casual comfort and experience the full culinary variety of the Schwanefeld. Comfortable benches are set up around the round tables. Enjoy hearty meals in the midst of rustic cosiness with a touch of the historical flair from the coachman's days of yore.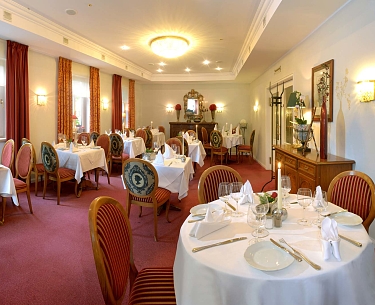 Salon Nouvelle
Breakfast is served in the "Salon Nouvelle". In the small, cosy atmosphere you can start the day or end it in peace with a small evening dinner.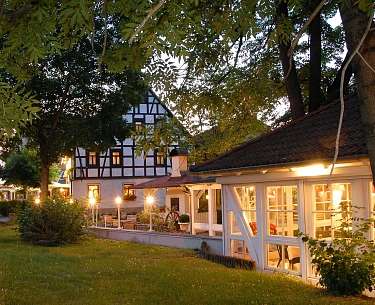 Barn & Pavilion
A cosy open fire burns in the "barn" in the evening hours. A separate play garden has been created for younger guests. Unforgettable celebrations can also be organised here at any time of the year.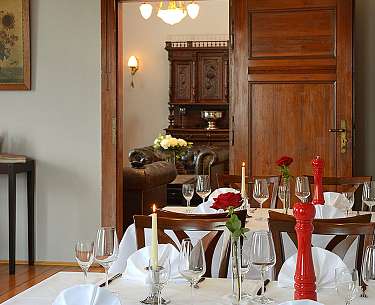 Ristorante & Bar Villa Il Mio
In the "Ristorante & Bar Villa "Il Mio" you can enjoy homemade pizza, pasta, good Italian-Mediterranean cuisine and exquisite wines over 3 floors and on the sun terrace. At our cocktail bar you will be part of the colourful mix of guests who provide entertainment with their stories for the popular beginning of the end of the day, with a wide yet select range of fine wines, classics and trendy drinks. In the basement there are 2 bowling alleys for sociable rounds and more active guests.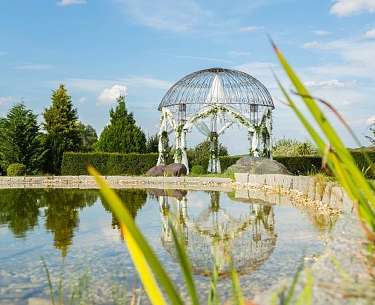 Private Events
Weddings and celebrations - very personal and unforgettable. The beautiful idyllic location, warm hospitality, the historical-romantic flair and the variety of possibilities for your very personal celebration make us the ideal location for small and large occasions.
Be it classic in the banqueting hall, elegant in the Salon Novelle, cosy in our barn with open fireplace, romantic in the garden or stylish in our own "Villa Il Mio" in Tuscan style - there is something for every taste. Did you know that you can get married at Romantik Hotel Schwanefeld on the border of Thuringia and Saxony?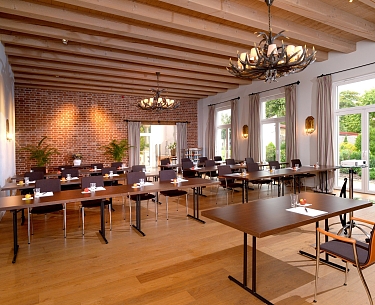 Seminars & Conferences
Our facility offers the right working environment for optimal conference success. Our strengths are our very personal service and professional, individually tailored support as well as quick solutions to problems. The 9 conference rooms are bright (daylight) and friendly, equipped with modern media technology (ISDN, W-LAN) and are ideally suited for meetings, conferences and banquets. Events for up to 350 people, vehicle presentations, product training and trade fairs can be held in our event hall with its permanently installed stage. A tour including tasting in our chocolate manufactory is particularly worthwhile. The conference packages start from 32 euros.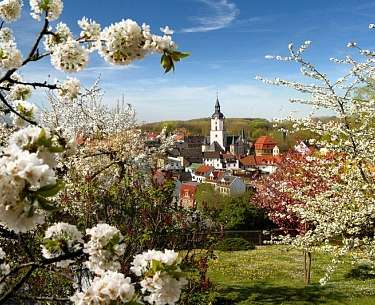 Meerane
Durch die ruhige aber trotzdem zentrale Lage, kann man in die nahe und ferne Umgebung schöne Ausflüge unternehmen und eine Region erkunden, welche unheimlich viel zu bieten hat, nicht nur landschaftlich sondern auch kulturell und historisch. Egal ob die Robert-Schumann-Stadt Zwickau, das Automobilmuseum August Horch, die Skatstadt Altenburg oder eine der zahlreichen Burgen und Schlösser der Region - es gibt viel zu entdecken!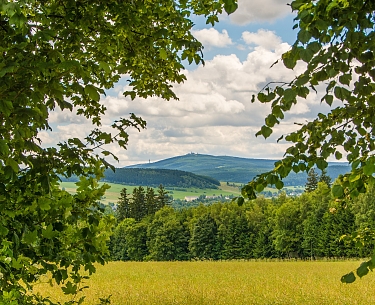 Hiking
There are numerous outdoor running and hiking trails around the hotel, so you should definitely put your hiking boots in your luggage. In addition, we can warmly recommend the Nordic walking routes in the parks and the paths around Meerane.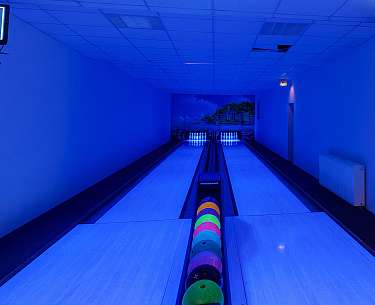 Excursions
Due to the quiet, but nevertheless central location, you can make beautiful excursions into the near and far surroundings and explore a region that has an incredible amount to offer - not only scenically, but also culturally and historically. The Mulde Valley, the Ore Mountains and their foothills as well as the Saxon Castles and Heathland invite you to experience the varied nature - also for friends of sports activities and the little ones.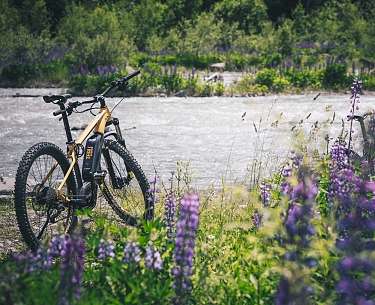 Cycling
On your bike, you will cycle along the Mulde Valley Cycle Path through the charming nature of the heath landscapes. You cycle in the immediate vicinity past churches, noble houses, romantic castles and towns steeped in history.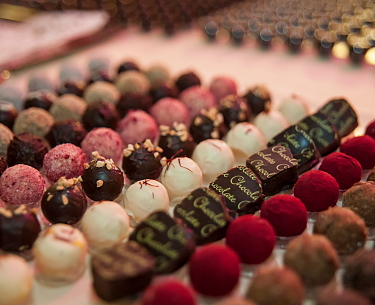 Chocolate manufactory
At Hotel Schwanefeld, a very special highlight awaits guests young and old: their own chocolate manufactory. Taste the hand-scooped chocolate, delicious broken chocolate and exciting pralines. The delicacies can also be ordered online in the in-house shop.
Romantik Hotel Schwanefeld
Romantik Hotel
Schwanefeld
Romantik Hotel Schwanefeld
Family Barth
Schwanefelder Straße 22
Germany-08393 Meerane
Kiel
Our house is centrally located near the centre of Meerane and not far from the federal road B93.

Coming from Zwickau by car, follow the B93 to the Meerane/Waldsachsen exit. Then turn right onto the S288. At the following roundabout, take the 3rd exit (Hohe Straße/Zwickauer Staatstraße) and then turn sharp right onto Schwanefelder Straße. Our house is on the left-hand side.
The Meerane train station is about 1 kilometre from the hotel. The RE1 train leaves here and runs several times a day from Meerane via Gera and Erfurt to Göttingen. From the station, turn left onto Leipziger Straße for about 150 metres, then left onto Gerberstraße. After 170 metres you will come to Schwanefelder Straße and reach us after 500 metres.