"Relax, feel good, enjoy".
The luxurious hotel was opened in 1883 in the manor house of an estate. Four generations have worked lovingly and with great passion to develop the hotel into the leading holiday and wellness hotel in the Sauerland region. Stylish, spacious ambience, excellent cuisine, a great wellness area, a 27-hole golf course and warm hospitality guarantee you exceptional holiday pleasures.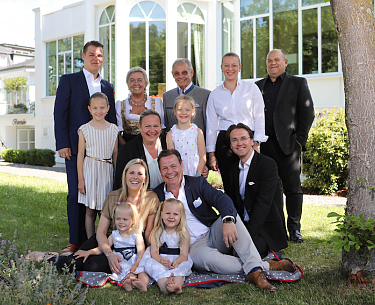 Your hosts
For over 100 years, the luxurious hotel in the heart of the Sauerland has been owned by the warm host family Deimann. Senior boss Theo Deimann has been looking after the well-being of his guests since 1962 and still works tirelessly together with his wife on the expansion of the former estate. They are supported by the next generation, who also spoil their guests with first-class service and excellent star cuisine. The whole family feels deeply connected to their homeland.
Facilities
at Romantik Wellnesshotel Deimann
Pets Friendly
Outdoor Pool
Quite Location
Lift
Free Wifi
Meeting Facilities
Electric Car Charging Station
Parking Garage
Fitness
Parking Area
Sauna
Indoor Pool
Recharge your batteries in nature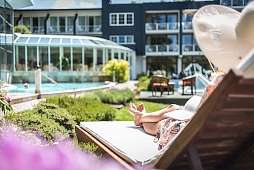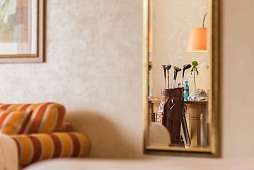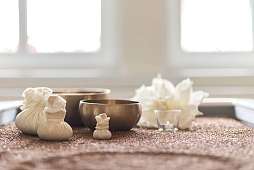 Naturally healthy with naturopathy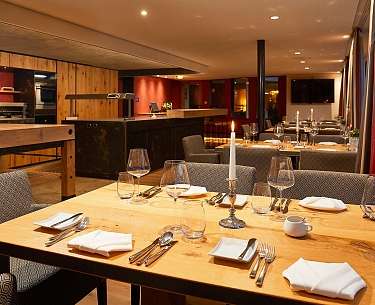 The star chef
Modern-French, purist and the highest product quality - these are the trademarks of our chef Felix Weber. The young chef learned in the best restaurants of the country and perfected his extraordinary talent there. Back in his home country, Guide Michelin also attested to his unique style in the kitchen. He was able to defend the star for the fifth time in 2021. Weber also holds 16 points and two toques in the Gault Millau ranking.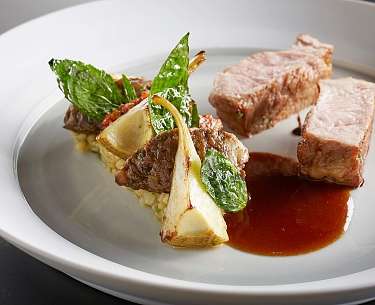 Fine dining restaurant Hofstube
Welcome to the only Michelin-starred restaurant in the Sauerland: The fine dining restaurant Hofstube has held a star in the Guide Michelin since 2017. Here you can enjoy first-class culinary delights in a small setting while gaining interesting insights into the open kitchen. Chef Felix Weber always focuses on the very highest product quality: "All it takes for star-worthy cuisine is a love of food and a burning enthusiasm to achieve the best taste from every product every day."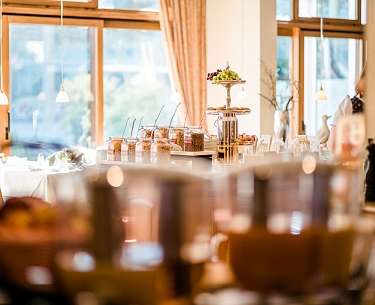 Parkrestaurant
In our Parkrestaurant you get everything you need for a perfect start to the day: a varied breakfast buffet with small and large delicacies, freshly squeezed juices, hot and cold delicacies as well as delicacies from the region. Enjoy your extensive breakfast in the elegant and cosy ambience of our pond pavilion and make plans for your day there.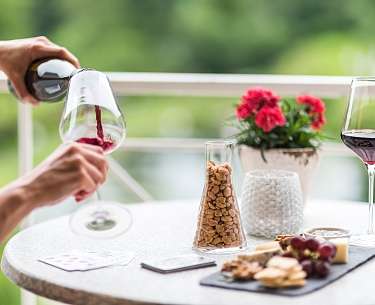 Wine cellar
In our top-class, perfectly tempered wine cellar, we store over 500 exquisite wines from all over the world. The focus, however, is on Great Growths from Germany. Let our expert staff - such as sommelier Philipp Ganzer - guide you through Deimann's world of wine and give you expert advice. Learn all about the most important grape varieties and discover the origin of your favourite wine. And of course, the food to go with it is not to be missed.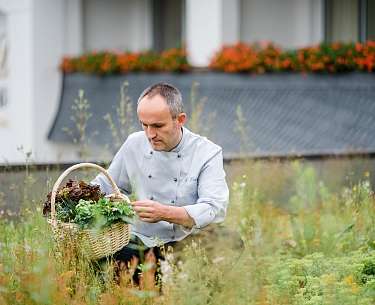 Quality without compromises
At the Romantik Wellnesshotel Deimann, we attach great importance to the sustainable use of our environment and natural resources. Therefore, we mainly use regional products and avoid purchasing products that are flown in from faraway countries. This includes long-term partnerships: We obtain our bread from the baker Blanke, sausage and meat products from the local butcher Merte and eggs from the Kleine Birkenheuer farm. We also focus on energy saving and environmentally conscious mobility.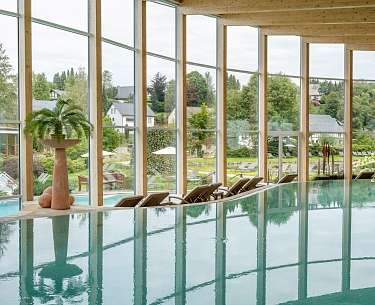 Spa and sports area
Immerse yourself in a world where everything revolves around your personal relaxation, recreation, beauty and fitness. As the leading wellness hotel in the Sauerland, we make it easy for you to feel completely at ease with us. In our spa in the Gutshof, in the massage and bathing department or in the fitness and sports area, our high-calibre, expert staff have a wide range of offers ready for you.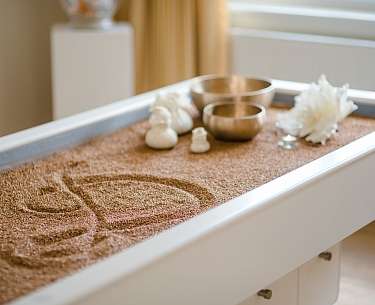 Mediation and relaxation
Focus your attention inwards, slow down and at the same time activate your vitality - with offers from the areas of mediation and muscle relaxation as well as techniques such as QiGong, yoga or Shiatsu, you can bring your body and soul into harmony. In this way, you will find your inner peace, recharge your batteries and get away from stressful everyday life.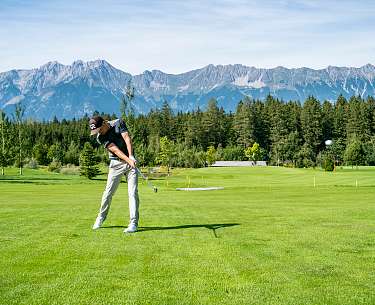 Golf
Whether you are an experienced golfer or a beginner - on the Schmallenberg golf course, 500 metres from the Romantik Hotel Deimann, you will find everything a golfer's heart desires. The golf course has 27 holes with a 6-hole short course and provides numerous sporting challenges and plenty of playing pleasure. For refreshment, we offer tasty dishes in Deimann's golf café.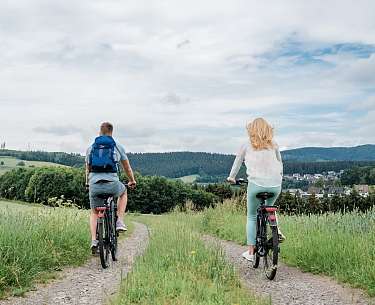 Biken
"Sometimes life is pretty easy - two wheels, one handlebar and that's enough" sings Max Raabe in his hit "Fahrrad Fahr'n". He is right! Nothing is easier and less complicated than exploring the world by bike. Movement by bike is spontaneous, sporty and close to nature. We are happy to provide you with everything you need for this at our hotel: From a well-maintained bike parking area for your private bike to trekking and e-bikes for rent to guided bike tours through the Sauerland.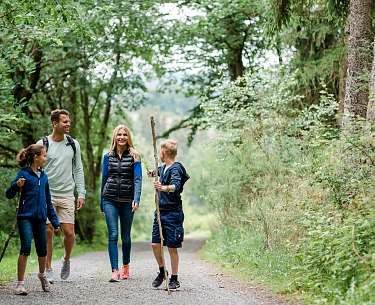 Hiking
Discover the Sauerland as the "Land of 1000 Mountains" on your own. Enjoy fantastic views on excursions to the Panorama Bridge in Winterberg or on a hike across the Rothaarsteig. On your hikes you will find interestingly designed experience stations, such as the Kyrill trail in Schanze or the Waldskulpturenweg, which stretches over 23 km from Bad Berleburg to Schmallenberg.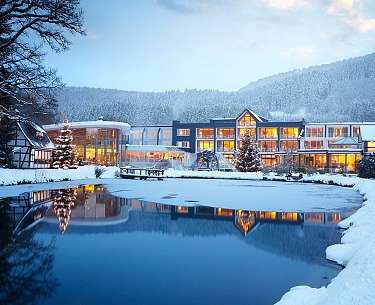 Winter experience
In winter the Winter-Sport-Arena-Sauerland offers numerous groomed slopes with modern lifts, ski schools, ski rentals as well as groomed trails for our cross-country skiers.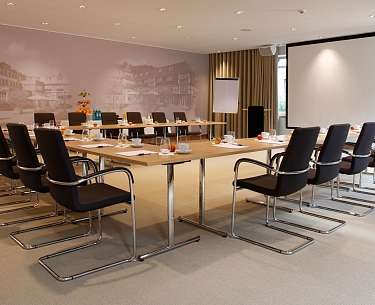 Seminars and conferences
From the conference to the company party: You are welcome to use the premises of our hotel for your company event. In the beautiful surroundings of the Sauerland, seminar and conference participants will find inspiring surroundings and the best conditions for new ideas. It is our endeavour to take care of you as a guest with an optimal and cordial service in a stylish setting.
Romantik Wellnesshotel Deimann
Romantik Wellnesshotel
Deimann
Romantik Wellnesshotel Deimann
Familie Deimann
Alte Handelsstraße 5
Germany-57392 Schmallenberg
DE - Sauerland region -
Coming from the north and north-west, take the A46 motorway to the Meschede exit. From here, take the B55 and the B511 via Bad Fredeburg to Schmallenberg.
Coming from the south and south-west, take the A4 or 45 motorway to the Olpe-Süd exit on the B55 towards Lennestadt. From here via Lennestadt and the B236 to Schmallenberg-Winkhausen.
Coming from the east, take the A4/A5/A7 motorways to Kassel and then take the A44 towards Dortmund. At the Zierenberg exit, take the B251 towards Korbach and as far as Brilon and via Olsberg and Winterberg (B480) to Schmallenberg.
In Schmallenberg, take the B236 via Gleidorf in the direction of Winterberg.

We recommend the airports of Paderborn-Lippstadt and Dortmund for your journey by plane. We will be happy to organise a shuttle service (subject to a charge) for your further journey from the airport to us.

The nearest train stations are Winterberg, Lennestadt and Meschede. The nearest ICE train station is Hagen. We will be happy to organise a shuttle service (for a fee) for your further journey from the station to us.

For arrivals by taxi, we recommend our cooperation partner Taxi Spieler, Schmallenberg, phone: 02972 / 921092.