"Gourmet worlds in the Franconian Forest"
The hotel, which with its over 150-year history is an authority in the green Franconian countryside, captivates with its warm atmosphere, the 39 individual lifestyle rooms and the pure nature. Mountains, forests, streams - pure idyll. For an uncomplicated culinary stopover, there is the bistro, which offers innovative local cuisine. In the gourmet restaurant (2 Michelin stars) you enter a different cosmos. The spirit is immediately apparent and an overall concept aimed at perfection awaits you.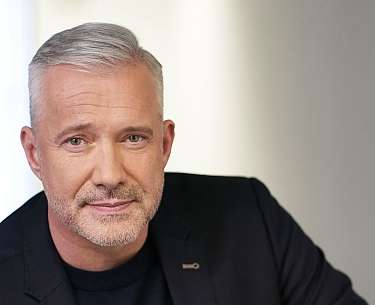 Your host
This gorgeous country hotel in Upper Franconia combines history and modernity in an extremely exciting way and has been family-owned since 1869. It is the culinary centre between the Franconian Forest and the Fichtel Mountains, as the host is the well-known 2-star chef Alexander Hermann. In addition to the culinary delights, the hotel delights with the highest level of comfort and charming design. The atmosphere is warm and familiar, the character original and distinctive. The old post office combines personal, individual ambience and traditional charm with the standards of a four-star top hotel.
Double room
Simple elegance awaits you in our comfortable double rooms with a size of at least 23 sqm. All double rooms are individually furnished - no two are alike, but they all ensure a relaxing and cosy stay.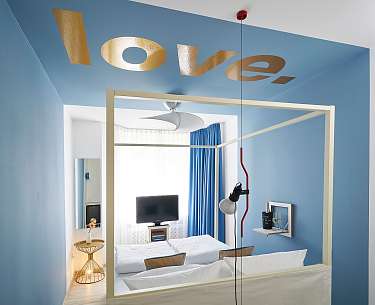 Single room
Timelessly beautiful and very cosy, our individually furnished single rooms from 19 sqm are ideal for a stay in beautiful Wirsberg.
Our facilities
at Herrmann's Romantik Posthotel
Central Location
Child Friendly
Free Wifi
Indoor Pool
Lift
Meeting Facilities
Parking Area
Pets Friendly
Quiet Location
Sauna
Terrace
Star cuisine without airs and graces!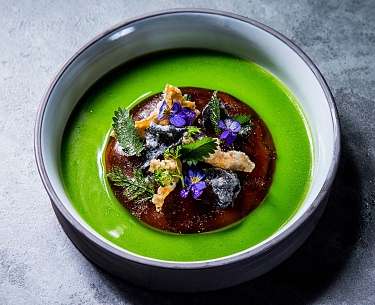 Restaurant Alexander Herrmann by Tobias Bätz
Here you will experience the absolute best: food entertainment at its best - creative, fun, unpretentious, exciting and without airs and graces. Enjoy the delicious creations of chef Tobias Bätz, who has already been awarded two Michelin stars several times. Regionality meets sensory: authentic, Franconian preparation methods meet a dramaturgy of temperatures, consistencies and flavours. Fine dining in Franconian is the very special gourmet experience in Bavaria.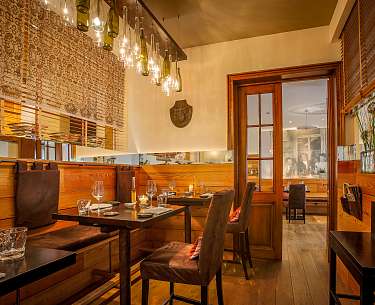 AH – The Bistro
If you would like to experience Alexander Herrmann's cuisine away from star gastronomy, you have come to the right place. Experience the side of Alexander Herrmann that you also know from television: uncomplicated, comprehensible dishes always with that tick of sophistication. With Franconian tapas or sauerbraten, you go on a journey through modern and innovative Franconian cuisine. This is home cooking for the heart and stomach!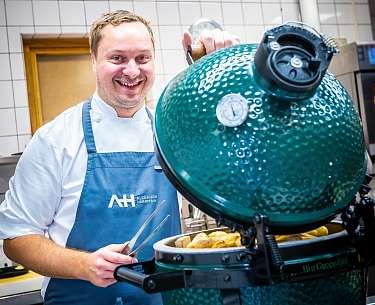 First class star cuisine
In the starred restaurant of Herrmann's Romantik Posthotel, he is the head chef and gastronomic director: Tobias Bätz provides delicious compositions with a lot of creativity, energy and fun and has been awarded two well-deserved Michelin stars by the Guide Michelin for this! As the creative driving force, host Alexander Herrmann helps shape the hotel's first-class cuisine and, together with restaurant manager Anja Kirchpfening, forms the ideal triumvirate for a harmonious and enjoyable experience at the Alexander Herrmann by Tobias Bätz restaurant.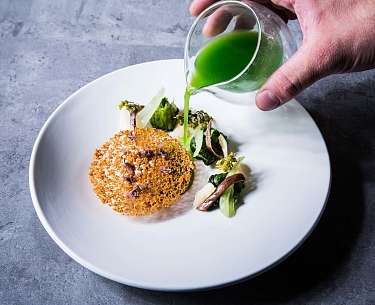 Regional gourmet cuisine
The team around star chef Tobias Bätz and Alexander Herrmann focuses on a completely new and exciting form of creative, regional gourmet cuisine. True to the motto "home without borders", only products from regional cultivation are used to prepare the delicious menus and dishes. And this also includes exotic foodstuffs, which are, however, grown regionally and thus come to the table original Franconian and fresh. Almost limitless possibilities are opened up here, traditionally connected to the homeland but at the same time innovative and cosmopolitan.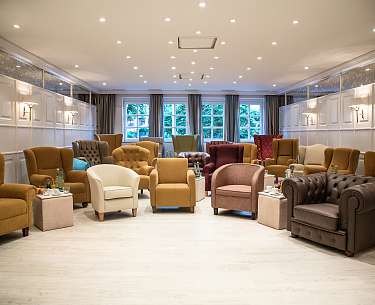 Seminars and conferences
The best ideas come from the couch - we wouldn't call ourselves a typical conference hotel, but maybe that's why the workshops in our house are so successful. It is not for nothing that many of our conference guests report again and again about an exclusive and inspiring experience they had at this very special place. And one thing is particularly close to our hearts: appreciation for those people who are important to you.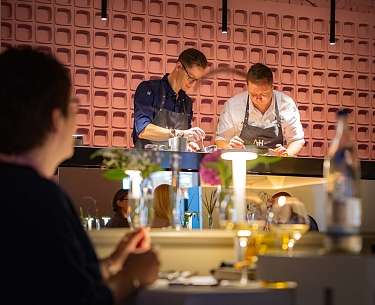 Alexander Herrmann events 2022
Whether it's a late-night brunch on Valentine's Day, a Mother's Day feast with live music or a Starlight Dinner - we love our events and they are always the absolute highlights of the year. We are passionate restaurateurs and not children of sadness - that's why we don't follow trends or fashions when creating our events, but only our mood. Take a look here at the events we have in store for 2022 and make your reservation today.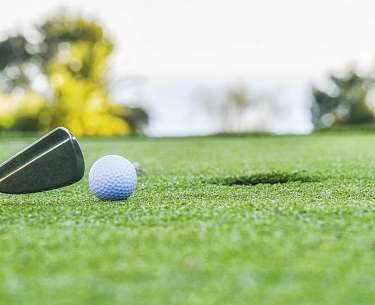 Golf
As an enthusiastic golfer, you are in the right place at Herrmann's Romantik Posthotel. Our hotel has three breathtaking golf courses in the immediate vicinity. One of them is the golf course in Bayreuth, which is just a 15-minute drive away. The 120-hectare course on the Rodersberg offers not only an 18-hole links course, but also an unforgettable view of Bayreuth, the Festspielhaus, Franconian Switzerland and the Fichtel Mountains.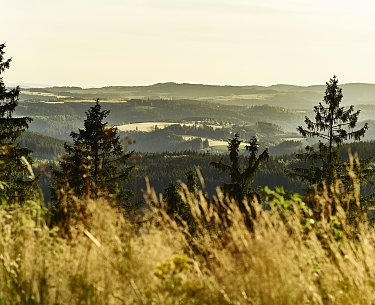 Biking
The Franconian Forest is the ideal starting point for your extended bicycle tour. Well signposted cycle paths invite you to explore the beautiful surroundings. You can reach the tranquil town of Kulmbach in just 14 kilometres. If you prefer fast-paced tours, excellent mountain bike courses await you in Warmensteinbach. You will be riding far away from the classic routes. Brook crossings included. © Picture: Frankenwald Tourismus/Marco Felgenhauer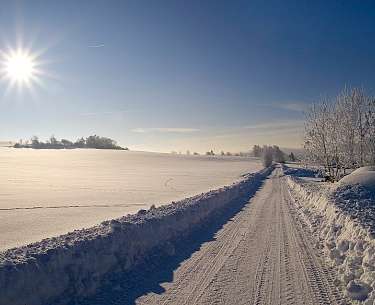 Winter sport
The most beautiful and well-known ski resorts in Northern Bavaria are located in the immediate vicinity of our hotel. The region around the Ochsenkopf (1024 m) and around Bischofsgrün, Mehlmeisel and Warmensteinach has perfectly groomed slopes for alpine skiers and snowboarders as well as a multitude of well-tracked cross-country trails. In total, more than 200 kilometres of cross-country ski trails and 21 downhill slopes stretch across the wintry Fichtelgebirge mountains and provide plenty of winter fun. © Picture: Frankenwald Tourismus/M. Teuber
Herrmann's Romantik
Posthotel
Herrmann's Romantik Posthotel
Alexander Herrmann
Marktplatz 11
Germany-95339 Wirsberg
DE_Upper Franconia -

From Nuremberg, follow the A9 to Himmelkron (exit 30 Bad Berneck/Himmelkron). Then follow the B303 to Wirsberg and turn right onto Herbert-Kneitz-Straße, which you follow to the main street. You have reached your destination at the market square.

The nearest airport is Nuremberg Airport, around 100 kilometres away.