Authentic Palatinate wine hotel directly on the Moselle.
Located between picturesque vineyards directly on the Moselle is the wine romantic hotel Richtershof. Emerged in 2001 from the former historic winery in Mülheim an der Mosel, the 4-star superior house is today probably one of the most beautiful wine hotels in Rhineland-Palatinate, and at the same time one of its best addresses for those seeking pleasure and relaxation. The 300-year-old building ensemble combines elements of the Baroque and Wilhelminian periods as well as Art Nouveau and exudes a unique charm.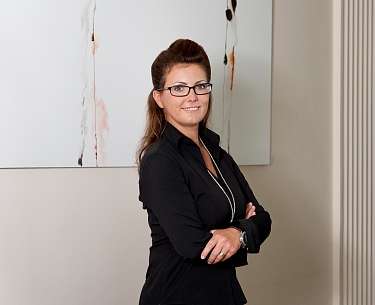 Your hosts
The host family Brennfleck and director Jana Lührmann warmly welcome you to the romantic wine hotel Richtershof in Rhineland-Palatinate. Due to the long history of the former winery, tradition, enjoyment and culinary delights are writ large here for everyone involved. Host Manfred Brennfleck looks back on valuable experience in the international luxury hotel industry, which he now puts into the Romantik Hotel on the Moselle together with his wife Elisabeth and his son Andreas with a lot of passion and heart and soul. Since May 2022, the team has been supported by hostess and director Jana Lührmann, who is looking forward to shaping an exciting future together and, as a former founder and award winner, enriches the Romantik Hotel an der Mosel with profound knowledge in terms of upscale gastronomy and management culture.
Free Wifi
Meeting Facilities
Parking Area
Pets Friendly
Sauna
Terrace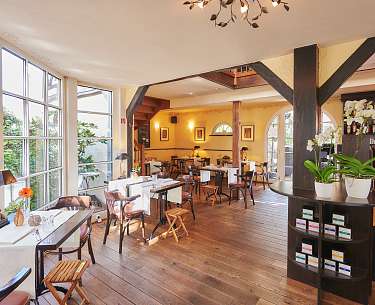 Culinary
The address for gourmets
Enjoy culinary delights at the highest level in one of the most beautiful hotels on the Moselle. We will spoil you with regional, fresh and seasonal dishes and create an all-round exceptional atmosphere for gourmets and connoisseurs.
Wine
The world of wines
Among the picturesque vineyards along the Moselle, the Palatinate wine, full of character, is of course not to be missed. Let our passionate staff advise you and get to know renowned winemakers during our tastings. In our 1700 sqm wine cellar, the oldest in Europe, you can be inspired as part of the Forum Vinum. Immerse yourself in the history of German wine and enjoy a select and generous choice of different wines and grape varieties.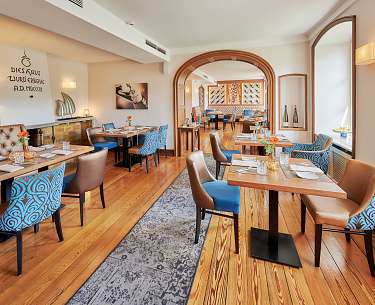 Gourmetrestaurant Culinarium
Fusion of history and modernity
Our fine à la carte restaurant Culinarium combines the best of tradition and innovation. Against the backdrop of a former colonial goods country with numerous details from the 17th century, we serve you selected dishes with high-quality ingredients.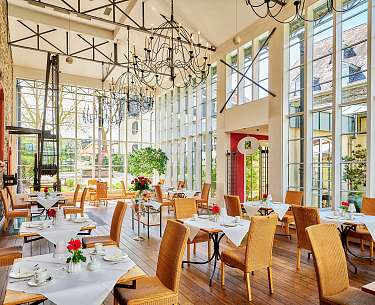 Wintergarten Brennerei
Dining in a beautiful ambience
In the morning we serve our delicious sparkling wine breakfast here, which can also be enjoyed on the terrace in the Elisenpark in sunny weather. In the evening, you can taste our selected menus of the day both in the Wintergarten restaurant and in the Old Distillery.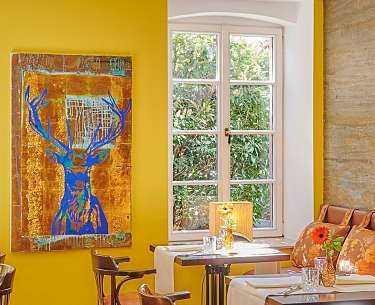 Vinothek Remise
Café, drinks and vino
Our Vinothek Remise, a fusion of vinotheque, café, bar and lounge, is a great place to enjoy good drinks. We attach great importance to regionality, so gin, apple juice and of course our Moselle wines are sourced directly from the region. In summer, we extend the indoor area with our idyllic terrace by the lily pond.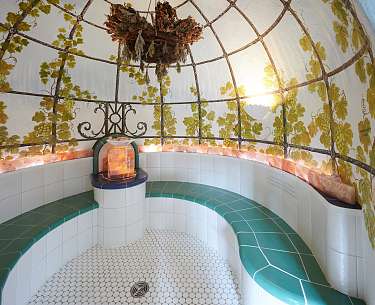 Roman Spa
Our little wellness oasis
Our Roman spa promises soothing relaxation and recuperation at any time of year. Sit back and enjoy Finnish saunas, a Himalayan herbal tepidarium and warming infrared loungers in a beautiful ambience.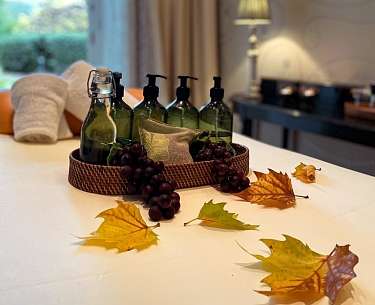 Massages & treatments
Let us pamper you
As part of our gentle beauty treatments, we offer numerous massages and treatments that cover almost every need for physical wellness. In addition to hot stone massages or anti-ageing programmes, we also recommend a wonderful cleansing ritual in the spirit of the beneficial power of the grape. This includes, among other things, a grape ash peeling and a champagne or red wine mask.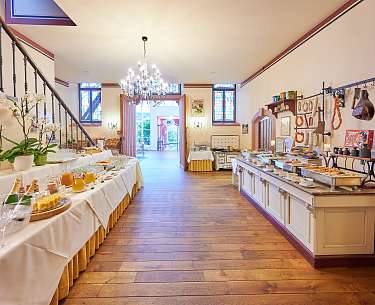 Festivities & events
Unique moments in the Weinromantikhotel
Experience unforgettable moments at the Weinromantikhotel Richtershof and celebrate your long-awaited wedding, birthday or a great family celebration in an atmospheric and historic ambience. The historic Art Nouveau Ballroom, the Small Salon with its stucco ceiling and chandelier, the Old Distillery and the Baldachin Winter Garden are all available to you for this purpose and all exude a charm all their own.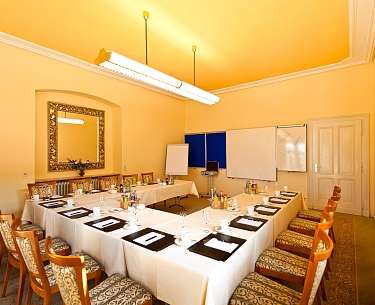 Conferences
Meetings with style
Our historic ensemble of buildings with modern facilities offers the perfect premises for successful meetings in style. Choose from various rooms such as the magnificent art nouveau ballroom or the simple meeting room and let yourself be inspired by the creative surroundings. We would be happy to plan smaller workshops or larger meetings for you with a customised service, technical and supporting programme entirely according to your needs.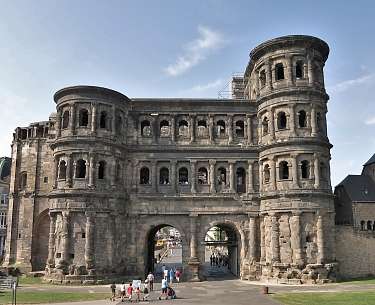 Trier
On the trail of the Romans
Close to the Luxembourg border and only about 40 kilometres from Mülheim lies beautiful Trier. The city invites you to stroll around and visit historical sights such as the Porta Nigra from the 2nd century and can be perfectly combined with a short excursion or city trip from your holiday on the Moselle.
Weinromantikhotel
Richtershof
Weinromantikhotel Richtershof
Jana Luehrmann
Hauptstrasse 81-83
Germany-54486 Mülheim an der Mosel
DE_Moselle -

Coming from Cologne you can reach our hotel via the A1, coming from Frankfurt via the A60 and/or B50.

The nearest major railway station is in Koblenz. From here you can continue by train to Wittlich and from there take the bus to Mülheim via Bernkastel.

The largest airport nearby is in Frankfurt, from here you can reach our hotel by regional trains and buses.