"Come as a stranger, leave as a friend".
The Romantik Hotel Alte Vogtei was built in 1753 and went down in history in 1818 as the birthplace of F. W. Raiffeisen. The historic architecture of the half-timbered house creates a unique atmosphere. Individually designed rooms combine modern comfort with tradition. In the cosy restaurant rooms, you can expect pleasant service and lovely, regional cuisine with fresh herbs and fruit from our own garden.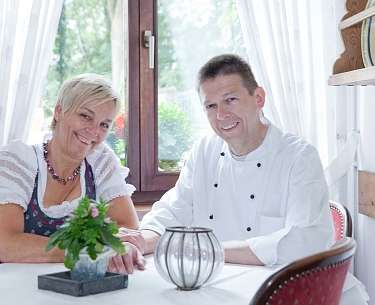 Your hosts
In the Alte Vogtei, you are welcomed by the Wortelkamp host family, the fifth generation to run the romantic half-timbered house as a hotel and restaurant. Daniela and Markus Wortelkamp have turned the house into a place of idyll that combines tradition with modern comfort. Every day, the family puts their heart and soul into making sure that you can relax in the best possible way during your short holiday in the northernmost tip of Rhineland-Palatinate.
Free Wifi
Sauna
Terrace
Parking Area
Central Location
Child Friendly
Smoking Lounge
Pets Friendly
Meeting Facilities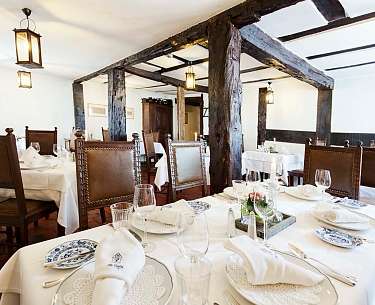 Restaurant Alte Vogtei
The cuisine of our restaurant benefits from the seasonal offerings from the region and the long experience of chef Markus Wortelkamp, who was able to expand his knowledge during his years of travel in Provence, England, Baden and Franconia. Fresh game and berries from the neighbouring Hatzfeld forests, cheese from the upper Westerwald, fruit from the orchards of the Westerwald and herbs from our own garden are the ingredients for varied dishes and the basis for a varied, honest cuisine.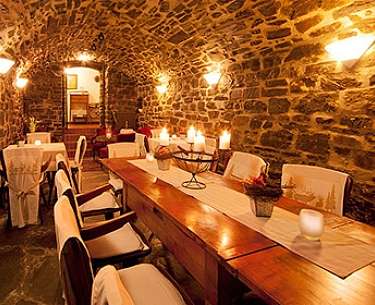 Phillipsgewölbe
Relaxed after the meal and enjoy a digestif, coffee or espresso or the odd cigarette or cigar, our guests can do all this in our Phillipsgewölbe - a quarry stone cellar that was once used as an ice cellar.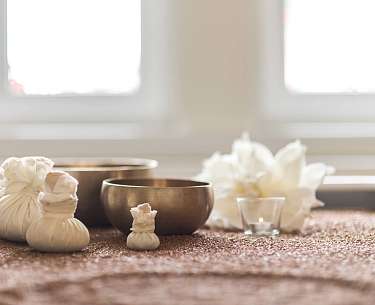 Private wellness area
In the spirit of a romantic and relaxing weekend, we offer you something very special. In two of our spacious balcony rooms you can switch off in your private wellness area and enjoy complete relaxation. You have the option of being massaged at your leisure in the experience shower, relaxing in the sauna or really letting yourself go in the moderate warmth of the infrared cabin.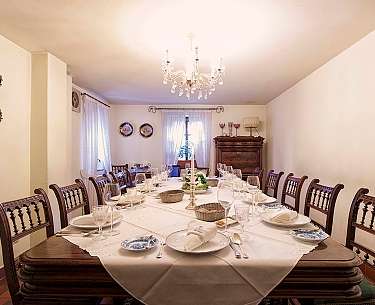 Private events
We are happy to offer you a romantic setting for your family celebration or wedding - meet in the middle of Germany. After the wedding ceremony in the romantic vaulted cellar of the municipality of Hamm/Sieg, you can toast and celebrate your special day in the company of your loved ones. Our bowling alley is ideal for a cosy get-together. The scissors lane can accommodate up to 14 people and let the balls roll.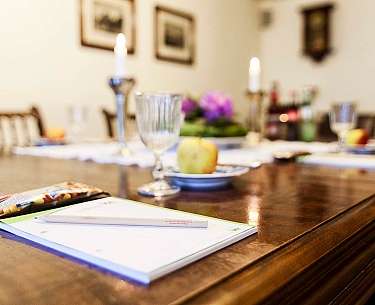 Conferences and seminars
We would be happy to make you a personal offer for meetings in a small circle. Combine intensive training with personal service in historic rooms. In the seclusion of our nature and in the dignified ambience of our house, you will find the peace and quiet you need to exchange ideas and gain new insights. Two conference rooms for 12 and 16 people are available directly in our house.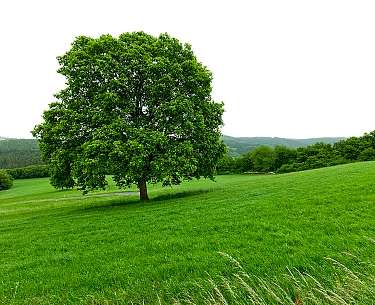 Discover the Westerwald
The Westerwald with its wooded hills and wide views as far as the Siebengebirge, with its lively streams, long valleys and meadows is one of the most diverse landscapes in Germany. Hiking trails lead you along rivers to medieval towns, beautiful bathing lakes and ancient monasteries. Cyclists enjoy the wide curves of the little-used country roads, kayakers paddle in the strongly meandering Nister. In rainy weather, the Kneipp baths in Marienbad and various museums offer relaxation and variety.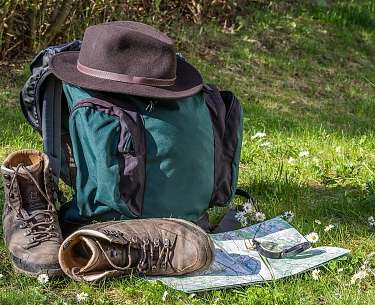 Hiking
The Westerwald is one of the most beautiful hiking areas in Germany. Over 235 kilometres - nestled between the Rhine, Sieg, Dill and Lahn - the Westerwaldsteig offers a relaxing setting for a hiking holiday in Germany. You can adapt the stages to suit your own fitness level. They lead past gorges, waterfalls and even the World's End Trail. The Westerwaldsteig is also suitable for a hiking holiday with a dog, as your four-legged friend is allowed to move around in Rhineland-Palatinate without a leash.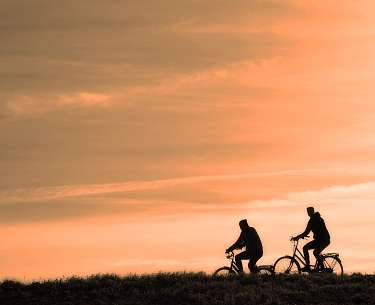 Cycling
As a cyclist, you will find ideal conditions here for your stopover or as a base station. We offer you an uncomplicated check-in, secure storage facilities for your bike and, of course, good refreshments from our kitchen. So you can pedal away relaxed and well fortified. In and around Hamm/Sieg there are numerous cycle paths and long-distance cycle routes to discover. The Sieg cycle path runs directly in front of our house.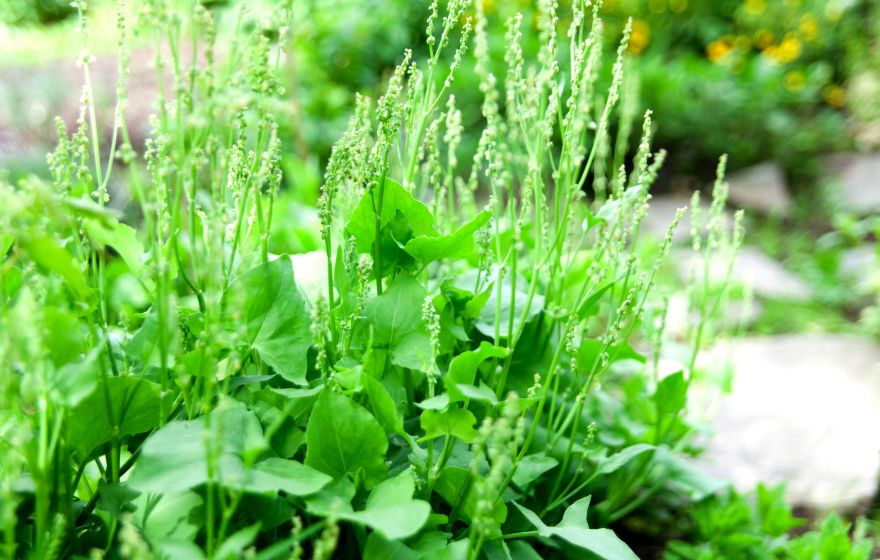 Where the good is so close!
We are a partner of the "Naturgenuss-Gastgeber" - a label for passion for the product and love of the region in the Rhine-Westerwald Nature Park. In our kitchen we use the best products from local agriculture and regional gourmet manufactories as well as our own herb garden behind the house.
Romantik Hotel
Alte Vogtei
Romantik Hotel Alte Vogtei
Familie Wortelkamp
Lindenallee 3
Germany-57577 Hamm/Sieg
DE - Westerwald -
The Romantik Hotel Alte Vogtei is located directly opposite the church in the village of Hamm/Sieg, which is wonderfully integrated into the landscape on the edge of the Westerwald between the Sieg and Kroppach Switzerland.

from Cologne: exit Hennef-Ost (7) -- via A59 (airport motorway) to AD St. Augustin-West or via A3 to AK Bonn-Siegburg -- then on A560 direction Hennef/Altenkirchen -- exit Hennef-Ost (7) -- B8 direction Altenkirchen -- B256 direction Hamm/Sieg
from Frankfurt (A3): exit Neuwied/Altenkirchen (36) -- via B256 direction Altenkirchen -- B256 direction Hamm/Sieg
from Frankfurt (A45): exit Herborn-West (26) -- via B255/414 direction Bad Marienberg/Altenkirchen -- B256 direction Hamm/Sieg
from Dortmund (A45/A4):-- via A45 to junction Olpe/Süd -- A4 towards Köln/Gummersbach, exit Reichshof/Bergneustadt (26) -- towards Waldbröl -- in Waldbröl take the B256 towards Altenkirchen/Windeck to Hamm/Sieg
Cologne-Siegen regional express - Cologne-Au/Sieg VRS suburban railway.
The Au/Sieg railway station is only 1.5 km from the hotel. A taxi rank is located in front of the station.
Trains run every half hour / journey time to Cologne approx. 50 - 60 min.