"Land passion close to the sea"
One of Germany's most popular hotels awaits you in the sophisticated seaside resort with stylish rooms and suites as well as a unique spa area with pool, various saunas and steam bath. Modern conference rooms provide the perfect setting for your events and celebrations. In terms of cuisine, you will be spoilt with North German specialities and international culinary delights in the hotel's own restaurant.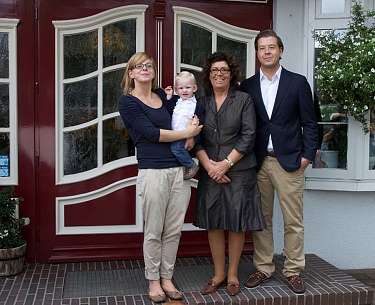 Your hosts
Seit 1915 im Familienbesitz profitiert das First-Class-Hotel mit historischen Wurzeln und zählt zu den führenden Häusern an der deutschen Ostseeküste. Das epochale Reetdachhaus ist das älteste Gebäude in Timmendorfer Strand und präsentiert Tradition in modernem Ambiente. Gastgeber Hauke Fuhrmann blickt anlässlich der über 100-jährigen Geschichte optimistisch in die Zukunft, denn der Fuchsbau verbindet außergewöhnliche Herzlichkeit mit kompetentem Service inmitten schönster Natur.
Free Wifi
Indoor Pool
Lift
Meeting Facilities
Parking Area
Pets Friendly
Quiet Location
Sauna
Terrace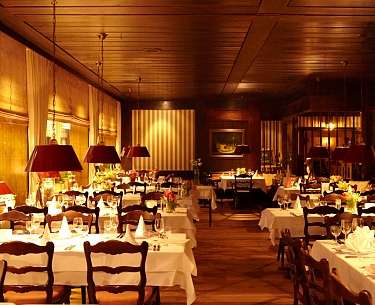 Restaurant at Fuchsbau
Freshness, variety, imagination ... in our cosy à la carte restaurant, in a modern country house ambience, we cultivate a fine rural culture of enjoyment. With seasonal regional specialities and products from the manufacturers we trust, we would like to introduce you to the delights of Schleswig-Holstein and the surrounding region. Close cooperation with local farmers and producers ensures the quality of our products. From Nordic classics to innovatively interpreted traditional recipes - at the Fuchsbau, palates of different natures will be spoilt for choice.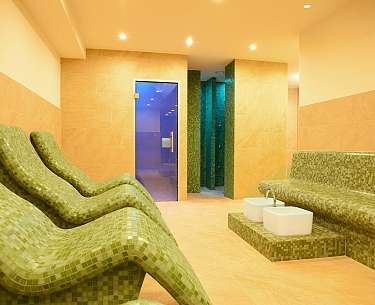 Spa
Relaxation is an inexhaustible source of physical and mental well-being. With us, a refreshingly large variety ensures that you find your own way to inner peace. That you can draw strength - in protected surroundings, far away from the mundane. Our 700 m2 SPA area has everything to make your heart leap for joy - an indoor pool, 3 saunas, steam bath, ice fountain, experience showers, fitness and treatment rooms ... In our green park oasis it is also pleasantly easy to do nothing.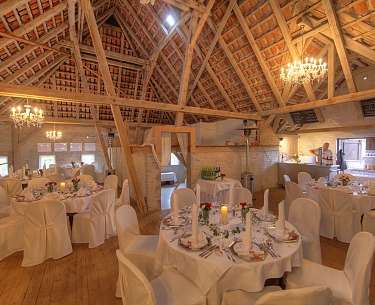 Private events
"Celebrate festivities as they fall." For selected occasions and family celebrations, such as birthdays or anniversaries, an invitation to a green, silver or golden wedding, we offer the perfect romantic setting. We also create an atmospheric setting for your company Christmas party or any other corporate celebration with a festive table, flickering fire baskets on our sheltered terrace and much more. We know how to make your party a success.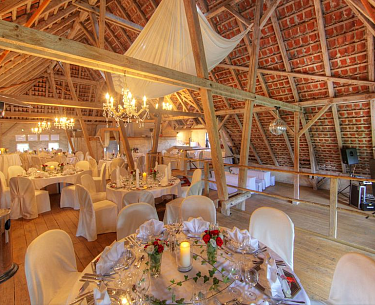 Wedding
Ja, Yes!, Oui, ¡Si! ... We don't care how you say it. How you celebrate it does. We are the perfect place for a romantic wedding. Close to the sea and surrounded by greenery! In one of the most popular 4-star hotels in Germany: 75 hygge rooms and suites and the smukke Fuchsbau restaurant. A rustic threshing floor, two light-filled banqueting rooms, numerous open-air spaces ... rural fine dining culture, gourmet breakfast, SPA ... We have many fresh ideas for unforgettable moments.
Conferences and seminars
Events, conferences, presentations ... Out of the grey, into the green! Into the colourful and, as a crowning finale, perhaps into the blue ... Long live the imagination. With inspiration, appropriate technology and conference rooms for 3 to 60 people, the Fuchsbau team is happy to be at your side with theme-related implementations and "clever" suggestions. Also in culinary terms. Because innovative ideas are only born when thoughts are free.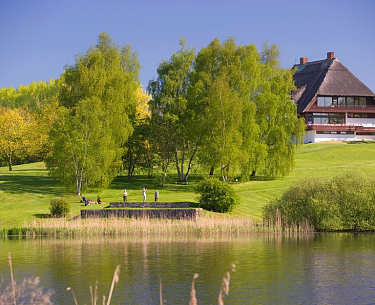 Golf
Pitching, putting, enjoying nature and enjoying a good game ... Some clubs even offer a view of the sea. For friends of the cultivated lawn game, there are 3 well-known and very different courses in the direct vicinity of our hotel, which offer 90 holes of pure golfing pleasure. That's not enough for you? No problem! In the surrounding area there are even a total of 10 clubs that challenge the passionate golfer with varied fairways.
Golf Club Seeschlösschen Timmendorfer Strand
Golfpark Ostsee Warnsdorf
Lübeck-Travemünde Golf Club
Brodauer Mühle Golf Club
Golf Club Fehmarn e. V.
Golf Club Ostseeheilbad Grömitz e. V.
Hohwachter Bucht Golf Club
Golf Club Waldshagen e. V.
Golf Club Segeberg e.V.
Golf & Landclub Gut Uhlenhorst e. V.
Golf-Club Curau e. V.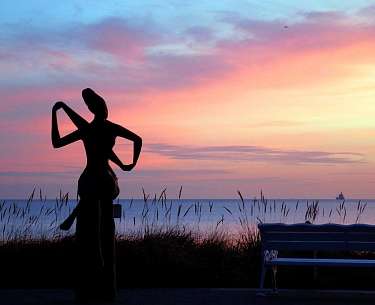 Stars at the beach
Whether Rea Garvey, Max Giesinger or Johannes Oerding - they have all been guests at our unforgettable concert series "Stars on the Beach". The annual concert event is the absolute highlight of the summer season. Then the music arena on the Baltic Sea beach is transformed into an atmospheric open-air party. In 2022, you can look forward to mega stars like Alvaro Soler, Nico Santos or Ben Zucker.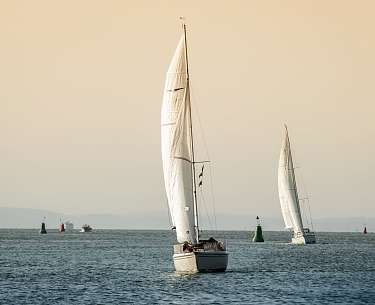 Water sports
The Baltic Sea offers you ideal conditions for a variety of water sports activities. Not for nothing is our region called the "Hawaii of the North". From windsurfing to stand-up paddling to a sailing trip - here sports enthusiasts will find the best opportunities to really try themselves out in and on the water. It doesn't matter if you are a beginner and dare to go on the water for the first time, or if you are a professional and want to improve your skills in individual lessons. Feel free to contact us.
Hiking
The region around Timmendorfer Strand and Niendorf offers you a diverse nature and invites you to extensive walks and hiking tours - and not only along the sandy beach. Also explore the harbour, the cliffs as well as dreamlike nature reserves. And while you might experience the highest point in Germany in the Alps, you will find the lowest point here: the inland lake Hemmelsdorfer See.
Romantik Hotel Fuchsbau
Familie Fuhrmann
Dorfstraße 9-11
Germany-23669 Timmendorfer Strand
DE_Baltic Sea coast -

Coming from the A1, leave the motorway at the Ratekau junction (18) and drive towards Hemmelsdorf.
After passing Hemmelsdorf, continue on Lübecker Straße in the direction of Timmendorfer Strand. Leave this road shortly before entering the town and turn left into Vogelsang Street.
Continue straight ahead until you reach the main road and turn left again. After about one kilometre you have reached the Fuchsbau.