A special treasure in Upper Swabia!
Surrounded by the idyllic landscape of Upper Swabia, near Lake Constance, the Allgäu and the Swabian Alb, lies Bad Saulgau with the Romantik Hotel Kleber Post. Centrally located, but still in a quiet location, you will find here an ideal starting point for nature lovers, culture enthusiasts and those seeking relaxation, but also business travelers. Individually equipped and lovingly furnished rooms, an upscale restaurant and the wellness cube on the roof round off the offer perfectly. Freely according to the motto: Arrive, breathe deeply, relax and enjoy.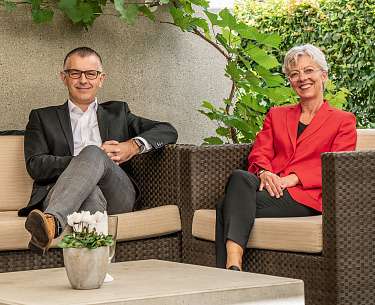 Your hosts
The hotel combines tradition with modernity in 400 years of warm hospitality. The theme runs through the house like a red thread - contemporary art is an essential part of the furnishing concept and contributes to the special atmosphere, but at the same time reflects the Upper Swabian attitude to life. The claim of this family-run hotel - the unique host in Upper Swabia!
Our facilities
at Romantik Hotel Kleber Post
Central Location
Child Friendly
Electric Car Charging Station
Fitness
Lift
Meeting Facilities
Parking Area
Parking Garage
Pets Friendly
Quiet Location
Sauna
Wheelchair Friendly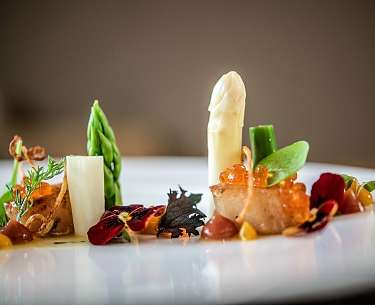 Restaurant Klebers
Fine regional and seasonal dishes, traditional creatively reworked as well as international taste experiences - this is the concept that our guests have appreciated for many years. When preparing the dishes, we focus on freshness and first-class quality of the products, preferably from our region.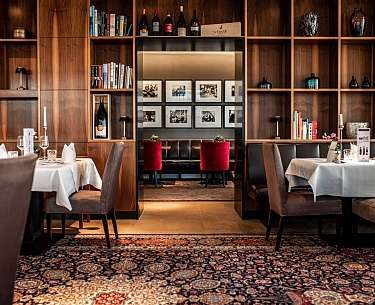 Dining Room
The décor of the dining room is modern, but at the same time exudes a cozy charm with walnut furniture, brown leather upholstery and black lampshades.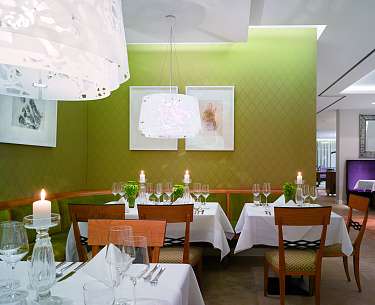 Poststüble
The "Poststüble" is reminiscent of the good old days when literati and intellectuals met for a get-together.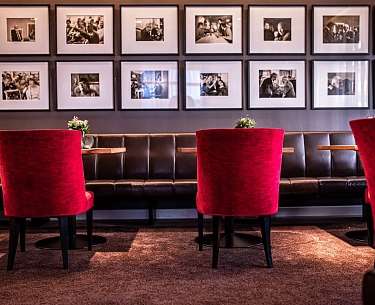 Lounge
Unsere Lounge ist der Treffpunkt in ungezwungener und in ruhiger Atmosphäre.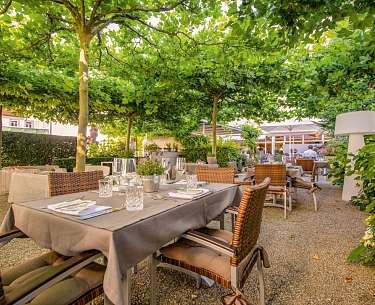 Gartenterrasse
Relaxing and enjoying is easy on the garden terrace - an oasis in the middle of the city.
Tradition and sustainability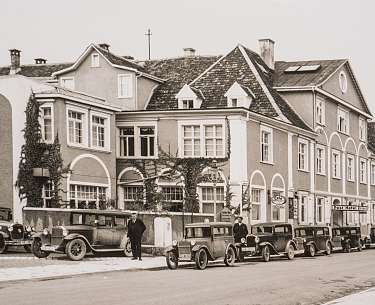 These two terms undoubtedly belong together - at least that is our opinion. With 400 years of tradition, we feel a real obligation to be sustainable and we are working conscientiously to continue this hotel history into the future.
Wherever possible, we source our products from the region and are constantly working on mastering the balancing act between regional roots and a curious look into the kitchens of this world. We also save energy as much as possible and work carefully with our resources. We take care of our employees and value their work. Our city is also very close to our hearts - we are always happy to get involved, organise and support cultural events.
And you can be sure - we work every day to further expand the diversity of sustainability in all areas of the company.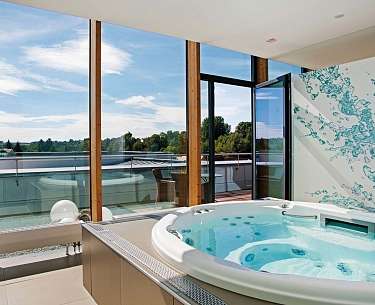 at the hotel
On the roof, a 250 m² glass wellness cube takes you into a world of relaxation. With an unobstructed view of the roofs of the old town, you will find a refuge with a Finnish sauna and BioSauna as well as a solarium. In a relaxed ambience, enjoy massages that will give you new energy and relax in the relaxation room with a great view.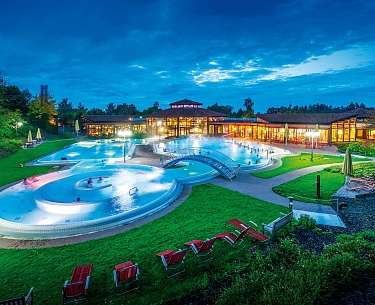 Sonnenhof - Spa
To extend the wellness program, a visit to the local Sonnenhof Therme is recommended. With its state-approved healing spring, the 900 m² spa is also a place of rest and relaxation. From a depth of 650 m, up to 1.5 million liters of sulfurous spring water with healing properties bubble into the pools every day.
Fitness
Sport is part of your personal downtime for you? Then our fitness area with state-of-the-art equipment is the place to go to work out. If you need more equipment, you can also visit the nearby fitness studio "Studio19" free of charge as a guest in our hotel - here you can train under professional guidance and book a personal trainer by arrangement.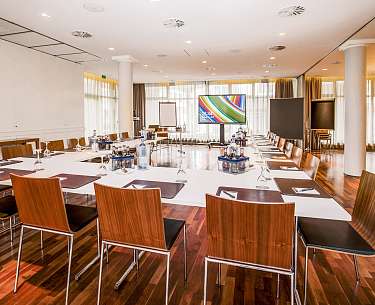 Meetings
Meetings, seminars or events - with the large and small baroque hall we offer you flexible meeting and event rooms for up to 70 people. All rooms are equipped with the latest technology. According to your wishes we provide you with drinks, finger food or a la carte in our restaurant.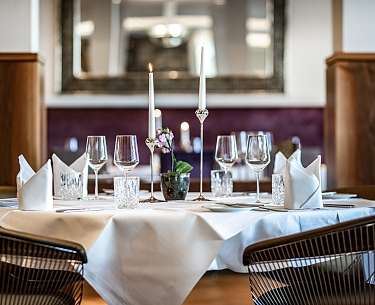 Feiern
Noble ambience, friendly service and sophisticated cuisine in the restaurant provide the perfect setting for your special occasion. You want to get married, celebrate a family party, organize a business event or experience an atmospheric celebration? We plan with you and for you the perfect celebration! Simply experience beautiful hours with us.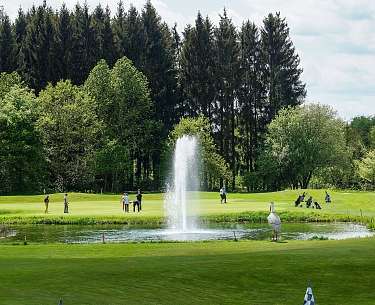 Aktiv & Natur
Natur spielt in Oberschwaben und vor allem in Bad Saulgau, als Hauptstadt der Biodiversität, eine große Rolle und bietet viele Möglichkeiten: mehrere Golfplätze, Badesee, Kanufahren auf der nahegelegenen Donau, Fallschirmspringen, Radfahren, Wandern im Donautal uvm. Gerne beraten wir Sie hierzu umfangreicher.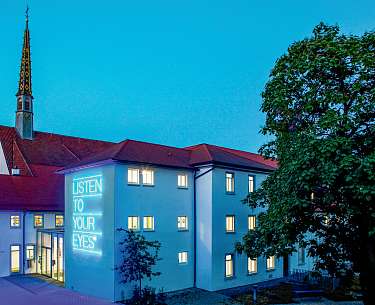 Art & Culture
Bad Saulgau and its surroundings also have a lot to offer in this area: Art Gallery Ferry, Franciscan Convent Sießen with Hummel Museum and Franziskus Garden, City Museum, historic Old Town, archaeological Federseemuseum, Heuneburg, Ravensburg Art Museum, and much more. We would be happy to advise you more extensively on this.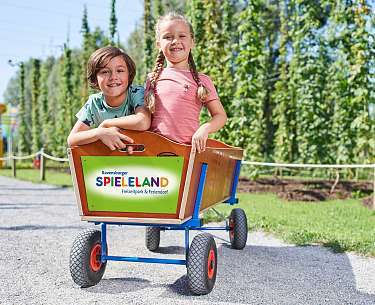 Upper Swabia for big & small
Bad Saulgau and its surroundings also offer plenty of excursion destinations for the little ones or simply the young at heart: Climbing park, monkey mountain, Ravensburger Spieleland, petting zoo, Wackelwald, nature-themed learning park, trampoline hall, indoor playground, and much more. We will be happy to advise you more extensively on this.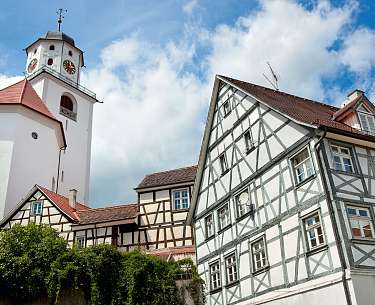 Upper Swabian Baroque Route
Would you like to discover a special side of the region? Then Bad Saulgau is the ideal starting point for an exciting journey along the Upper Swabian Baroque Route. You will find 860 kilometres, four routes and over 55 Baroque experience stations on Germany's first holiday route. Visit numerous impressive pearls of the Baroque in the immediate vicinity. Especially worth seeing: Zwiefalten, Steinhausen, Bad Schussenried and Weingarten. A journey along the Upper Swabian Baroque Route opens up an ever new view of the special features of this route.
Cooking workshop
The cooking workshop invites you to a special kind of culinary experience. Together we cook the most successful Kleber Post recipes from all over the world with lots of fun..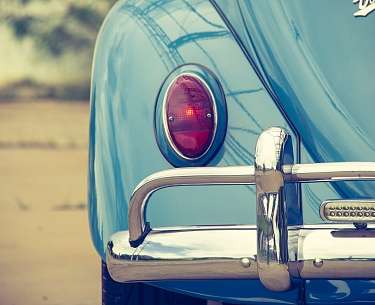 Erwin Hymer Museum
Discover the fascinating history of mobile travel and visit the Erwin Hymer Museum Bad Waldsee, just 30 km away. During exciting guided tours or your own exploratory tours, you can learn more about the topic of vehicles and travel and also get to see one or two classic cars. In the associated restaurant Caravano you can enjoy hot meals, snacks and drinks. Every summer, you can also expect a very special program here with specials such as camping, live workshop or lectures. This is where history meets the present and the future - adventure and wanderlust are pre-programmed.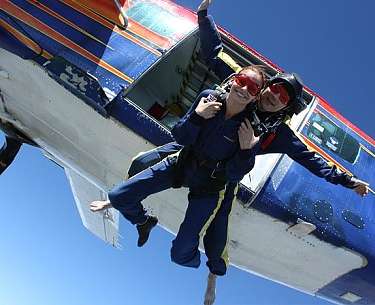 Skydive Saulgau
A jump from airy heights and free fall have always been your dream? Enjoy the unique experience with our partner Skydive and treat yourself to one minute of free fall from 4000m, gliding on the open canopy and a safe landing. Tandem jumps and training courses are offered continuously from April to October. Make your dream come true!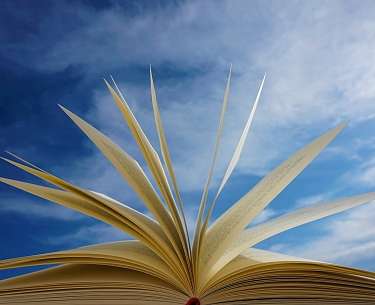 Literature in the Kleber Post
As part of the event series "Literature in the Kleber Post", the house presents exciting readings and interesting lectures. A tradition that has continued since October 1963, when the house was the meeting place of German literary figures around Günter Grass, Hans Magnus Enzensberger, Walter Jens and Hans Werner Richter.
Romantik Hotel
Kleber Post
Romantik Hotel Kleber Post
Regine Reisch & Rainer Lambrecht
Poststraße 1
Germany-88348 Bad Saulgau
DE_Lake Constance -

A7 to Ulm, then on B30 to Bad Saulgau
A81 to Geisingen, then on B 311 to Bad Saulgau
The train station Bad Saulgau is within walking distance (200 m).

Friedrichshafen - 49 km
Memmingen - 68 km
Stuttgart - 102 km
For a transfer please contact our reception