"Tradition meets modernity"
Not far from Lake Constance, in the picturesque village of Andelshofen near Überlingen, lies the former farm that was run for centuries by the Knights of St. John. Today, the hotel is a traditional family business, lovingly run by the fourth generation of the Liebich family since 1913. The high level of comfort of the hotel in the golf destination of Lake Constance, complemented by the unique hotel spa and the excellent offers of the cuisine, leave nothing to be desired.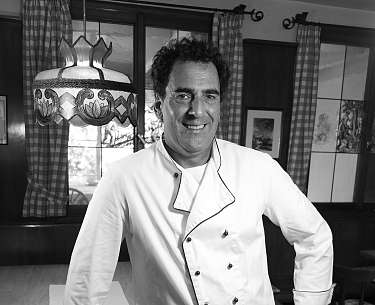 Your host
Host Andreas Liebich is already the fourth generation to run the Johanniter-Kreuz. For the warm-hearted restaurateur, the key words character, family and comfort are always at the top of the list and are the reasons why you will immediately feel at home as a guest. The host as well as the entire team of the Romantik Hotel Johanniter-Kreuz take care of your well-being with a lot of dedication and are always at your disposal with ideas and tips for planning your holiday.
Free Wifi
Lift
Meeting Facilities
Parking Area
Parking Garage
Pets Friendly
Quiet Location
Sauna
Terrace
Typical for the region, light and fresh!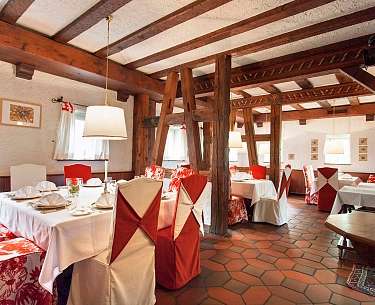 Restaurant im Johanniter Kreuz
Host and chef Andreas Liebich has committed himself to the style of the Linzgau chefs. His cuisine has won several awards. His credo: typical of the region and light. Mainly fresh products from the region are brought together to create ever new creations. Let us spoil you with the à la carte dishes from the kitchen. Our special menus, such as the seasonally changing Romantik Gourmet Menu or the vegetarian menu, are also highly recommended.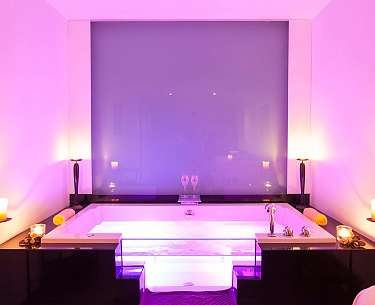 Romantik Spa
The Romantik Spa in our hotel is an oasis of peace and relaxation all year round. Elegantly designed in a minimalist style, the Romantik Spa is a source of strength and beauty. You will find a sauna, a sanarium, a back therapy tub with whirlpool function and various fitness equipment (treadmill, cross trainer, ergometer, rowing machine and a fitness tower).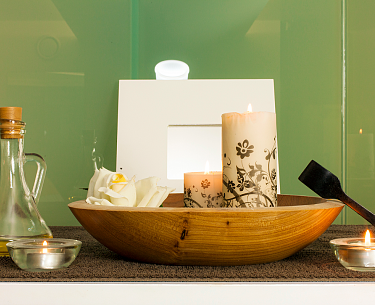 Massage and beauty treatments
Take a deep breath, let go and feel good - leave everyday life behind and come to rest. In addition to classic cosmetic treatments, you can choose from spa treatments with relaxing baths in our dream light tub, various body massages and body wraps, foot reflex wellness massage and much more. The Romantik Spa focuses on energy and relaxation treatments according to the four elements theory, in which the human traits and their behaviour are assigned to the elements of fire, water, earth and air.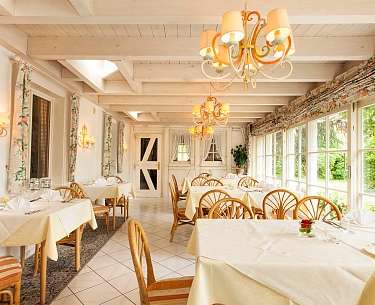 Private events
Celebrate your most beautiful hours with us: whether it's a romantic wedding celebration, a festive anniversary or a round birthday. Our various event rooms are perfect for celebrations of all kinds for up to 80 people. We organise your private event for you and your guests exactly according to your wishes. Chef Andreas Liebich serves you excellent delicacies from his kitchen. After you have selected your desired menu, we will be happy to make a wine recommendation to match the dishes.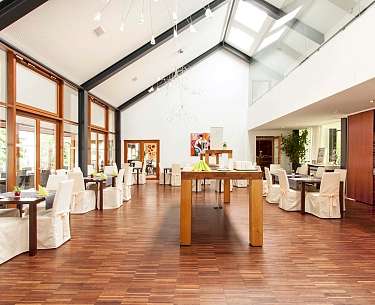 Conferences and seminars
Meetings and seminars We give our conference guests our full attention and not only provide you with modern event technology and light-flooded event rooms. If you wish, we can also organise the supporting programme for your conference. Just get in touch with us.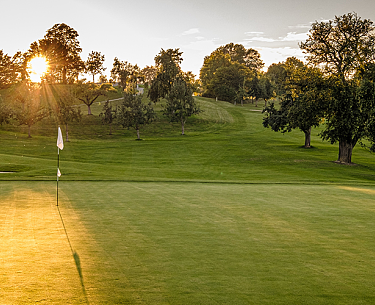 Golf
A 4-star holiday also includes a garden with 18 holes - Come to the golf Eldorado on Lake Constance. The Owingen golf course is in the immediate vicinity and five other golf courses are available to you within a radius of 30km. Golfing can be wonderfully combined with stimulating and relaxing wellness offers - so you not only get fit, but also beautiful and healthy.
E-bike and bicycle
Lake Constance has been one of the most beautiful destinations for cyclists and e-bikers in Europe for decades. Every year, the Lake Constance Cycle Path attracts numerous cyclists to the lake, which is the third largest lake in Central Europe with a shoreline length of around 270 km. Particularly sporty cyclists can cycle completely around the lake within two days. For pleasure cyclists, day tours to the island of Mainau or around the island of Reichenau are suitable.
Family trips
The Lake Constance region is a paradise for the whole family. Even the little ones get their money's worth on excursions to the Zeppelin Museum in Friedrichshafen, the Tractor Museum in Uhldingen or on a trip to the Affenberg in Salem. The pile dwellings in Uhldingen-Mühlhofen - the oldest open-air museum in Germany - are also a highlight. Experience the past 10,000 years on a unique time trail and let history and the magnificent lake panorama take effect on you.
Romantik Hotel
Johanniter-Kreuz
Romantik Hotel Johanniter-Kreuz
Familie Liebich
Johanniterweg 11
Germany-88662 Überlingen
DE_Lake Constance -

Von Stuttgart aus folgen Sie der A81. Am Autobahnkreuz 40-Kreuz Hegau rechts halten und den Schildern A98 in Richtung Lindau/Friedrichshafen/Stockach folgen. Nach rund 15 Kilometern fahren Sie weiter auf B31n und nehmen nach 13 km die Ausfahrt Richtung Owinger Str. Im Kreisverkehr die dritte Ausfahrt nehmen und im zweiten Kreisverkehrt die erste Ausfahrt Reuteweg nehmen. Biegen Sie nach 300 m rechts auf Zum Brandbühl ab und folgen Sie der Straße Am Göhren geradeaus, leicht rechts abbiegen und das Hotel befindet sich auf der rechten Seite.

Der Bodensee-Flughafen in Friedrichshafen befindet sich in nur 35 Kilometern Entfernung. Der Flughafen Stuttgart in 170 Kilometer Entfernung und den Flughafen St. Gallen erreichen Sie nach 95 km.