Familiar. Authentic. Unique.
In the southern Black Forest, one of the most beautiful regions in the world, lies the traditional first-class hotel with origins in the 16th century. Warm hospitality, quality and comfort have always characterised the hotel in direct proximity to the spa gardens and Kneipp swimming pool. Conscious living and gentle interaction with nature: As a guest, you will appreciate the regionally inspired and ecologically anchored cuisine with ingredients from our own garden.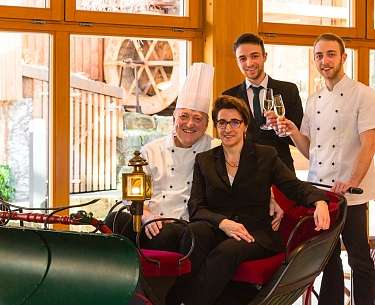 Your hosts
The Rindenmühle, steeped in history, has been owned by today's host family Weißer since 1611. In 1988, they had the property converted into today's four-star hotel. Surrounded by magnificent gardens and lush meadows, the Romantik Hotel Rindenmühle presents itself with all the amenities of a first-class establishment without neglecting Black Forest tradition. The Weißer family is always on the lookout to make your stay even better, more pleasant and more beautiful.
Child Friendly
Fitness
Free Wifi
Lift
Meeting Facilities
Outdoor Pool
Parking Area
Quiet Location
Sauna
Terrace
State-of-the-art cuisine at the highest level!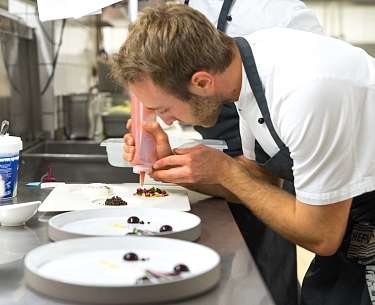 Restaurant at Hotel Rindenmühle
"Nature writes our menu" - this quote by host Martin Weißer characterises the style of cuisine in our Romantik Hotel. The patron of the house and chef Gregor Schlüter are convinced slow food chefs and only use fresh products from small producers, mainly from the region. Our menu includes well-known traditional dishes that are modernly inspired yet always bear the signature of our host.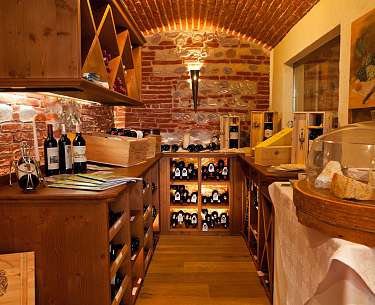 Wine cellar
In our historic wine cellar we store a large selection of excellent wines from all over the world. We focus on wines from Baden and Württemberg, but you will also find renowned wines from Italy, France, Spain, Austria and South Africa, as well as a diverse selection of digestifs. Our competent service team will be happy to advise you with the appropriate recommendations for your dishes.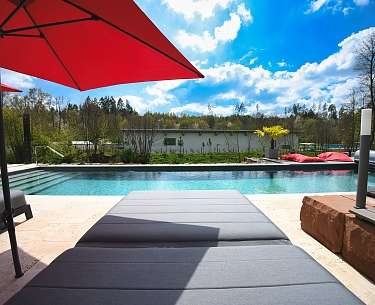 Pool
Enjoy the summer in our beautiful new natural pool in the green! Dive into the cool water on hot days or relax on the sun loungers by the water with a book or drink. In addition to sophisticated cuisine, cool drinks and great activity options in the area, you are now also at the right address if you are looking for a hotel with pool in Baden-Württemberg. The special feature of our pool: The water is completely without chemical cleaning agents and is cleaned with natural means.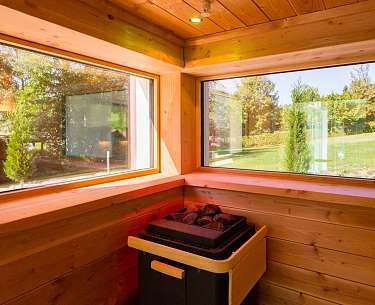 Relaxation
Enjoy the soothing effect of an extensive sauna session in our wellness area, which was designed in 2016. A Finnish sauna and a sanarium await you here, as well as infrared chairs to help you relieve tension and promote circulation. Between sauna sessions, you can cool off in the ice fountain and then rest in our two relaxation rooms or in the cosy water beds.
Massages and treatments
Round off your stay with a massage or cosmetic treatment. From the classic full-body massage to lymphatic drainage, detoxing massage and pedicures and manicures, there is something for everyone. Please request your massage at least one week before your arrival so that we can reserve an appointment for you early.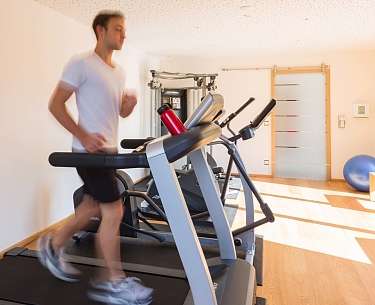 Fitness
The fitness area in our house offers you various high-quality equipment for a holistic body training, for a cardio training as well as a certified system for a balanced training of endurance, performance and strength. Enjoy your training in our light-flooded fitness room with a pleasant room climate. A highlight: via a large TV screen, you can watch the Tour de France, for example, while breaking a sweat yourself on the cardio bike.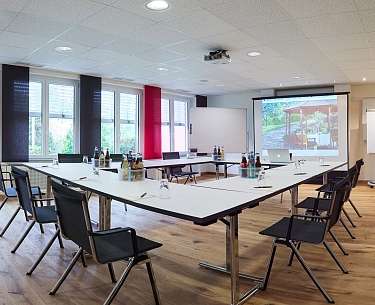 Seminars and conferences
Hold your meetings in our modern and fully equipped conference rooms with space for groups of up to 50 people. Our two conference rooms have direct daylight and can be darkened. A ventilation system is available to you at all times. The lighting can be adjusted to your wishes in all rooms. Light-coloured furniture and a parquet floor create a pleasant working atmosphere. For smaller meetings, detached from any technology, we offer you our garden hut.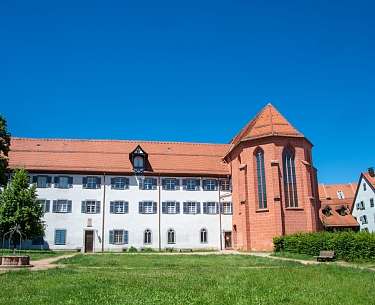 Villingen-Schwenningen
Only a few minutes' walk from the hotel is the historic centre of the Zähringen town of Villingen with its many churches and monasteries, the magnificent cathedral and the defiant town wall with its mighty defence and gate towers. In the local history and clock museum in Schwenningen you can experience more than 1000 years of Schwenningen history with finds from prehistory and early history.
Golf
Combine your stay with a visit to the Königsfeld Golf & Country Club. Due to the course design, the course offers sporting challenges that are guaranteed to improve your handicap. The convivial, almost family-like club atmosphere is also an excellent reason for a wonderful golfing experience in Königsfeld. By the way, golf enthusiasts and newcomers are also very welcome here.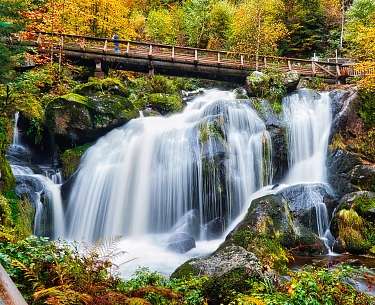 Explore the Black Forest
Discover the breathtaking scenery, picturesque villages on the panoramic roads and numerous hiking trails of the Black Forest. The highest waterfalls in Germany, the Triberg Waterfalls are 25 km away from the Romantik Hotel Rindenmühle. Next to it, you can marvel at the world's largest cuckoo clock in Schonach. The cuckoo clock is as big as a Black Forest cottage.
Culture
The Villingen Minster Concerts are outstanding cultural events that are performed by church musicians and choirs as well as by well-known artists from Germany and abroad. The New Tonhalle, which was opened in 1999, also has an impressive aesthetic appearance. With the Franziskaner Konzerthaus - the concert hall of the region - the city of Villingen-Schwenningen has an exceptional venue to offer for concerts of the highest standard.
Romantik Hotel
Rindenmühle
Romantik Hotel Rindenmühle
Familie Weißer
Am Kneippbad 9
Germany-78052 Villingen-Schwenningen
DE_Black Forest -

Directions from the A81:
Coming from the A81, take exit 35-Villingen-Schwenningen into B27 in the direction of Villingen-Schwenningen/St. Georgen/Trossingen. Take the exit B523 in the direction of St.Georgen/VS-Villingen/Dauchingen/Trossingen and take the 1st exit at the roundabout, then drive straight on to Querspange and take the 1st exit Nordring Villingen at the next roundabout. Then continue on Wieselbergstraße, turn right onto Goldenbühlstraße and then continue on Am Krebsgraben. Then turn left onto Peterzeller Straße and then right onto Kirnacher Straße. Then turn right onto Am Kneippbad and you will reach the hotel.
Villingen railway station is only 3.5 kilometres from the hotel and is served by numerous regional trains as well as various ICs.