Your pleasure castle in the St. Gallen Rhine Valley
As the summer residence of influential families, the picturesquely situated Weinstein Castle with its vineyards and fertile soils has always served to supply its owners with wine, meat, vegetables and fruit. As early as 1857, the first publicly accessible castle tavern was established in today's Torkel-Stübli. Another witness to the castle's culinary past is the preserved medieval kitchen, which was still in use until the middle of the 19th century.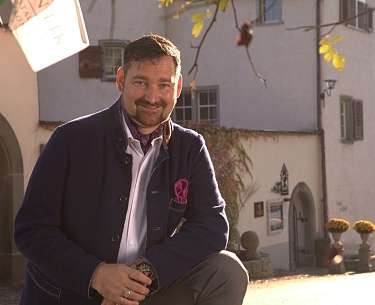 Your host
At Weinstein Castle, host Friedrich W. Diener awaits you for a great stay full of enjoyment in the beautiful castle. Coming from a family of innkeepers, he is a true full professional in gastronomy! From training to Bachelor Professional of Restaurant Management and Sommelier, he knows practice and theory and offers you an enjoyable all-round experience.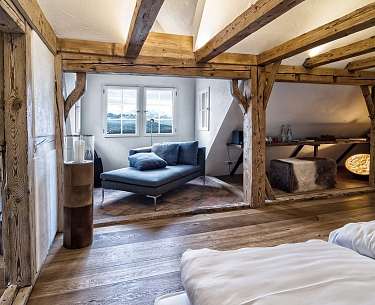 Romantik Suite
The suite is located in a historic building and offers a magnificent view of nature. We have deliberately dispensed with telephone and TV - enjoy pure relaxation!
Facilities
at Romantik Restaurant Schloss Weinstein
Free Wifi
Meeting Facilities
Parking Area
Quiet Location
Terrace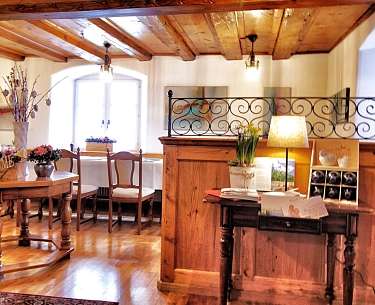 Schlosswirtschaft
In the cosy Schloss-Wirtschaft, the good castle spirits serve you honest, regional products, which Friedrich W. Diener's team enriches with the little finesses that unite home and international culinary art on one plate.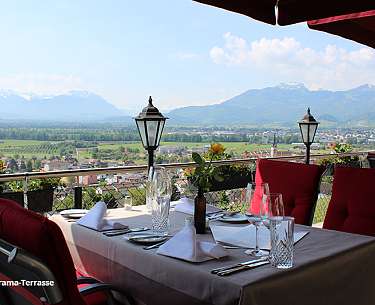 Panorama terrace
Enjoy like the Weinstein castle lords once did! During the summer months, these delicacies can be enjoyed on the castle's panoramic terrace with a view of the expanse of the Rhine Valley all the way to the Bündner and Vorarlberg Alps. In addition, enjoy our house wines here with a direct view of the vineyards. Relax in our Wystei Lounge and enjoy summer drinks and finger food in a cozy atmosphere.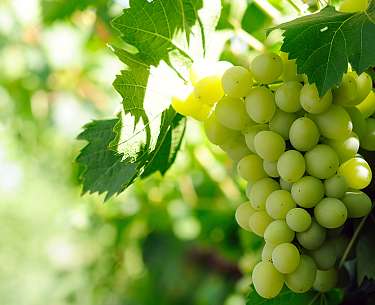 Diener Wine
Through our own wine shop, we offer a select quality of regional wines. Of course, you will also find international growths on our extensive wine list. The focus here is also on Europe, so you will find only a few wines from the New World in the Schloss-Keller. However, our wine shop offers you a suitable wine from almost all growing regions.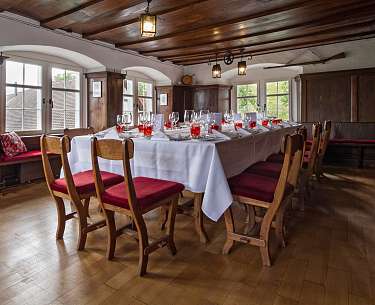 Torkel-Stübli
Built as early as 1550, our cozy Torkel-Stübli welcomes you with rustic furnishings and the perfect setting for festive occasions for up to 24 people. With a view of Säntis and Hohen Kasten, you can spend relaxing hours here with family and friends in a historic ambience.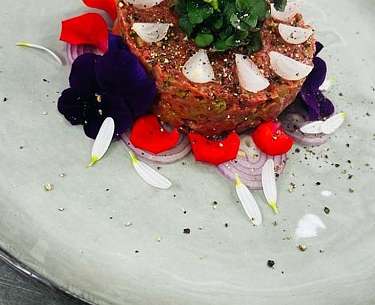 Sustanability
The Romantik Restaurant Schloss Weinstein attaches great importance to sustainability and regionality in its cuisine. Minimising transport routes and long-term partnerships with producers from the region are the be-all and end-all for host Friedrich W. Diener. In addition to wine from the restaurant's own vineyard, all meat products, whether pork, veal or beef, come from loyal partners in the region who also always keep animal welfare in focus - because the quality of the end products starts much earlier. And that pays off: Only the best quality and market-fresh products are served at Schloss Weinstein.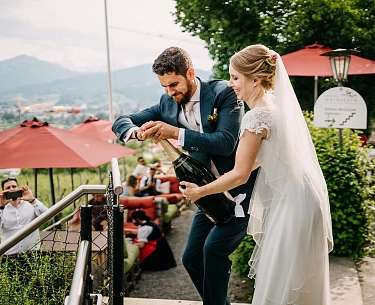 Your wedding village
In our castle you will not only find the perfect setting for your dream wedding, no, in Marbach two other excellent professional wedding experts will help you to make the most beautiful day of your life unforgettable:
Blumeria (2016 Swiss Wedding Award Winner)
Rhomberg Schmuck AG (wedding ring specialist)
So you can sit back and enjoy the day of your dreams!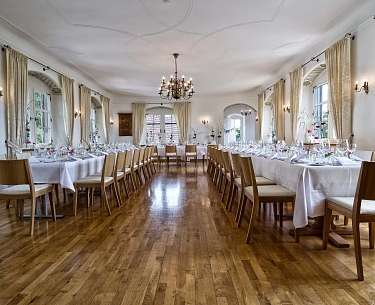 Events
The right location is part of the foundation for every successful celebration. In June 2016, Schloss Weinstein was voted the second best Swiss wedding venue, so we are delighted that you are celebrating in an excellent setting with us. Be it for a club event, a company celebration, a customer event, for your birthday, the baptism of your child, for communions, confirmations or confirmations - or for your wedding. In addition to the unique atmosphere of Schloss Weinstein, our team offers high-quality, regional cuisine combined with warm and charming service. We will be happy to prepare an individual offer for you. Make an appointment with us without any obligation, we will be happy to advise you! To get some ideas, take a look at our banquet documentation, please click here.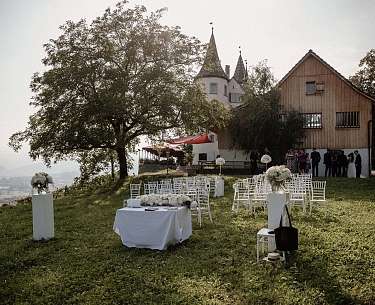 Weddings
Dear bride and groom
There is nothing more beautiful than planning your own wedding - and celebrating with your friends and family. In 2016, our Schloss Weinstein was voted the second most beautiful wedding venue in Switzerland. With an average of 50 weddings a year, we have the necessary knowledge and acquired experience to guarantee you your personal most beautiful day in life. We promise you already today that we will do everything to make your day unforgettable.
Our wedding offer includes 3 halls where you can celebrate until the early hours of the morning:
Up to 20 persons our Torkel-Stübli
Our Schlappritzi Hall for up to 70 people
Our castle barn for up to 100 people

For detailed information, please contact our team.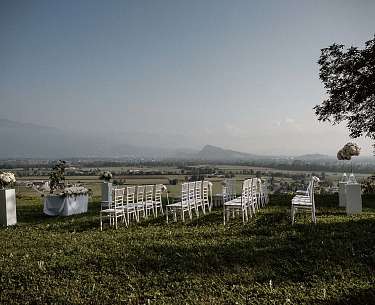 marriage ceremonies
We are an official wedding venue of the Rheintal Civil Registry Office.
On Thursdays and Fridays, the civil registry office also comes to our house by appointment and will gladly consider your desired date. This is of course subject to availability and capacity. Please clarify your desired dates directly with the Rheintal Civil Registry Office.
Reservations for marriage ceremonies en for marriage ceremonies go directly through the Rheintal Civil Registry Office Phone +41 71 757 77 31. The bridal couple will then reserve the appropriate room with us.
Wedding rooms are as follows (in regular operation WITHOUT corona requirements)

Schloss-Keller on the 1st floor of the main building for 7 persons seated and 5 persons standing, excluding the bridal couple and civil registry office staff, room rental CHF 150.00
Schlappritzi-Saal on the 2nd floor of the main building for up to 80 people seated, excluding bridal couple and civil registry office staff, room rental CHF 800.00
Ritter-Stübli on the 3rd floor of the main building for 10 people seated and 5 people standing, excluding the bridal couple and civil registry office staff, room hire CHF 150.00
Please click here for the guide to wedding ceremonies in our house.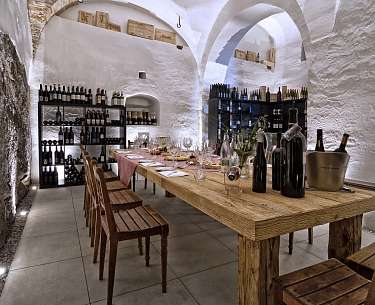 wine-tasting
Wine-loving guests are very welcome. Taste our own wines in our vaulted cellar or on the sunny terrace - Weinsteiner Blauburgunder, Weinsteiner Gamaret Barrique or Weinsteiner Varnbüler, whose vines grow below the castle. Alternatively, you will of course find a fine selection of international wines for your tasting.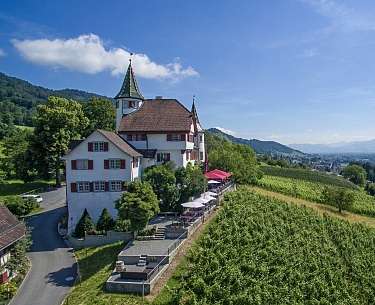 St. Gallen Rhine Valley
At around 700 metres above sea level, this region is one of the higher regions of eastern Switzerland and impresses with its excellent valley location between Lake Constance, Sargans and Altenrhein. With its exceptional geography, rich cultural offerings and magnificent vineyards, the St. Gallen Rhine Valley is a true destination for hikers, wine lovers and connoisseurs.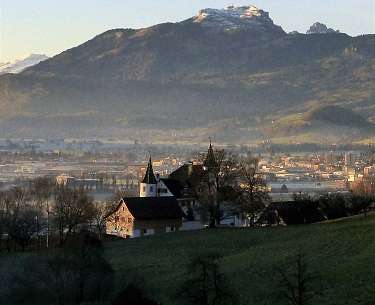 1. ART DRIVE-IN Europas
Emotions, confidence and perspectives - this is what Europe's first ART DRIVE IN conveys in the Allmend Rheintal in Altstätten. Works by the following artists are currently on display: Silvan Köppel, Daniel Stiefel, Konrad Thurnheer, Simon Kness, Jürg Jenny, Kurt Spirig,KUSPI 021.
Romantik Restaurant Schloss Weinstein
Romantik Restaurant
Schloss Weinstein
Romantik Restaurant Schloss Weinstein
Friedrich Diener
Weinsteingasse 219
Switzerland-9437 Marbach
CH - Lake Constance -

Romantik Restaurant Schloss Weinstein is located 4 km from the center of Marbach St. Gallen.
The airport transfer from Romantik Restaurant Schloss Weinstein is 30 min.