Living history in Zurich since 1641
40 stylish rooms, most with a lake view, an elegant wellness oasis, private sunbathing lawn, two delightful restaurants and four stylish banqueting rooms: situated directly on Lake Zurich, just ten minutes from the city centre, the Seehotel has been spreading romantic magic since 1641. State-of-the-art comfort and a wonderful atmosphere: 80 works of art by world-famous artists such as Andy Warhol, Mario Comensoli or Julian Schnabel adorn the unique hotel.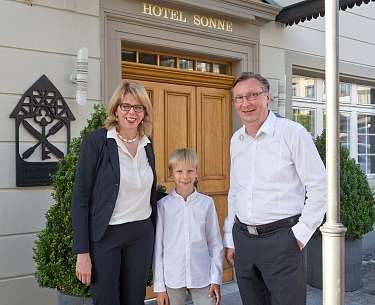 Your hosts
The "Wirtschaft zur Sonne" first appeared in a document in 1641. Today, the Romantik Seehotel Sonne is run by René Grüter and Catherine Julen Grüter with outstanding expertise and gastronomic passion. "Living history" is the motto of the house, because here tried and tested old traditions are lovingly maintained, while at the same time the management team always keeps its finger on the pulse. A recipe for success that is well worth seeing and that you as a guest will feel every day.
Facilities
at Romantik Seehotel Sonne
Central Location
Child Friendly
Electric Car Charging Station
Fitness
Free Wifi
Lift
Meeting Facilities
Outdoor Pool
Parking Area
Pets Friendly
Quiet Location
Sauna
Terrace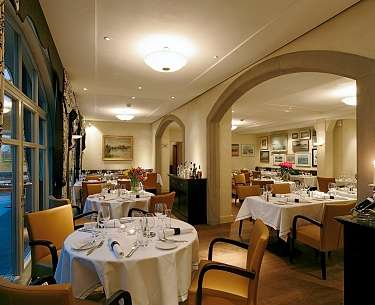 Restaurant Sonnengalerie
The Sonnengalerie restaurant with its elegant and harmonious atmosphere is one of the top addresses for pampered palates in Küsnacht. You can expect first-class, regional products, lots of ProSpecieRara vegetables and high culinary skills.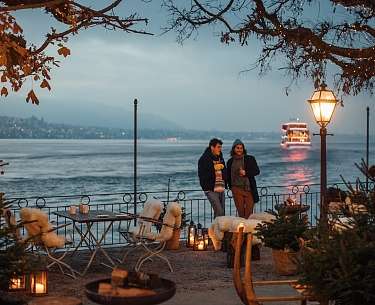 Winter magic
The charming beer garden is transformed into an atmospheric winter world year after year: Here you can enjoy the view of the wintry Lake Zurich in a fantastically illuminated winter location from 19 November 2022 to 15 January 2023. Whether it's a cosy aperitif by the warming fire bowl or enjoying the culinary variety, the focus here is on relaxation and enjoyment.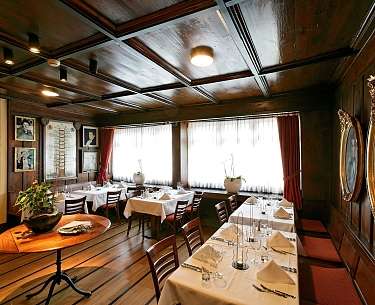 Sonne Gaststuben
In our cosy, centuries-old restaurant, we serve you the best of both worlds. On the one hand, we serve Swiss specialities such as veal sausage in the old style or the classic "Züri Gschnetzlets". On the other hand, you can expect internationally inspired, modern dishes. These are characterised by first-class regional products and lots of ProSpecieRara vegetables.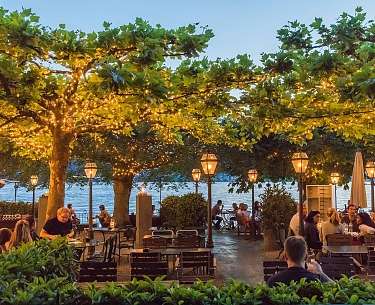 Sonne am See
Heiko Nieder, Culinary Director of The Dolder Grand, has designed a new food concept for the popular beer garden of the Romantik Seehotel Sonne in Küsnacht. From this season onwards, the new menu will only include dishes that the chef, who has been awarded 2 Michelin stars and 19 Gault Millau points, cooks himself for his family and friends and enjoys eating.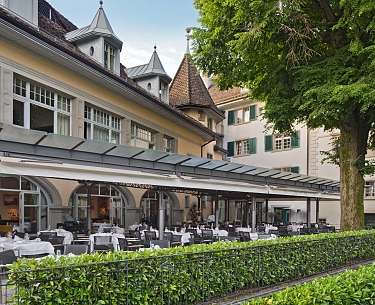 Efficient
We have been participating in an energy-saving programme for three years now and were certified for it by the Energy Agency for Industry in 2021. This has enabled us to effectively reduce our energy consumption. In addition, sustainability is firmly anchored in our historic hotel: within the historic walls, we take care of our furniture and prefer to repair it instead of buying new. In order to continue to think ahead for the future and to constantly improve, we participate in a coaching programme of the Hotellerie Suisse.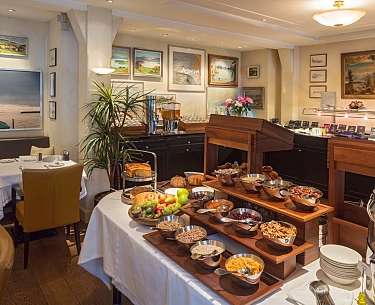 Regional and local
We attach great importance to regionality and local cultivation. That's why we buy most of our food close to the region. Delicious whitefish fillets and pike directly from the Lake Zurich fisherman, fresh bread from the village baker in Küsnacht, honey from Küsnacht or Switzerland, eggs from happy chickens from the organic farm and milk products from Natürli from the Zurich Oberland. We also focus on the Lake Zurich region, Switzerland and Europe for our wines and avoid wines from overseas. In our Sonne am See beer garden, we sell sustainably grown coffee that we buy directly from the producer, who in turn supports charitable projects and local schools.
Relaxing
Natural materials, soft light effects and contemporary design make the wellness oasis at the Seehotel Sonne a true gem. Not least because of the private sunbathing lawn directly on Lake Zurich, which no relaxation room, no matter how extravagant, can compete with. The wonderful lake air refreshes you at its finest, while the expansive views over the waves soothe your soul. Relaxing here is child's play.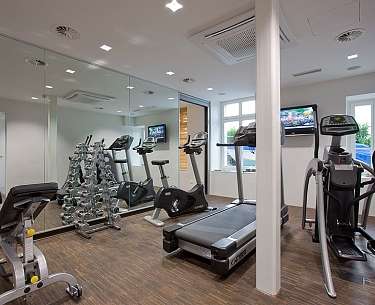 Fitness
Would you like to work out physically before taking a sauna? Then you will find all the equipment you need for a sweaty workout in our fitness room. Whether it's a weight bench, ergometer or treadmill. Our top-class, expert staff will be happy to advise you and have an offer ready for you.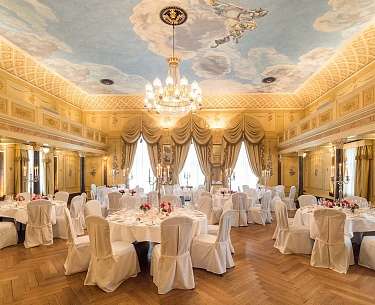 Private events
Are you dreaming of a princely reception? Or of a celebration in a magnificent setting? Then you are very welcome here. Celebrating has been a tradition in the sun since 1641. We know how to organise the most beautiful weddings, the most amazing birthday parties or even a romantic dinner in our ballroom. From an uncomplicated BBQ on Lake Zurich to a magnificent celebration in the banqueting hall - put your trust in us. There are (almost) no limits to the diverse possibilities.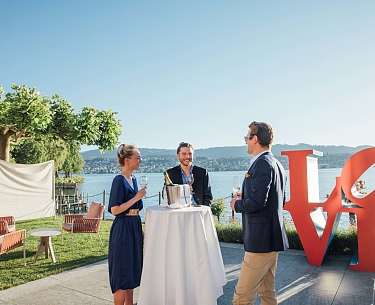 Conferences
Thanks to the direct train connection to both Zurich City and the airport, the Romantik Seehotel Sonne is an ideal venue for small, fine seminars and conferences. We make it possible for you to hold meetings with a far-reaching view, because the view of Lake Zurich conveys peace and serenity - far away from all the hustle and bustle, you can concentrate on the essentials here. All conference rooms are air-conditioned and we will be happy to put together a supporting programme for you.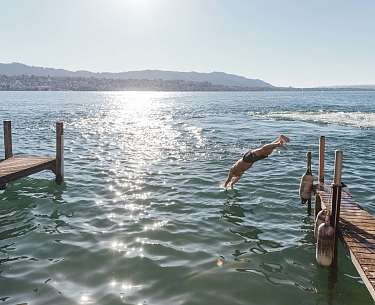 Lake Zurich
In summer, of course, Lake Zurich is a great place to swim, and there is even a sandy beach for children just a few hundred metres from the hotel. E-bikes, e-scooters, scooters and SUPs are available. Short and longer hikes with magnificent lake views show how diverse the Lake Zurich region can be in the first place. From November to January, our romantic ice rink on Lake Zurich is the ideal place to enjoy the winter atmosphere on and next to the lake.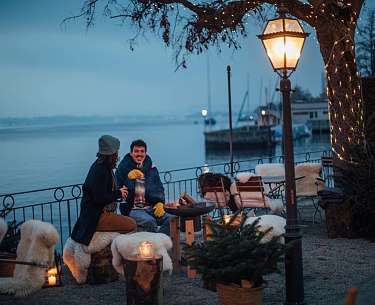 Winter experiences
Whether it's a mulled wine bar on the sheltered terrace, winter magic in our garden or open-air cheese fondue - in winter we come up with a number of ideas to offer our guests magical experiences. Every weekend, for example, the beer garden is transformed into a magical winter world with an ice rink, magical lights and a crackling bonfire. Here you can brave the cold and enjoy a cosy evening well wrapped up in blankets and a hot water bottle.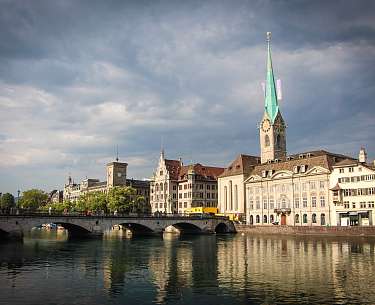 City trip
Zurich is without question one of the most beautiful metropolises in Europe: the city on the Limmat offers countless sights, hip bars and many attractions for its residents and visitors. After all, it looks back on an eventful history and a long tradition. Discover the outstanding cultural offer with many great museums and exhibitions or explore Zurich on an interesting city tour.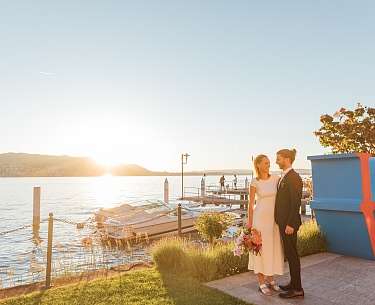 Weddings at the Romantik Seehotel Sonne
In our idyllic hotel directly on Lake Zurich you will marry like in a fairy tale. A beautiful garden invites you to a wedding aperitif on the shore, before it goes into the magical ballroom with real crystal chandelier. Here you will dine in front of a historic backdrop and be served first-class food and fine wines. The beautiful ambience in candlelight invites you to dance and linger. Due to the ship landing stage in front of the front door and the immediate proximity to the city, our wedding destination is particularly easy to reach, so that your guests can also travel to us comfortably. For this very special day, 40 rooms and suites are available for you and your guests, so that you can end your wedding relaxed and no way home is too far. The bridal couple will spend a particularly stylish night in the romantic tower suite with an excellent lake view. We are happy to take over the entire organization for you, from consultation to holistic support, and are guided by your individual wishes for an unforgettable dream wedding.
Romantik Seehotel Sonne
René Grüter & Catherine Julen Grüter
Seestraße 120
Switzerland-8700 Küsnacht am Zürichsee
CH - Zurich -

Follow the signs to Zürich City, exit Zürich City, then follow the signs to the lake and Rapperswil. From Bellevueplatz you will see Lake Zurich on your right. Follow the road along the lake to Küsnacht. The Romantik Seehotel is located in the centre of town, turn right at the second traffic light. You can park your car in front of the house for CHF 15 per night.

The most beautiful way to reach the Romantik Seehotel Sonne is by boat. For example, you can travel from Zurich Bürkliplatz and get off at the Küsnacht station directly in front of the hotel.

Treat yourself to something special - you'll never forget a spin on the water taxi from Küsnacht to Zurich-Bürkliplatz. Or how about a romantic trip on the lake, perhaps after your wedding? Or would you prefer an excursion with the children? The water taxi pulls in!

From Zurich, take the S6 or S16 in the direction of Uetikon or Meilen. Get off at the "Küsnacht" stop (one to Küsnacht-Goldbach) and reach the hotel in two minutes on foot.

The S16 leaves every half hour and takes you from the airport to Küsnacht within 25 minutes. From the train station you can reach the hotel in two minutes on foot. A taxi from the airport costs approx. CHF 90 - depending on traffic.