"Romance and tradition at the foot of the Eiger North Face"
Romantik Hotel Schweizerhof
The family-run Hotel Schweizerhof is set against the world-famous, high-alpine backdrop of the Eiger, Mönch and Jungfrau. Here you will appreciate the excellent service, superb cuisine, stylish rooms and spaces and the unique wellness area. The traditional hotel is the starting point of a hiking area of unrivalled beauty. All mountain railways are within easy reach and fantastic ski runs start around the hotel.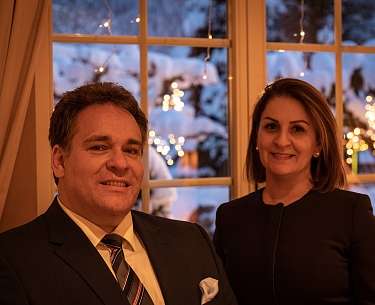 Your host
Our most important quality is passion. And the second thing that counts is the ability to listen, to the guests and the staff. The Romantik Hotel in Grindelwald is nothing without its talented team. As authentic hosts, we set a stage for our guests and the employees and do not want to play a shiny starring role ourselves.

What has made the Schweizerhof so unique for 130 years? It is the special warmth that overcomes you when you step over our threshold for the first time. No empty phrases, no ballyhoo. Nothing here is half-hearted, intrusive or over-candid. "The details are not the details. They make the design".
Facilities
at Romantik Hotel Schweizerhof
Electric Car Charging Station
Indoor Pool
Parking Area
Sauna
Lift
Parking Garage
Free Wifi
Meeting Facilities
Pets Friendly
Child Friendly
Quiet Location
With the helicopter over the Jungfrau Massif
Off to explore in the air above Grindelwald! Discover the highest peaks by helicopter - always within sight of the famous Eiger North Face.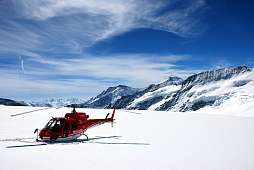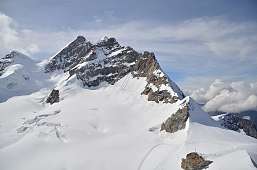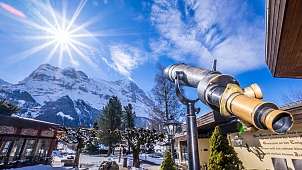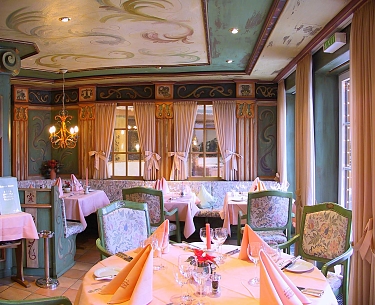 Schmitte and Gaststübli
In our a-la-carte restaurant Schmitte, you will be spoiled with culinary delights. Our kitchen team conjures up a successful combination of international, Swiss and Alpine cuisine on the table, while an extensive wine selection skilfully rounds off the offer. In the rustic Gaststübli we serve you delicacies from Grindelwald and the Bernese Oberland. Of course, we also offer fondue chinoise and cheese fondue to enjoy.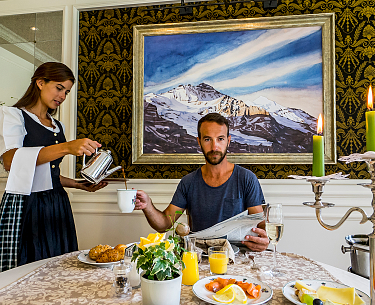 Alpterraces
From the extensive indulgent breakfast buffet to the selection menu in the evening, we serve delicious variations of regional and international specialities - refined in the style of the house. In front of the impressive backdrop of the Eiger and with a view of our huge hotel garden, our house guests enjoy the varied 6-course evening menus prepared by our chef.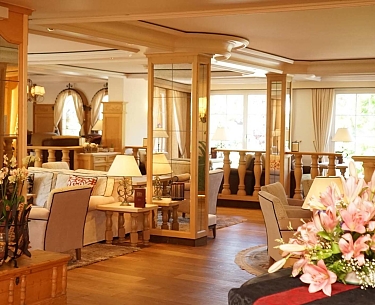 Hotel bar and lobby
The meeting place for our guests at almost any time of day. Our bar team will serve you pick-me-ups such as coffee, cocktails for Apéro or a velvety sherry, racy port or other fine spirits after dinner at our hotel bar and in the hotel lobby by the fireplace or in the library.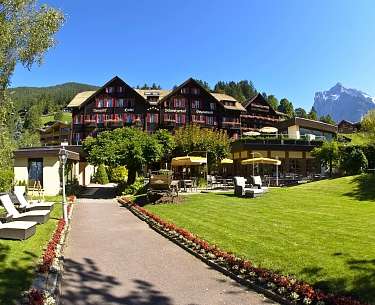 Garten-Terrasse
Enjoy your morning coffee in the sun or wind down in the evening: In summer, we serve breakfast and dinner on our beautiful, idyllic garden terrace, where you are sure to find a cosy spot when the weather is nice and the temperatures warm. Enjoy the surrounding nature and the clear air of the Swiss mountains.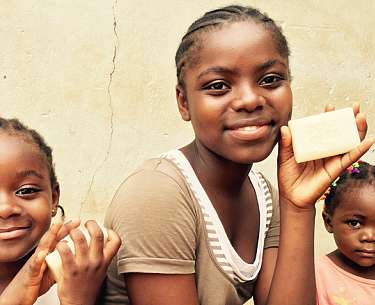 From the region
Nature touches us when we leave it untouched. True to this motto, the Romantik Hotel Schweizerhof processes mostly regional and local products that neither have to be flown in nor come from fossil-fuel heated greenhouses. The cooperation with local farmers and partners on site ensure a unique quality and freshness of our products and are sustainable at the same time. The predominant avoidance of plastic in the entire house and the recycling of all products, such as our soaps via the non-profit programme SapoCycle, which benefits families in need, are also part of our sustainable responsibility.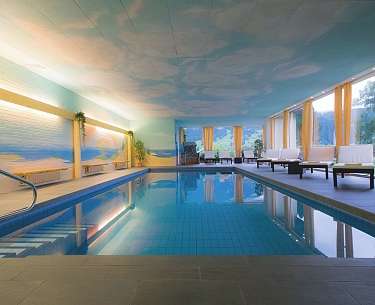 Relaxation
At the Schweizerhof you will experience the ultimate "at home" feeling. No matter what season the calendar shows, you can switch off and enjoy in our hotel's wellness area. Our spa consists of a heated indoor pool with Eiger terrace, Irish-Roman steam bath, bio sauna, Finnish sauna, Kneipp pool as well as experience showers. In addition, we offer all kinds of massages and treatments as well as cosmetic and beauty treatments.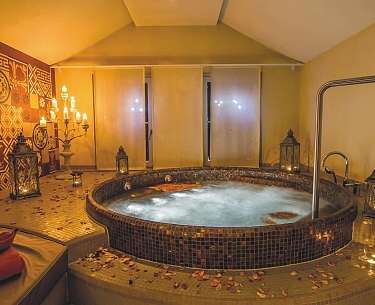 Private-Spa
In our private spa we offer you pure privacy. Whether alone or as a couple - here you can enjoy undisturbed and romantic moments in a relaxing atmosphere. For example, treat yourself to a relaxing rose petal bath with a glass of prosecco and then unwind with a cup of tea to the sounds and fragrances of omantic music.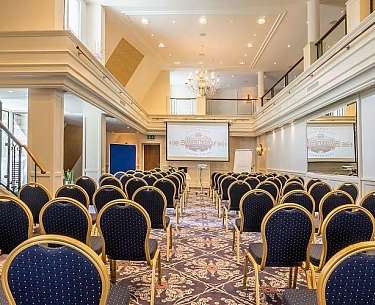 Seminars and conferences
The success of your occasion is crucial, so choose Romantikhotel Schweizerhof Grindelwald for seminars, meetings and incentives as well as for anything out of the ordinary! The seminar area has natural light and is equipped with modern conference technology. Our wide range of services are at your perfect disposal for work and celebrations. Enjoy professional support in ideal surroundings, and the excellent cuisine.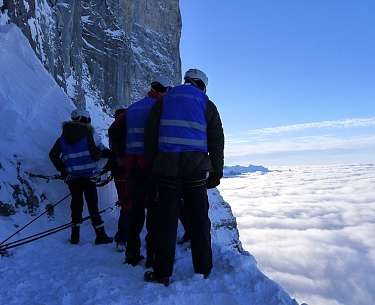 Adrenalin pur für Ihr Teamevent
Robust, einschüchternd, kraftvoll und auf 2000 Metern extrem beeindruckend, ist die Eigernordwand nur erfahrenen Kletterern vorbehalten. Mit einer Ausnahme: Ihrer Veranstaltung! Mit uns können Sie die Faszination der berühmt-berüchtigten Wand hautnah erleben.

Mit dem Zug gelangen Sie zusammen mit Ihrem erfahrenen Bergführer zum Extrahalt Stollenloch 3.8. Dieser "Ausgang" diente der Entsorgung von Tunnelaushub während des Bahnbaus. Ausgestattet mit Helm und Kletterausrüstung und gesichert von patentierten Bergführern genießen Sie von hier nicht nur den fantastischen Ausblick sondern können - je nach Witterung - sogar selbst einige Meter klettern. Nach einem wärmenden Getränk, auf Wunsch auch mit Whisky verfeinert, fahren Sie mit dem Zug weiter zum Jungfraujoch oder zurück ins Tal.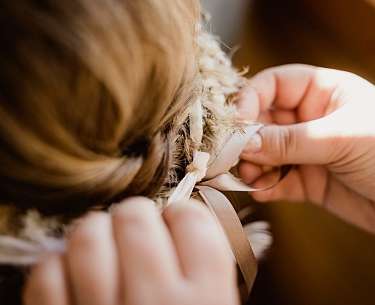 Weddings
Our Romantik Hotel Schweizerhof offers the ideal setting for your wedding celebration. Our professional team will accompany you from the initial planning to the perfect realisation of your wedding at the foot of the Eiger North Face. This way, your wedding day will be the most beautiful celebration of your life, which you can enjoy to the fullest.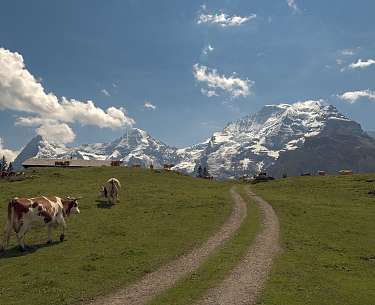 Hiking
Whether in spring, summer or even autumn. Grindelwald and the entire Bernese Oberland offer the best conditions for a wonderful hiking holiday. On countless hiking trails that start directly at our hotel, you can enjoy the unique mountain panorama and marvel at lovely alpine meadows and wildly romantic mountain landscapes. We will be happy to put together a hiking trail plan for the perfect excursion.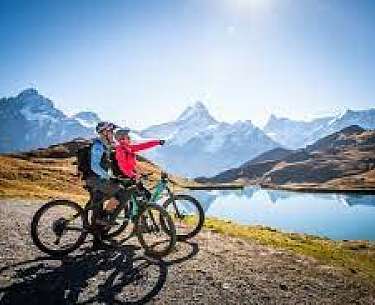 Biken
Grindelwald is the ideal starting point for your E-MTB tours. Whether you want to explore the beautiful surroundings and enjoy the alpine panorama in a leisurely way or you prefer fast-paced tours - at the foot of the imposing Eiger North Face you will get your money's worth. The dense network of trails offers the whole range of ridable surfaces, from car-free asphalt roads to unpaved alpine and forest roads to varied single trails.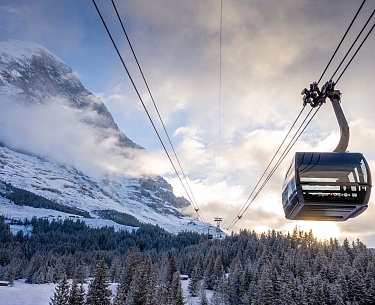 Winter sports
In 3 ski areas around Grindelwald you can explore 213 kilometres of slopes, 100 kilometres of sledging and winter hiking trails as well as a multitude of snowshoe trails. Thanks to numerous ski lifts, mountain railways and cable cars, you can always reach any destination effortlessly. Whether you're racing down the slopes on skis, snowboard or sledge, or taking a leisurely winter hike, cross-country skiing or a romantic horse-drawn carriage ride - you'll be thrilled!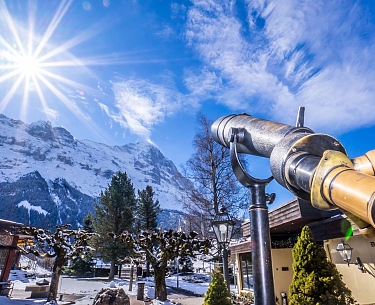 The Jungfraujoch
From Grindelwald you can take a relaxed train ride to the Jungfraujoch! The Jungfraujoch (3454 m) is located in the middle of the Jungfrau- Aletsch- Bietschorn UNESCO World Heritage Site. Snow and ice are 100% guaranteed. The Sphinx observation building, the Ice Palace, the plateau for walks in the eternal snow - these are year-round attractions on the Jungfraujoch - Top of Europe.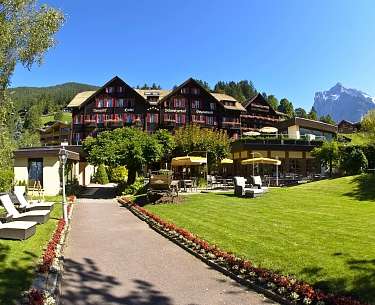 #helishuttle - Arrival by helicopter
Flying off on holiday in a helicopter? No problem at the ROMANTIK HOTEL SCHWEIZERHOF with its own landing pad. The helicopter also takes off for exploration tours high in the air above Grindelwald within sight of the famous Eiger North Face.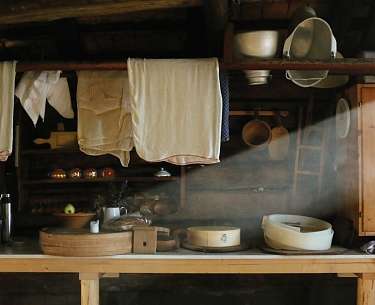 Historischer & Kulinarischer Dorfrundgang
Lokale Führer geben anschauliche Erklärungen zur Geschichte und Ursprüngen des Dorfes Grindelwald. Probieren Sie frischen Käse und Milchprodukte sowie würzige Fleisch- und Wurstkreationen aus der Region. Ein Besuch des Heimatmuseums rundet den Rundgang ab.
Daten: Jeden Dienstag, 04.01.2022-05.04.2022
Uhrzeit: 13.30 Uhr
Kosten: CHF 9 pro Teilnehmer/Kinder CHF 5
Treffpunkt: Nordwand Platz/Statue Skifahrer

Weitere Informationen erhalten Sie im Tourismusbüro in Grindelwald oder unter +41 33 8541212.
Romantik Hotel
Schweizerhof
Romantik Hotel Schweizerhof
Anneliese & Otto Hauser, Direktion: Mario Resch, Güler Bozkirac
Swiss Alp Resort No.1
Switzerland-3818 Grindelwald
CH - Jungfrau Region -

International fast trains to Interlaken ensure comfortable travel. From Interlaken you can reach Grindelwald with the Bernese Oberland Bahn in only 35 minutes.
Once you arrive at Grindelwald station, our hotel is only a 2-minute walk / 150 metres away. We will be happy to pick you up personally at the station and also help you with your luggage - so your stay will start in a very relaxed way!

Sit back and relax after your flight and enjoy the ride with our shuttle service. You will travel in modern and air-conditioned limousines or minibuses. The transfer is carried out both by us directly and by our long-standing, reliable cooperation partners.