Unique location directly on the lake
Directly on the lake promenade of the romantic town of Morges, between Lausanne (10 km) and Geneva (45 km), the Romantik Hotel Mont Blanc au Lac has been rising in all its dignity since 1857. Charming, homely rooms equipped with every comfort invite you to stay. A refined, fresh market-oriented cuisine pampers customers with fine fish dishes in the restaurant or in the beautiful garden during the summer season, among other things. The warm welcome and the tradition of the house make the stay an unforgettable experience.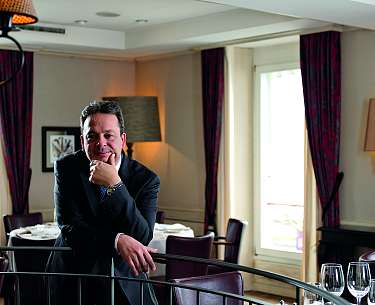 Your host
The history of our Romantik Hotel Mont Blanc au Lac dates back to the year it was built in 1857. Renovated in 1991, 2005 and 2021, our boutique hotel combines elegant first-class ambience with historical charm and a personal touch.
Director Yannick Juillerat welcomes you to Lake Geneva!
Facilities
at Romantik Hotel Mont Blanc au Lac
Central Location
Free Wifi
Meeting Facilities
Parking Area
Parking Garage
Pets Friendly
Quiet Location
Smoking Lounge
Terrace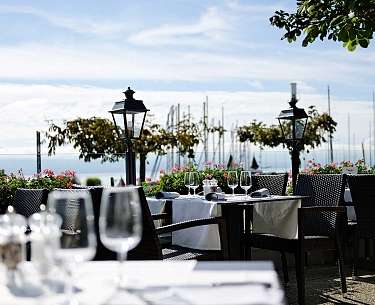 Le Jardin
During the summertime, the terrace surrounded by flowers invites you to enjoy the magnificent lake panorama. How about dining under the stars with the lights of the lake shimmering in the distance?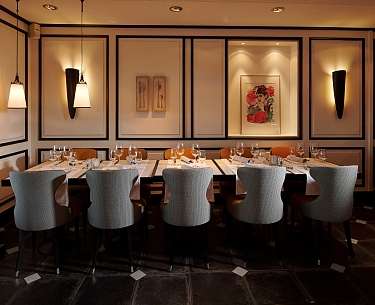 Le Pavois
The restaurant "Le Pavois" offers you an uncomplicated atmosphere on the ground floor and welcomes you in an elegant ambience on the first floor.
The seasonal menu with refined dishes from the region as well as a nice selection of regional and international wines will delight even the most discerning palate.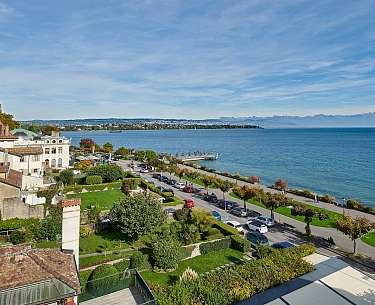 Sustainability
We see our hotel history, which goes back to 1857, as a responsibility for our region and fellow human beings. We train young people with the aim of finding permanent employment and sponsor various associations in Morges and the surrounding area.
For us, ecological sustainability means making our menus from regional products wherever possible and giving preference to butchers, farmers and suppliers from the region.
To protect our environment and your well-being, our cosmetics line is made from Fairtrade certified cane sugar and Brazil nut oil.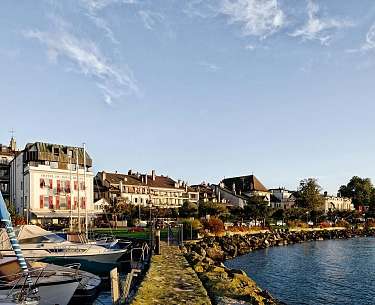 Walking
Directly from the Romantik Hotel Mont Blanc au Lac, stroll along the shores of Lake Geneva for as long as you feel like it. Discover the picturesque town of Morges along the lakeside promenade and the Parc de l'Indépendance, past monuments and the castle and then through the pedestrian streets of the town centre. Two 45-minute discovery tours of the vineyards and town start from the pier.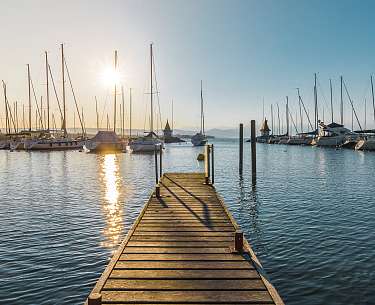 Lake Geneva
The Romantik Hotel Mont Blanc au Lac is located directly on the shores of Lake Geneva.
Discover the region from the water with boat trips, pedal boat excursions or water sports such as stand up paddle, kayak, canoe, surf ski and pirogue. Adventurers will get their money's worth with water skiing, wakeboarding or wakesurfing.
We will be happy to recommend local providers and help you organise your water sports experience on Lake Geneva.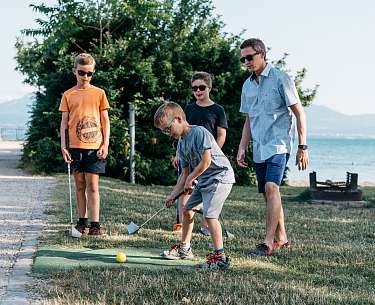 City golf of Morges
Equipped with a route map, discover the highlights of Morges: so far, the tour is not different from any other city walk. Except that here, golf clubs and a ball are required! That's what the CityGolf-concept is all about: discover the city by playing with friends or family.
This golf-derived sport is played with a three-sided club and a large foam softball. The golfers equipped in this way go in search of the blue (start) and red pegs (finish holes) CityGolf does not require a perfect swing, because it's all about taking part and having fun - but watch out that the ball doesn't end up in Lake Geneva!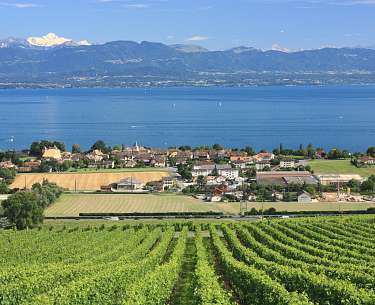 Prangins Castle
The magnificent Prangins Castle near Nyon is the only location of the Swiss National Museum in French-speaking Switzerland. With the largest 18th century castle in the country open to visitors and the largest historic vegetable garden in Switzerland, Prangins is a cultural stronghold in the region.
Built around 1730 in a beautiful park above Lake Geneva, Prangins Castle now houses the Swiss National Museum, dedicated to modern, democratic and industrial Switzerland from 1730 to 1920.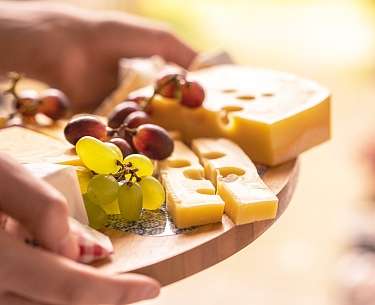 Dufaux cheese dairy
Jacques-Alain Dufaux loves his craft and is known for his large assortment of around a hundred Swiss and Vaudois cheeses. The Dufaux cheese dairy has the right cheese for every taste. The most demanding palates have been welcomed here, including actress Audrey Hepburn, the most famous resident of Morges.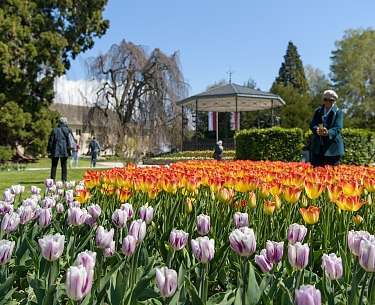 Flowering times
The tulip blossom from April to mid-May, the iris gardens at Vullierens Castle from mid-May to mid-June and the dahlias from July to October are wonderful occasions to visit our flower-loving region, and not just for amateur gardeners.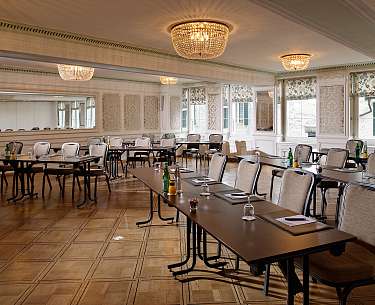 Meetings on Lake Geneva
"Coming together is a beginning, staying together is progress, working together is success".
Henry Ford
And to help you get started, we welcome you to Romantik Hotel Mont Blanc au Lac. So that you can escape from your usual working environment, to tease out ideas and to awaken conviviality around the table.
Because in a unique environment, with a view of the lake and natural light, high-quality equipment, professional and free Swisscom Wifi access and a delicious meal, your ideas and your projects will find an ideal setting to flourish.
Our package is easy to understand because practically everything is included in the final price. Contact us for more details.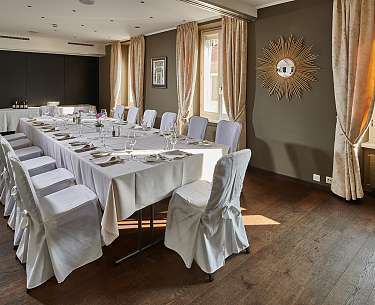 Celebrating on Lake Geneva
Find time to stop for a moment in today's world where everything moves too fast. Take time for each other.
Because happiness is the only thing that can be doubled when we share it. On our secluded terrace or in the Pavois restaurant, our team is dedicated to making these moments of culinary exchange a success.
Romantik Hotel
Mont Blanc au Lac
Romantik Hotel Mont Blanc au Lac
Yannick Juillerat
Quai du Mont-Blanc
Switzerland-1110 Morges
CH - Lake Geneva -

The hotel is located along the lake and near the old town of Morges. A 1 from exit 15 Morges-Ouest, direction Centrum, direction Uferstr. about 1 km. And here is the Google Map Link to our location: Google Maps
The parking possibilities are as follows:
As our hotel is located in the middle of the city center directly on the lake shore and we do not have a private parking lot, we suggest you to park your car in the parking garage "Centre Ville" which is located 5 minutes walking distance from our house. There you will get a discount on the normal price with a discount voucher of the hotel, which you will receive at the reception upon your arrival, and thus pay CHF 15.-- /night. Overnight and on Sundays and holidays you can also park your car for free in all blue and white parking zones of the city with a ticket of the hotel from 5 pm to 10 am on the following morning.