Welcome to the Romantik Hotel Hornberg! We are delighted to welcome you to Saanenmöser near Gstaad, where we have been in the third generation of our family since 1936, and where our hospitality and passion for the Swiss hotel industry are alive and well. With the authentic chalet building style and the proverbial tranquillity in the midst of nature, we would like to offer you true relaxation.
Our hosts
The Romantik Hotel Hornberg is now being run by the third generation. Where once Werner and Helene von Siebenthal-Hauswirth opened a house with 24 beds, the foundation stone was laid for today's hotel business. The idea of creating a house of encounter with open doors has been preserved by the host family to this day. In 2003, Brigitte von Siebenthal and her partner Christian Hoefliger took over the house. Today, as a married couple, together with their two sons, they continue to run it with passion and commitment in the spirit of their ancestors.
Facilities
at Romantik Hotel Hornberg
Child Friendly
Electric Car Charging Station
Free Wifi
Indoor Pool
Meeting Facilities
Outdoor Pool
Parking Area
Parking Garage
Pets Friendly
Sauna
Terrace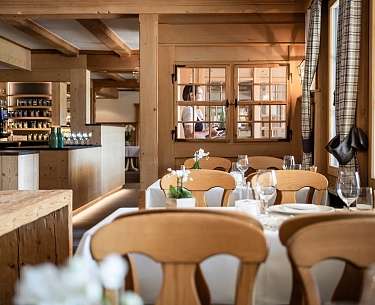 Culinary experience
The Romantik Hotel Hornberg has a highly acclaimed restaurant that is spread over several interconnected rooms. Here, visitors dine "à la carte" or enjoy a multi-course menu as a hotel guest as part of half board. In good weather and pleasant temperatures, the service is also happy to set the table on the beautiful sun terrace. The philosophy of the hotel: fresh products, honest, light cuisine and friendly service!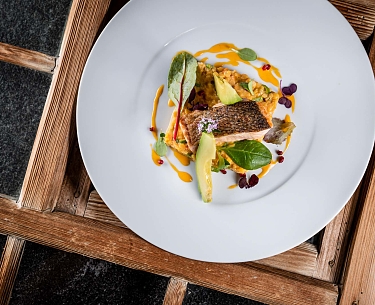 Fresh Products & Honest Cuisine
Enjoy our very high quality half board with regional specialities. Our philosophy: fresh products, honest, light cuisine and friendly service!
Every evening you can choose from a four-course menu with vegetarian options. In addition, of course, the daily salad buffet and regional cheese from the trolley. At lunchtime and in the evening, our public restaurant also offers a sophisticated "à la carte" menu.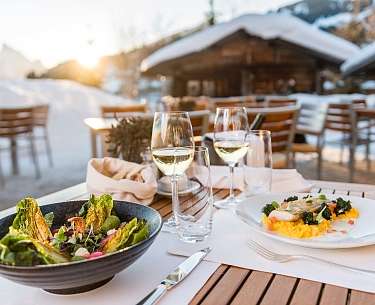 More than spectacular
The head chef since 2017 is Michael Rindlisbacher; he is assisted by sous chef Matthias Baumgartner. Guests praise the hotel's cuisine and the renowned Restaurant Gault Millau guide regularly awards points to the Romantik Hotel Hornberg's restaurant. Our interior is really cosy with lots of wood - as it should be in the Swiss mountains. The sun terrace and the view are considered "more than spectacular". And without a doubt - the highlight is our fondue hut on the terrace from 1726.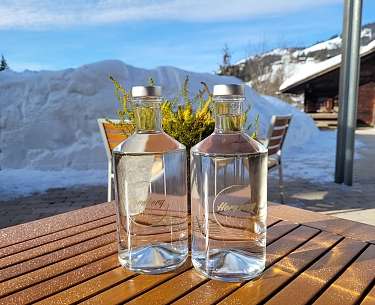 Fresh & regional
...is the focus of the Romantik Hotel Hornberg when it comes to food and drinks! Here, even the mineral water becomes a local pleasure experience. Fresh from its own spring right outside the door in the beautiful Saanenland, the hotel offers its guests not only still water but also sparkling water from the hotel's own sparkling water system. The water is bottled fresh on site in stylish glass bottles with matching labels and thus does not have to be transported any further. This is how sustainable and local water consumption can be!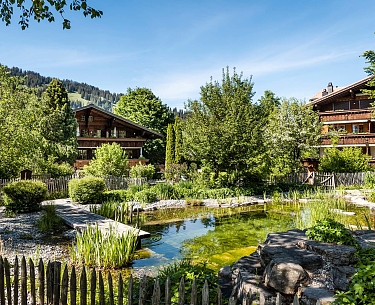 Wellness and relaxation
For your well-being, the sauna area with large bio-sauna (50°C), rustic Finnish sauna (85°C), steam bath and outdoor Kneipp fountain is at your disposal. As is, of course, the indoor pool with access to the garden and a view of the mountains. In summer, the organic swimming pond in the hotel garden offers a fantastic experience. 100% organic, it provides a unique swimming experience in nature.
Hiking
The countless hiking trails around the Romantik Hotel Hornberg inspire with their exclusively "chalet" style of construction, breathtaking views, lush green meadows, shady forests, clear mountain lakes, almost magical waterfalls and the pure mountain air. During the summer months, the many mountain railways are open and the alpine cheese dairies invite you to taste their products. In the widely ramified and, thanks to the mountain railways, easily accessible Gstaad hiking network everyone will find the right tour.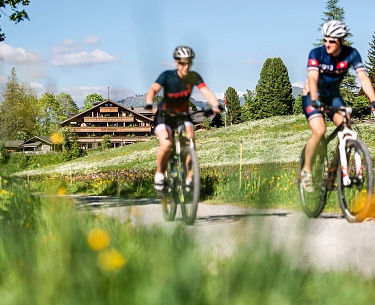 Cycling
Around the Romantik Hotel Hornberg invite more than 500 kilometre tours to a varied experience for beginners and pleasure-oriented e-bikers as well as for trained mountain bikers or racing cyclists. Bicycles, children's bikes and chilli scooters are available to guests at Romantik Hotel Hornberg free of charge. In addition, you can rent mountain e-bikes on site to climb the Sannenmös mountain world by bike.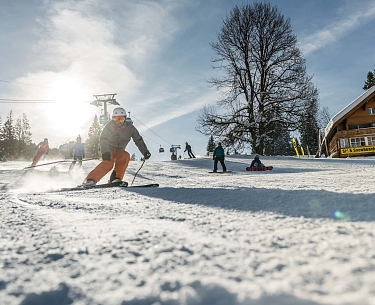 Skiing
The Romantik Hotel Hornberg is the ideal starting point for your winter sports activities: skiing, snowboarding, cross-country skiing, winter hiking, snowshoeing and even more. The largest connected skiing area of Gstaad reaches up to 150m from our front door. You can even be active on the glacier on the boards of your choice. Beginners will enjoy the nearby ski school while the mountain slopes in front of the house and the free Hornberg toboggan ensure the best tobogganing fun for young and old.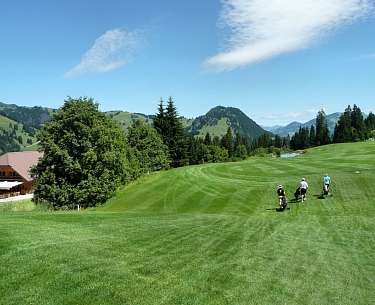 Golfing in the Alps
The Golfplatz Gstaad-Saanenland in the middle of the mountain landscape of the Bernese Oberland, at 1400 metres above sea level, is considered one of the most beautiful golf courses in the Alps. You can reach another 6 golf courses in 60 to 90 minutes by car.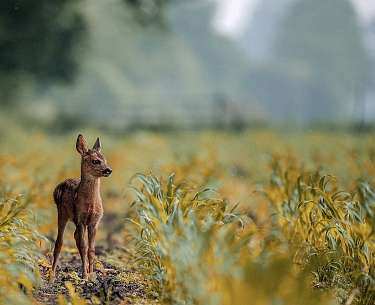 Wildlife watching
During two days, Arthur Brand and Christian Würsten take you out into the wild in the early morning hours. The retired hunter and the Lauener original will explain the connections between flora, fauna and nature to you on the excursion. With a bit of luck, you will catch a glimpse of local wildlife such as deer, chamois, hares and foxes, and maybe it will even be enough to watch a black grouse during its impressive courtship dance through the binoculars.
*Expected: May 31 - June 1, 2022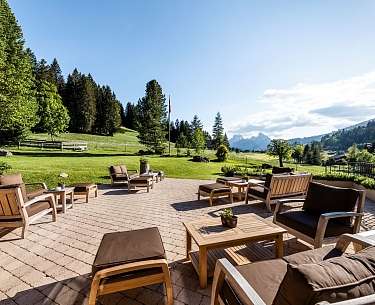 Seminars and conferences
The hotel is a direct success factor for successful seminars: at Romantik Hotel Hornberg you benefit from individual attention, the personal atmosphere, modern infrastructure and our high standards for the quality of all services. To be able to offer even more quality in this area, seminar chalets are also available.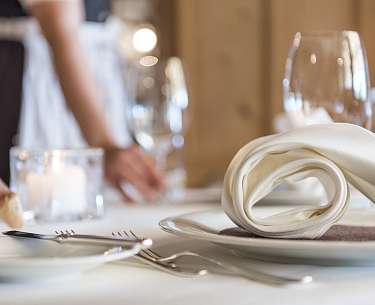 Private events
If you would like to celebrate a gala dinner, birthdays, family celebrations or parties of all kinds in a private setting, the Hotel Hornberg is the place to be. Dinner can be set up in the hotel's own restaurant on the ground floor or in one of the "private dining rooms", where guests can experience unforgettable moments with family, friends and other favourite people.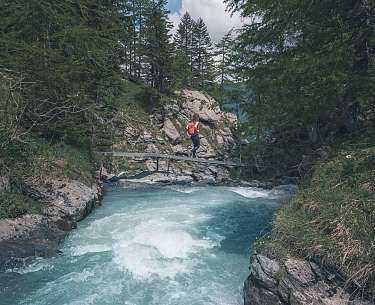 Hiking - in canyons & water
You hike and swim for a good 2 hours in one of these beautiful canyons in the region - and are accompanied by Lars Hofer himself! As a qualified mountain guide and very experienced canyoning guide, he is the right man at the side of these small groups. Occasional slides, small jumps and short climbing passages provide variety. The brave can finish off with a jump from a dizzy height into one of the natural pools! An absolutely unforgettable experience, not least because of the unique nature. Bookable from 8 years and doable even for average fitness.
Expected: 13th, 20th & 27th of July 2022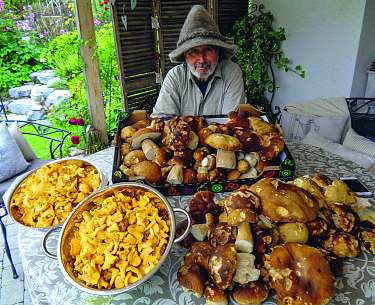 Collect mushrooms
Bert Inäbnit's Nature Week! You won't find anyone who knows more about mushrooms, wild fruits and tracks than Bert Inäbnit! For three days you will be out and about with Bert, discovering not only the great outdoors but also the most hidden routes! Back at the hotel, you are welcome to prepare your mushrooms and berries in the hotel kitchen. A brilliant guide and three days that are great fun!
Expected: 25th & 26th August 2022
Romantik Hotel Hornberg
Family Hoefliger-von Siebenthal
Bahnhofstraße 36
Switzerland-3777 Saanenmöser-Gstaad
CH - Saanenland -

Option 1
Motorway A1 direction Bern, A6 direction Thun, turn-off to Zweisimmen, cantonal road to Zweisimmen, Saanenmöser
Option 2
Motorway A12 to Bulle, turn-off to Château-d'Oex, cantonal road to Château-d'Oex, Saanen, Saanenmöser
The Hotel Hornberg is a 2-minute walk from the Saanenmöser small train station. There are good train connections with changes in Spiez and Zweisimmen or in Montreux.

From Bern (Belp) to Saanenmöser: approx. 1 hour by car.
From Zurich (Kloten) or Geneva (Cointrin) to Saanenmöser: approx. 2 1/2 hours by car.
From Basel (Mulhouse) to Saanenmöser: approx. 2 hours by car.