Experience 500 years of history!
A house with character, tradition and 500 years of eventful history: Created from seven houses in the picturesque old town of Lucerne, the Hotel Wilden Mann is a small jewel with the incomparable charm of days gone by. Rooms furnished with attention to detail and the excellent cuisine make the Wilden Mann the ideal place to indulge in the pleasant side of life.
Your host
In 1517, when the Wild Man was mentioned in writing for the first time, it was certainly not a noble place. It was a pub without tavern rights. Later it became an inn. Today you are welcomed here by the director Arno Affolter, who has been at the helm for 25 years. He lives and breathes for the Wild Man and, together with his team, creates a cozy atmosphere in the middle of Lucerne's old town. No wonder that personalities such as Sophia Loren, Reinhard Mey or Udo Jürgens have even stayed here.
Our facilities
at Romantik Holte Wilden Mann
Central Location
Child Friendly
Free Wifi
Lift
Meeting Facilities
Parking Area
Parking Garage
Pets Friendly
Terrace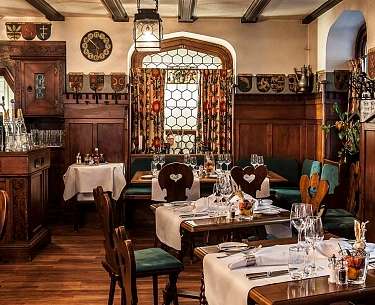 Burgerstube
Things are livelier in the Burgerstube. One can well imagine how Lucerne's citizens once toasted good business here. In 1908, the restaurant was furnished in neo-Gothic style: dark wood, scrollwork, bull's-eye windows. In keeping with this, we serve local traditional dishes, hearty, prepared with much love. Here you will experience and enjoy a quaint Lucerne. I wonder if they already ate so well back then?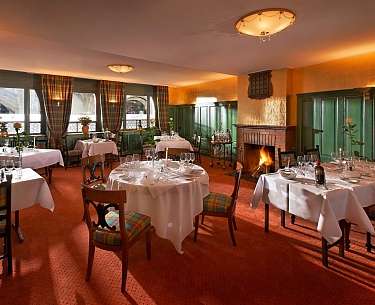 Sauvage
The name gives it away: We appreciate the French, the Mediterranean cuisine. Our gourmet restaurant stands in this tradition. Here we enjoy and also like to really feast. In elegant surroundings where you feel at home - also thanks to generous table arrangements and warm-hearted service. If you wish, you can enjoy gourmet classics here, flambéed in style at the table. But we also like to reinterpret old recipes.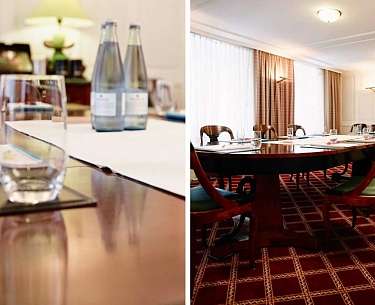 Meetings and seminars
There are places where the ideas come by themselves. Pure inspiration awaits you at Romantik Hotel Wilden Mann: a touch of romance is good for everyone, even more so when it comes to hard facts and figures. In a relaxed atmosphere, we are concerned about providing you with everything you need to work creatively. All meeting rooms have bright sunlight and complete technical equipment. Our light cuisine leaves "room to think".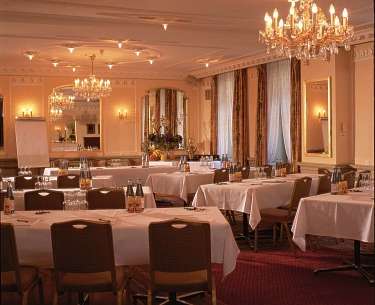 Private events
Celebrate lightheartedly and simply be a guest as a host. If you want to, you will always find a reason to celebrate. And no matter what you want to toast with your family, friends or colleagues, our historic ballrooms provide a uniquely beautiful setting. Whether in a small, familiar circle or in a large company of up to 100 people: Your guests are in good hands with us - from the smallest to the very large. And what is most important to us: You can also fully enjoy your celebration as host.
Discover Lucerne
Nestled on Lake Lucerne in an impressive mountain panorama is the gateway to Central Switzerland. One of the oldest covered wooden bridges in Europe - the medieval Chapel Bridge - dominates the townscape with its gable paintings. The car-free city center is lined with historic houses decorated with frescoes and picturesque squares that invite you to linger. But the city also stands for innovative design and inspires with a variety of cultural events, especially in the futuristic Culture and Congress Center of the French star architect Jean Nouvel also as a "festival city".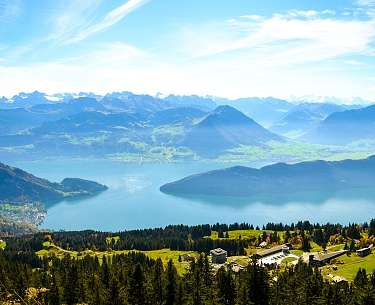 Surrounding
Located in the heart of Central Switzerland, Lucerne offers numerous opportunities to explore the surrounding area. A must is the trip to one of Lucerne's local mountains, the Pilatus or the Rigi, the queen of the mountains. No less worthwhile is a trip to the Stanserhorn, the Bürgenstock or a steamboat ride on the branching Lake Lucerne. The Gotthard Panorama Express also starts in Lucerne and takes travelers across Lake Lucerne to the foot of the Gotthard Pass.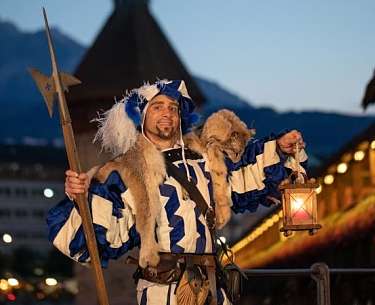 Lozärner Chatzestrecker Tour
The Chatzestrecker tour is an enchantingly beautiful city tour through the old town of Lucerne, full of stories and surprises. Discover historical corners and the most beautiful places of Lucerne. The highlight is the thrilling group competition. Afterwards, enjoy a 3-course menu at the Wilden Mann and let your magical evening end perfectly - for unforgettable experiences in groups of up to 60 people.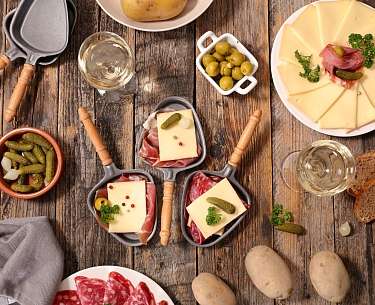 Raclette evenings
When winter arrives, raclette season also starts. And for us that means raclette at the Taverne zur Alten Münz. And something you should know: Our raclette evenings are exceptional. We don't serve just any cheese, but specialties selected by Roland Lobsiger, the expert from the Chäs-Chäller. And, of course, there are fine side dishes to go with it. The raclette evenings will take place every second Wednesday of the month starting in October.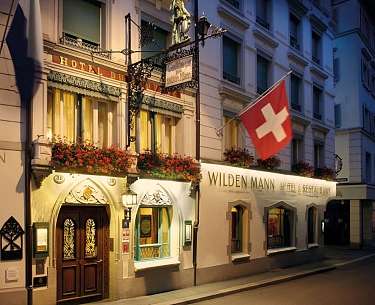 Short vacation to the power of three
Travel across Switzerland, discover magnificent landscapes, enjoy together - for three wonderful days. Included in the offer is one night each
in the Romantik Hotel Säntis, Appenzell
in the Romantik Seehotel Sonne, Küsnacht
in the Romantik Hotel Wilden Mann, Lucerne
one regional three-course menu (excluding drinks) per hotel
two small surprises for on the way
Price per person in a double room :
November to April: CHF 450
May to October: CHF 525
For an additional charge of CHF 55 you will discover countless sights and scenic beauty spots:
Züri Card with free admission to all Zurich museums and free use of public transport in the Zürcher Verkehrsverbund (Zurich public transport system)
return ticket to the Kronberg: fantastic view over the whole Appenzell region
two-hour 1st class boat trip on Lake Lucerne
If you have any questions or require further information, please do not hesitate to contact us at +41 (41) 5119462 or by e-mail at wilden-mann@romantikhotels.com.
Luzern - Die Stadt. Der See. Die Berge.
Romantik Hotel
Wilden Mann
Romantik Hotel Wilden Mann
Familie C. Zimmermann, Dir. Arno Affolter
Bahnhofstraße 30
Switzerland-6003 Luzern
CH - Lucerne - Lake Lucerne -
We assure you: Once you arrive in Lucerne, you will find the Wilden Mann without any problems. On foot, a five-minute walk from the train station, by car, not far from the highway exit Luzern Zentrum, or by bus: we are easily accessible in various ways. And if you don't succeed at first go, just ask the first person you meet. We are well known in Lucerne, having been a fixture here for 500 years.
Arrival by public transport
From Lucerne train station, walk along the left bank of the Reuss River and keep left after the Jesuit Church - we are located on the right side of the street, less than 150 meters from the church.