Spend the night in the castle - a unique experience with Romantik
A little trip back in time like in a fairy tale: castle hotels and manor houses are the perfect accommodation for those looking for an extraordinary experience. Europe is rich in historical heritage and many impressive castles or manor houses offer the opportunity to stay in their historic walls and experience the feeling of times long past. Castle hotels are surrounded by a mystical and romantic aura and usually look back on an interesting history wrapped in fascinating architecture. Magnificent gardens, antique furniture, ornate decorations and cozy fireplaces also provide the perfect setting for a romantic wedding celebration or honeymoon. Enjoy luxury, history and culinary delights in one of our Romantik Castle Hotels in Europe!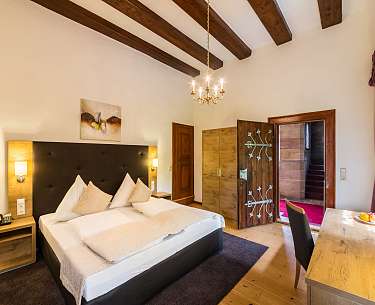 Individual castle overnight stays
Ancient and historic, but not dusty: When you stay at a Romantik castle or manor house, you can expect exceptional accommodations and a touch of history. Some of the sumptuous bedchambers feature natural woods, chandeliers, four-poster beds, and classic burgundy curtains, while other rooms have been restored to modern standards. Feel free to discuss your individual wishes with the hotel in advance.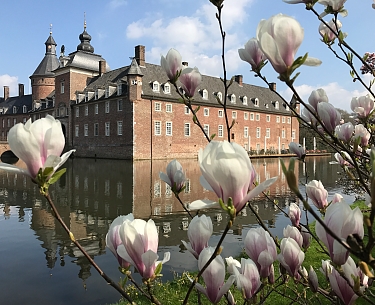 Picturesque location
The location of castle hotels is usually characterized by natural beauty. Surrounded by picturesque landscapes, extensive gardens or idyllic lakes, they offer their guests the opportunity to enjoy the surrounding nature to the fullest. While castles are often majestically perched on a mountain between mystical forests, manor houses are usually located in the middle of spacious green gardens or parks. Walks in the parks and a quiet, relaxing atmosphere quickly make you forget the stress of everyday life.
Marriage in the castle
Do you wish to have a wedding or honeymoon in a magnificent castle or manor house? Our Romantik castle hotels are perfect for a beautiful and unforgettable wedding celebration like in a fairy tale. From the free wedding ceremony and the wedding cake to a cordial service and the evening program to the overnight stays, our Romantik castle hotels and manor houses are there for you. The respective contact persons of the house will be happy to implement your individual wishes and needs with you.
The most beautiful castle hotels & manor houses in Europe
Germany
Switzerland
Netherlands
Austria