Pure pleasure in exquisite surroundings!
What could be better than starting the day with a princely breakfast on the sun terrace? The view of Grafenegg Castle and the stately park ensures a slowdown and offers ranging from wine tasting - to cooking courses to Vespa tours through the vineyards - make your stay unforgettable. Austrian cuisine, interpreted in a modern way, awaits you in the in-house restaurant - culinary delights at the highest level.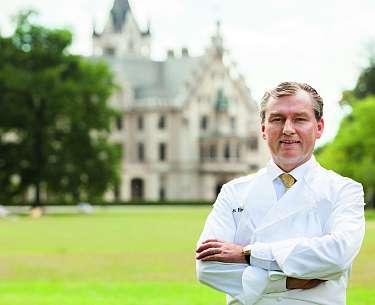 Your host
Host Toni Mörwald is one of Austria's most successful chefs. His name stands for award-winning quality, regionality and innovative ideas. Together with his team, he welcomes his guests to the Mörwald Romantik Hotel Schloss Grafenegg. In the most important castle complex of romantic historicism in Austria, the history of the Alpine country can be felt at every turn. Nevertheless, the top gastronome always dares to look beyond his own nose and is always working on improvements and innovations. As a result, Toni Mörwald has long since become something of a brand.
Our facilities
at Mörwald Romantik Hotel Schloss Grafenegg
Free Wifi
Quite Location
Terrace
Modern culture of enjoyment!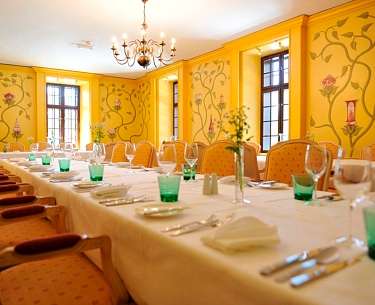 Restaurant Schloss Grafenegg
The Romantik Restaurant Schloss Grafenegg not only offers you a fantastic view of the castle. It also offers gourmets, connoisseurs and wine connoisseurs an artful ambience - in keeping with the host's motto: "Eating time is living time". The on-site taste is deeply anchored in Austrian cooking tradition while at the same time incorporating modern kitchen philosophies in a tasteful way. The Mörwald brand is not only a seal of quality that stands for the highest level in gastronomy. It also promises a special, unmistakable experience.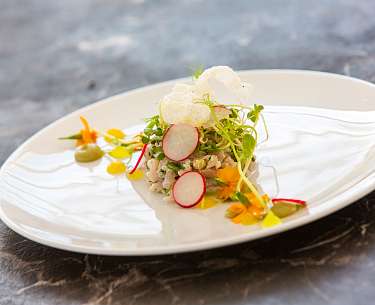 Toni Mörwald
Host Toni Mörwald is one of the best-known and best chefs in the country and delights guests from all over the world with his delicious compositions. Toni Mörwald always focuses on quality, regionality and innovation in the kitchen. At the pulse of time, the best Austrian hospitality awaits you, true to Toni Mörwald's life motto "Eating time is living time".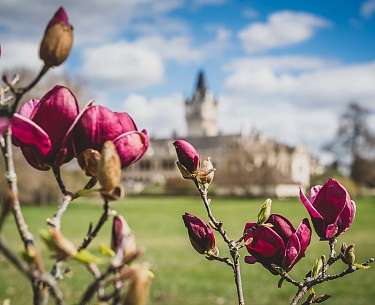 UNESCO World Heritage Region
Mörwald Romantik Schloss Grafenegg is the perfect base for a visit to the Wagram-Kamptal wine-growing region and the nearby Wachau. One of the most enchanting river valleys on the continent, the UNESCO World Heritage region offers significant art treasures and a diverse range of cultural activities. The gateway to the Wachau is the town of Krems, which has a lot to offer visitors with its idyllic and rambling alleys, excellent wines and medieval history. In addition, internationally awarded wineries in the region invite you to explore.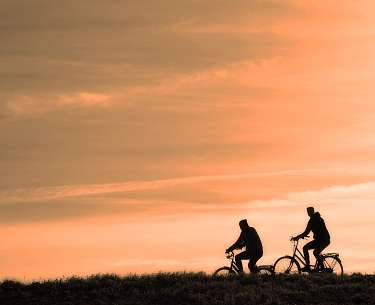 E-bike
Experience the Wagram from the perfect perspective. We only partly agree with the hikers' claim that you have only experienced a place if you have seen it on foot. With an e-bike you can also "experience" a place. So enjoy the ride uphill as much as the ride downhill. You can choose your personal pace from leisurely to sporty and enjoy the landscape, views, plants and scents.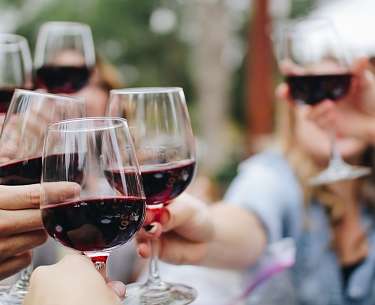 Guided tour of the cellar lanes
The Lower Austrian cellar alleys are a unique cultural asset and can only be found here in this form. Discover the cellar alleys experience during a short hike, either in Feuersbrunn or in Fels am Wagram with our local-authentic and certified cellar alley guides. Our tip: We will gladly organise a picnic in the vineyards or a wine tasting or a glass of wine to fortify you during the hike.
Private events
Whether wedding, birthdays, family celebrations or other occasions, the Mörwald Romantik Hotel Schloss Grafenegg offers a dreamlike setting for your event. A wonderful reception with a view of Grafenegg Castle followed by a delicious menu in Toni Mörwald's restaurant - here every celebration becomes a real pleasure.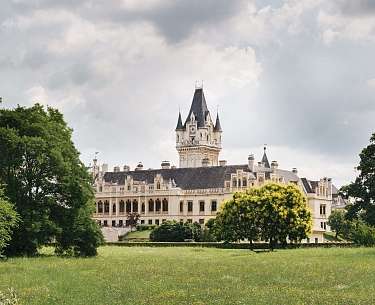 Grafenegg-Festival
Once again this summer, major international orchestras and the world's best soloists will meet in Grafenegg for a fantastic Grafenegg-Festival on the open-air stage Wolkenturm in the middle of the extensive castle park. Under the artistic direction of Rudolf Buchbinder, the festival starts on 13 August 2022 with Beethoven's Fidelio and ends on 4 September after a multitude of great concerts and events.
Mörwald Romantik Hotel
Schloss Grafenegg
Mörwald Romantik Hotel Schloss Grafenegg
Toni Mörwald
Grafenegg 12
Austria-3485 Grafenegg
AT - Waldviertel -

Coming from Vienna, you can reach the Mörwald Romantik Hotel Schloss Grafenegg in just over 50 minutes. Simply follow the A2 and S5 to exit 100-Grafenwörth. The L45 will then take you directly to Grafenegg.

Vienna Airport is only 85 kilometres away from the hotel.