The cool water of the sea and lake provides the desired refreshment on warm summer days. Are you longing for a chill and only bathing and lying in the sun is too boring for you? Then try something new: There are various water sports on offer around the Romantik Hotels & Restaurants by the lake and the sea.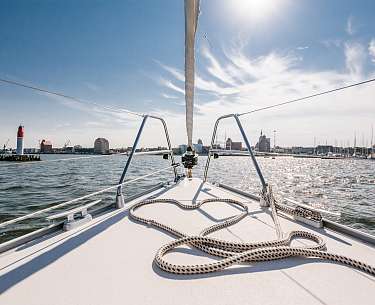 Discover Baltic Sea
If you're into water sports, you don't have to travel far for the ultimate fun, for the Baltic Sea is the surfing and sailing Mecca par excellence. No matter if mainland or islands: Pure white sandy beaches, crystal clear water, wind and waves, but also protected areas for beginners attract families with children and professional athletes alike.
Waterfront vacation
Bathing, paddling, surfing and much more to experience in Romantik coastal and lake hotels!
Off on the board
Stand Up Paddling is the trend sport in summer. Nowadays, stand up paddlers can be seen on almost any stretch of water. A gentle breeze, the calming effect of the lake and the easy, relaxed movement of paddling - you can't help but love this sport. Learn more about this popular summer sport!