Exclusive stay in the Montafon.
Between Verwall, Silvretta and Rätikon, between beautiful clear mountain lakes, cozy mountain huts and numerous outdoor possibilities, lies the Romantik Hotel Verwall in the middle of the Vorarlberg valley Montafon. Exclusive cuisine, wellness and winter sports combine here in Gaschurn for the perfect vacation experience in Austria - whether in the snowy winter or the warm summer.
Host family Krüger leads the Romantik Hotel Verwall with full heart and passion. Always being creative and pampering guests every day with warmth and perfection - that is their formula for happiness. Attentiveness, small details and positive energy can be felt in every room with the Krüger family. The philosophy: loving togetherness, a sense of responsibility and satisfaction - this also has a lasting effect on the entire atmosphere.
Facilities
at Romantik Hotel Verwall
Child Friendly
Fitness
Free Wifi
Indoor Pool
Lift
Parking Area
Pets Friendly
Sauna
Terrace
Wheelchair Friendly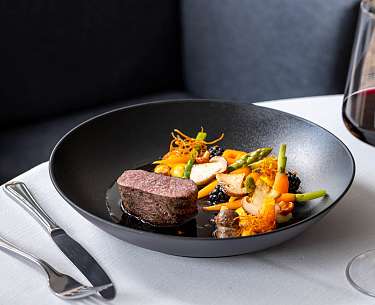 Culinary
Local Vorarlberg cuisine, experimental dishes at hood level and fresh seasonal products from the region: Romantik Hotel Verwall stands for the highest quality and culinary taste experiences for gourmets and connoisseurs. Already with the appetizer you can taste that someone is at work here with passion and love.
The chef
Chef Kai Horitzky conjures up the most delicious treats on your plate. With a lot of heart and commitment, he selects his ingredients carefully and serves you fresh and varied dishes every day. His philosophy: Regional natural delights in all their diversity with a big breeze of imagination - that not only makes you full, but also sustainably happy.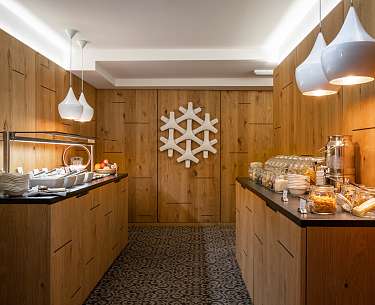 Breakfast
Every new day starts at Romantik Hotel Verwall with a rich vitality breakfast buffet: from fresh egg dishes to fine teas and a large selection of fruits and vegetables for the juicer, you get everything here for a good start to the next day of your vacation.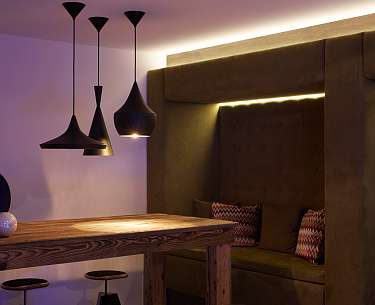 Bar & Lounge
High-quality wines, cool long drinks and delicious beer are best enjoyed in our hotel's own bar. In a relaxed ambience with plenty of seating and a stylish interior, you can wind down the evening and either reminisce together in company or alone, look to the future - or simply enjoy the moment. Look forward to a large selection of regional spirits and our multi-faceted gin menu.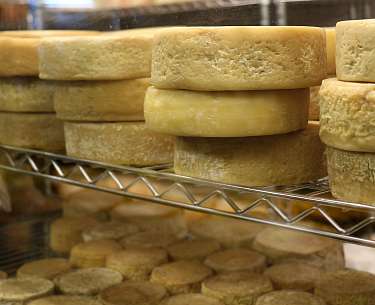 Local speciality: Sura Kees
The Montafon Sura Kees is a regional specialty and stands for one of the oldest cheese and dairy traditions in the Alps. Its history goes back to the 12th century and has shaped the Montafon for centuries. Both its taste and smell are still absolutely incomparable today. Despite its low fat content, the white gold tastes fresh-mild to spicy-strong with an acidic-salty undertone. The sour milk cheese is characterized by its high protein content and its coagulation is not initiated by rennet as usual, but by acid. Today, the cheese is only produced on 13 alpine dairies, such as the Obere Wasserstubenalpe. You should definitely try - preferably directly locally from the producer!
A heart for nature
Real natural enjoyment: When the best products are produced right on your doorstep, you can live well and sustainably. The Romantik Hotel Verwall sources most ingredients directly from the region and guarantees freshness and best quality.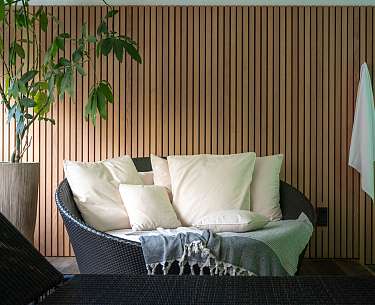 AlpinaVital SPA
Consciously enjoy the moment, feel good and think of nothing: In the multi-faceted AlpinaVital SPA, you will enjoy the feeling of letting go in very different ways - be it gentle touches, warm colors or the elements of water and fire. The scent of fir, rosemary and dim light inspire all your senses and give you a feeling of warmth and security. Enjoy the slow pace of life in the lounge with tea and vitamin bar, on the waterbeds in the dark relaxing room or the refreshment area, doze off to the soft music or simply drift away according to your needs. With its modern yet warm ambience, Romantik Hotel Verwall is probably one of the most beautiful wellness hotels Montafon.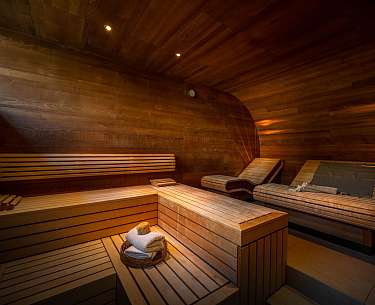 Sauna
Feel the power of warmth and use the modern sauna area as a soothing relaxation after the ski slopes or as a bad weather alternative in summer . In a spacious area you will find an infrared cabin, a steam bath, a Finnish panoramic sauna, a bio-herbal sauna and massage showers. You are also welcome to use the refreshing cold air grotto, the relaxation room with hanging chair, the sauna garden or the family area - according to your own needs.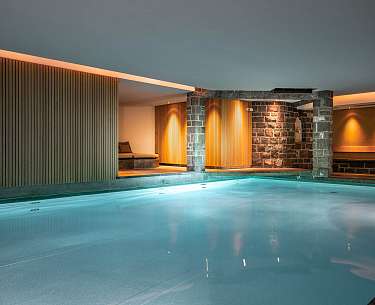 Indoor pool
Enjoy the pleasant lightness of the 26°C warm water in the hotel's own indoor pool. Here you can do small laps or just let yourself float in the water. The luminous pool and the dim light create a special atmosphere, which you can enjoy from the water or from the edge of the pool. If you feel like reading a book, you can do so on the relaxation loungers or outside on the sunbathing lawn. The swimming pool is open daily from 07:00 - 20:00.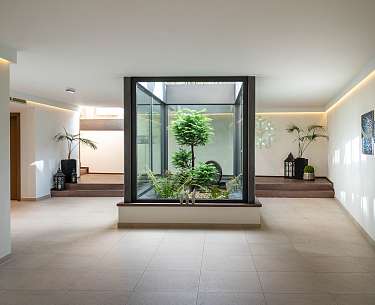 Wellness offers
Recharge your batteries with our professional massages and wellness treatments. Gentle head massages, vital sports massages, alpine herbal foot bath or ultrasound treatments will give you a whole new attitude towards life. Cosmetic treatments for her & him are also offered, using high quality products from Piroche based on natural substances. We recommend that you already make your desired appointments when booking your room.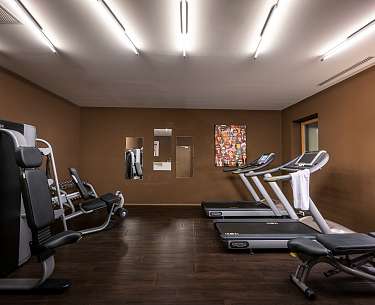 Fitness & Yoga room
In addition to the large outdoor hiking area directly in front of the hotel, the hotel also offers you the opportunity to really work out after or before the culinary delights. For this purpose, modern strength and endurance machines of the brand Technogym are available, which you can use daily from 7:00 - 20:00. The beautiful yoga room is also open daily for you - here you can relax and practice your yoga or meditate.
explore: Summer experiences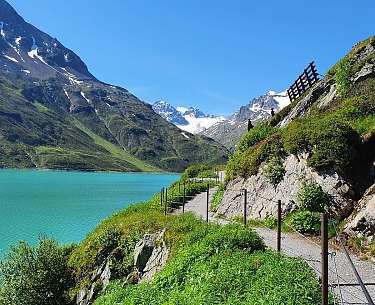 Hiking
Small walks and generous hikes - Romantik Hotel Verwall offers endless possibilities for those who seek freedom and happiness in the mountains. Choose from numerous hiking trails in the nearby surroundings and enjoy fresh air and the beautiful landscapes of Montafon and Vorarlberg. Rustic huts and hearty delicacies await you as a reward. Nice to know: The Romantik Hotel Verwall bears the name of the mountain group in which the hotel lies and thus expresses the deep connection to the region.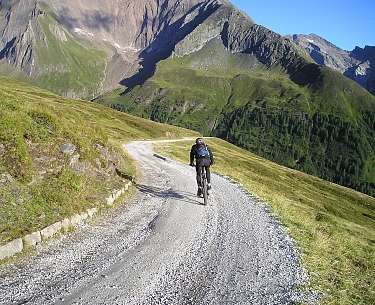 Biking
You will find gently ascending asphalt roads, challenging mountain rides and fast-paced downhill routes. There are single trails with steep climbs and carrying passages as well as family-friendly bike paths with refreshment stops. You can take tours to the best viewpoints in the region, such as the Gaschurner Winterjöchle or the Silvretta Bielerhöhe. The Montafon offers the right biking terrain for every taste and requirement. The well-signposted bike and MTB trails around Gaschurn, Partenen, Schruns and Gargellen stretch for about 270 kilometers and offer trails of various degrees of difficulty. Both pleasure cyclists and mountain and e-bike fans will be thrilled here. There are also many e-bike charging stations for those who need electric assistance. We especially recommend the bike tour to the new Heilbronner Hut, along beautiful lakes and lush green forests. You can start the tour directly from the hotel - feel free to ask for more information.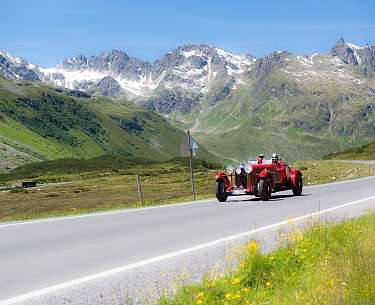 Silvretta Classic Rallye
Every year in sunny July, the Silvretta Classic Rally Montafon takes place, with around 200 classic cars setting off on a journey through Montafon and Vorarlberg. Punctually on the chime of the bell, the vehicles start from Partenen, including bolides of the 20s and luxury cars of the 30s. Passing Alpine peaks, valleys and winding roads, the journey stretches for almost 600 km. Vintage car fans and car enthusiasts can look forward to an exciting automotive experience and rolling rarities.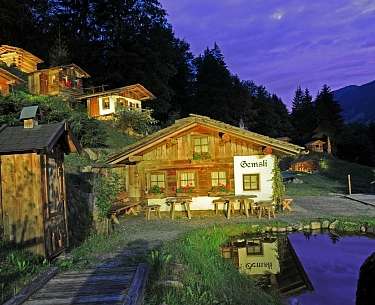 Montafon Sagas Festival
Enjoy a fascinating journey through time to regional sagas and legends and experience one of the largest open-air stages in Europe in the middle of the Montafon mountains. The Montafon Legends Festival opens its doors for a few weeks every summer and presents dramatic, romantic and exciting plays on the imposing open-air stage Silbertal.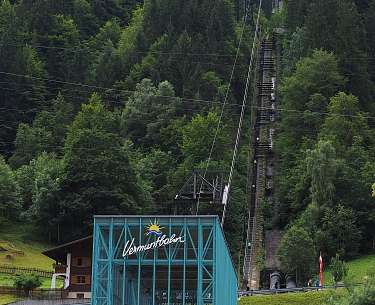 Europatreppe 4000
"The biggest fitness machine in the Alps" or "Europe's longest straight staircase"... the European Staircase 4000 has many names. With around 3600 steps, different textures and a total of 700 meters of altitude with a gradient of up to 86%, its ascent is arduous, but above all a unique experience.
Mountain Beach
Summer fun and cooling off: Directly opposite the hotel are two large natural swimming lakes with fresh spring water from the mountains. In addition to the refreshing natural pond experience, the Mountain Beach amusement park also offers fun & games for the whole family, including a beach volleyball court, a suspension bridge with ferry boat, water slides, Air Bubble, a rafting course and much more.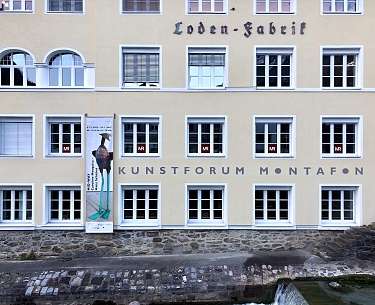 Kunstforum Montafon
Art, culture & creativity can be admired at the Kunstforum Montafon. Founded in 1996, the exhibition venue in the former loden factory in Schruns is a popular destination for bad weather days. In addition to exhibitions, the forum also offers interesting seminars and workshops that you can actively participate in. Among them are courses such as abstract painting, photography or Japanese woodblock printing.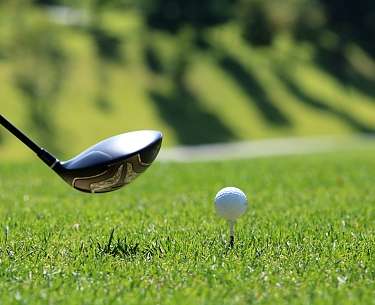 Golf
You can play golf against the fascinating mountain backdrop of the Vorarlberg Alps at the Montafon Golf Club, which is only about 15 minutes away from the hotel. Enjoy a sporty or leisurely game according to your needs on the 9-hole course at 700 meters between peaks and farmhouses. Other golf courses can also be found nearby, including Bludenz-Braz, Brand-Bürs or St. Anton at Arlberg.
explore: Winter experiences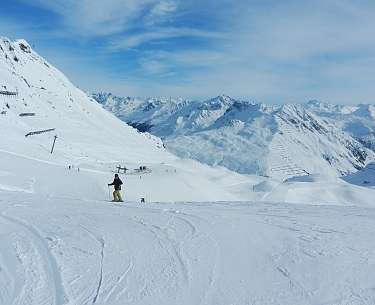 Skiing
On about 300 kilometers of slopes and 75 lifts, the ski region Montafon-Brandnertal offers a generous ski and snowboard pleasure for beginners and professionals. Multiple award-winning and popular slopes on a total of 140 kilometers are located in the ski area Silvretta Montafon alone, one of the 10 largest ski areas in Austria, which is only about 700 meters away from our ski hotel in Montafon. In addition to children's and beginners' areas, blue, red and black slopes as well as the Black Scorpions slopes with a gradient of up to 81% await you here. Other, smaller ski resorts nearby are Golm, Gargellen, Brandnertal or Kristberg Silbertal.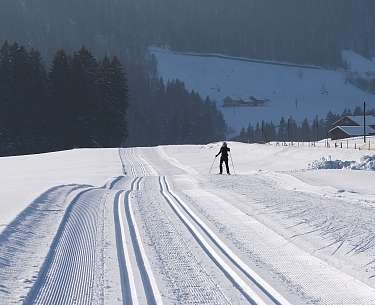 Langlaufen
Relaxed or sporty: cross-country skiing in the Montafon is fun and healthy. Numerous snow-sure high-altitude trails and endless valley trails offer the opportunity to extensively cross-country ski. On classic or skating trails, circular trails, flat, challenging or beginner trails you can really let off steam and try it out. We recommend the Mountain Beach circuit, the Trantrauas trail or the junior trail. On the Ill trail and the Rifa Basin circuit you can even ski in the evening under floodlight.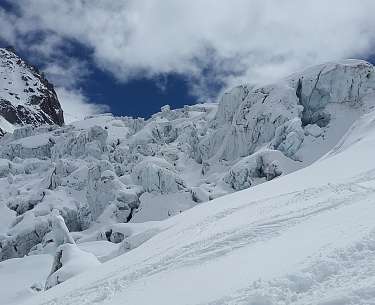 Glacier tour
Fascination glaciers: A particularly extraordinary experience in the Vorarlberg Alps is the glacier tour. On a guided hike along the Vermunt Glacier, you will get to know the impressive glacier world of the Silvretta. Especially for mountaineers this experience has a special attraction. Hardly any other terrain in the high mountains is as fascinating and exciting as the glacier.
Sledging
The snowy mountains in the nearby surroundings are not only suitable for skiing, but also for tobogganing together. Prepared toboggan runs in different lengths and degrees of difficulty and illuminated night runs promise fun, romance and great nature experiences. The almost 6 km long natural toboggan run from Kapell to Kropfen, for example, is perfect for families due to its easy level of difficulty. The night toboggan run Garfrescha offers a special experience for everyone, which together with a hut evening at the Brunellawirt offers an unforgettable adventure.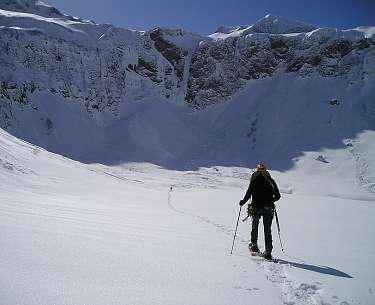 Snowshoe hiking
Trudge for kilometers through glittering powder snow, enjoy clear mountain air and tranquility: This is what you can do during a snowshoe or winder hike in the Montafon. Numerous signposted trail networks, which you can climb alone, together or as part of a guided tour, offer you the opportunity to explore untouched nature and idyllic winter forests. The snow paradise worlds of Silbertal, Bartholomaeberg, the Kristberg or Gargellen are especially recommended. You can warm up in one of the numerous alpine huts, which often offer warm tea and open fires.
Romantik Hotel Verwall
Familie Krüger
Montafonerstr. 129
Austria-6793 Gaschurn/Montafon
AT - Vorarlberg -

From Germany via Lindau-Bregenz through the Pfänder and Amberg tunnels,
from Switzerland via Feldkirch on the freeway to Bludenz-Ost,
from Innsbruck via Landeck, the Paznaun Valley and the Silvretta High Alpine Road (only passable in summer) or
through the Arlberg tunnel/over the Arlberg pass and Bludenz-Ost to Gaschurn-Partenen.
The distance between Bludenz and Gaschurn-Partenen is about 25 kilometers. The access is also possible in winter without snow chains, but requires winter equipment.
By train to the express train station Bludenz - from there direct train connection S4 to Schruns.

At Schruns main station, take bus line 85 to Gaschurn.

Airport Friedrichshafen (110 km)
Airport Innsbruck (140 km)
Airport Memmingen (150 km)
Airport Zurich Kloten (182 km)
Connection by train to Bludenz

Airport cab - Taxi Zoller at Bludenz train station