Romantik Hotel Die Gersberg Alm -
A slice of heaven on the edge of Salzburg
Already in Mozart's time, the Gersberg Alm, surrounded by beautiful nature and only 8 km from the center of Salzburg, was a popular destination. Today, the faithfully restored hotel is considered one of the city's leading establishments and an oasis of tranquility with magnificent views of the cathedral, fortress and old town. Cultivated joie de vivre and modern comfort, coupled with excellent cuisine and exquisite wines, make the Gersberg Alm unique and leave its guests raving.
Whether you are here on holiday, on a city trip, for the Salzburg festival, for a seminar or event or to eat in the hotel restaurant: at the Gersberg Alm "Romantik Hotel" you will enjoy worry-free moments while simply feeling great and relaxed.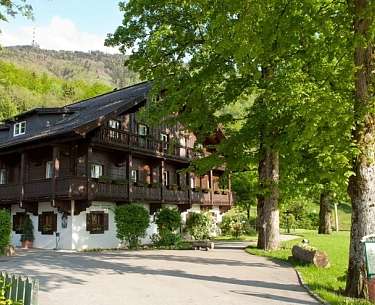 Romantik Hotel Die Gersberg Alm at a glance
Charming hotel in traditional alpine style
40 rooms and 3 suites
Unique location with amazing views of the city of Salzburg
Panorama pool with spacious terrace and lounging lawn, small but lovely sauna area
Local cuisine with specially chosen ingredients, ensuring delicious treats
Idyllic outdoor dining area and 2 cozy indoor restaurant rooms
5 conference rooms for seminars and product presentations
Friendly, attentive service
Tennis courts surrounded by nature
7 golf courses nearby
Parking directly in front of the hotel
Salzburg city centre is just 10 minutes away
Central Location
Child Friendly
Electric Car Charging Station
Free Wifi
Meeting Facilities
Outdoor Pool
Parking Area
Pets Friendly
Quiet Location
Sauna
Terrace
Stay & Dream
Rooms & Suites
Culinary delights above the rooftops of Salzburg
Romantik Restaurant Die Gersberg Alm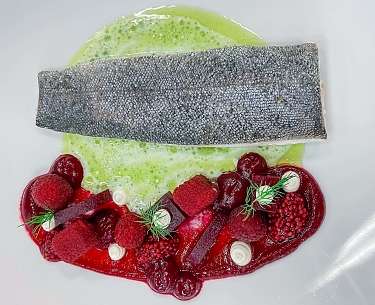 Savouring
The house specialties include Austrian pastries, such as the famous Kipferlschmarrn. The menu is varied and offers traditional delicacies, such as the famous "Grießschmarrn", fine Tafelspitz from Salzburg's organic beef or fresh fish from local waters, as well as international treats.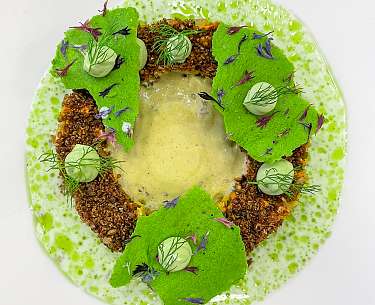 From vital breakfast to elegant diner
A breakfast buffet full of specially chosen local treats. Delicious lunches and dinners made with seasonal produce, innovatively and lovingly made. Afternoon snacks that will hit the spot – coffee and cake or a hearty alpine cheese and meat board. The Gersberg Alm restaurant invites every guest to feast and enjoy at any time. Just outside Salzburg's city centre with beautiful views of the city is where you'll find the Gersberg Alm restaurant.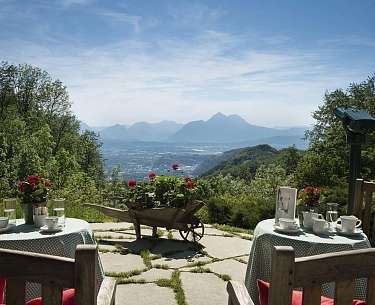 Guest garden with Salzburg panorama
Enjoy the view of Salzburg and the Alps in fine weather in the wonderful guest garden. How about an aperitif in a deck chair under shady trees with a picturesque panorama? A delicious "Brettljause" to strengthen after the hike while you relax in the quiet guest garden - the soothing splashing of the fountain in the background?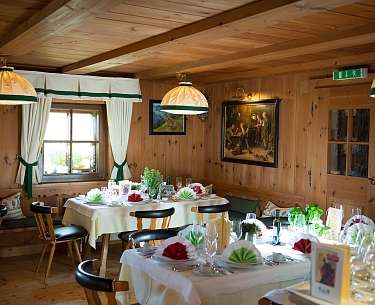 Restaurantstuben
Take a seat in a widely known top restaurant and experience hospitality at its best. Our two cozy parlors invite you to linger with their atmospheric ambience, rustic wood, fine fabrics and loving details and provide the perfect setting for your culinary experience in the countryside. In the cozy Zirbenstube the wonderful smell of the Zirben wood mingles with the delicious aroma from the kitchen.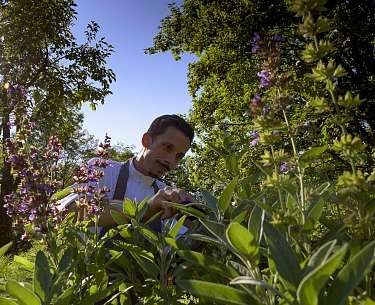 High quality regional products
The kitchen crew of the Gersberg Alm around chef Florian Dornstauder pays attention to seasonal and regional products in all their compositions. Special attention is also paid in the restaurant to the schnapps offer: Here guests will find well-known products alongside specialties from Austrian distillers Waltraud Jöbstl (Styria), Karl Holzapfel (Wachau) and Alois Gölles (Styria).
In order to best cater to our hotel guests and visitors, we ask you to book your table in advance. Enjoy your breakfast, lunch, dinner or a snack here at the Gersberg Alm. We are happy to take reservations by telephone on 0043 662 641257. We look forward to serving you in our restaurant!
Opening hours Restaurant Die Gersberg Alm:
Breakfast buffet: 7:00 am – 10:00 am
Kitchen opening times: 12:00 pm – 9:00 pm
From 16th of July until 27th of August 2023 the Gersberg Alm restaurant is opened on Sundays!
From September 2023 the restaurant is closed on Sundays.
Click here for the digital menu of the Gersberg Alm in Salzburg.
Celebrations high above Salzburg
Celebrations at the Romantik Hotel die Gersberg Alm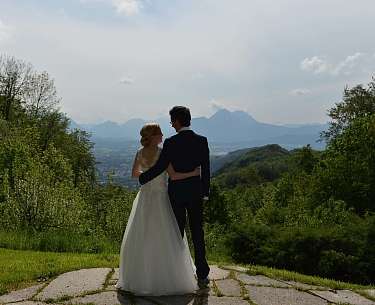 Weddings in Salzburg
Salzburg with its idyllic squares and romantic alleys is practically made to serve as a backdrop for the biggest day of your life. Baroque churches, picturesque city halls, secluded streets in the old town and a dignified atmosphere will make your wedding in Salzburg twice as beautiful. And a wedding reception outdoors high above breathtaking views of the city of Salzburg will undoubtedly make your special day unforgettable. Far from the hustle and bustle of the city, yet so close to the action: plan your wedding reception at the "Romantik Hotel" Gersberg Alm and enjoy the luxury of celebrating outdoors without the stress of a long drive.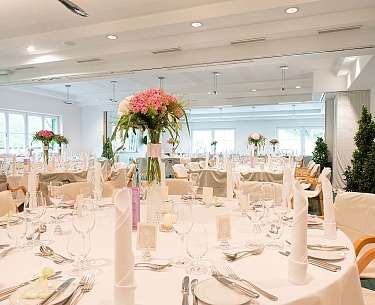 Dream wedding at the Romantik Hotel
Whether you picture a buffet, an individually created menu, or á la carte service: the kitchen team at the Gersberg Alm will fulfil all of your culinary wishes. Excellent service will take care of you and your guests and we are happy to accommodate your special requests for your wedding day. After all, the most special day in your life should be exactly as you want it. What goes along with that? Lovingly selected decorations, carefully arranged flowers, beautifully set tables and unforgettably good food. Whether you get married outdoors with beautiful views of Salzburg in summer or in our warm, cosy restaurant in winter: the Gersberg Alm is an unforgettable location for weddings in Salzburg.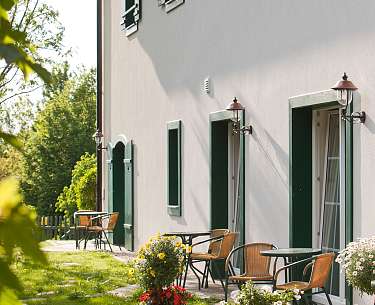 Worry-free celebration
Enjoy a stress-free celebration without worrying about how to get back to your hotel: the "Romantik Hotel" Gersberg Alm has plenty of rooms for you and your wedding guests. Park your car at the hotel, lose track of time while celebrating and stay in one of our comfortable rooms. Depending on the number of guests, you can choose between booking the entire hotel or a block of rooms for your guests.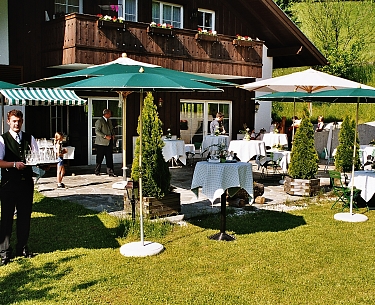 Family celebrations
A birthday, baptism, confirmation, wedding or family reunion: celebrate your family party in the comfortable atmosphere at the Gersberg Alm, located near Salzburg. Personal service, warm hospitality, delicious food, and an ambiance in which you'll feel great ensure a completely successful family event.
How about sitting with your family in our shady garden on a warm day? Chat in peace, enjoy the beautiful nature and amazing views of Salzburg. On cooler days you can hire an entire room, use the hotel's ninepins bowling alley, or host your family party in our restaurant. The separate Almstüberl room offers privacy for special parties – here you will surely feel right at home.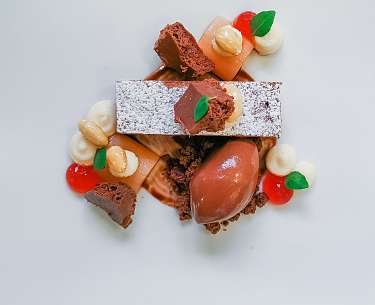 Culinary Highlights for your family celebration
Head chef Willy Oberreiter and his team will treat you to excellent food at your family party. The creative local cuisine with interesting ingredients will leave no wish unfulfilled. Is there a special family dish with which you'd love to surprise your loved ones? We will be happy to put together personalised menus for your family event.
Meetings & Motivation in Salzburg
Seminarhotel Die Gersberg Alm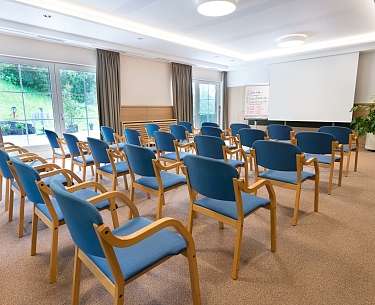 Conferences & Workshops
Surrounded by nature and yet a short distance from the city of Salzburg: the Gersberg Alm seminar hotel fulfils all the requirements for successful conferences. Five spacious conference rooms with flexible seating options, excellent technological equipment and impeccable service provide the basis of a successful event. Depending on the size of your conference, you can book the entire hotel or individual rooms.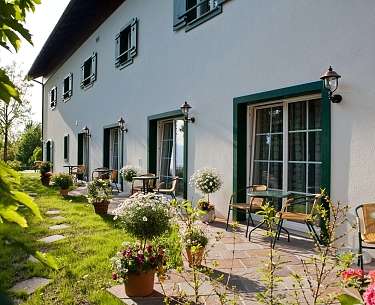 Seminars & Trainings
Whether you are planning a seminar or training: flexible rooms with modern technological equipment guarantee successful seminars. Our quiet location in the green nature adds to participants' learning experience – after all, breaks filled with fresh air make are especially effective. Our hotel near Salzburg has five seminar rooms with flexible seating options. Modern technological equipment including data projector, flipchart, overhead projector, lectern and slide projector give your presentations the perfect stage. Free WiFi throughout the entire hotel ensures problem-free internet access. Salzburg's central location and good transport connections make our hotel an attractive seminar location. Excellent service and delicious food will perfectly complement your seminar in Salzburg.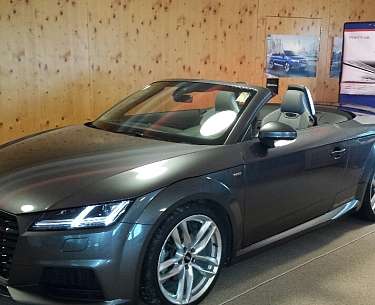 Product presentations
Whether outside, nestled in green nature, or inside the versatile rooms of the hotel, our charming hotel, the panoramic views of Salzburg, and the surrounding mountains and outdoors create the perfect setting for your product presentation. From cars and cosmetics to insurance and salon products: make a lasting impression on customers, journalists and retailers with your product presentation. The Gersberg Alm boasts large rooms in which you can present your products. Our Heuberg room is truly the highlight: this room features a terrace that allows you to drive a car right into the room, making it ideal for presenting vehicles. Modern technology including a data projector, lectern and good lighting, give your products the best stage.
To ensure your guests feel great during your product presentation, our expert team provides the most attentive service. Whether you would like a buffet or cocktail reception, small snacks or multiple courses: chef Willy Oberreiter and his team will cook up something wonderful.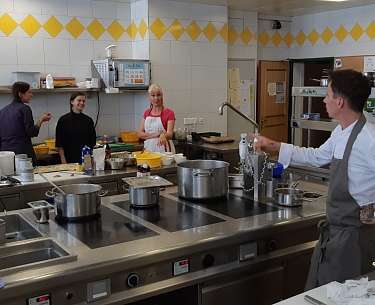 Teambuilding & Incentives
The Gersberg Alm hotel also offers team building activities. How about a fun game of ninepin bowling? The hotel's own alley is perfect for a fun evening together. You can also build team spirit in the hotel kitchen: together with our chef your staff will improve teamwork while cooking together – and then enjoy the fruits of your labour.
Explore Salzburg's old town with GPS equipment and go on a cultural treasure hunt. Or go wild and try out canyoning or rafting in the Salzkammergut. Salzburger Land offers many possibilities for your team to grow closer and to give your employees motivation.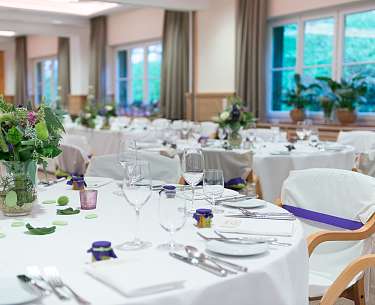 Corporate events
The picturesque location above the city of Salzburg is the perfect place to celebrate with your staff. Whether you'd like to spend time outside in our beautiful garden or stay instead in our cosy restaurant, here your company party will be an unforgettable event! From holiday parties to project closure meetings: at the Gersberg Alm hotel you can have privacy and create your corporate event exactly as you pictured it.
Various seating options: banquet seating, small tables, or seating plans with namecards
Catering: gala menu, standing lunch or snacks, or a themed buffet
Spacious outdoor area with outdoor dining and amazing views of the city of Salzburg
5 seminar rooms with flexible seating options and modern technology
40 hotel rooms and 4 apartments
You can book the whole hotel for large events
Hotel's own ninepins bowling alley for fun evenings
Plenty of parking available
Proximity to Salzburg airport and main station
Experienced contact person on-location
Friendly and flexible service staff
Conference package
The conference package for € 62 per person includes:
Morning coffee break (cup of tea or coffee)
With savoury snacks

(2 items per person)
Two drinks

(mineral water, fruit juice)
Lunch

(3-course meal) – drinks not included
Afternoon coffee break (cup of tea of coffee) with pastries/cakes (2 pieces per person)
Room rental
Standard conference equipment
Additional hot drinks (coffee, tea), soft drinks during the seminar (Rauch juices, mineral water, etc.), and drinks at lunch will be charged according to consumption!
If you'd prefer a buffet instead of a lunch menu, we are happy to offer buffets for 25 or more people at an additional charge of € 10.00 per person!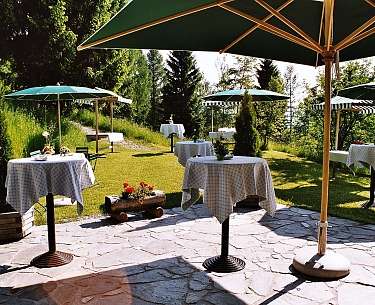 Good reasons for the Seminar Hotel Die Gersberg Alm
In addition to the quiet location, our hotel with conference rooms near Salzburg offers you plenty more advantages for your next meeting or seminar:
Up-to-date multi-media technology
5 large rooms, from rustic alpine rooms to modern conference rooms
Flexible seating arrangements
Free WiFi throughout the entire hotel
Quiet, stress-free location, close to nature with panoramic views for restful breaks
44 hotel rooms and suites
Easy to get to by car, plane and train thanks to good transport connections and proximity to Salzburg Airport and the main railway station
Plenty of parking
Excellent food and drink
Sprawling outdoor area for social activities in the fresh air
Incentives and activities are possible in Salzburg and the Salzkammergut region
Attentive, experienced staff & experienced contact person on location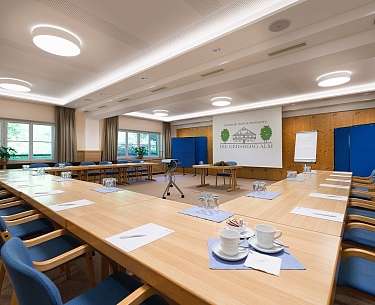 Room Mönchsberg
Our Mönchsberg conference room is 97 m² and offers flexible seating options even for a larger group.
Prices: Daily rate: € 265 | Half day rate: € 165
Seating options:
U-Form
26 Members
U-Form
32 Members
Blockform
28 Members
Parliamentary
38-40 members
Seating rows 60 members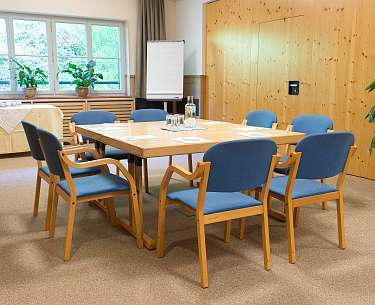 Room Kapuzinerberg
Our Kapuzinerberg conference room of 49m² with a length of 9.8 m and a width of 5.2 m is ideal for presentations requiring greater contact with clients.
Prices: Daily rate: € 165 | Half day rent: € 120
Seating options:
U-Form
18 Members
Blockform
20 Members
Parliamentary
18 Members
Seating rows 60 members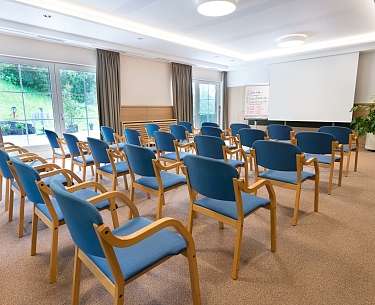 Room Heuberg
Our Heuberg conference room is 70 m² and a very comfortable room that will meet all of your needs. 9.8 m long and 7 m wide, this room features two large swivelling doors that open up to our terrace outside.
Prices: Daily rent: € 240 | Half day rent: € 150
Seating options


U-Form
20 Members

U-Form
30 Members

Seating rows 50 Members

Blockform
26 Members

Parliamentary
30-32 Members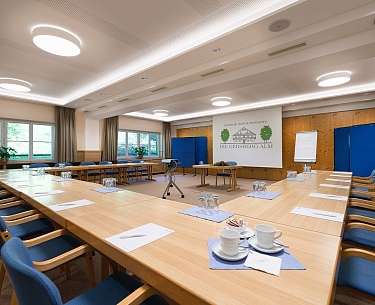 Room Gaisberg
Our Gaisberg conference room is 146 m² and made by joining the rooms Mönchsberg and Kapuzinerberg - 15 m wide and 9,8 m long.
Prices: Daily rent: € 330 | Half day rental: € 230
Seating options

U-Form
40 Members

U-Form
56 Members

Seating rows
100 Members

Blockform
46 Members

Parliamentary
70 Members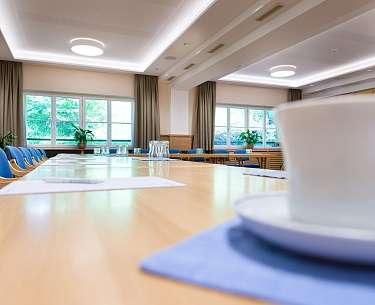 Room Schafberg
Our Schafberg conference room is 119 m² and is made by joining rooms Kapuzinerberg and Heuberg - 9,8 m long and 12 m wide. It is a perfect location for product presentations and exhibitions.
Prices: Daily rent: € 300 | Half day rent: € 180
Seating options

U-Form
30 Members

U-Form
40 Members

Seating rows
55 Members

Blockform
40 Members

Parliamentary
50 Members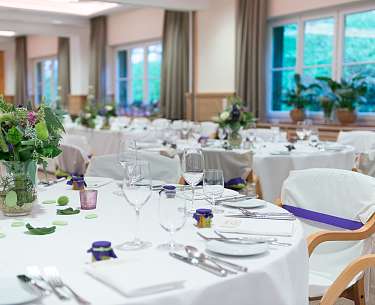 Room Untersberg
Our Untersberg conference room is 216 m² large (9.8 m length and 22 m width) and the largest possible combination of rooms Mönchsberg, Kapuzinerberg and Heuberg.
Prices: Daily rent: € 540 | Daily rent: € 400
Seating options


U-Form
55 Members

U-Form
85 Members

Seating rows
150 Members

Blockform
76 Members

Parliamentary
100 Members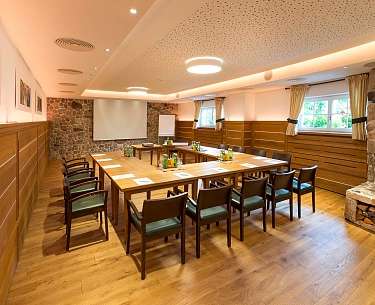 Room Almstüberl
Our versatile Almstüberl conference room features a rustic atmosphere that can be adapted as you wish for product presentations, training or retreats. The open fire in the masonry oven creates the perfect atmosphere for fireside chats.
Prices: Daily rent: € 200 | Half day rent: € 150
Seating options


U-Form
20 Members

U-Form
25 Members

Blockform
30 Members

Seating rows
50 Members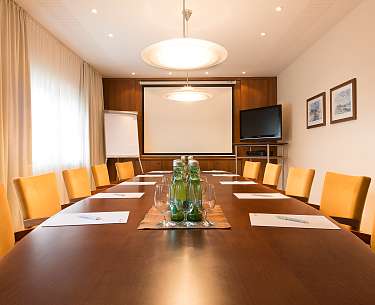 Conference Suite Kühberg
Our Kühberg conference suite perfectly rounds out our selection of conference rooms. This elegant venue features a permanent table for a maximum of 14 people.
Prices:
Daily rate: € 150
Half-day rate: € 100
Discover & Experience around the Romantik Hotel Die Gersberg Alm
Discover & Experience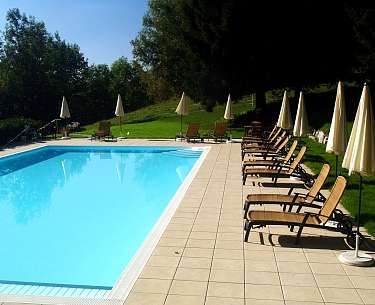 Time out
Find wonderful relaxation in the sauna, steam bath or infrared cabin. In summer you can cool off in the outdoor pool. To relax, the wonderful garden with umbrellas and loungers invites you to slow down. The adjacent meadows smell of meadow flowers and in winter this place offers a wonderful silence for a long walk.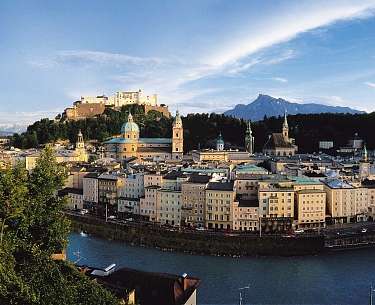 Highlights in Salzburg
Salzburg is a stronghold of art and culture, a place full of tradition and history, UNESCO World Heritage Site, a world city in miniature. Marvel at the many magnificent buildings steeped in history, such as the Hohensalzburg Fortress, the old and new Residenz, Hellbrunn Palace with its fountains, Klessheim Palace with its casino, Leopoldskron Palace and Mirabell Palace with its idyllic gardens. Salzburg Cathedral, the Capuchin Monastery, the Collegiate Church, St. Mark's Church, Nonnberg Abbey and the Kajetan Church are just a few of the churches worth seeing in Salzburg.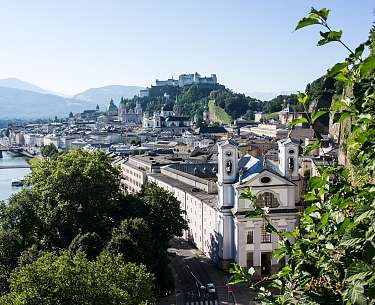 Salzburg
Stroll through the alleys, treat yourself to a coffee at the Old Market or stroll through the blooming gardens and parks of the city of Mozart city Salzburg.
Experience personal and special insights into the city of Salzburg with art historian and Austria Guide Ms. Gertraud Kamml, who will bring you closer to her hometown in a special way in two hours. Give a gift voucher for this special Salzburg experience.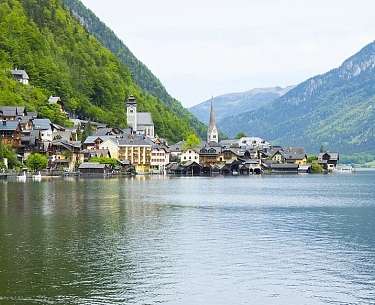 Salzkammergut
A total of 76 lakes, countless mountain peaks and varied landscapes make the Salzkammergut an idyllic vacation paradise. The best thing about it: From the Romantik Hotel die Gersberg Alm you can reach the dreamy Salzkammergut in just a few minutes. The famous town of Bad Ischgl is about 50 minutes drive from our hotel. The Mondsee only about 20 minutes by car.
What do you feel like during your vacation? Discovering the vastness of the Salzkammergut lakes on a boat trip? Climb lush alpine pastures on foot? Experience the adrenaline rush of mountain biking? Experience the magnificent panorama on the 5fingers viewing platform or visit the impressive Hallstatt Salt Worlds?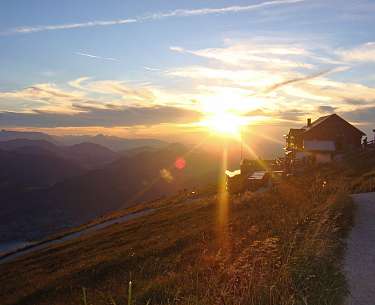 Hiking & Climbing
The immediate surroundings of the Romantik Hotel Die Gersberg Alm invite you to extensive hikes and walks.
Gaisberg circuit hike: a leisurely hike starting at the Zistelalm. The ascent to the Zistelalm begins just outside the hotel – so leave your car with us. Time: 1.5 hours/2 hours with ascent
Hike on the Nockstein: a short circuit route on the Nockstein with incredible views of the mountains. Time: 1 hour
Schafberg hike: a challenging yet picturesque hike from Schafbergbahn past the Schafbergalm to St. Wolfgang.

Note: this hike requires surefootedness. Time: 2.5 hours
Untersberg hike: a hike for very fit hikers on Salzburg's famous mountain. A less strenuous and shorter option is to take the Untersbergbahn cable car to the same destination. Time: 2-4 hours depending on route.
Mountain railroads such as the Untersberg or the Schafbergbahn in the Salzkammergut will take you to lofty heights in no time.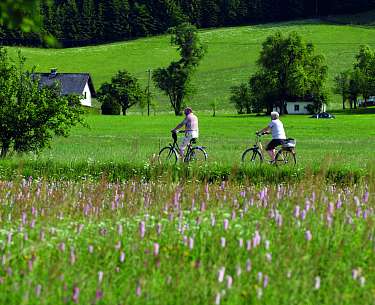 Cycling
A versatile network of bike paths for young and old, sports enthusiasts as well as families meanders through the Salzburger Land. As a guest of our hotel, you can reach the starting points of the bike paths in just a few minutes.
On a total of 21 stages, the Mozart Cycle Path leads from the city to Salzburg Land, on to Bavaria and back again. The Salzkammergut Cycle Path leads past the lakes of the Salzkammergut region. Although it is designed as a three-day tour, you can also complete individual stretches and refresh yourself along the way at the lakes of the Salzkammergut. The Tauern Cycle Path leads from Krimml via Schwarzach, Salzburg and Lofer to Bruck. For day tours, for example, stage 5 from Golling to Salzburg is suitable.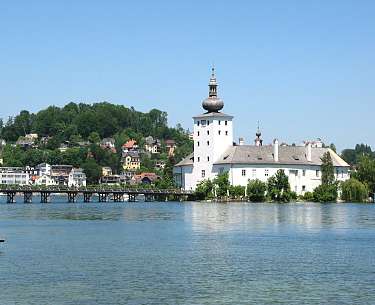 Romantic Road
From Vienna to Salzburg and over a length of 380 kilometers, the Austrian Romantic Road leads past picturesque towns and idyllic places and invites you to discover the most romantic places in the country from Salzburg to the Mondsee, Bad Ischl and St. Wolfgang or to the renaissance town Gmunden. Gentle curves, breathtaking views, sophisticated castles, glittering lakes, majestic castles, contemplative monasteries and exciting museums are waiting to be discovered by you along the Romantic Road. Perfectly placed for a stopover on your journey along the Romantic Road: the Romantik Hotel Gersberg Alm.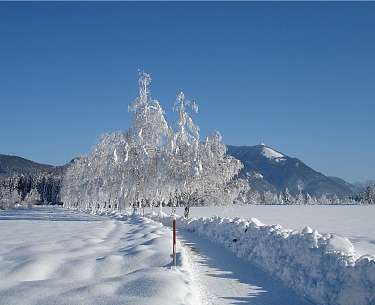 Winter romance
Cross-country skiing at Lake Fuschl, around Lake Wolfgang or in nearby Faistenau, horse-drawn sleigh rides through the city of Mozart, ice skating in the city and province of Salzburg, snowshoeing across snow-covered fields and on perfectly groomed slopes: all this is possible during the cold season. Walk over the snowy hills around the hotel, breathe the fresh air and savor the dreamlike view of the Hohensalzburg Fortress as well as the surrounding mountains.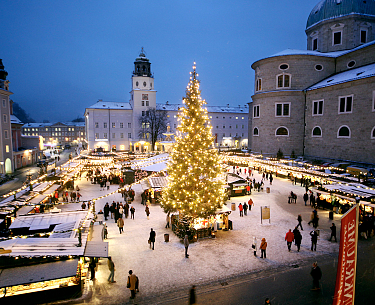 Christmas time in Salzburg
The Christmas markets in Salzburg and the Salzkammergut are as diverse as the places themselves. In front of the incredible backdrop of historic castles, picturesque squares, shimmering lakes and snowy landscapes, you will rediscover how magical the holiday season can be. Experience Christmas time in Salzburg:
Salzburg Christmas Market at the Cathedral, Residence and Mozart squares
Mirabell Christmas market at Salzburg's Mirabellplatz
Advent market in the Hohensalzburg Fortress castle courtyard
Hellbrunner Adventzauber at the Hellbrunn Palace
Picturesque Wolfgangseer Advent in Strobl, St Gilgen and St Wolfgang
Advent market in Mondsee
Advent in the villages of the Fuschlsee region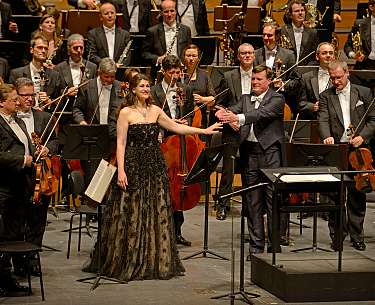 Easter Festival
Herbert von Karajan started the Eastertime complement to the Salzburg classical music festival in 1967. Over the years, the Easter Festival has become known as an independent highlight in the Austrian and international calendar of cultural events and thrills audiences with elaborate productions, incredible performances and first-class musicians.
While spring is awakening in Salzburger Land, Salzburg is also beginning its musical high season. Every year on Palm Sunday this Easter music festival is opened with an opera performance. And the best thing is that as a guest of the Gersberg Alm hotel, you'll be in the middle of all the action in no time at all.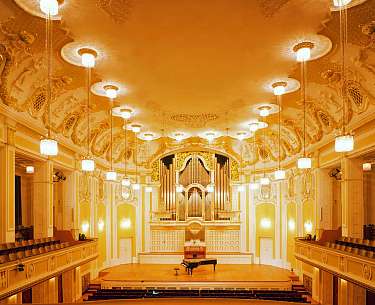 Mozart week
Each year classical music lovers meet in Salzburg. That's because each year, around his birthday in January, the popular Mozart Week takes place in Salzburg in honour of the famous composer. Enjoy operas, soloist concerts, chamber music evenings and stage productions and music by W.A. Mozart along with other composers. Performances during Mozart Week are as varied as the programme itself. From the Mozarteum's superb Great Hall to concerts in the halls of Mozart's birth house and residence, and imposing performances in the historical Felsenreitschule theatre and Salzburg Festival Hall.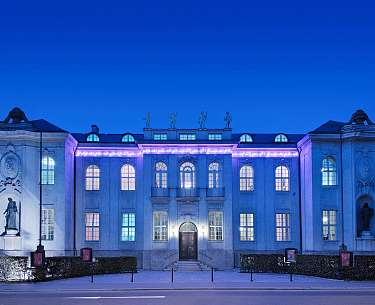 Whitsun festival
In addition to the Salzburg Festival and the Easter Festival, the Whitsun Festival is a key event in Salzburg's cultural calendar. In 1967 Herbert von Karajan brought the Easter Festival to life. In order to develop an entire festival year in Salzburg he held the Whitsun concerts in 1973, which turned into the Salzburg Whitsun Festival in 1998. The Whitsun Festival traditionally begins with an opera performance. Concerts by various composers and special events such as gala dinners or filmed opera performances are held at impressive venues suc the Great Festival Hall, House for Mozart, Marionette Theatre, Mozarteum and more.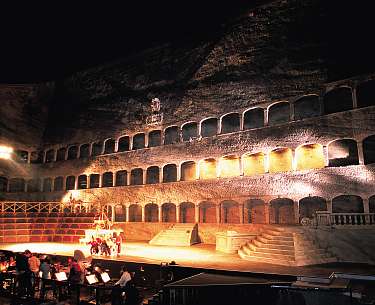 Salzburg Festival
The Salzburg Festival is one of the premier quality music festivals in the world. It combines musical tradition and innovation, brings first-class musicians to the city of Mozart, and invites music fans from the entire world to visit Salzburg. The Salzburg Festival began in August 1920 when Max Reinhardt brought Hugo von Hofmannsthal's "Everyman" to the stage on Salzburg's Cathedral Square for the very first time. Over the years, the Festival has become a true highlight of Austrian and international culture. Nowadays, Operas and operettas, orchestra and choir concerts, theatre performances, matinees, youth projects are performed during 45 days from July to August at impressive venues from the Great Festival Hall to the elegant Collegiate Church.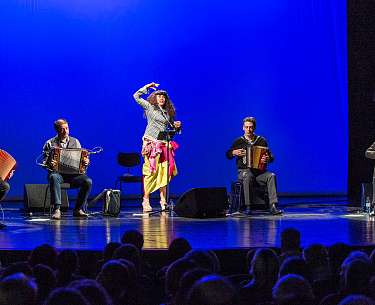 Jazz & The City
Rhythmic sounds, improvised melodies, exciting harmonies... jazz music rocks more than 40 thrilling venues in Salzburg every autumn. Cafés, bars, idyllic squares and galleries provide plenty of room for the jazz music to truly unfold. Stiegl's Brauwelt, the Stagebar, the Salzburg State Theatre, Republic Café or the Museum of Moderne are just a few of the many event locations. The Jazz & The City concert series is presented every October and hosts around 100 concerts at 50 locations in the city – all for free!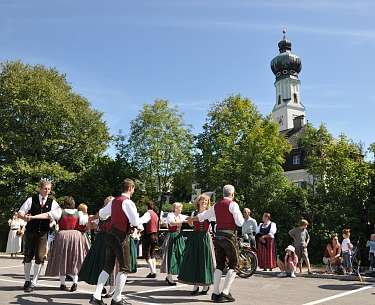 Farmer's Autumn in Salzburg Land
Farmer's Autumn in Salzburg Land - end of August to beginning of October.
Enjoy traditional regional delicacies and celebrate farmer traditions in Salzburger Land together with the locals. From the impressive Almabtrieb to creative hay figures, craft demonstrations, cooking classes and harvest festivals to the Almtanzln with Schuhplattlern at the alpine huts. To get in the mood for the Salzburger Bauernherbst: Youtube Video
The golden light of autumn and the clear view of the mountains makes hiking and biking especially attractive in late summer and autumn in Salzburger Land. In the guest garden of the Romantik Hotel die Gersberg Alm you can enjoy the view and typical regional delicacies from the Bauernherbst menu.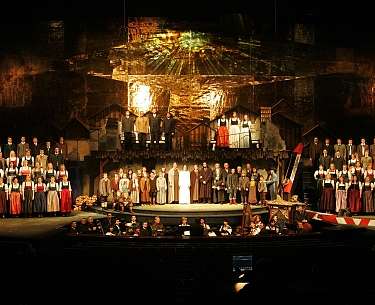 Salzburg Advent Festival
More than 200 musicians, actors and singers make the Salzburg Advent Festival a reflective and fun event year after year. Started in 1946 by folk musician Tobi Reiser, this Advent concert has drawn visitors from around the entire world since the opening of the Great Festival Hall in 1960. The crowd favourites, the Hirtenkinder, astound audiences with their sweet voices.
Get in the Christmas spirit with a visit to the Salzburg Advent Festival – easy to do when you stay at the Gersberg Alm! Performances during the Salzburg Advent Festival are held from the end of November until December at the Great Festival Hall. Tickets cost between 10,- and 69,- Euro.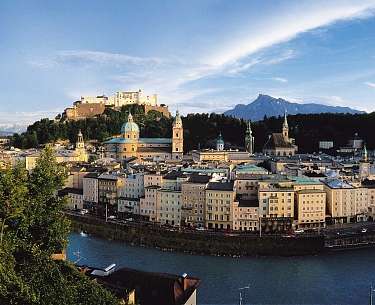 Exlusive Salzburg experience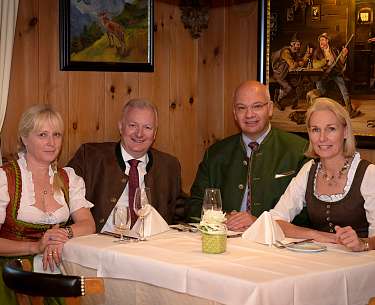 Hosts & Philosophy
Your hosts
Because it was so beautiful on the alp high above Salzburg that you wanted to stay, the house was bought in 1988 by the families Kreibich and Myslik and restored with great attention to detail and converted into a comfortable, modern accommodation, which at the same time has retained its authentic charm.
Since 1995 Robert and Regina Winkler are the hosts in the Gersberg Alm. They converted the Alm from a seasonal to an annual operation, built up a large circle of regular guests and made the hotel a place of warmth and friendliness. With great hospitality, the Winklers and their staff welcome all those who seek relaxation away from the hustle and bustle and ensure a feeling of security as soon as you enter.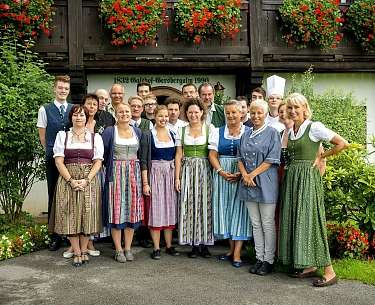 In good company
You feel good when you're in good company. You get used to your surroundings more quickly. You enjoy everything more deeply. It is for this reason that we have chosen this as our philosophy: personal, individualised and friendly service as well as the best assistance ensure you will have a worry-free time with us.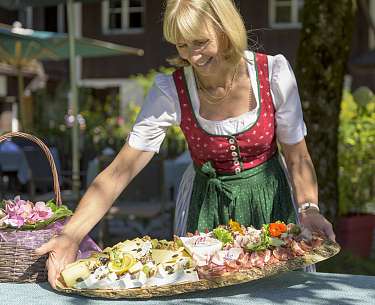 Stars and toques are only one measure of things
Word has spread that we are one of the leading hotels in the city and district of Salzburg. And we would like to keep up this high standard. But we can only do this with the help of our guests. Don't hesitate to share your wishes and thoughts with us. After all, toques and stars are not crucial to us – your return visits are!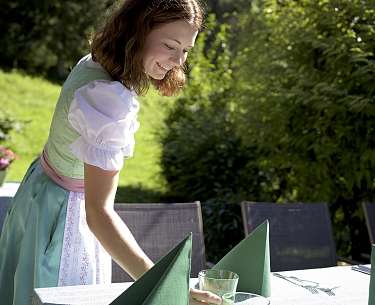 High expectations - high level service
We at the "Romantik Hotel" Gersberg Alm want you to feel especially welcome here. We place high demands on ourselves and meet them with our service. Our staff work as a team. Here we are all hosts – and that is something you will certainly feel on your holiday with us.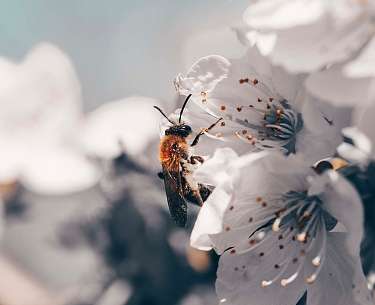 Beekeeping
For several years, the Romantik Hotel die Gersberg Alm has been cooperating with the local beekeeper "Bienenmax" Palfinger, who looks after 10 bee colonies on the hotel grounds. Especially in spring you can hear the buzzing of the swarms in the big old lime trees in front of the house. The own honey won from it supplements the offer at the breakfast buffet and is given to hotel guests with pleasure as "give away" on the way home. So the farewell is sweetened in the truest sense of the word.
Gardening
Situated at the foot of the Gaisberg at an altitude of 800 meters, the Romantik Hotel & Restaurant die Gersberg Alm has a spacious garden, which is largely left in its natural state. Here, in addition to the picturesque little farm gardens, there are also two raised beds in which herbs are planted in the spring for the hotel's own use. Chef Florian Dornstauder enjoys processing the freshly harvested herbs directly in the kitchen.
FAQ
FAQ about our Romantik Hotel Die Gersberg Alm
The rooms are ready from 4 pm. If you arrive earlier than 4 pm and you room is not ready yet, you can store your luggage safely with us until your room is ready.
In case you arrive after 11 pm, please notify us in advance.
Parking spots are located just a few metres from the Romantik Hotel Die Gersberg Alm - free of charge.
Rooms should be left by 11:00 a.m. Please let us know in advance if you would like to leave later!
We always try to fulfill your room requests. Unfortunately, a binding commitment is not possible.
The following services are included with a stay at Hotel Die Gersberg Alm:
Rich and vital breakfast buffet with regional products from 7 a.m. to 10 a.m
Parking spaces in front of the hotel Free WiFi throughout the hotel
Use of the wellness area with sauna, steam bath, infrared cabins and relaxation loungers
Well-kept tennis court
Small children's playground
Spacious guest garden with sunshades and a wonderful panoramic view of Salzburg and Berchtesgaden
Outdoor pool with large sun terrace
Free bath towels at the pool and soft bathrobe in the room
Baby monitor on request
Children are welcome guests in our hotel. Children up to 6 years are free of charge in their parents' room. For children from 6 years, an additional bed can be booked for €36 including breakfast.
Breakfast buffet
You can enjoy our rich breakfast buffet in the morning between 07:00 and 10:00 a.m. at the restaurant
Lunch & Dinner
Our kitchen is there for you every day from 12:00 p.m. to 9:00 p.m.
Guest garden
With good weather you can have breakfast, lunch or dinner in our garden. The guest garden is closed at midnight in the evening out of consideration for the rooms above.
Dogs and pets are allowed with advance notice and extra charge. Depending on the size of the pet, we charge € 10.00 or € 20.00 per night on site. However, we ask you to keep your four-legged friends away from the restaurant, sauna and swimming pool area and to keep them on a leash throughout the hotel area.
We accept cash, EC cards and credit cards (American Express, Visa, Diners, Master Card/Eurocard) to pay the hotel bill.
Damage or damage to property will be charged upon departure. We accept no liability for accidents that we are responsible for, damage to parking spaces or loss or damage to property.
Romantik Hotel
Die Gersberg Alm
Romantik Hotel Die Gersberg Alm
Dr. Florian Kreibich
Gersberg 37
Austria-5020 Salzburg
AT - Salzburger Land -

Coming from Vienna:
Leave the A1 freeway at the Thalgau exit (Exit 274). Continue in the direction of Hof. In Hof, turn onto the B158 in the direction of Salzburg. Take the turn onto the L108, the Gaisberg Landesstraße in Guggenthal. Follow the road and after a few minutes you will have reached your destination.
Arriving from the direction of Villach/Munich:
Leave the A1 freeway at the Salzburg Nord exit (Exit 288). Then simply follow the hotel guidance system, looking out for the green "Hotel Route" signs.
As input into the navigation system we recommend to enter "Guggenthal".
Please note the Austrian winter tire obligation: This applies from November 1 to April 15 with the express addition of "in winter conditions", which applies in the case of snow, slush or ice.


Numerous national and international direct flights land daily at Salzburg's W. A. Mozart Airport. This provides the city with excellent connections to the rest of the world. From the airport, a cab will take you safely to the Gersberg Alm.

Salzburg's main train station, with connections to all of Austria, Germany and Italy, is just a few minutes' drive from Hotel Die Gersberg Alm.
You need a cab to get there? Let us know - we will be happy to organize a cab to take you to us in just a few minutes. We are looking forward to your visit!
Job Vacancies
Join the Gersberg family!
As we are both a romantic hotel and a conference hotel, the staff at the Gersberg Alm need to be able to serve guests from the worlds of business, culture and politics. Become a member of the Gersberg team and send us your application today! We offer motivated staff interesting and diverse tasks in the friendly atmosphere of our hotel. Free board during your working hours is a given and regular working hours as part of a five-day week are important to us.