"Time out at the source of nature"
The scenic beauty of the Almtal makes the soul sing. Lovingly furnished and rich in detail, the traditional Romantik Hotel Almtalhof makes every visit a special stay that you as a guest enjoy with all your senses. Cosy, comfortable rooms, excellent cuisine and charming, attentive service make your visit an unforgettable experience.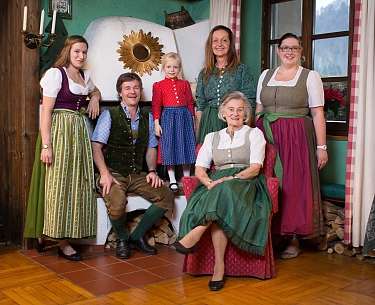 Your hosts
The family-run four-star romantic Hotel Almtalhof is located in the heart of the Almtal. Looking back on more than 100 years of tradition, host Jörg Leithner and his family know about the strengths of gentle tourism in an increasingly hectic time. Accordingly, a soothing deceleration awaits you as a guest at the Romantik Hotel Almtalhof. The family's goal has always been to bring a little romance into life and to make it possible for you as a guest to experience it in different areas.
Our facilities
at Romantik Hotel Almtalhof
Central Location
Child Friendly
Free Wifi
Indoor Pool
Lift
Parking Area
Parking Garage
Pets Friendly
Quiet Location
Sauna
Leithner's Almtal Culinarium!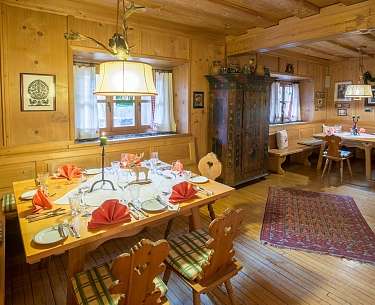 Restaurant Almtalhof
With its award-winning gourmet cuisine, our restaurant is a meeting place for gourmets. Host Jörg Leithner and his team conjure up original, regionally rooted cuisine with high-quality ingredients. The natural, good taste of the food, without artificial additives, is the focus of everything that is created in the in-house kitchen. Because the host personally takes care of the shopping, the menu changes daily and reflects the seasonal and regional offerings of the market.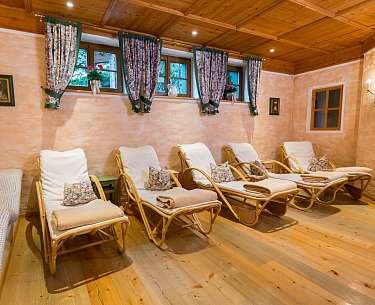 Sauna
In addition to a Finnish sauna and a steam bath, the hotel's vitality landscape also includes a "Brechlbad", a herbal steam bath typical of the region, which is wonderfully relaxing and strengthens the immune system. You can enjoy a sauna in the middle of nature in the hotel's own log cabin sauna in the garden. The sauna stove is fired with spicy-smelling Swiss stone pine wood from the area. A whirlpool and an indoor pool complete the offer of the vitality zone. In the relaxation room, heated loungers are available for relaxing moments.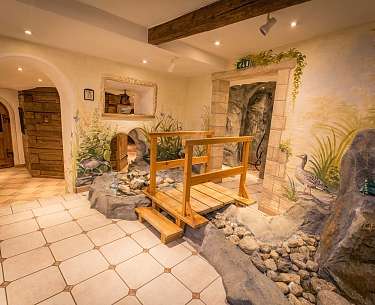 Stone bath
Our spa area also includes a stone bath that effectively combines the elements of fire, stone and water. Mineral stones from the region are stored in an iron basket and heated over blazing flames. Finally, the basket with the glowing stones slowly sinks down into the clear water, immediately creating clouds of steam and a mystical and soothing mist.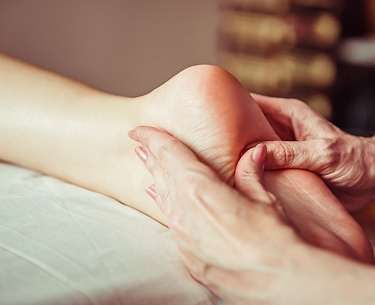 Treatments
Our masseuse offers classic massages, lymph drainage, shiatsu and bodywork. Special highlights are also the soothing treatments on the soft-pack lounger, which promises free-floating positioning and pleasant warmth. For the Cleopatra bath, you are wrapped in a fleece that has previously been soaked in milk and high-quality oils. The application on the warm soft-pack lounger allows the active ingredients to penetrate the skin intensively.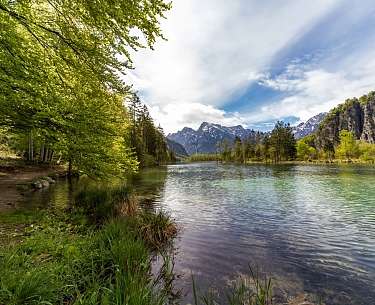 Hiking & Climbing
The mountain and hiking opportunities are as diverse as the Grünau area itself.
From easy, short hiking trails to extensive day and alpine tours, the surrounding alpine pastures and mountains offer the right destination for everyone. Taster climbing for young and old and exclusive full-day tours allow you to discover the hidden natural gems of the Salzkammergut on foot or by bike.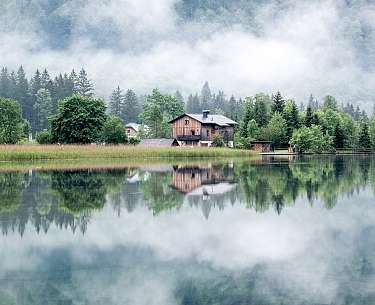 Echo blowing at the Almsee
Every Wednesday evening in summer, the Grünau brass group performs echo blowing at Almsee. With various wind instruments, the musicians elicit a clear echo from the mountains all around. In mid-August, the annual brass festival takes place at Almsee, which is attended by brass groups from all over Austria.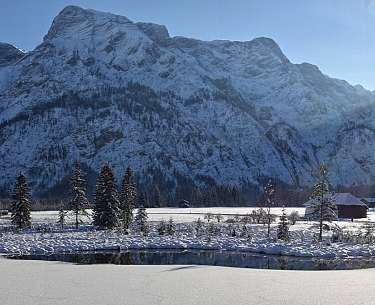 Winter sports
With 21 kilometres of slopes and 120 snow cannons and snow lances, winter fun is guaranteed in the Kasberg family ski area. The children's ski arena is located directly at the Sonnalm, with lifts suitable for beginners and gentle slopes as well as two magic carpets. A magic forest and a children's race course are also available for the little guests. Real pros like to meet in Austria's largest freestyle park at 1,600 metres above sea level.
Cross-country skiing over snow-covered meadows and through quiet forests is also excellent in the Almtal. The Jagersimmerl cross-country trails are 11 km long in total. They start directly at the Jagersimmerl inn and are groomed and maintained from there.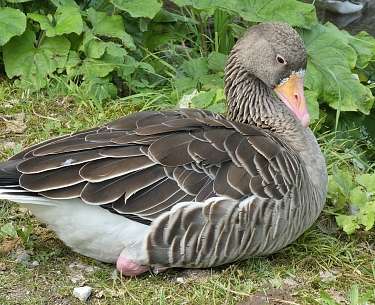 Marvel at wild animals
Nature with its manifold expressions determines life here. Konrad Lorenz was already attracted to this hidden jewel in the eastern Salzkammergut. Greylag geese, ravens, kingfishers and bald ibises have now established themselves as free-flying landmarks of Grünau thanks to the dedicated work at the Konrad Lorenz Research Centre. Twice the area has been chosen as a film location for "Universum" nature film productions. In the Cumberland Wildlife Park, nature lovers can experience ibex, red deer, bison but also lynx, brown bears or wolves up close.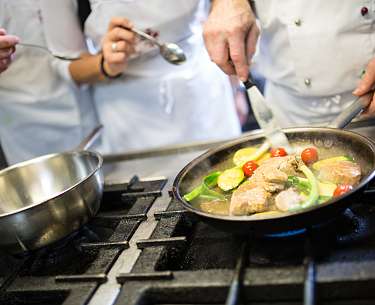 Cooking courses
Once in a while you can look over the shoulder of a professional chef - this is even possible once a week at the Romantik Hotel Almtalhof. Every Wednesday, a group of at least four people can look into the pots of host and chef Jörg Leithner and prepare delicious dishes together with him. Pre-registration is required by the day before. Cost per person € 55,- incl. meal and aperitif in the kitchen.
Romantik Hotel Almtalhof
Familie Leithner
Almeggstraße 1
Austria-4645 Grünau im Almtal
AT - Salzkammergut -

Motorway A1 Westautobahn Vienna - Salzburg Exit 207 Exit Vorchdorf at the roundabout - direction Pettenbach, Scharnstein to GrünauMotorway A9 Pyhrnautobahn Passau - Graz Exit 5 Ried im Traunkreis - direction Voitsdorf - Pettenbach, Scharnstein to Grünau
Nearest intercity stop Wels Hbf (ÖBB and Westbahn), change to the regional trains towards Grünau im Almtal "Almtalbahn" (ÖBB), stop only 200 metres away by bus: Bus line 533/535 Gmunden - Grünau - Almsee.

Blue Danube Airport Linz/Hörsching 60 KmW.A.
Mozart Airport Salzburg 100 Km
Vienna International Airport Wien/Schwechat 255 Km
Franz-Josef Strauss Airport Munich 265 Km