The most beautiful high-altitude trails
If you want to do something for your fitness on holiday and enjoy a wonderful nature experience at the same time, an extended hiking tour in the Alpen is just the thing. Majestic peaks, lush alpine meadows, rushing streams and tranquil lakes - here we present some of the most beautiful high-altitude trails for multi-day tours. Of course, you can also hike parts of the routes on a day trip.
The hiking tours at a glance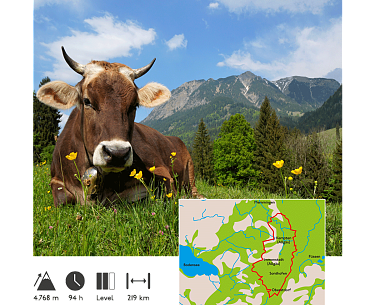 Oberallgäu circular hiking trail
The idyllic Oberallgäu circular hiking trail can be completed in ten days. It begins and ends in Altusried. In between, you will enjoy a view of the Zugspitze, cross extensive forest and pasture areas and marvel at the waterfalls of Buchenegg. On the Bleicherhorn and the Riedberger Horn you reach the high points of the hike at around 1,700 metres. From here you have a magnificent view of the Oberallgäu landscape.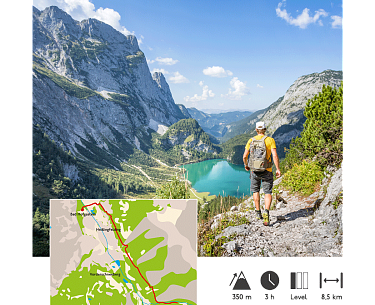 Through Gasteiner Tal
The area on the northern edge of the Hohe Tauern National Park is suitable for both day trips and hiking tours lasting several days. The starting point can be the well-known spa town of Bad Gastein, for example, but also another of the nearby holiday resorts. Not far away is also a part of the Tyrolean Way of St. James, which hikers can also get to know on this occasion. At altitudes of between 1,200 and 1,800 metres, most of the paths are also easy for less experienced hikers.
ROMANTIK HOTEL ZELL AT SEA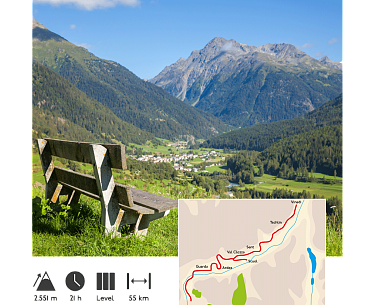 Engadiner high trail
A popular route for a hiking holiday of about six days can be found in the eastern Swiss canton of Graubünden. After starting in the village of Vinadi, the tour winds through numerous picturesque villages. The magnificent panorama of impressive 4000-metre peaks is a must. With the Val Clozza, hikers cross a valley that is one of the most beautiful in all of Switzerland. Difficult passages can also be partly mastered by cable car. The last part of the hike leads along the Inn River for a good stretch before it ends in Zernez at an altitude of around 1,500 metres.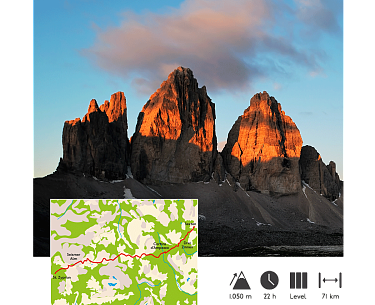 The Dolomitentrek
Wide meadows alternate with steeper passages, and some climbs secured with steel ropes have to be mastered. The seven-day hiking tour between St. Zyprian (South Tyrol) and Sexten demands experienced tourers in some places. In return, you will experience the panorama of the famous Three Peaks, the Lago di Misurina, the Plattkofel and many other natural beauties up close. Cortina d'Ampezzo is also visited on this hike. The tour is suitable until mid-November. In high summer, mountain thunderstorms can occur, some of them violent.