"Hospitality at the highest level"
At the foot of the Schlern, the stylish hotel will convince you with culinary creativity, a unique wellness area and a remarkable art collection. A golf course (18 holes) offers you boundless golfing pleasure. Modern design in a historic ambience: Discerning travellers appreciate the warm hospitality and the unique location.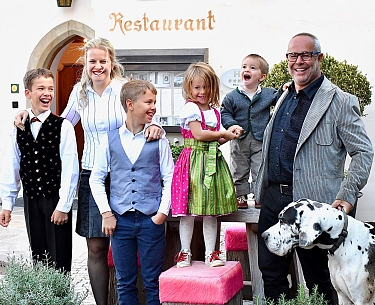 Our hosts
The Pramstrahler family has a bird - in a positive sense. Because the feathered animal not only shaped the past of host Stephan Pramstrahler - it is still something like the heraldic animal of the family and the hotel. Despite - or perhaps because of - the bird, the family welcomes you with a lot of passion and heart and soul. It is not without reason that Stephan Pramstrahler & his wife Kathi are among the best hosts in South Tyrol & were awarded 1st place in the category ROMANTIC HOTELS by the CONNOISSEUR CIRCLE.
Facilities
at the Romantik Hotel Turm
Free Wifi
Meeting Facilities
Pets Friendly
Child Friendly
Outdoor Pool
Quiet Location
Electric Car Charging Station
Indoor Pool
Sauna
Fitness
Lift
Parking Garage
Toast with Picasso
At the bar with Joseph Beuys, Otto Dix or a real Picasso? Here, art lovers and art novices can marvel at a selection of around 2,000 timeless masterpieces.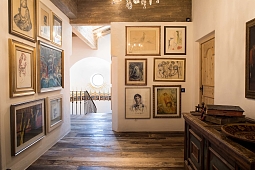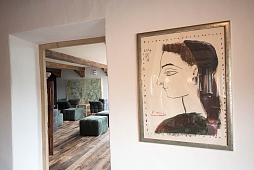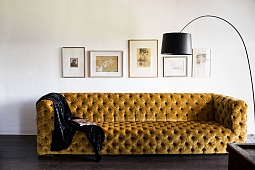 Indulgence
South Tyrolean cuisine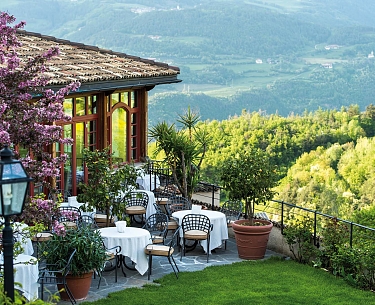 Restaurant Turm
Enjoy a special meal in a special atmosphere. In winter in our cosy parlours and in summer on our terrace with a dreamlike view of the Dolomites - we guarantee you the highest pleasures for the palate and lasting memories! It is not for nothing that our restaurant was voted one of the five best hotel restaurants in Italy and has once again received two red torques in the Gault Millau, as well as 3 spoons in the Aral Guide.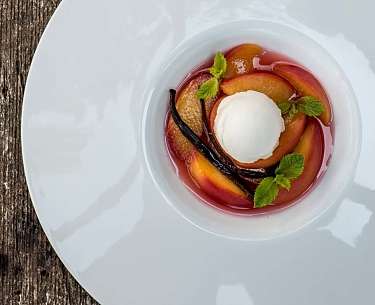 The master at the cooker
Chef Mathieu Domagala learned his craft from scratch. Now he makes our restaurant in Völs one of the best in South Tyrol. His cuisine is characterised by down-to-earthness, but also by high quality awareness and a great willingness to experiment. His motto: Offer the guest something special!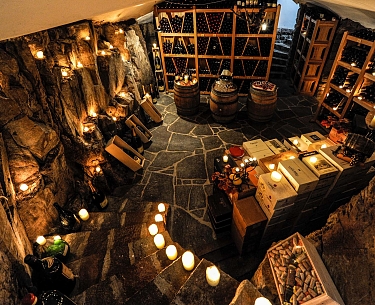 Wine cellar
We can offer wine lovers something very special: You will not only find top local and Italian wines, with a focus on South Tyrol, in our special rock cellar. The Grottnerhof winery also belongs to the Romantik Hotel Turm and is successfully managed by us. Sauvignon Bubo, Gewürztraminer Tetrix, Pinot Blanc Pica or Pinot Noir Corax - no matter which is your favourite, these wines are not easily forgotten!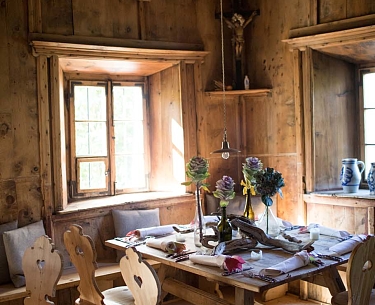 Winery Grottnerhof
On this traditional vineyard dating back to the 13th century, Pinot Blanc, Sauvignon, Gewürztraminer and Pinot Noir are cultivated in a unique location at an altitude of 450 to 600m and refined into wines and grappas. With a great deal of passion, commitment and dedication, the Pramstrahler family has managed to turn this winery in South Tyrol into something extraordinary.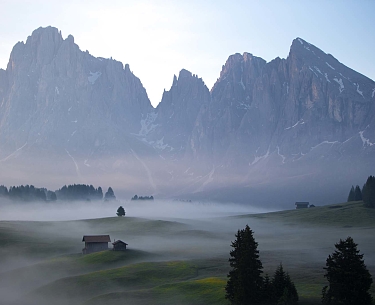 Sustainability
Our focus is on products from the region - whether for our SPA treatments or for indulgence. The clear focus of our wine list is our own wines from the Grottner Hof as well as other South Tyrolean wines.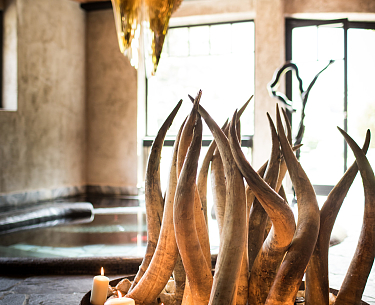 Relaxation
Condé Nast Johansens has chosen the Romantik Hotel Turm as the best wellness hotel in Europe. And not without reason: Our wellness area is characterised by individuality and a unique flair. How about a wine marc bath, for example? Or would you prefer to relax with a massage on the waterbed with apples, mountain pine oil or hot stones? Just the right thing to feel good!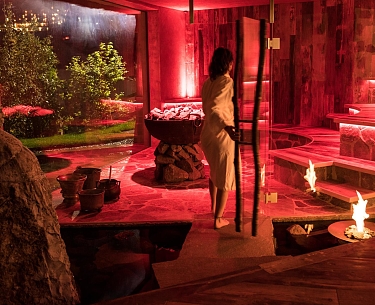 Mystic sauna world
A heat that makes the heart beat faster and warms the inside. Infusions are prepared in the fire guardian mystic sauna with a panoramic view of the Schlern. The Finnish parlour sauna is classically hot and fierce. A gentle sweating pleasure is provided by the spruce sauna with drizzle and in the aroma steam bath the senses are stimulated by essences with a coloured starry sky.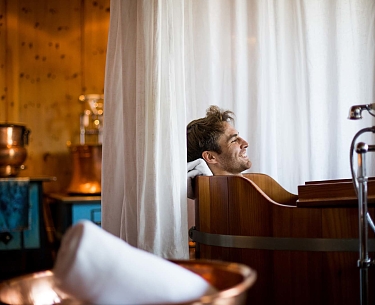 Völser hay bath
Among the treatments you will find traditional Völser hay baths, which you should definitely try. Our ancestors already appreciated the special healing power of alpine hay! Romantic baths in the imperial tub are best enjoyed as a couple, whether with milk and honey, apple and yoghurt or with herbal oil.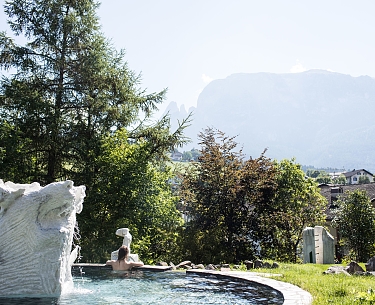 Wellness Whirlpool
Listen to the sound of the water in the whirlpool. Relax in the wolf fountain. Marvel at the garden - lush green in summer, covered in a white blanket of snow in winter. Swimming can offer so much.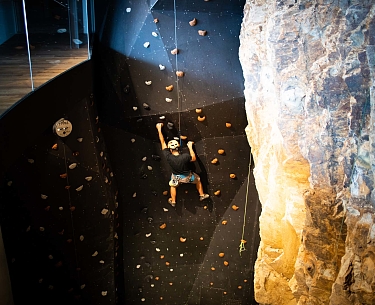 Climbing in the Turm
An absolute highlight in our Romantikhotel is the unique climbing wall that we have realised on the natural rock. Because the rock on which our house was built offers the ideal conditions for a dizzying challenge. The nine-metre-high indoor climbing wall not only creates a unique ambience. As a sports enthusiast and climbing fan, you will get your money's worth here.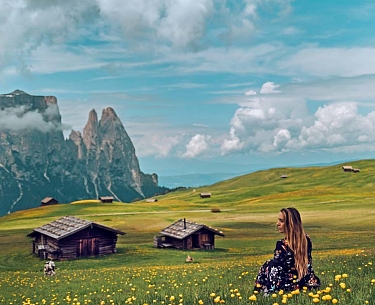 Alpe di Siusi
The Alpe di Siusi is Europe's largest high alpine pasture and an absolute paradise for hikers and climbers. The legendary mountain world of the Dolomites is a UNESCO World Heritage Site and the rustic alpine huts will enchant you. The tour to the Tschafon and the Schlern starts directly in front of the hotel! The wonderful panorama will make your heart beat faster.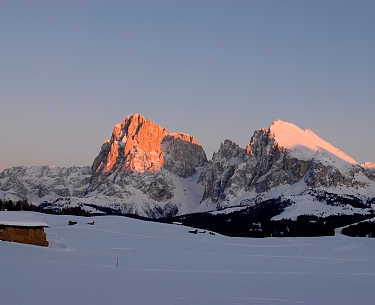 Winter on the Alpe di Siusi and in the Schlern area
The Alpe di Siusi is part of the Dolomiti Superski, the largest connected skiing area in the world and 60 km of perfectly groomed slopes of all levels of difficulty are just waiting for skiing enthusiasts. Skiing, snowboarding, snowshoeing or cross-country skiing (80 kilometres of trails of varying difficulty lead across the Alpe di Siusi) - a dream winter holiday is guaranteed!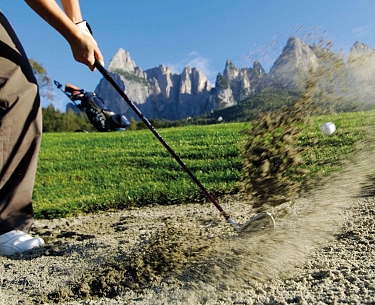 Golf in St. Vigil Seis
On our 18-hole golf course St. Vigil Seis all golfers are in good hands. It is one of the most beautiful golf courses in Upper Italy. A special highlight is the par-3 hole no. 15, the highest par-3 hole in Europe! Our guests get a 20% green fee reduction!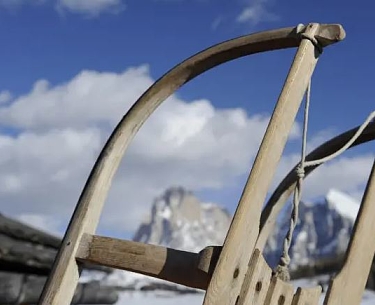 Moonlight tobogganing and snowshoe hiking
Moments of happiness and adventure guaranteed!
When the full moon lights up the toboggan run and scenery, it's the right moment for a fun and romantic toboggan run for lovers and friends. It is also a pleasant change from cross-country skiing on the Alpe di Siusi. For those who like it quieter, we recommend snowshoe tours along the 50km of marked routes.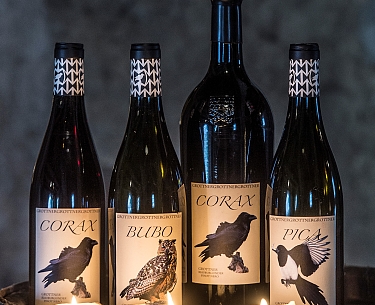 Indulgence experiences
Would you like to get to know South Tyrol from its authentic side? Then why not accompany us to the "Wimmern" and help us with the grape harvest on our Grottnerhof farm. During this wonderful experience in beautiful nature, the grapes are cut one by one from the vine. This work requires a lot of effort from you, but you will have a wonderful time with everyone involved and create precious memories.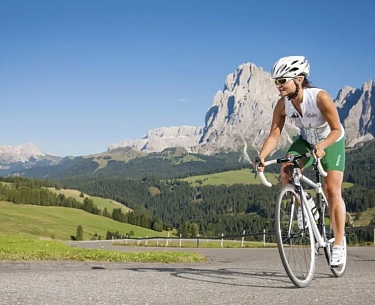 Mountain bike and e-bike rental
From April to October, 1,000 km of cycling tours, crisp trails and rapid descents await you. Choose your bike at the hotel - whether mountain bike or e-bike - and off you go.
Romantik Hotel Turm
Familie Pramstrahler
Kirchplatz 9
Italy-39050 Völs am Schlern
IT - South Tyrol -

Brenner motorway (A 22) exit Bolzano North - north towards Alpe di Siusi and Brennero until Blumau. From there through the left tunnel in the direction of Völs. In Völs direction village centre. After 50 m you will see the entrance to the underground car park on the left. From the motorway exit to Völs it is 12 km.


IC and EC trains stop at the stations of Bozen and Brixen. Bus connections from Bolzano to Fiè every 30 minutes (30-minute journey). There is also a bus service to the Schlern area from Brixen, Klausen and Gröden.

Stress-free journey without a car?
Leave your car at home and travel relaxed on holiday! From the train or bus station directly to the Hotel Turm and back again on your journey home, you can travel comfortably with Südtirol Transfer.

Start your holiday in Fiè allo Sciliar already at the airport, thanks to the numerous national and international flight connections to and from Bolzano airport, which is only 35 minutes away from Hotel Turm! Berlin, Hamburg, Düsseldorf, and Zurich are just a few of the flight connections on offer - all of them convenient connections at affordable prices! If you wish, we can pick you up at the airport for a small fee.