Varied landscapes, flavors and tastes, nature, music and our most beautiful Romantik Hotels make Lisbon an all-around experience. From historic villages, thermal springs and mountain communities dedicated to design to the world's largest waves, castles, canals, cherries and wine, you'll find a little bit of everything here. Portugal's Mediterranean charm is most evident in the golden beaches of the Algarve, the wilderness of the Azores, the vineyards of the Douro Valley, and the cobbled streets of Lisbon and Porto, where old-world culture meets cosmopolitan bars and restaurants. The perfect vacation destination all year round!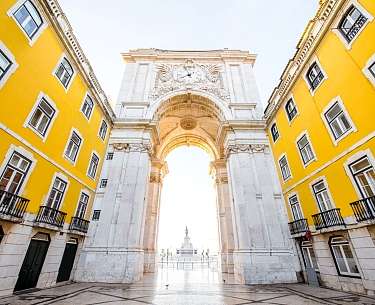 That makes your vacation so special
If you want to experience the fascination of the westernmost country of continental Europe up close, you will find in our Romantik Hotels in Lissabon exactly the right starting point for an eventful, exciting, sometimes idyllic-quiet, but in any case unforgettable time out. Because our accommodations are as multifaceted as the country itself. They combine architecture and history, tradition and modernity, art and culture, and with their homely ambience give every guest the feeling of having found a new home in Portugal for a while.
Whether it's a long trip or a short vacation: book here!
Would you like to discover Portugal's historic cities with their impressive exhibitions, museums, sights, markets, and cultural events on an exciting city break? Or would you rather treat yourself to a relaxing summer vacation with beach, sea, enjoyable hours in the many local restaurants along the promenades and stroll through the small streets of the Alfama? Whatever you're in the mood for - you'll find the perfect Portugal vacation for you right here!
Around Romantik Hotels in Portugal
Our boutique hotels are classically characterized by an individual style and a more intimate, often artistic ambience. They reflect the tradition and culture of Portugal and thrive on their historic atmosphere.
Casual, central, close to the most famous sights and easy to reach. With our city hotels you will discover the true Portuguese way of life with all your senses and be right in the middle of the Mediterranean hustle and bustle of Lisbon.