The popular destination Belgium is centrally located between the North Sea, France and the Netherlands and offers the perfect mix of coast and mountains, idyllic provinces and exciting cities. The Romantik Hotels in Belgium await you in a unique ambience with all-round comfort and individual character, making them the ideal starting point for experiences in Dutch-speaking Flanders or French-speaking Wallonia.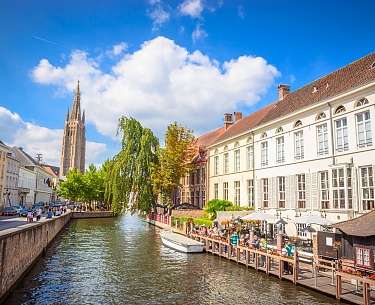 This makes your holiday so special
Are you curious about our neighbour Belgium? Our hotels in Belgium are very personally managed - and the hosts know the country, people and culture better than anyone else. So you get first-hand insider tips and after you have made extensive acquaintance with Belgium's nature and the different cultures of the bilingual kingdom, you will be spoiled with culinary delights in the evening: The restaurants in our Romantik Hotels in Belgium offer regional specialities at a high level. In the north, the cuisine is down-to-earth and hearty, in the south, the menu is influenced by the sophisticated culinary arts of big brother France, and Brussels - the seat of the European Parliament - is also the capital of star cuisine.
Whether a longer trip or a short holiday in Belgium: Book here!

A trip to Belgium is worthwhile even if you only have a short time: A short holiday in Belgium is ideal if you are looking for quick relaxation, need a break from hectic everyday life - or if you have fallen in love with the charm and diversity of the country. Whether it's a holiday or a time-out, a short break or a city break - book your Belgium hotel right here!
Around the Romantik Hotels in Belgium
You will find the ideal combination of a home-from-home feeling and a holiday in our Romantik B&Bs. An excellent location, the welcoming atmosphere and a fresh, regional breakfast will make your trip to Belgium an unforgettable experience.
In the heart of the city, yet in cosy boutique style, our Romantik Townhouses are perfect for a city break to Belgium. Experience the beauty of Belgium in all its facets and start your day out right on your doorstep.
Our Romantik Hotels in Belgium leave you spoilt for choice: holiday by the sea or rather in the city? Quiet hours in nature or a cultural experience in the Belgian cities? There is a suitable temporary home away from home for everyone.