Great ski slopes, excellent snow conditions and an impressive mountain panorama await you in Europe's most beautiful ski resorts. The Romantik Hotels & Restaurants - some of which are located directly on the slopes - ensure unforgettable winter experiences!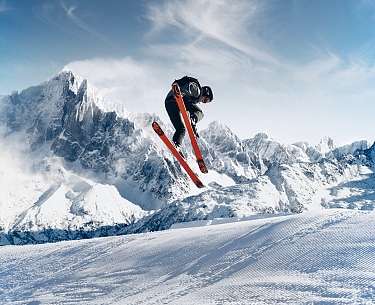 Downhill! Winter fun on the slopes
Alpine skiing and snowboarding are still the absolute classics of winter sports. Snow-covered peaks, a beautiful view into the distance and enormous speeds are just some of the aspects that create and maintain the fascination of skiing. This is where intense nature and sports experiences come together that will be remembered for a lifetime. Discover ski resorts in Europe and get inspired by our Romantik Hotels on the slopes!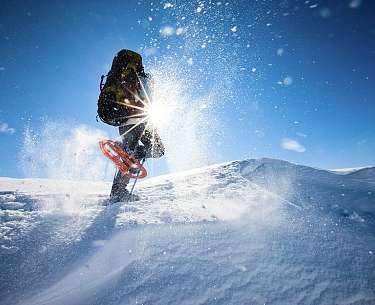 Snowshoe tours
More and more vacation regions offer snowshoeing in addition to downhill and cross-country skiing. On a varied network of hiking routes, mountain trails and secluded trails, winter hikers with snowshoes can penetrate deep snow-covered snowy winter landscapes and discover secluded forests. Explore the most beautiful snowshoe tours in Europe!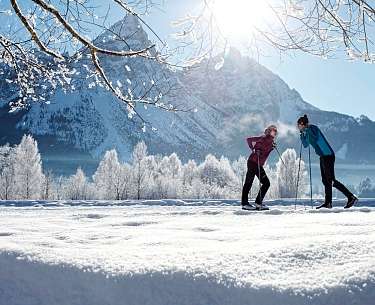 Cross-country ski paradise
Cross-country skiing has been a real trend sport for years and is a good alternative to classic alpine skiing. Away from crowded slopes, cross-country skiing is less crowded, but also extra sporty. Discover great cross-country skiing destinations with ideal snow conditions and extensive trails and plunge into your winter adventure.
Winter sports and après ski simply belong together! Here you can celebrate the successful descents together and warm up again. With our Hüttengaudi playlist you can get in the mood for the big party after the snow adventure. Grab a mulled wine, let the music wash over you and look forward to social hours in the hut.
Speedy paws
Want to discover idyllic snowy landscapes with a husky sledge? We can make this winter dream come true! In Vorarlberg in Austria, participants of the Husky Camp learn everything about dog sledding and also steer 32 fast paws through snowy landscapes themselves. With up to 40 km/h you will live an unforgettable day here!
Recovery Summit
In the midst of popular ski resorts, numerous Romantik Hotels are awaiting your arrival. After an eventful day on the slopes, Romantik Hotels provide the ideal rest and relaxation with their great wellness offers and first-class culinary delights! Check out our Romantik mountain hotels for an unforgettable winter in the mountains!
The term "ski in - ski out" comes from the US and refers to the advantages of accommodations that are located directly on a ski slope, so that after breakfast you can comfortably strap on your boards right in front of the hotel and then unstrap them again in the evening right after returning from the slopes.