Toni Mörwald is one of the best-known and best chefs in Austria. And he has a motto for life that could not be more apt: "Eating time is living time. If you don't have time to eat, you don't have time to live," says the 52-year-old. The young Toni grew up in the surroundings of his parents' inn and was fascinated by their cooking from a tender age. The world of scents and tastes inevitably led to only one profession being considered for him: that of a chef. An unprecedented career followed. After cooking with his culinary mentor Reinhard Gerer, he practised with numerous grand chefs around the world. At the age of 22, he already received his first Gault-Millau bonnet. In the meantime, he runs four restaurants, two of which have already been awarded three toques, the highest gastronomic distinction in Austria.
The Mörwald family is firmly rooted in its home, the picturesque wine-growing region of Wagram, where the Mörwald Romantik Hotel Schloss Grafenegg is located. Gourmets and wine connoisseurs enjoy the exquisite culinary art of the host. His cuisine stands for innovative ideas, but also for his attachment to Austrian culinary tradition. Craftsmanship and a commitment to high-quality products from the region are further ingredients of his success. He has served up one of his favourite recipes for us.
More information about the hotel:
Saddle of venison with pumpkin seed confit & semolina slices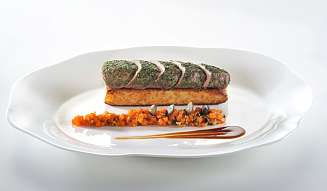 Ingredients for 4 people:
For the saddle of venison
4 saddle of venison á 140 g, salt, pepper
chopped parsley
Juniper berries crushed
50 g cranberries
Game stock
Butter

For the pumpkin seed confit
200 g pumpkin flesh
1/2 onion chopped
50 g honey
2 tbsp olive oil
salt, pepper
50 g pumpkin seeds roasted and chopped

For the semolina
150 g wheat semolina
1/4 l milk
1/8 l sweet cream
1/8 l vegetable stock
salt, pepper, nutmeg
10 g cold butter
10 g grated Parmesan cheese
Olive oil
Season the saddle of venison with salt, pepper, parsley and juniper and sear on both sides in hot oil. Finish cooking in the oven at 180 degrees for about 5 minutes. Remove from the pan and keep warm. Deglaze the roast residue with game stock, strain through a sieve, boil down and thicken with a little butter.
Dice the pumpkin flesh and sauté with the onions in the hot olive oil. Season with salt and pepper, add honey, simmer and fold in the pumpkin seeds.
For the semolina slices, season milk, sweet cream, vegetable stock with salt, pepper and nutmeg, bring to the boil once, add semolina and reduce. Remove from the heat, stir in the butter and Parmesan and spread about 1.5 cm thick on a baking tray. Chill for 2-3 hours. Cut the semolina slices into rounds or diamonds. Grease an aluminium foil with olive oil, place on the grill and fry the slices on both sides.