At the source: Water from the Saanenland
Where elsewhere mineral water is trucked in by the ton, the Romantik Hotel Hornberg is a perfect place. Because the spring, which also means life, bubbles up right outside the door. Thousands of litres are served every year, in stylish carafes and now also carbonated by the hotel itself. This not only saves vast amounts of fuel for transport, but also tastes much better.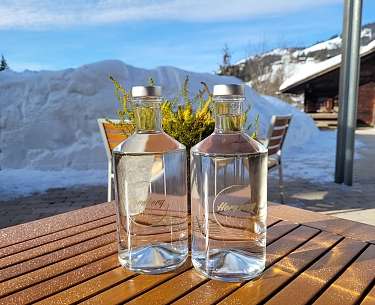 The water is collected by the house itself. And it is of mineral water quality, just as it comes from the mountain. If the hotel has its own water, then please present it appropriately, thought the team at Romantik Hotel Hornberg. So they had new water bottles designed and produced. One of them stands for still water and bears the H2O imprint. And since this March, there is also a stylish carafe for the sparkling water variant - with the corresponding H2CO3 label. The bubble system itself is located in the cellar of the Hornberg.
Graphics, printing and the firing of the labels take place in Graubünden. There are only a few glass distilleries left in Switzerland that understand this craft. The bottles, by the way, come from Italy or France, the lids from Italy. All the "rest" is 100 per cent pure Swiss. The 75-cl bottles have meanwhile become popular souvenirs. No wonder!