Where the cheese is at home
"Eassand cheese and not the expensive bread! - Eat cheese and not the expensive bread, is the Vorarlberg saying. In a region where mountain cheese has been considered a staple food for centuries and is still made by hand with painstaking work, this sounds hardly surprising. With the Bregenzerwald Cheese Route, an institution was created here in 1998 in which farms, village and alpine dairies, inns and hotels work together to preserve and promote the traditional Bregenzerwald cheese culture.
Secret recipe for good milk
There are more than 50 different types of cheese in the Bregenzerwald. What makes them special is that they are produced with so-called silo-free milk, which means that the cows are fed only fresh grassland fodder, hay and grain.
In Europe, only two percent of all dairy farmers still produce silage-free milk, and the Bregenzerwald is among them the largest contiguous region in the EU where the cows can empty feed on lush green meadows. The animals in the Bregenzerwald enjoy a centuries-old form of agriculture, three-stage farming. In spring and autumn, the dairy cattle graze at medium altitudes, in summer on the high Alps and in winter they get hay from the valley meadows.
Tradition meets innovation
"The fine herbs from the alpine meadows are the secret ingredient for our cheese," reveals Antonie Metzler, hostess at the Romantik Hotel Das Schiff in Hittisau, one of the 24 communities on the cheese route. "Traditionally, mainly mountain cheese in its various degrees of maturity is produced along the Cheese Route," explains the cheese expert. "But in the meantime our alpine dairies are very innovative and have created different varieties."
So you can also find different cut cheeses such as red wine, beer or hay cheese, soft cheeses such as Münster or Camembert and also milk cheeses made from cow's or goat's milk at the sales counters of the alpine dairies. "Every inn, hotel or restaurant implements the theme of cheese in its own way," Antonie Metzler tells us. That cheese is omnipresent here is something her guests experience in the breakfast room in the morning at the latest: "We have almost 20 types of cheese from the region at the breakfast buffet alone, and cheese always finds its place in our restaurants - from cheese cream soup to pot dumplings, plucked salad with Ziegerer, mountain cheese tartlets to goat cheese ravioli."
In the cheese centre of Europe
If you want to try traditional Bregenzerwald cheese, the Metzler family is the place to be. "We have a cheese cellar in our hotel where we offer tastings or cook cheese menus." Another important cheese cellar can be seen in the neighbouring village of Lingenau. There you will find the largest ripening and care centre for mountain and alpine cheeses in the whole of Europe - a must-see for all cheese lovers. In addition to a look at ripening cheese, visitors here get extensive information on the origin and history of the Cheese Route and, of course, the opportunity to taste regional products on site. If watching and tasting is not enough, you can also become a cheese maker yourself on the Cheese Route. At his adventure and gourmet farm in Egg, Ingo Metzler and his team offer a scything school where guests can make their own fresh cheese. The advantage of this is that it does not have to be stored in the ripening cellar before it can be tasted.
How much can a cheese cost?
With a price per kilo of 1,000 euros, Serbian pule is the most expensive cheese in the world. It is made from the milk of the highly endangered Balkan donkeys and is therefore extremely rare. The English White Stilton Gold comes in at 700 euros and the Swedish Elk Cheese at around 500 euros per kilo.
World Cheese Champion
At the World Cheese Awards, the best cheese in the world is chosen every year. The winner in 2019 is for the first time a cheese from the USA - Rogue River Blue, a blue cheese from a dairy in Central Point, Oregon.
Is it okay to eat the rind?
No problem with naturally matured rinds, such as blue cheese. It is not recommended for hard and semi-hard cheeses because the rind is often treated with the antibiotic natamycin. With organic cheese this is prohibited, the rind can be eaten.
Fresh cheese does not have to ripen, but can be consumed immediately after production. Known varieties: Ricotto, Mascarpone, Mozzarella.
Soft cheese is spreadable at the optimum degree of ripeness. Known varieties: Camembert, Brie, Feta.
Semi-hard cheeses can be sliced as well as spread. Known varieties: Esrom, Havarti, Gorgonzola.
Semi-hard cheese can only be sliced, not spread. Known varieties: Edam, Gouda, Appenzeller.
Hard cheese is not always equally hard, is mainly grated. Known varieties: Parmesan. Pecorino, Gruyére.
Highest cheese consumption worldwide per capita/year
Austria 21.1 kg
Italy 21.5 kg
Netherlands 21.6 kg
Switzerland 22.2 kg
Germany 27.7 kg
Cyprus 26.7 kg
France 27.2 kg
Finland 27.3 kg
Iceland 27.7 kg
Denmark 28.1 kg
The milk makes the cheese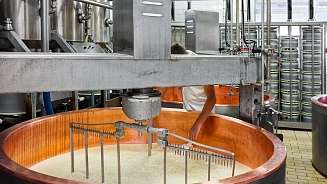 Karl-Josef Fuchs was successful as a hotelier and chef for decades. Then he discovered his love for cheese and opened his own cheese dairy. In an interview, he reveals how this came about and what is important for a good cheese.
You worked successfully as a chef for years. How did you come to cheese?
As a cook, I have always been in contact with food and was susceptible, so to speak. An acquaintance had a cheese dairy and encouraged me to try it too. "You're a chef and you have good milk, then you can do it," he said. I then learned how to do it myself in connection with cooking.
What types of cheese do you make?
We have three types of cheese. Our Bergkäse is a typical low mountain hard cheese, the Obermünstertaler is a soft cheese and our Molkenziger is a fresh cheese, an Alemannic ricotta. As we are a small cheese dairy, our cheese mainly benefits our guests as well as some hotels and colleagues in the region.
What is important for a cheese to be good?
Good cheese needs good milk. But that alone requires many individual factors that have to work together. In addition to a good breed of dairy cattle, you also need the right climate, the right feed, good soil - like terroir in wine. Of course, you need other materials for the production, such as the copper kettle, the rennet and the mould for the cheese, but the milk as the basic product is crucial.
What milk do you use for cheese production?
Our cheese is made with milk from typical regional backwoods. The cows stand on the rough pastures of a farmer here in the Münstertal, where they live entirely in the rhythm of nature. The meadows offer a high biodiversity of grasses and herbs, and regular grazing by the cows maintains their condition. This completely natural diet is ideal for the cows and this is reflected in the quality of the milk. You can't imitate a mountain meadow with any powder in the world - fortunately.
What gives the cheese its taste?
Cheese tastes different depending on the season. This is due to the cows' feed, which varies throughout the year. The fresher and richer meadows in spring and summer ensure a higher fat content in the milk. Spring milk can contain a good 4.6% fat, while winter milk is usually 3.7%. The cows' feed is also noticeable in their colour. Due to the chlorophyll of the plants the cows eat, summer cheese is clearly more yellow than a winter cheese.