Having breakfast under a photo by Annie Leibovitz? In a hotel with works by Picasso, Dalí or Andy Warhol? Here we present three Romantik Hotels where guests can find art that is not hanging in a museum. Paintings and sculptures by big names, local artists or creative young talents. Collected with passion over generations, presented with love - making every stay an unforgettable, inspiring experience.
Round tour with Dalí & Co.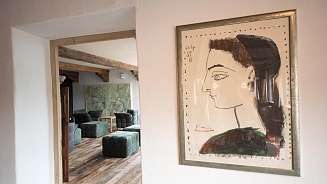 A Picasso hangs in the lounge, a Dalí adorns the corridor on the third floor of the hotel. In between, works by such well-known artists as Gustav Klimt or Oskar Kokoschka. All originals, all with a magic all their own. "We have a total of 2,000 pictures hanging in our hotel and each one has its own story," explains host Stefan Pramstrahler. The hotelier: "My father built up the collection. He was also a dealer and enthusiastic about art. To this day, artist friends also always stay at the hotel." He smiles: "Some used to pay for their stay with one of their paintings." The art in the hotel is enthusiastically received. Once a week, the host leads interested guests on a tour of the Südtiroler hotel, explaining the background of individual works and the history of the house.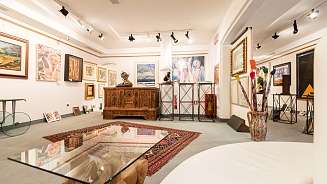 She inherited her enthusiasm for art from her grandfather. He was a passionate collector, and Renate Pizzinini continues this tradition. The senior manager of the Romantik Hotel Cappella in Corvara: "I have travelled to 90 countries with my husband and in each country we also bought art for our hotel." In addition to exhibits from her world travels, she also shows works by such well-known artists as the wood sculptor Aron Demetz or the surrealist Roberto Antonio Sebastián Matta Echaurren Matta in her art hotel. Every Tuesday, an aperitif is served in the lobby, after which Renate Pizzinini guides interested visitors through the corridors, explaining the origin and history of her treasures. Those who have acquired a taste for art can also buy selected works. The hotel also has an art gallery.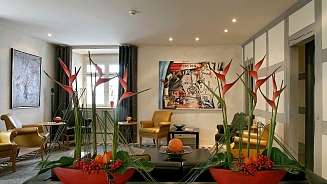 The Romantik Seehotel Sonne is not only a house of history, but also a house of art. Here, as a guest, you can enjoy the paintings and sculptures of a large private collection. The works are by renowned Swiss artists and international stars such as Meret Oppenheim, Roy Lichtenstein, Abraham Brueghel and Andy Warhol. Host Catherine Julen Grüter, who has run the house in Küsnacht on Lake Zurich with her husband for 17 years: "Our guests love the fact that you can discover and experience the artworks in a setting other than a museum or picture gallery for once. The mix of different paintings and sculptures found here at the hotel is what makes it so exciting."
The house, which dates back to the 17th century, was extensively renovated in the late 1990s. Julen Grüter: "The art on display at our hotel is also appropriately broadly selected in terms of time, ranging from Abraham Brueghel from the 17th century to modern times with an Andy Warhol." But the focus is not only on well-known artists. "We want to support young people in their creative work because they make a valuable contribution to ensuring that we don't always think in the same patterns. To do this, we organise exhibitions, visit studios or enter into cooperations with creative people." Saskia Wiesenthal: "A room feels different, radiates personality, when good art hangs in it."