If you are looking for peace and quiet and togetherness, our romantic country hotel in Mallorca is the perfect place for you. Here you can enjoy undisturbed hours for two - for example during a candlelight dinner in the picturesque courtyard of your country hotel, where you will be served specialities from Mallorcan and international cuisine. If you are in the mood for activities the next day, you will be spoilt for choice. When the temperatures are warm, water sports such as diving, sailing and water skiing are the obvious choices. But hiking and cycling tours are also excellent on Mallorca. Afterwards, you can relax back at your accommodation. Mallorca in a country hotel - the perfect holiday.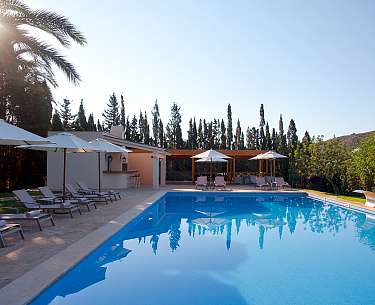 Buchen Sie Genuss, Komfort, Entspannung
How can you experience Spain authentically? Quite simple: in Spain's hotels - they are often a reflection of the country's typical way of life. Accommodated in former fincas or noble mansions, in the magnificent streets of Barcelona, the narrow, cool alleys of classic small towns or in the middle of the modern, pulsating metropolis of Madrid: here, the Spanish warmth finds powerful expression, here you discover what the country's cuisine and cellar can spoil you with. And here you will experience relaxation, peace and comfort to process the many impressions and feelings that Spain has in store for you. Book your hotel in Spain right here!