Mediterranean lifestyle on Mallorca.
Surrounded by a beautiful Mediterranean garden with a large swimming pool and flowering trees, the gourmet country hotel Principal Son Amoixa welcomes you near Manacor on the sunny island of Mallorca. Close to the beach and only 45 minutes by car from the airport of the capital Palma de Mallorca, a dreamlike country estate from the 16th century awaits you here with individual rooms, great wellness offers and culinary delights of the highest standard.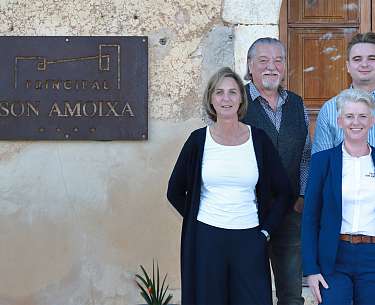 Your hosts
You will be warmly looked after by Familile Haupt and Christine Sturm.
Free Wifi
Outdoor Pool
Parking Area
Quiet Location
Sauna
Terrace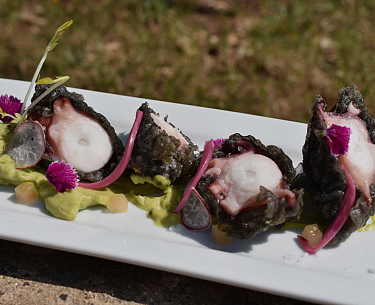 Culinary
Mediterranean cuisine in a beautiful ambience
Let us spoil you with high-quality delights in our 4-star gourmet hotel and take you on a culinary journey through the Mediterranean delicacies of the region. In addition to an extensive breakfast buffet, an à la carte restaurant and a selected wine selection, we offer a delicious tapas evening every Thursday.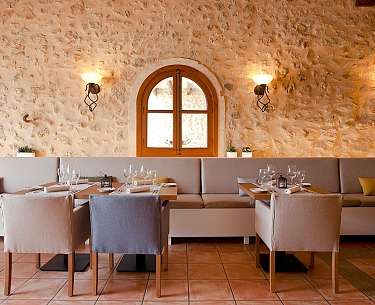 Gourmet-Restaurant Principal
Our à la carte restaurant Principal has long been a household name among local gourmets and has already been awarded the HolidayCheck Special Award Gastronomy. Here you are offered delicious seasonal cuisine with fresh ingredients in delightful compositions, which our chef presents to you as part of regular recommendations. Enjoy dinner with good wine and candlelight on our romantic terrace.
Wellness under Mallorcas sun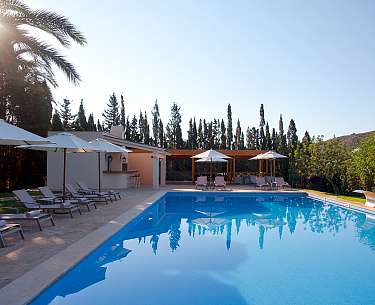 Swimmingpool
Bathing under Mallorca's sun
What would a sunny holiday in Mallorca be without a hotel with a pool? At our idyllic Romantik Hotel Son Amoixa, you can cool off in our on-site swimming pool or relax on a cosy day bed with a book. Surrounded by beautiful flowers, palm trees, fruit and almond trees, the summer atmosphere invites you to take a dip in the season between May and October.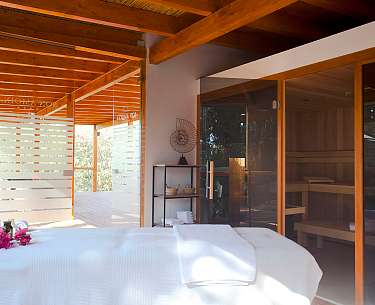 Sauna
Our sauna house in the garden
Directly next to our outdoor swimming pool is our chic sauna house, which invites you to wellness, peace and relaxation behind a noble glass front. Enjoy the view of our view-protecting, green cypress hedge and let the hot infusions take effect on you.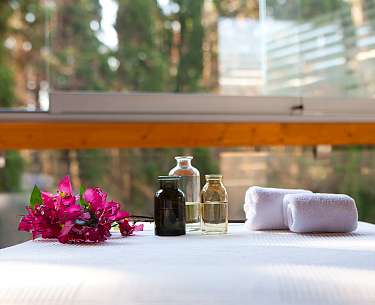 Massages and beauty treatments
Mallorcan pampering rituals
In our sauna house, in collaboration with Spa Mediterraneo Mallorca, we offer various massages and beauty treatments to relax and revitalise your body and mind. Enjoy Mallorcan rituals, romantic couple massages or detox treatments and sit back and relax, outside in nature if you wish.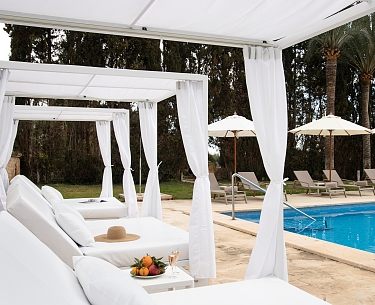 Outdoor area
Sit back and enjoy
Relax in our stylish Day Beds in the middle of the greenery and let the surrounding nature take effect on you. Enjoy cool drinks as well as small snacks and refresh yourself after your sunbath in our pool directly at the comfortable loungers.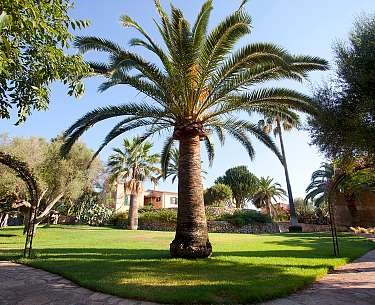 We are responsible with our environment in Mallorca and get most of our products from the region. Our vegetable and fruit vendor supplies us daily directly here from Manacor and grows its own products in the best organic quality. Our wine list is almost exclusively stocked with Mallorcan wines. Drinking water we get from our own deep well with filter system and we can bottle the water ourselves, without unnecessary transport. Since June 2023, thanks to a newly installed system, we can cover most of our electricity from solar energy.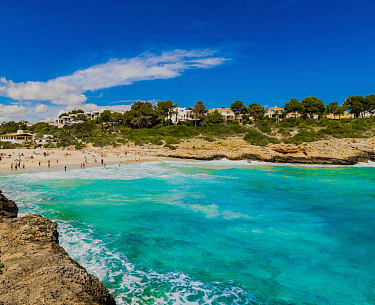 Beaches
Turquoise blue water & white sandy beaches
Only about 7-10 minutes by car from our Romantik Hotel, there are three beautiful bathing bays. The paradisiacal beaches Cala Romántica, Cala Anguila and Cala Mandia are perfect for extensive bathing and sunbathing with their turquoise blue water and beautiful white sand. The natural beach of Cala Varques is also very close to our hotel. However, you have to walk the last bit to get here. Discover Mallorca's beaches from our finca and enjoy the music of the waves and the view into the blue expanse.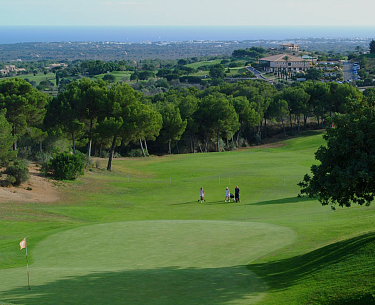 Golf
Golfing under Mallorca's sun
Numerous golf courses in the vicinity invite you to enjoy extensive games in the green. Many of them offer our guests a discounted rate, including the golf courses Vall D'or Golf or Son Servera Golf, which are only about 20 kilometres away. We are happy to book tee times for you on request.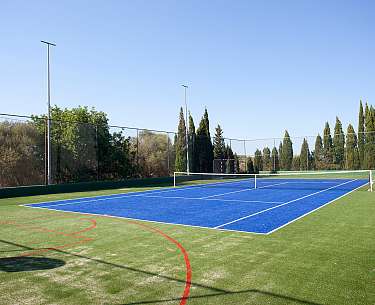 Tennis & sports
Active holiday in Mallorca
For those who want to combine their holiday with sporting activities, we have our own tennis court and multifunctional sports court on our property, which is also ideal for football and basketball. Our hotel is located near the Rafa Nadal Academy and is therefore ideal as accommodation for companions and relatives of the tennis players participating here. On request, we can also arrange training sessions with Werner Schütz von Langsdorff.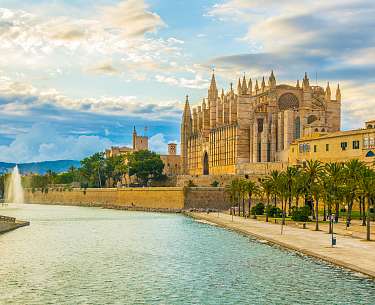 Palma de Mallorca
Paradisiacal flair on the Mediterranean
Paradise and far away from the notorious Ballermann, wonderful beaches, historical sights and a great culinary offer await you in the capital Palma de Mallorca. Visit the imposing Palma Cathedral, the Castell de Bellver and the majestic gothic-style Royal Palace La Almudaina right on the beautiful bay of Palma.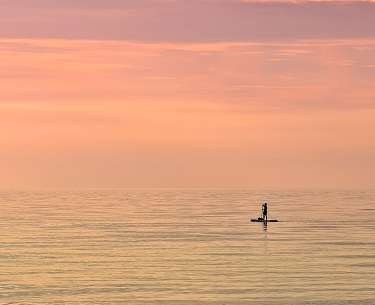 Stand Up Paddling
Stand Up Paddling is the No.1 trend sport and incredibly fun. Rent a board and learn the perfect technique from the German SUP Association's training instructor at the port of Porto Colom. We offer qualified practice sessions with a team of sports instructors, top athletes and physiotherapists and promise that you will certainly achieve success after a few stand up attempts.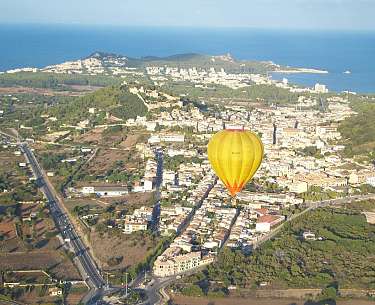 Balloon flights
Wide view & pure happiness
Floating over an island in a hot air balloon - sounds like a dream? Make this dream come true and experience an exclusive balloon flight high above Mallorca with the team from Illes Balears Ballooning. Feel feelings of freedom, adrenaline and pure happiness, enjoy a glass of champagne in your safe basket and admire the breathtaking view. A unique experience! We will be happy to reserve an appointment for you.
Bienvenidos al Hotel Romántico Son Amoixa!
Romantik Hotel
Son Amoixa
Romantik Hotel Son Amoixa
Family Haupt
Ctra. Cales de Mallorca (Apartado 366)
Spain-07500 Manacor

Directions from the airport Palma de Mallorca to the Hotel Principal Son Amoixa
After leaving the airport, follow the signs for "Santanyi" and take the second
take the second exit on the motorway in the direction of "Manacor".
In Manacor the main direction is always "Cales de Mallorca":
Manacor 1st roundabout (industrial area) straight ahead.
2nd roundabout turn right towards "Cales de Mallorca".
After approx. 100 m, continue to the right, then through the subway and straight on until you reach a roundabout where there is a petrol station on the left opposite. Continue straight on over this roundabout in the direction of "Cales de Mallorca".
After approx. 500 m, turn right out of Manacor in the direction of "Cales de Mallorca".
from now on it is exactly 5,4 km to the Hotel Principal Son Amoixa.
Entering from Manacor passing the hotel turn right "Cami de So Na Moixa".
After approx. 100 m you will find the hotel entrance on the right hand side.
Your holiday destination Hotel Principal Son Amoixa awaits you here.
We wish you a pleasant journey!