The Netherlands delights with numerous idyllic towns with fascinating culture, architecture and picturesque canals and picturesque landscapes with green pastures, the characteristic windmills and wide dunes. There is something for everyone here: whether it's culture, being active while cycling, hiking or golfing, or simply enjoying the wonderful tranquillity of the beautiful Dutch countryside, the Romantik Hotels ensure an unforgettable stay.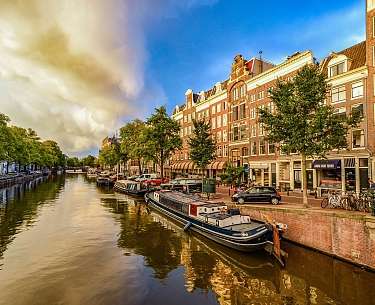 Holidays in the Netherlands are special
Hand in hand through beach dunes, along romantic harbour promenades or past charming old town houses. How about a bicycle tour for two through the colourful and flat landscape? The Netherlands are famous for their wonderful variety of flowers anyway. A rustic, down-to-earth ambience awaits you in our Dutch country hotels, while our beach hotels bring you close to the sound of the sea. If you want to play golf together, we also have the right hotels for you.
The holiday destination in numbers
More than 15 of the most beautiful North Sea beaches
450 km of coastline
over 1,000 windmills
around 3,200 km of cycle paths
about 150 marinas
around 4,400 km of navigable canals, rivers and lakes
Around the Romantik Hotels in the Netherlands
Down-to-earth, honest and genuine - that's how you can describe our country hotels in the Netherlands. Look forward to lots of nature, plenty of activities and good food from local farms.
Experience the Dutch North Sea coast with Romantik Hotels. The calming sound of the sea, walks in the dunes and the lively atmosphere of the beach promenades await you.
Extensive grasslands invite you to play golf in the Netherlands. With a total of over 200 golf courses, the country is a true paradise for golfers. Try your hand on the greens with the Romantik Golfhotels in the Netherlands.