The insider tip among gourmets!
Surrounded by a mountain backdrop, in an idyllic park, lies the traditional gourmet hotel, which has been characterised by the hospitality of the Stafler family for centuries. The hotel is the ideal starting point for discovering the beauty of South Tyrol. Guests appreciate the star cuisine with products from their own farm, first-class comfort in a historic ambience and the spacious wellness oasis.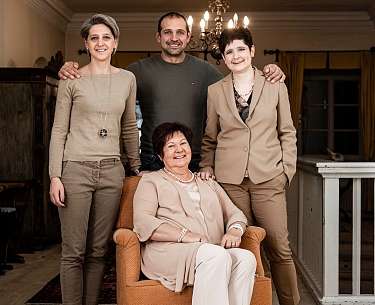 Our Hosts
The Romantikhotel Stafler is unique in many ways. The host family Stafler has been running a large farm in Mauls near Sterzing - directly behind the Brenner Pass - for 200 years. Today there are South Tyrolean dairy cattle, pigs, sheep, goats, a thoroughbred stud farm, small animals and a huge herb garden. Because it has always been tradition, they still combine farming with their hospitality business. With their down-to-earth cordiality, the multi-generational Stafler family has managed to run a real adventure farm next to a first-class hotel in the midst of the mountains.
at Romantik Hotel Stafler
Central Location
Child Friendly
Electric Car Charging Station
Free Wifi
Indoor Pool
Lift
Meeting Facilities
Parking Garage
Pets Friendly
Sauna
Smoking Lounge
Terrace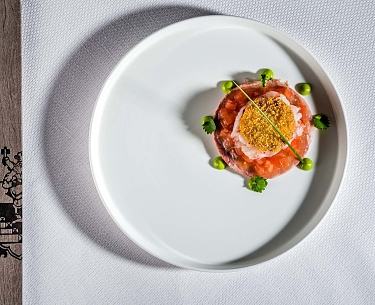 Gourmet Restaurant Unicorn
The secret of the taste of the Einhornstuben cuisine lies in the products: preferably regional from South Tyrol, preferably from the farm's own estate. This is how two-star chef Peter Girtler celebrates international haute cuisine with that certain something. He combines tradition with modernity, local specialities with worldwide inspirations, and always combines the tried and tested with the new to create a unique taste experience.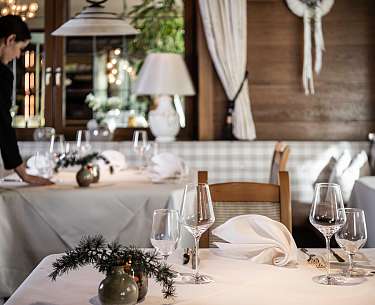 Gasthofstube - South Tyrol tastes this good
In the former post office inn and farm Stafler, pampering is a tradition - in the vaults, medieval parlours, romantic bay windows. Travellers and famous personalities such as Goethe have been staying here since 1270. The traditional walls certainly contribute to the fact that today we are one of the best gourmet hotels in South Tyrol.
The "Gasthofstube Stafler" as part of our gourmet hotel has it all: Old Tyrolean recipes, Mediterranean secrets and South Tyrolean mountain freshness come together under the guidance of chef Peter Girtler to create a unique taste experience.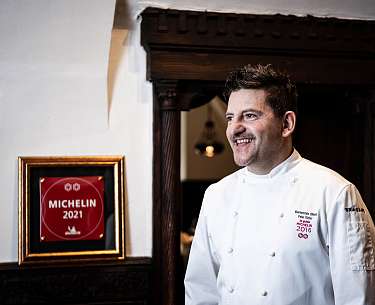 Award-winning enjoyment with Peter Girtler
That his taste is truly exceptional is proven by the stars and toques he has collected in the meantime.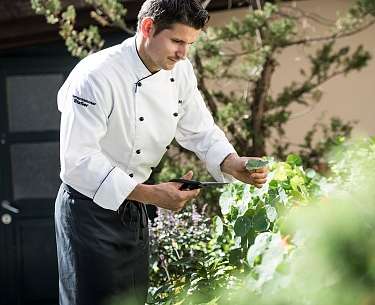 Sustainability
There are many areas in which we are dedicated to the environment and nature:
We run our own farm. Our farms are currently home to 85 dairy cows in compost barns, Jura sheep, saddle pigs, farmyard chickens, rabbits, dogs and cats. When we slaughter a farm animal, everything is used from head to toe - either for one of our two restaurants, for the bacon or the Kaminwurzen in our farm shop or in the family kitchen. You can find more information about our farms here: https://www.stafler.com/de/romantik-hotel/stafler-s-gutshof/unsere-hoefe.html
We get our herbs from our own herb garden.
Waste avoidance and recycling are very important to us. Since many ingredients come from our own farm, from our garden or from nearby farmers, the transport routes are short and the goods do not have to be packaged. We strictly separate unavoidable waste.
For about 40 years we have been heating with our own wood chip plant.
We have our own power plant for electricity, which is used, among other things, to supply our e-fuelling stations. Our 3 e-car charging stations in our car park can be used free of charge by restaurant and hotel guests.
We have our own water source with fresh spring water as well as 150 hectares of forest, which we lovingly care for.
Our building has 700 years of history behind it and is therefore a listed building. This means that our premises are not lavish new buildings, but historic places that tell centuries-old stories.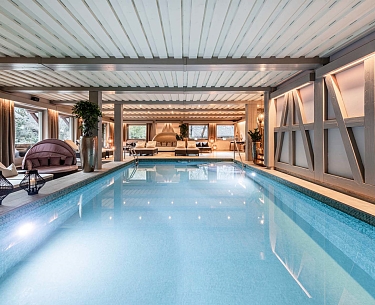 Spa oasis
Atmospheric and harmoniously coordinated, our "Romantica" wellness oasis with steam bath, Finnish sauna and whirlpool invigorates all the senses. Heated resting bench, infrared cabin and solarium warm the soul. Cold grotto, ice fountain and numerous showers ensure a healthy temperature.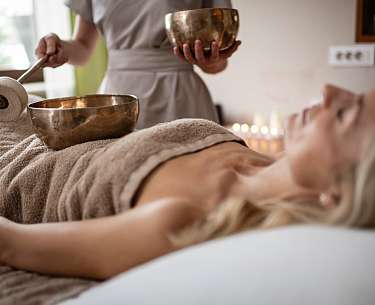 Body Treatments
In addition to relaxation in our wellness oasis, we pamper our guests with beauty treatments such as body peeling, aroma baths and mud packs in specially equipped rooms. Last but not least, our certified masseuse Tanja Aukenthaler knows about the healing effects of various therapy and massage techniques. We will be happy to put together a tailor-made package for you!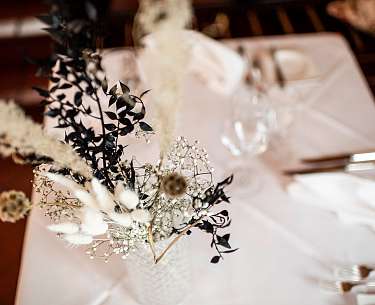 Privat Events
Whether a wedding, anniversary or other private celebration, the Romantik Hotel Stafler is the ideal place with all-round pampering service. Celebrate in the stylish rooms or in the peaceful park with family and friends. The two-star chef Peter Girtler will spoil you with a perfect menu or buffet according to your personal ideas.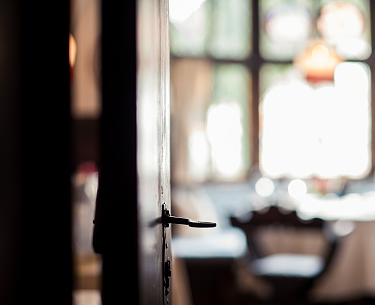 Meetings & Workshops
The focus here is on people - also and especially at conferences. In the individually equipped rooms, the conference technology is adapted to the occasion, made to measure and in moderation, so that it doesn't become too much. The ancestral hall brings to life the eventful past of the Stafler ancestors, who once maintained a postal station here. The stable room, which offers a view into the cowshed through a panorama window, reminds us of our rural origins. Our "Haus Kramer", a small local history museum, is very suitable for special seminars, wine and product tastings.
Experience nature & customs
Our Romantik Hotel Stafler is located on the old Brenner road. For you, this means that the most beautiful possibilities of the Eisack Valley are right on your doorstep. Whatever you want in terms of South Tyrolean variety - hiking, skiing, cycling, city flair, museums, culture - everything is just a few minutes away from our hotel.
In the mining world of Ridnaun/Schneeberg you can feel at first hand how the miners worked hard underground and admire the completely preserved production chain of a mine. The wildly romantic "Gilfenklamm" gorge in the Ratschingstal valley will also give you an unforgettable experience with its footbridges and stairs cut deep into pure white marble. The Dolomieu Trail - the hiking trail for all the senses - leads over six rustic alpine pastures from Rosskopf to Ladurns.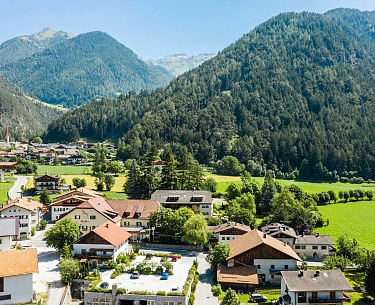 Discover the Stafler
Discover the Romantik Hotel Stafler and the estate! Next to the hotel, the park, the Nagelehof, the Knusperhäuschen, the animal stables and much more await you. An experience for the whole family!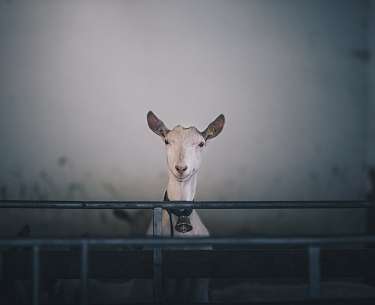 Being a farmer once
The Erbhof Nagelehof is run by Andreas Stafler with tradition and care. If you want to get hands-on, you can learn everything about milking, modern animal husbandry and organic farming. Of course, a tasting is not to be missed either. You can round off your day as a farmer with a tasting of the milk and yoghurt products from Milchhof Sterzing.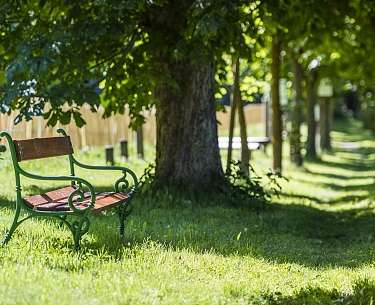 Picnic in the garden
On wonderfully green meadows in the shade of the trees, enjoy a delicious picnic prepared for you with love by the Stafler kitchen team. The finest delicacies and tasty delicacies in a dreamlike ambience in the fresh air - what more do you need to relax with family and friends?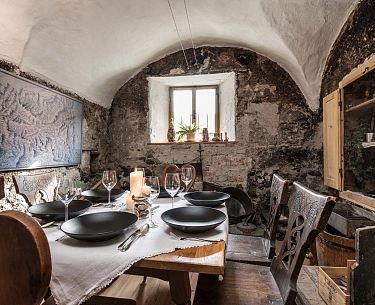 Törggelen in the Kramerhaus
Törggelen is a delicious and wonderful tradition in South Tyrol. In autumn, when the fruit is harvested and the first wine is pressed, the farmers of the land taste the fresh produce. You can enjoy an extraordinary Törggele meal in a special setting at Romantik Hotel Stafler, in the Kramerhaus. Where the merchant used to offer his wares to the villagers, you will now find an enchantingly renovated gem.
Romantik Hotel Stafler
Familie Stafler
Brennerstraße 10
Italy-39040 Mauls/Freienfeld
IT - South Tyrol -

From the north: Leave the Brenner motorway at the Sterzing exit and follow the state road 12 south to Mauls. Your car will park comfortably in our spacious car park or in the garage (for a fee).
From the south: Leave the Brenner motorway at the Brixen exit and follow the state road 12 through the Eisacktal valley north to Mauls.
The nearest railway stations are Franzensfeste and Freienfeld.
For our house guests we offer the following shuttle service: From Freienfeld free of charge. From Sterzing or Franzensfeste € 15.00 per trip (free from 4 nights).)

From Innsbruck airport it takes about 60 minutes to drive to the Romantik Hotel Stafler. We will be happy to help you arrange your transport. From Bolzano or Innsbruck 100,00 € per journey
South Tyrol Transfer: Your connecting shuttle
Do you want to travel to South Tyrol in an environmentally friendly way by train or long-distance bus?
The connecting shuttle from Südtirol Transfer takes you stress-free from the train or bus station to the Hotel Stafler!
Click here to go to the booking page: suedtiroltransfer.com