Personal hospitality in historic walls!
As a small paradise on the south side of the Alps, the traditional pleasure and wellness hotel presents itself to you. A place of hospitality for 520 years, the Oberwirt harmoniously combines South Tyrolean charm and warm hospitality with a luxurious feel-good ambience. The award-winning top cuisine and fine wines invite you to enjoy, elegant rooms and suites, the beautiful garden and an excellent wellness area to linger.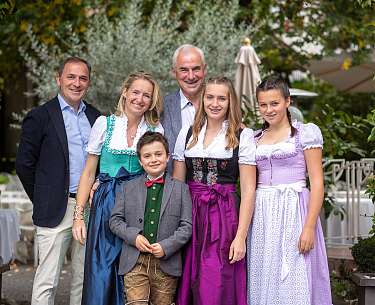 Your hosts
The Oberwirt has been a place of special hospitality since 1496. Around 250 years later, the Waldner family took over the country inn, which is still run today by the eleventh and twelfth generations with Oberwirt Josef Waldner and daughter Barbara Waldner, the designated Oberwirtin. The thoroughbred hoteliers create with their warm South Tyrolean way an absolute feel-good place and always have an open ear for all concerns around the Oberwirt. - And the next generation is already in the starting blocks.
Our facilities
at Romantik Hotel Oberwirt
Central Location
Child Friendly
Fitness
Free Wifi
Indoor Pool
Meeting Facilities
Outdoor Pool
Parking Area
Parking Garage
Pets Friendly
Sauna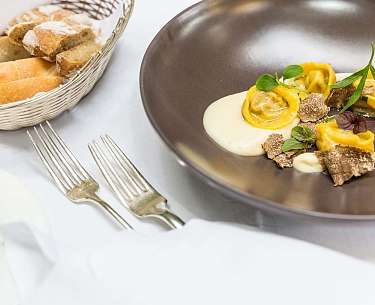 South Tyrolean cuisine
The kitchen team under the direction of chef Werner Seidner inspires even world-experienced gourmets again and again. Traditional South Tyrolean delicacies are paired with Mediterranean highlights - always fresh and regional. His creations are regularly awarded with toques by Gault & Millau. Enjoy dishes like the "homemade carrot-ginger ravioli with fried scallop" or the classic of Oberwirt's cuisine the "Spaghettini Oberwirt".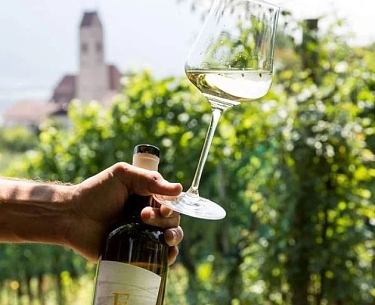 In Vino Veritas - Our wine cellar
The Oberwirt with its own wine cellar is known as an excellent wine hotel. No wonder: only the best grape juices with full-bodied bouquets and intense aromas end up on our wine list, which was voted the best wine list in South Tyrol in 2012. With us you can choose from around 500 top international wines, which also include award-winning wines from our own winery. We offer our guests weekly tastings of our favourite wines. Cheers!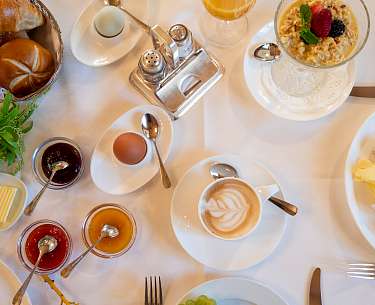 Breakfast
Enjoy our rich breakfast buffet in the morning and start your day with a smile. From 07:30 - 10:30 we pamper you with everything you need to start a relaxing holiday day in Italy: Delicious coffee and tea, fresh croissants and fruit already sweeten your day with us at the Oberwirt. When the weather is nice, have breakfast among plants and chirping birds in our idyllic garden.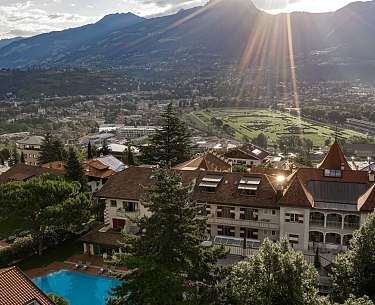 Our region
The Oberwirt is a family business for many generations. Thereby one has always remained true to tradition. In the selection of our products, we rely on proven partners who have now also become friends over many years.
In addition, we have our own farm, whose apples are already waiting for our guests in their rooms when they check in. We also have a rose farm - which we like to use for decorating. Furthermore, we have our own winery, as quality and regionality are important to us here as well.
For us, sustainability also means good employee management. It is not for nothing that we have many regular employees who have been loyal to the company for decades.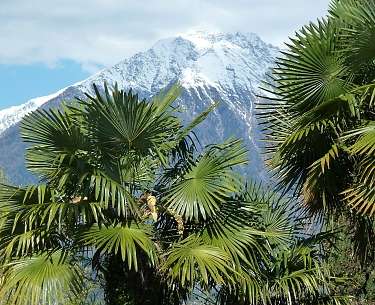 Meran
Green palm trees and an endless view of snow-covered mountain peaks: Merano is a city of contrasts. Between historic buildings and apple trees, life here can be enjoyed with a touch of South Tyrolean ease. The possibilities are endless - vino, art & cultural enjoyment, shopping, festivals or a delicious Italian ice cream. Experience La Dolce Vita in beautiful Merano! What you should definitely have experienced in Merano: The historic Laubengasse with its traditional shops, the numerous historical sights, the mountain world around Merano, the Tappeinerweg and the Women's Art Museum.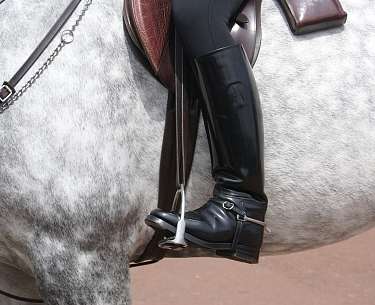 Pferderennbahn Meran
With a total length of 5 km, the Ippodromo di Merano racecourse is one of the largest and most beautiful in Europe. Exciting horse races for athletes, fans and the whole family take place here on regular dates. A guided tour is offered one hour before the start of each race, during which the slopes and centrepieces of the equestrian facility can be viewed and marvelled at. The Romantik Hotel Oberwirt is an official partner and sponsor of the Merano horse racing course. Our guests therefore receive exclusive tickets for a reduced entrance fee at the Oberwirt reception. Please feel free to contact us!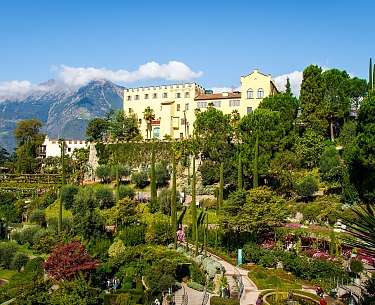 Gardens of Trautmannsdorf
Nature, culture and history: the famous gardens of Trauttmansdorff Castle are breathtaking with their colourful flowers and plants, especially in spring and summer. In over 80 garden landscapes on a total of around twelve hectares, a wide variety of plants from all over the world blossom and flourish - and all this right on the eastern outskirts of Merano in South Tyrol, just a five-minute drive from our Romantik Hotel. Different animal species can also be found in the gardens of the spa town. Among them are colourful parrots, cute pygmy goats or majestic koi in the lily pond.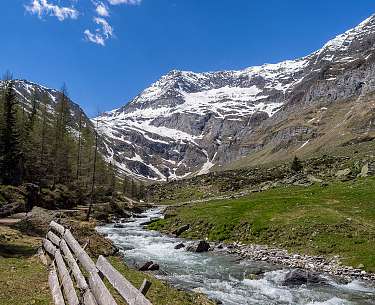 Texelgruppe
Endless expanses and interesting contrasts in South Tyrol's largest nature park: The Texel Group Nature Park is a mountain range that, as part of the Ötztal Alps, extends over various municipalities in South Tyrol - including Schnals, Algund, Partschins and Dorf Tirol. Bordering Austria, here every hiker, mountaineer or nature lover will find their own way to explore the surroundings and the fascinating flora and fauna. Breathe fresh mountain air and enjoy a varied landscape with sun-drenched larch forests, babbling brooks, clear mountain lakes, high moors and the breathtaking view from rocky peaks. At the roaring Partschinser waterfall or at the high alpine Spronser lakes you can sustainably recharge your batteries for body and soul and leave the stressful everyday life behind.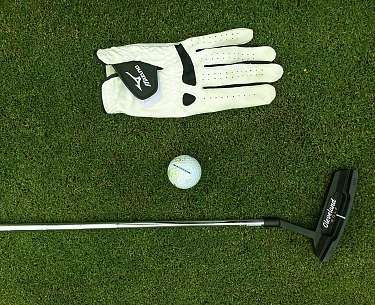 Blue Monster Golf Club
The Blue Monster Golf Club near Eppan is the newest golf course in South Tyrol. Situated in the former alluvial landscape of the Etsch Valley, you can enjoy a magnificent view here. The modern 9-hole course offers an unusual course design, which is characterised by water hazards, high roughs and varied tee-offs. Both beginners and low handicappers are welcome here and can look forward to an exciting game in the middle of South Tyrolean nature.
Relaxation
Our spacious AMADEA Spa offers everything your wellness heart desires. The spacious wellness area consists of the heated Roman outdoor pool in a Mediterranean setting and features massage jets, a sunbathing lawn with sun loungers, two sun terraces with four-poster beds, a heated indoor pool with integrated whirlpool and counter-current system. In the modern sauna area you will find 4 stylish relaxation rooms, a Finnish sauna, a bio sauna, a steam sauna and infrared loungers.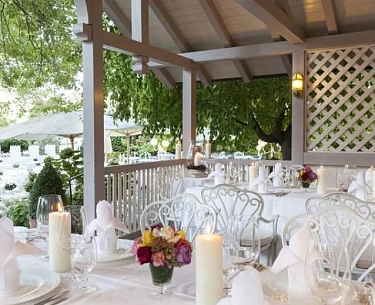 Celebrate festivals
Whether a reception under the open sky in our picturesque garden, a small celebration in our parlors in the smallest family circle or a lavish party in our cellar bar - with us at the Oberwirt almost everything is possible.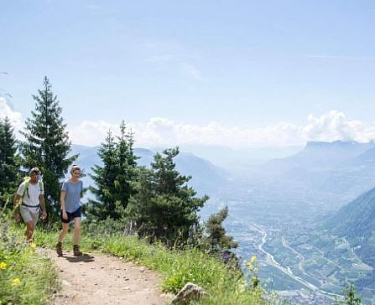 Panorama Hiking & Biking
Hiking from alpine pasture to alpine pasture, climbing mountain peaks, exploring the Via Claudia Augusta from Reschen to Meran on e-bikes or enjoying the view over the Etschtal valley while golfing or horseback riding - that's how varied a vacation at Romantik Hotel Oberwirt is!
The longest Waalweg from the Töll to Lana runs along a few meters from the hotel, a breathtaking view over the Merano countryside included. From Marlengo via Senn am Egg up to the Almboden on the Marlengo mountain, where a magnificent mountain panorama rewards the ascent. The Marlinger Berg can also be experienced by mountain bike via Lebenberg Castle to the Almboden at 1,350 meters. Those who want to take it easy can enjoy wonderful views of the Adige Valley and the Ulten Valley on an e-bike tour from Merano via Hecherhof to Burgstall.
Seminars
At the Romantik Hotel Oberwirt you can also hold enjoyable meetings. In an uncomplicated setting, we offer a variety of options for creative exchange, small meetings, training and incentives. Of course, with the latest technology in the seminar room and rounded off by the unique Oberwirt feel-good ambience including Genussreich and AMADEA Spa.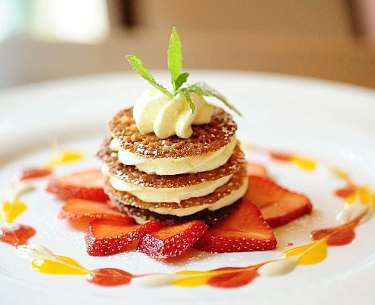 Wine & Dine Event
Under the motto "Wine & Dine" you will be spoiled with an exclusive aperitif followed by a luxurious six-course menu and matching unique wines presented by renowned vintners and wine merchants!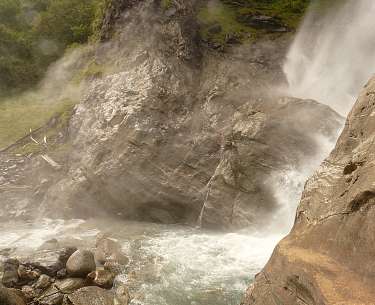 Refreshing excursion tip
Not only in summer, a trip to the Parcines waterfall promises refreshment and new energy. From a height of almost 100 meters, the water rushes over a freestanding rock face into the depths - an impressive natural spectacle for all senses. If you listen to the impressive roar of the water and let your gaze wander over the water drops, which shimmer in all colors in the sun, tension and stress are quickly forgotten. The pure air and the cool spray at the climatic health resort Partschinser waterfall revitalize mind and body.
A beautiful hike to the Parcines Waterfall starts in the village center of Parcines. You can easily reach the starting point of the hike from the Romantik Hotel Oberwirt in 15 minutes by car or in just under an hour by bike.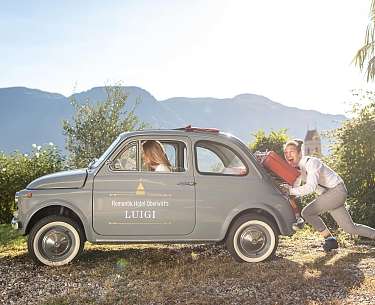 Vintage car tour with the hostess
South Tyrol... an Eldorado for adventure trips with the classic car. With us you can enjoy two guided tours in summer. You will drive your own classic car over impressive mountain passes through the Dolomites, past idyllic landscapes, romantic villages and majestic mountain massifs. The junior boss is also at the wheel.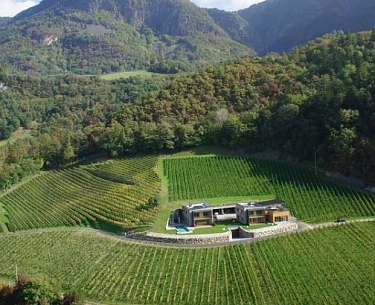 Winery Eichenstein
Our winery Eichenstein is the pride and joy of our family. Here, experienced wine connoisseurs, and all those who want to become one, are in good hands. Since 2014, our family has been growing its own wine here, which you can enjoy in an incomparable and luxurious ambience. With a unique view over the vineyard landscape and its own chalet in the vineyards, Weingut Eichenstein becomes a little paradise for you.
Every Tuesday we welcome you to the wine tasting.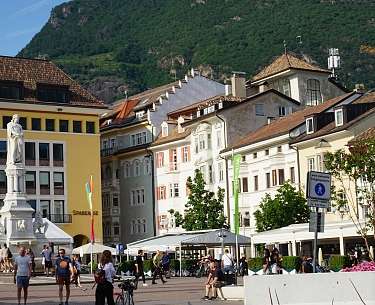 Merano, Bolzano and surroundings
Located very close to the spa town of Merano, Marlengo is an ideal starting point for a varied vacation program. You can reach the old town of Bolzano in 30 minutes by car, Merano in 5 minutes by car. The characteristic arcades dating back to the 13th century invite you to take a relaxed stroll and enjoy. At the beginning of November, the 31st Merano Wine Festival attracts numerous guests to the city. The famous gardens of Trauttmansdorff Castle (5 minutes by car) are breathtaking, especially in spring and summer. In over 80 garden landscapes, a wide variety of plants from all over the world bloom and flourish. There are about 800 castles and palaces to admire throughout South Tyrol. Directly from the hotel on foot, you can reach Schloss Lebenberg.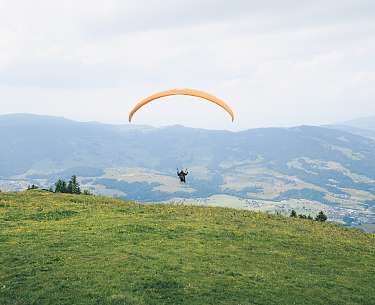 Adventure
If you are looking for more adreanlin, you will find it in tandem flying, rafting or climbing parkour. Whichever activity you choose, our team will be happy to assist you with tips.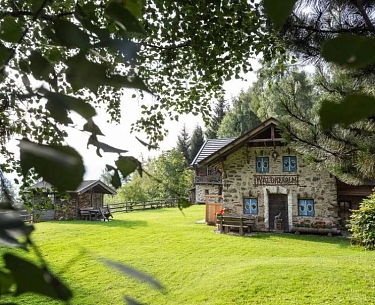 The Waldner Alm
An absolute highlight is located at about 1,150 meters above sea level. Our romantic Waldner Alm was the retreat for our "Vatti" Franz Waldner III and is today an absolute natural paradise. This unique place will certainly cast a spell on you, too. Once a week - always on Wednesdays - you can join our beautiful and relaxing hike to our Waldner Alm.
Romantik Hotel Oberwirt
Familie Waldner
St.-Felix-Weg 2
Italy-39020 Marling/Meran
IT - South Tyrol -

With the route planner inserted below you can prepare your journey by car quickly and easily. The traffic report of the Province of Bolzano/Merano and the website of the Brenner freeway inform you about the current traffic situation.
Marlengo itself has a train station. We are also happy to pick you up free of charge at the train station Marlengo or at the train station Merano, just contact us..

Public transport in South Tyrol is well connected via the transport network system.

Three airports are located in the vicinity of our hotel. Upon request, we can organize a transfer for you (for a fee).

South Tyrol Transfer - comfortably to your vacation destination
If you arrive in South Tyrol by train or bus, you can use the comprehensive "Südtirol Transfer" shuttle service for the last few kilometers to Merano:
From the train stations in Bolzano, Merano, Malles, Bressanone, Brunico and San Candido, as well as the long-distance bus stops in Bolzano, Chiusa, Varna, Vipiteno and Merano, you can get to your vacation accommodation - and back to the stop after your vacation.
The collective transfer from the nearest train stations and long-distance bus stops to the South Tyrolean accommodation establishments as well as the individual transfer from all mobility hubs can be booked online at www.suedtiroltransfer.com.