Try it out! A holiday job or a student internship are ideal for testing. If one of the areas of responsibility suits you, then find out directly about your training or dual studies with us.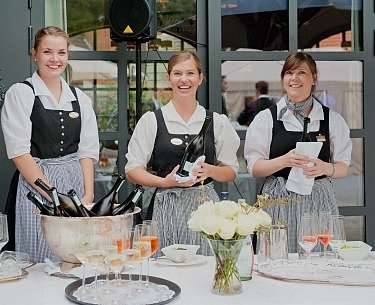 Training in a hotel?
Do you want a varied job for your future with many career opportunities and job offers all over the world? Then get started with your training at the Romantik Hotels!
Over 200 individual Romantik premium hotels offer you top training!
But not "only". Because as a trainee at the Romantik Hotels, you also enjoy many other advantages and benefit from a network of top hotels and gastronomy.
Interested in an apprenticeship in the hotel industry at the Romantik Hotels? Good decision. Then you are only spoilt for choice as to which training profession suits you best.
Hotel specialist (m/f)
For all-rounders who enjoy variety!
Do you love to be versatile and work as an all-rounder on all fronts?
From a summer holiday to a business trip, from a conference to a first date in the lobby: with an apprenticeship in a hotel, you are very close to the guest and right in the middle of real life.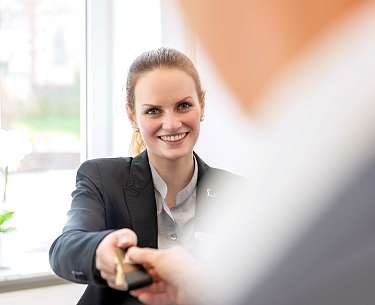 Hotel clerk (m/f)
For organisational talents with an eye for numbers!
You like to take responsibility and keep an overview with a smile?
If everything runs smoothly in the hotel, the hotel clerks have done their job perfectly. From pricing to the offer, from the reception to the rooms, hotel clerks make sure everything runs smoothly.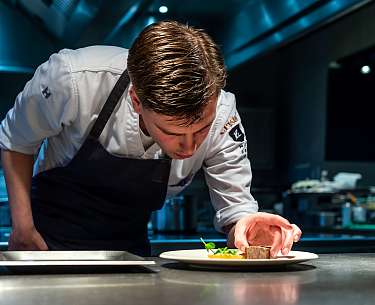 Cook (m/f)
For creative people with lots of taste!
You like to wield big spoons, but you can also organise and are bursting with ideas?
Do you have nimble fingers, a creative mind and no fear of sharp knives? Are you a real team player and can you perform at your best? Then training to become a chef is just right for you!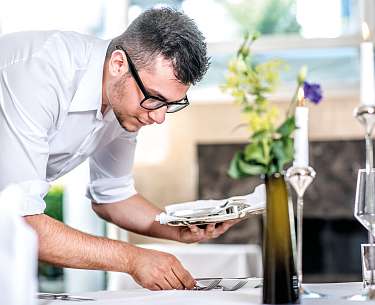 Restaurant specialist (m/f)
For service talents who enjoy communication!
All the tables are occupied, but you keep an overview?
The restaurant is buzzing, the kitchen is running at full speed, but you stay relaxed and keep a smile for the guests? Then working in a restaurant is just right for you!
Your advantages as a trainee
Over 200 individual Romantik Premium Hotels offer you top training!
Loyalty pays off: Employees who work at a Romantik Hotel for a long time receive special awards.
Explore the world. Romantik employees stay at all Romantik Hotels with their employee card for only 50 euros per room and night including breakfast and also receive a 25 percent discount on food and drinks.
Travel cheap. Family members and friends of employees travelling privately receive a 10 percent discount on the respective daily rate at any Romantik Hotel of their choice.
Build your network. The employee exchange offers employees of a Romantik Hotel or restaurant the opportunity to get to know the network better and to gain new experiences, also on an international level.
Optimal further training. Exciting trainings, news and exchange of experiences, the Romantik Learning Campus offers across borders. External trainers and institutes, Romantik hoteliers and chefs conduct the trainings.
Advantages with partners. Well-known brands or holidays at favourable prices: Romantik has negotiated for all employees and offers top conditions.
Expand horizons. Twice a year, trainees travel to other hotels, gain new impressions and experience something: at the trainee exchange, junior staff discover the strong Romantik network and new horizons.
Guests support employees. At Romantik, even the guests support the employees: exciting lectures, excellent food and a big party await the trainees at the Talent Day.
Honouring the best. This is where the best meet: once a year, Romantik honours its young stars. Attractive prizes await.