Relaxation and recreation, a family atmosphere and noble ambience, award-winning gourmet cuisine and warm hospitality are the hallmarks of this popular holiday and wellness hotel - all in an idyllic location just behind the dyke. The Achterdiek SPA offers a unique view of the Wadden Sea UNESCO World Heritage Site, and guests can recharge their batteries in the light-flooded bathing and sauna area.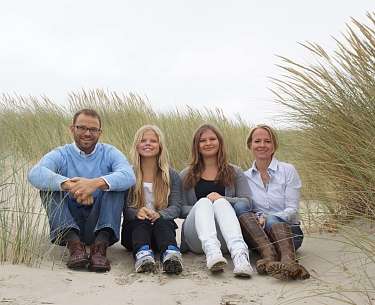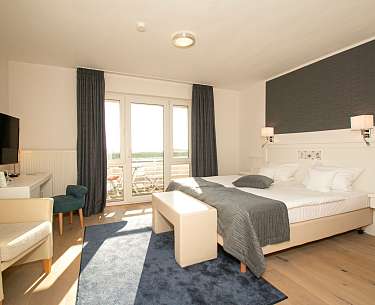 Double room wadden sea view and south balcony
Enjoy the view over the Wadden Sea and relax in the sun.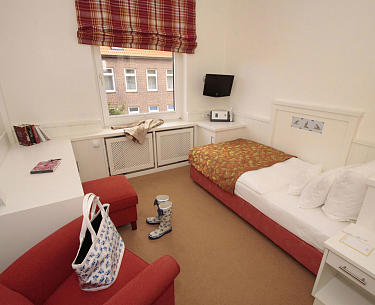 Single room
Equipped with many amenities, you can also enjoy your stay here alone.
Facilities
at Romantik Hotel Achterdiek
Child Friendly
Fitness
Free Wifi
Indoor Pool
Lift
Meeting Facilities
Quiet Location
Sauna
Smoking Lounge
Terrace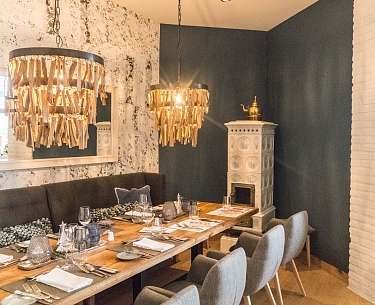 Culinary delights for every palate
The 3 most beautiful words in the world? Dinner is ready! Indulgence is writ large at Danzer's feines Achter'n Diek. The house combines East Frisian hospitality with personal service and creative slow-food cuisine. In the kitchen of the house, chef Stefan Danzer and his crew spoil guests with seasonal delicacies, which they interpret in a modern way with Mediterranean accents.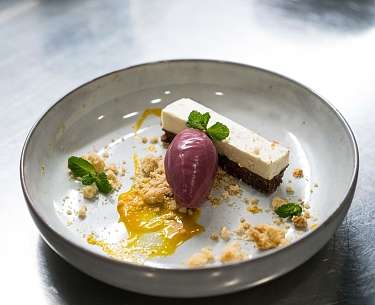 Fine gastronomy
Those who would like to enjoy the food from the Achterdiek in their own homes have the opportunity to do so with "Danzer's fine cuisine for home". The staff reveal how everything is prepared in the in-house cookbook. In the "53Grad Nord", the bar of the house, the typical East Frisian ambience ensures a nice end to every day. And all this with fresh and specially created cocktails, selected whiskeys and fine fruit brandies.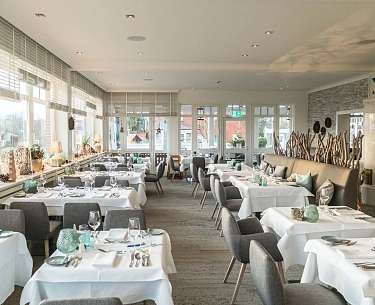 The connoisseur meeting place
The cuisine at Romantik Hotel Achterdiek is always given special attention. For example, host and chef Stefan Danzer, has successfully completed the " Kitchen Master" and also the further training to become a "Wellness Vital Chef".
An opulent East Frisian breakfast buffet awaits you every morning. As part of the pampering pension, we serve you a piece of homemade cake in the afternoon and a 4-course choice menu of the finest in the evening. When booking, please decide whether you would like to enjoy the pampering board or bed and breakfast.
Sustainability
Sustainability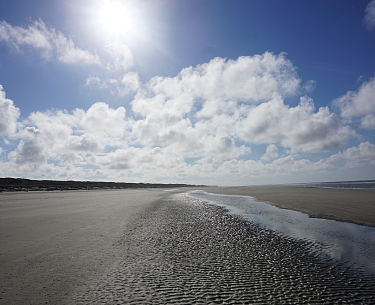 "Wadden Sea National Park" for sustainable tourism
The UNESCO Wadden Sea World Heritage Site is right on our doorstep. Rare plant species such as moss bells and marsh heartleaf grow in this globally unique natural landscape with salt marshes, sand dunes, dune islands and mudflats. It is the nursery of our North Sea fish and the habitat of thousands of birds and numerous seals. Those who are surrounded by so much beautiful nature are also shaped by nature. We feel obliged to protect and develop our natural and cultural heritage. Sustainable management and responsible use of natural resources are therefore a matter of course for us at the Achterdiek. Juist is one of the first tourist destinations in Germany to be certified by the international Green Globe sustainability seal. We have been supporting sustainable projects in our community for years and complement them with our own activities.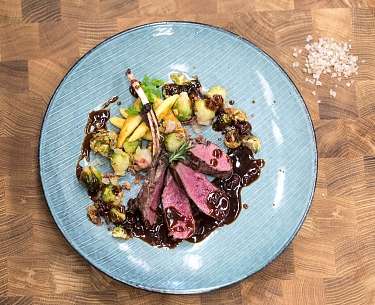 Slow Food
They prefer to use local products for their innovative creations and regional specialities. As a member of Slow Food Deutschland e.V. they know that enjoyment and responsibility belong together. Thus, value is placed on responsible agriculture, species-appropriate livestock farming, traditional food craftsmanship and the preservation of regional flavour diversity.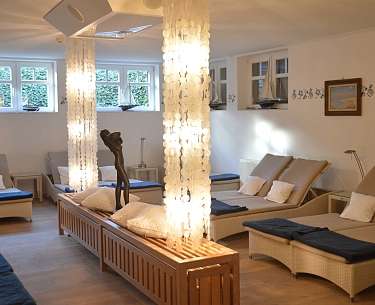 Achterdiek SPA
Our "island of beauty" is a retreat with many paths for your inner balance. In the fitness area of the Romantik Hotel Achterdiek you engage in gentle or vigorous sporting activities - alone or supervised by trained coaches. In our daylight-flooded bathing and sauna area you can relax actively or passively - by swimming, sweating, resting and meditating. In our Achterdiek Spa you will feel good through health-promoting and invigorating experiences. The unique view over the UNESCO World Heritage Wadden Sea touches the senses.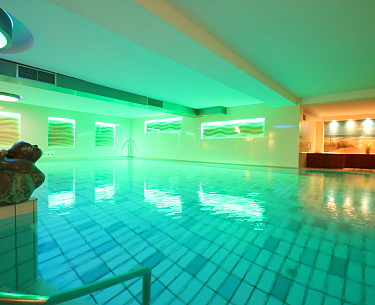 Bathing area
560 m² of water fun: 85 m² saltwater swimming pool, whirlpool, themed saunas, steam baths, tecaldarium, solarium and relaxation rooms. Fitness level with active programmes for every physical constitution House guests of Romantik Hotel Achterdiek are very welcome.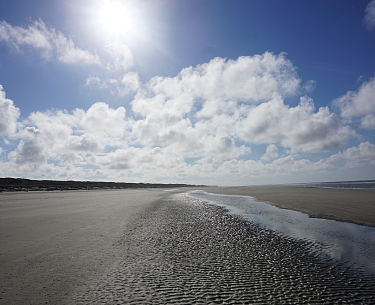 Mudflat walk
The UNESCO World Heritage Wadden Sea is on the doorstep of Romantik Hotel Achterdiek - which means: behind the dike. On a hike you can observe lugworms, snails and crabs on the seabed. All you hear is the wind, the crackling of the silt and the calls of the birds. Discover the seabed on a guided walk through the Wadden Sea World Heritage Site. The Nationalpark Haus Juist offers mudflat walks, bird observation and other natural history tours for young and old.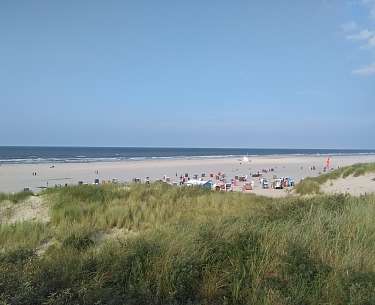 Beach bathing
Juist is 17 kilometres long and the white, soft beach that lines our island in the north is just as long. There are quiet spots like sand by the sea - in countless beach chairs, in secluded spots between the dunes or surrounded by the colourful sea of plants in the salt marshes.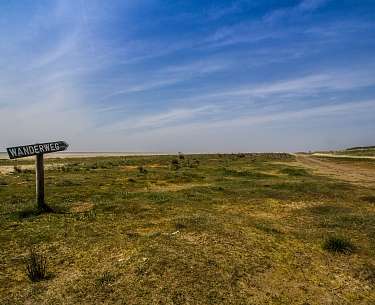 Sweet idleness
The islanders affectionately call their Juist "Töwerland", which means "magic land". Let yourself be enchanted by the tranquillity and special atmosphere of the car-free island. Even the journey to Zauberland is relaxing. Take advantage of the opportunity: long walks, relaxed carriage rides or simply enjoy "dolce far niente" in North German.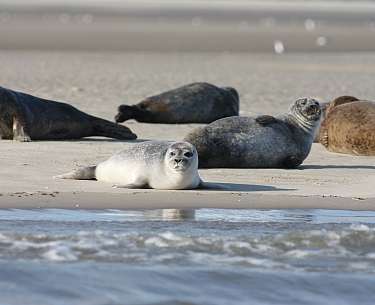 Experience the North Sea actively
For those who like it more active, we recommend a small expedition into the North Sea on board the excursion boat "Wappen von Juist", to the bird island Memmert or to the seal banks, SUP - Stand UP Paddeling - a combination of surfing, canoeing and fitness workout, sailing, surfing, windsurfing and kitesurfing. Juist offers a wide range of events and activities: from mudflat walks to beach gymnastics, guided bike tours to lectures and concerts.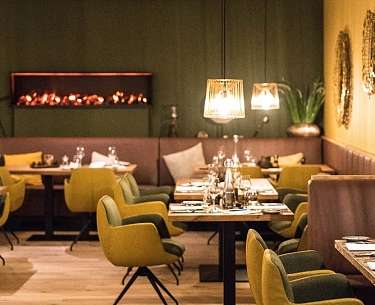 Private events
We offer a very special setting for your family celebrations, weddings and wedding anniversaries, birthdays or anniversary parties - directly behind the dyke with a view of the UNESCO Wadden Sea World Heritage Site. Our service team and Stefan Danzer's kitchen crew design the event individually according to your wishes.
Romantik Hotel Achterdiek
Romantik Hotel
Achterdiek
Romantik Hotel Achterdiek
Familie Danzer
Wilhelmstraße 36
Germany-26571 Juist
DE_East Frisia - Bad Laasphe

Motorway A31 to Emden, exit: Norddeich, then approx. 30 km country road to Norddeich. Park your car in one of the large car parks signposted.

Train station: Norddeich Mole.
On to Juist:
with the ferry of the Norden Frisia shipping company
Daily changing ferry times - Timetable under www.reederei-frisia.de
with the Inselexpress (fast ferry)
Timetable and booking at www.inselexpress.de
with the Töwerland Express (fast ferry)
Timetable and booking at www.toewerland-express.de

FLN FRISIA-Luftverkehr GmbH, information at www.inselflieger.de.
Horse taxis await you on Juist, but there may be waiting times.