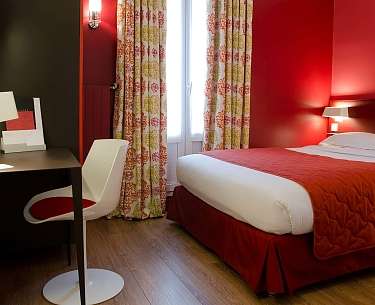 Hôtel Tivoli
Taking time out to read your newspaper in the chic lounge bar, enjoying a relaxing drink with friends - all this is possible in the heart of one of the capital's busiest districts. Equally suited to a business or leisure stay, the Hotel Tivoli is just 280 metres from the Arc de Triomphe and the Charles de Gaulle–Etoile metro station. Each of the hotel's 30 rooms, decorated in bright colours, conveys a feeling of freshness and clean lines against the backdrop of design furniture and rich fabrics. The reception is manned by multilingual staff and guests can be sure of a warm welcome.
Hôtel Tivoli
Lou Martragny
7 rue Brey
France-75017 Paris
FR - Île-de-France -

Out of the outlying Porte Dauphine, follow Avenue Foch, then Place de l'Étoile, then av wagram and then Rue de l'étoile-rue montenotte-rue Brey.
All (5 km)

Paris - Charles De Gaulle (40km)