Hotel in Styria: holidays in green Austria
Austria is appreciated for its wealth of nature - but nowhere else can you find more than here: because Styria, the second largest province, is 60 percent forested and meadows, pastures, vineyards and orchards make up another 25 percent, the region is called the green heart of Austria for good reason. And to keep it that way, apart from the Gesäuse National Park, there are seven nature parks and 35 "nature jewels" - particularly beautiful or rare formations such as moors, lakes, springs that are protected. And since Styria sees itself as very sustainable, the invaluable resource of nature is treated with care. In addition, Styria's landscape is overwhelming: from high, rugged peaks and high plateaus with an alpine character in the northern Dachstein region to the hilly wine-growing area of the south and the flat plain in the area of the Mur, each area has its own unique character. Graz, with 125,000 inhabitants, is the only major city; those who travel through the country often think that civilisation is far away. Being on the road: In the north you can do this vertically with crampons and climbing equipment, in the south horizontally by bicycle, and by kayak even in the wet element. Styria is a land for the active, where people with a keen eye get their money's worth and which invites you to slow down. Which is particularly pleasant in the thermal springs of the Vulkanland region. And then there is a packed package of events again for culture lovers - a holiday in Styria is never boring, quite the opposite.
Book first-class service and warm hospitality
In order to be able to adequately experience and explore so many special features, you need the right, the perfectly fitting hotel in Styria. One of the Romantik Hotels & Restaurants definitely fits the bill - one of the smaller, very well-kept establishments that - family-run - combine first-class service and comfort with warm hospitality. And in the hotel's own ambitious restaurant you can get to know the typical regional cuisine right away. Arrived - and now? How should you make the most of your holiday in Styria? The hosts in your hotel in Styria will be happy to advise you and tell you the special features. Of course there are many exciting museums and places of culture. The Samson processions in the Murtal are unique. If you're in good shape, take on the Graz Marathon as a challenge. Culture vultures are recommended the Styrian Autumn, a festival of contemporary art. And a little later, the Almabtrieb offers a centuries-old spectacle, when the cattle are driven down to their home stables for the winter according to age-old tradition.
Blunzengröstl and intelligence biscuits
Last but not least, Styria is a land of culinary delights - discover for yourself what B'soffener Hirschbirn-Bauer tastes like, Heidensterz, Weinkrautstrudel or Xeiser Hirschkrust'ln. Also delicious is Schweinernes Bratel with spiced Grubenkraut; Blunzengröstl or Gebratene Parasole taste great with a Styrian wine. And for dessert? Almraungerl or Nusspotize. Styrian intelligence biscuits are unfortunately only available at Christmas - but even then a holiday in Styria is definitely recommended.
Austria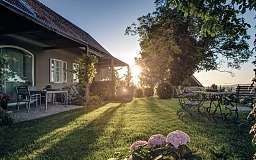 Romantik Chalet
Winzarei (AT)
Romantik Seehotel
Jägerwirt