Riding downhill on a mountain bike is becoming more and more popular. To make the rapid descents really fun, special bikes and the right technique are needed for the fast sport. The most important information about downhill biking is summarized here.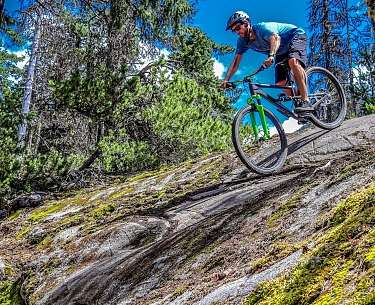 Full speed ahead
Take the cable car to the top and then race down to the valley on closed-off trails. Over hill and dale, over roots and scree, maybe overcoming an obstacle with a jump in between – it's paradise for downhill fans. Professionals can reach speeds of up to 80 km/h on particularly steep off-road trails. For beginners, it is advisable to learn how to ride in courses before taking to the slopes alone for the first time. The best way to do this is to train in bike parks, which are waiting for bike fans in many holiday regions.
Hint for beginners
You don't need to bring your own equipment; the necessary gear (protective clothing and bikes) can be rented.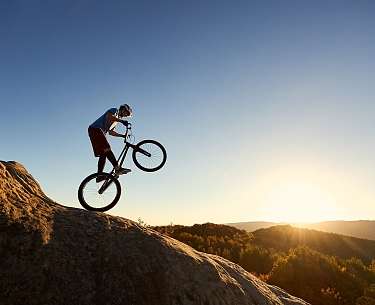 The right bike
The bikes have to withstand extreme stresses and are therefore different from conventional mountain bikes. Everything is designed for maximum stability. In addition to thick tread tyres, this includes extremely strong disc brakes, special damping on the frame and fork that absorbs hard impacts with a long suspension travel of up to 20 centimetres.
Tip for beginners
The main foot must always be placed to the front during the descent. This is determined quite easily by being pushed. The foot that touches the ground first is the main foot.
Basic posture and hotel tip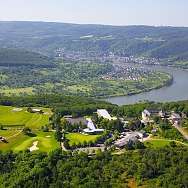 The basic posture on the bike is a little unusual at first: the rider stands on the horizontally aligned pedals, his knees and elbows are slightly bent forward to shift the centre of gravity downwards. And then the fun starts – pedalling and down into the valley on hot tyres!
Downhill trails and bike parks can now be found in many European holiday regions. The Romantik Hotel Klostergut Jakobsberg in Boppard, which is located there, provides tips and is pleased to arrange training opportunities.