Summer and soup - in the heat this can be a refreshing encounter! In cold form, soups are a flavourful highlight and a healthy snack at the same time. The high liquid content quenches thirst on hot days and the vitamin-rich vegetables supply the body with important nutrients. The Moors already knew this when they served up a white garlic soup in southern Spain about a thousand years ago - the forerunner of gazpacho. With the addition of tomatoes and peppers from the New World, the cold vegetable soup became the Andalusian national dish and is now considered a classic of cold soup cuisine. The cool soups are also very popular in other countries. With regional ingredients, they refine every summer buffet - from the Baltic Sea to the Mediterranean.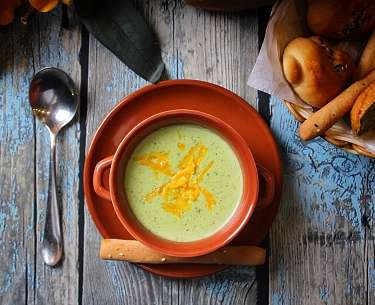 Cold basil yoghurt foam soup
Ingredients for 4 people:
10 basil leaves
250 g natural yoghurt
100 g cold bouillon
1 pinch of salt
1 dash Worcester sauce
Preparation:
Place all ingredients in a blender or puree with a hand blender and serve.
This is a recipe by chef Jürgen Santer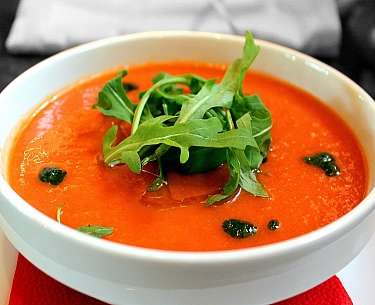 Cold rocket and strawberry gazpacho with venison ham grissini
Ingredients for 4 people:
200 g rocket
2 red pointed peppers
1 cucumber
2 ripe tomatoes
500 g strawberries
1 slice of toast
100 g fruity olive oil
4 slices of venison ham
4 grissini sticks
Add salt, sugar, pepper, mild aceto balsamico bianco to taste.
Preparation:
Wash everything well and pat dry. Remove the stems from the rocket and set half aside. Put 5 strawberries to one side. Chop the rest of the vegetables with the toast and place in a blender. Blend finely on the highest setting and slowly pour in the olive oil. Now season with salt, sugar, pepper and vinegar and strain through a sieve, refrigerate.
Dip half of the grissini in strawberry jam and wrap the ham around it. Now dice the remaining 5 strawberries and mix with the roughly plucked rocket and arrange in the centre of a deep plate. Pour the gazpacho around it and place the grissini on top. Drizzle with a little olive oil and serve.
This is a recipe by star chef Mathias Apelt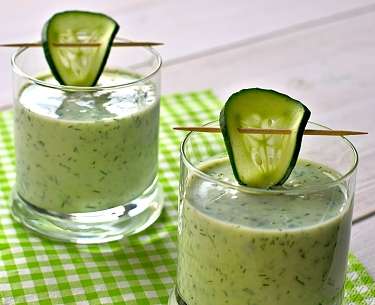 Cucumber cold dish
Ingredients for 4 people:
1 kg cucumbers
1 clove of garlic, diced
1 red onion, diced
300 g yoghurt
750 ml buttermilk
150 g crème fraÎche
Salt, pepper, a little sugar
1 tbsp lemon juice
1 bunch dill
1 bunch of cress
Preparation:
Peel, core and chop the cucumbers. Place in a tall container and puree with a hand blender. Mix the cucumber puree, diced garlic and onion, yoghurt, buttermilk, crème fraÎche and spices. Add the herbs. Season the cucumber soup a little to taste and then refrigerate. Garnish with cress and dill oil and serve.