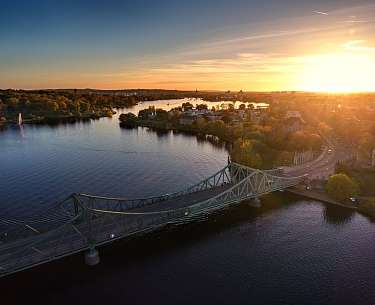 Day 1
Morning. We begin our Potsdam tour at the Glienicke Bridge, which has become a legend as the "Bridge of Spies" linking Berlin and Potsdam. Immediately after the bridge we enter Potsdam's "good parlour" - the Berlin suburb with its stately villas and high celebrity density (e.g. showmaster Günther Jauch). From there it's not far to Cecilienhof Palace, the scene of the Potsdam Conference, where post-war Germany was negotiated.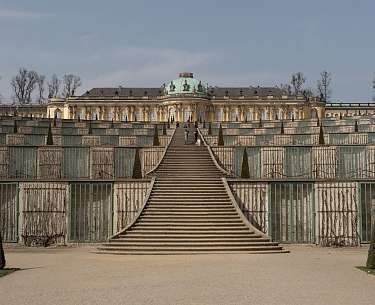 Lunchtime. A detour to the Meierei in the Neuer Garten, located directly on the Jungfernsee, is rewarded with a hearty lunch and a cool beer from their own brewery. Strengthened, the tour continues to Sanssouci Park with the city's most prominent hotspot: the "Without Worries" Palace was built by Prussian King Frederick the Great on the French model. Don't forget: Take the ultimate Potsdam photo on the terraces in front of it! The Orangerie and the Teahouse in the park are also worth a visit.
Evening. A little culture before going out. Every first Thursday, the Museum Barberini is open until 9 pm (otherwise until 7 pm). It attracts visitors with top exhibitions (July - October: Baroque painting from Rome, October - February: Van Gogh). Getting hungry? In the gourmet restaurant Kabinett F.W., star chef Alexander Dressel spoils guests with exquisite menus - including a view of the Wildpark. For unusual cocktails in a pleasant atmosphere, head to BarFritz'n (Dortusstr. 6). Until 3 a.m., if you like.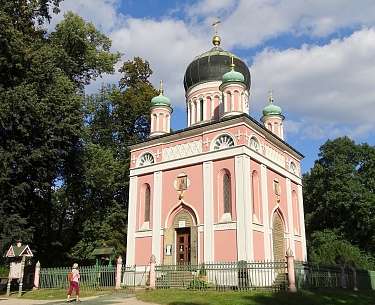 Day 2
Morning. In the middle of Potsdam stands a curiosity: the Alexandrowka colony with original Russian wooden houses was built in 1827 in honour of Tsar Alexander. From there it is only a stone's throw to the Dutch Quarter. The ensemble, built in the style of Dutch gabled houses, is home to numerous cosy cafés, pubs and small shops. Our next destination: The Old Market with St. Nicholas Church was once considered one of the most beautiful squares in Europe and is well on the way to its former glory after reconstruction.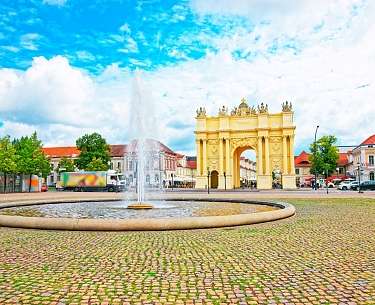 Lunchtime. Ideal as a starting point for an extended shopping trip: Luisenplatz at the Brandenburg Gate, central square in the city centre. The cosy pedestrian zone around Brandenburger Straße is a popular promenade for Potsdamers. The two-storey houses house small shops, cafés and snack bars. In summer, "Broadway" is transformed into a single, lively street café with a southern flair. Tip: The ice cream factory is said to have the best ice cream in town.
Evening. We end our Potsdam visit with an evening lake cruise. Especially worthwhile: on five weekends a year, the castles and churches along the banks of the Havel shine with lights. A little boisterous? Yes! A visit to Babelsberg, Europe's largest film studio (e.g. "Bourne Ultimatum", Grand Budapest Hotel"), a bike tour to the idyllic Holy Lake with its marble palace - we'll have to postpone this and much more until our next visit. Potsdam simply offers too much for two days.