Wellbeing & yoga hotel in Flims in art nouveau style since 1903!
Bienvenue and welcome to the Schweizerhof Flims Romantik Hotel & Spa. In our historic main building and in the modern bathhouse with great wellness and yoga rooms with a fascinating view, you can escape the stressful everyday life and really slow down. Our warm and cultivated ambience, rooms steeped in history of the Belle Epoque, the glittering Lake Cauma directly in front of the front door and a healthy and sustainable gourmet cuisine invite you to a holistic experience - from A like mindfulness to Z like Zen.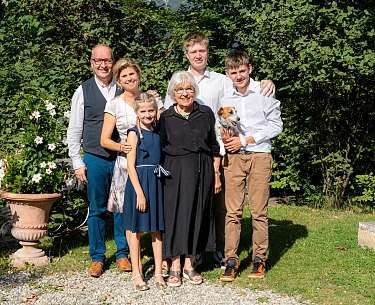 Your hosts
For four generations we have been welcoming you as a traditional family business in the Schweizerhof Flims Romantik Hotel & Spa. Hospitality and friendliness are not just empty words for us, but important values that we live every day. We have already been awarded the Prix Bienvenue four times and are thus officially among the most hospitable hotels in beautiful Switzerland.
Our facilities
at Romantik Hotel Schweizerhof Flims
Central Location
Electric Car Charging Station
Fitness
Free Wifi
Indoor Pool
Lift
Meeting Facilities
Parking Area
Parking Garage
Pets Friendly
Quiet Location
Sauna
Terrace
Eating is a need, enjoying is an art! (La Rochefoucauld)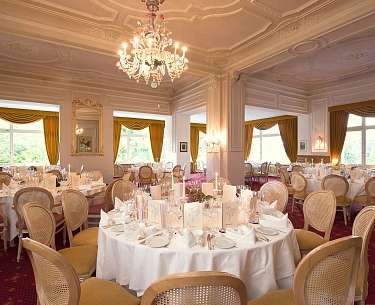 Restaurant Belle Epoque
Sustainable dining in an art nouveau ambience
In our art nouveau restaurant Belle Epoque you dine not only varied, market fresh and delicious, but also sustainable. We use regional ingredients as much as possible for our dishes and pay attention to climate friendliness. With our large selection of vegetarian and vegan compositions, you are sure to find what you are looking for - and if you prefer to eat meat in the conventional way, it comes from the farm, of course. At Romantik Hotel Schweizerhof you can expect enjoyable culinary delights in the form of varied haute cuisine - sometimes French-inspired, sometimes down-to-earth, but always finely seasoned and well thought-out. In addition, there are exquisite wines and beverages, which are enjoyed by our guests in the beautiful Art Nouveau ambience by candlelight.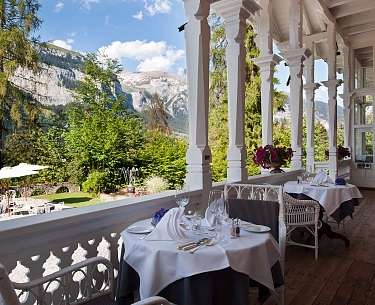 Art Nouveau Veranda
With a view of the imposing Flimserstein, our guests can have breakfast, lunch, afternoon coffee or even dine on the picturesque art nouveau veranda.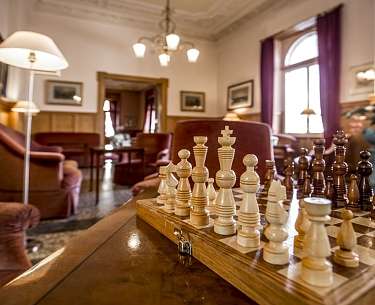 Lobby & Bar
Feel transported back to the times of the Belle Epoque and linger in our lobby or bar. Here we are happy to serve our guests aperitifs, digestifs, coffee and cake or even a small snack.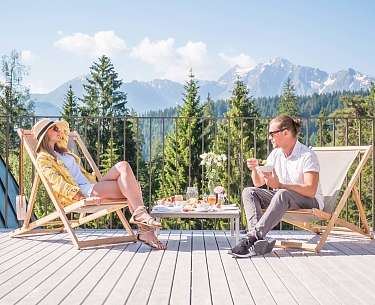 Rooftop «La Terrasse»
Enjoy an incomparable mountain, forest and UNESCO panorama on the Schweizerhof Zinne high above the roofs of Flims. Whether for sunrise or sundowner - the view is worth the climb at any time of day. The Honesty Bar under the roof provides snacks and drinks.
Our new Berg- und Waldspa bathhouse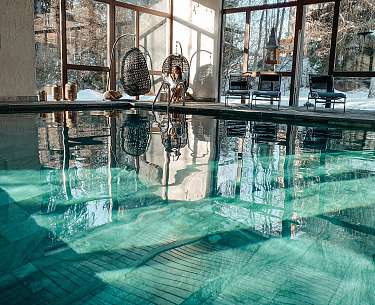 Wellness in the new bath house
In harmony with nature
Wellness in harmony with nature has a long tradition here in Flims. A few decades have passed since the first small bathing hut in 1880 on nearby Lake Cauma and the noble lakeside spa of the Belle Epoque. Today, we are opening a whole new chapter with our new and modern Schweizerhof bathhouse and spa on 750 square meters. Our holistic mountain and forest spa bathhouse welcomes you with a relaxing wellness, spa and bathing experience for body, mind and soul. In addition to our chic sauna and bathing area, you can also look forward to a full program of yoga, meditation and massage services. And all this against a fairytale backdrop in one of the most beautiful wellness hotels in Switzerland.
Sauna
Crackle and sweat in our sauna world
Our saunas - also called "Schwitzstuban" in Graubünden German - let you forget about time for a few minutes. At the latest when our Finnish sauna at 90 degrees reveals the wonderful view of the Flimserstein, body and mind have arrived in the realm of relaxation and let you forget any To Do list. Recharge your batteries and use not only our traditional Finnish sauna but also our organic pine wood sauna, the steam bath and our soothing infrared cabin.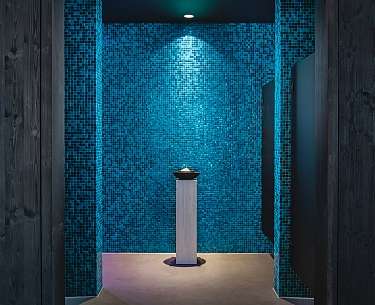 Worlds of water
Immerse yourself in our water worlds
Water is our elixir of life. Enjoy different temperatures from ice-cold to pleasantly hot in our rippling water world and let the invisible power of the water molecules have an effect on you. Our cold-water plunge pool is not for the faint of heart, but it has an immune-boosting and vitalizing effect and provides the perfect refreshment after a sauna session. You can also enjoy the soothing mountain stream experience shower, our energetic rock salt scrub, our Kneipp pools and our bubbling foot pools. When the batteries are empty, you can grab tea and snacks at our refreshment counter.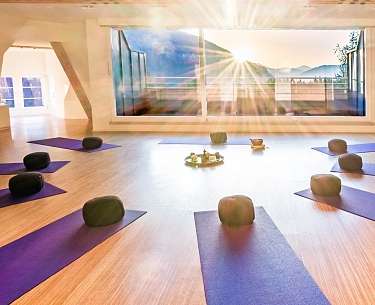 Yoga & Retreats
Namasté!
In addition to the classic wellness offers, our various yoga practices and programs are the perfect complement for a relaxing vacation in harmony with yourself. For some time now, we have been offering our guests yoga sessions - for example in the form of Hatha Yoga - as well as Pilates and guided meditations as part of our free weekly program. Our coaches guide not only advanced yogis, but also beginners and newbies with great commitment through the various lessons. Private yoga classes, mindfulness trainings, full moon yoga spa nights and yoga retreats are just a few examples of our offers.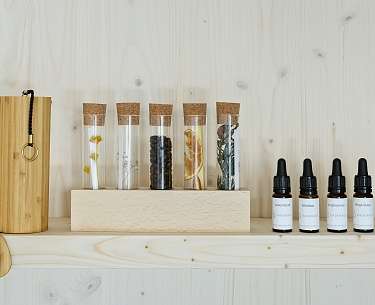 Massage and treatments
Feel the power of touch
The spruce was once considered a symbol of protection and hope. Surrounded by spruce wood, our new massage and coaching rooms also radiate a pleasant comfort. Together with the ecological flooring made of vegetable oils and natural minerals, the spruce provides a pleasant and powerful room climate. All treatment rooms are flooded with light and allow a clear view of the greenery. As part of our holistic and versatile massage offer, we offer here, among other things, classic full body massage, alpine herbs stamp massage, foot reflexology, Thai massage, stone massage, Lomi Lomi massage, sound massage, Ayurvedic massage and other massage techniques.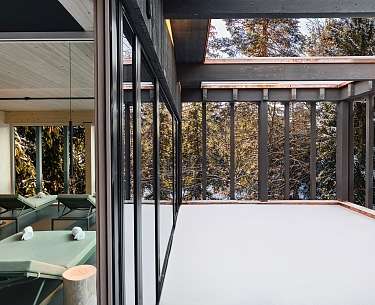 Forest room
United with nature
Our 108 square meter forest room is surrounded by energetic spruce wood and a huge sliding window front overlooking nature. Just like the number 108, this room stands for unity and infinity, which is why it is equipped with yoga equipment for various yoga exercises and a music system to connect body and sound. Its design options range from mindfulness retreats to continuing education seminars to sound meditations. Right next door you will find a tea and snack bar.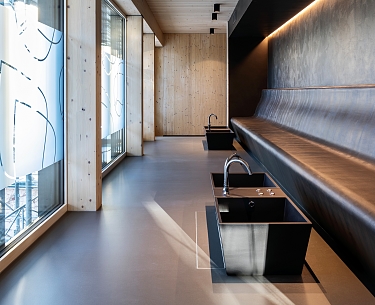 Rest and power places
Deceleration, peace and power
Switch off in our rest and power places and leave behind the restlessness and hectic life, in which they must be constantly available. Our relaxation room, the heat bench and the cozy cuddle corner seduce you to sweet and well-deserved idleness. Outside on the pergola you can enjoy the surrounding nature and fresh air.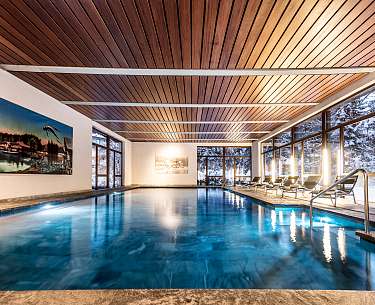 Natural stone pool
Our natural stone pool with Grander water
Inspired by the nearby Lake Cauma, you can float in our granite green natural stone pool. Surrounded by noble Spluga verde granite and low-chlorine Grander water, swimming is much more enjoyable. Our indoor swimming pool is equipped with a panoramic window front and a direct access to the forest edge lawn.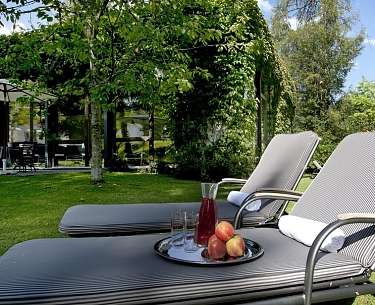 Lawn
Pure nature in our garden near the forest
Clear air and pure nature you can enjoy in our idyllic garden on the cozy lawn. Situated directly on the edge of the forest, you will be supplied with oxygen here and can let the wide space take effect on you. Already the writer Martin Suter once said: "The Schweizerhof has remained what it always was - a cozy place where you find the time to let it stand still a bit." Enjoy your Digital Detox!
For the sake of the environment!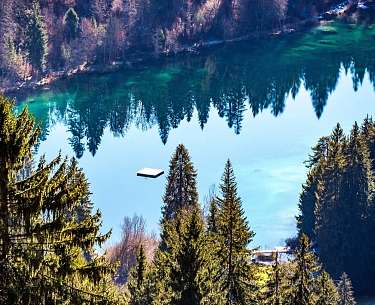 Sustainability, Climate Policy and Regionalism
Throughout Flims, we benefit from green electricity from hydropower. In addition, we have implemented numerous measures in the hotel to save energy, but also plastic and paper. Our organic waste is also processed into biogas.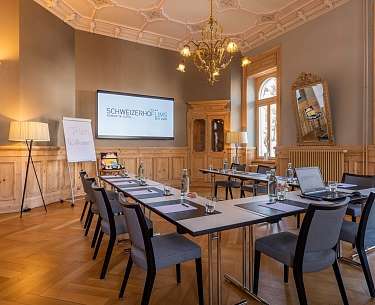 Seminars and meetings
The perfect place for brainstorming
In the context of an inspiring environment, in which everyday stress fades, it is immediately better to work and brainstorm sustainably. Expand your horizons in a historic ambience and take advantage of our individual seminar rooms. Modern infrastructure and alpine views will facilitate your conferences, meetings and discussions and give you room for new ideas and thoughts. Our Salle d'Etude is our meeting room with mountain view. It can seat up to 32 people with seminar seating and up to 22 people with a U-shape. In the Salle de Lecture you have direct access to the veranda. The Boardroom in Art Nouveau style can accommodate up to 25 people with seminar seating and up to 15 people with a U-shape. We will be happy to advise you personally and assist you with the organization.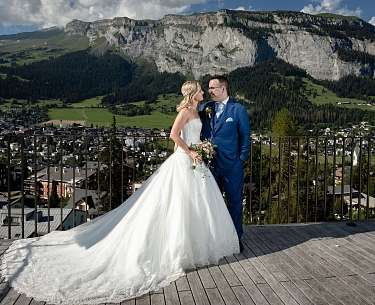 Private celebrations
At the Romantik Hotel Schweizerhof you will find the ideal conditions for your wedding or celebration. The rooms in Belle Epoque or Art Nouveau ambience provide the special setting for your festive occasion.
We organise your wedding celebration for parties of up to 100 people, romantically, traditionally and individually. The region around Flims Laax Falera offers many possibilities for a perfect social programme.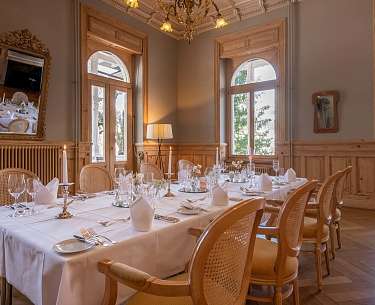 Diner à la Belle Epoque
From now on, guests at the Romantik Hotel Schweizerhof Flims can take a culinary journey back in time: dine as in the days of the Belle Epoque - at the Diner à la Belle Epoque.
From 10 people up to a maximum of 20 guests, we invite guests to enjoy our Dîner à la Belle Epoque in the Salle de Lecture - much more to experience. We present the menu to the guests in the same way as the original menu from 1917, with decorations and crockery from the old days. The tender meat is carved directly at the table and served with the corresponding wine.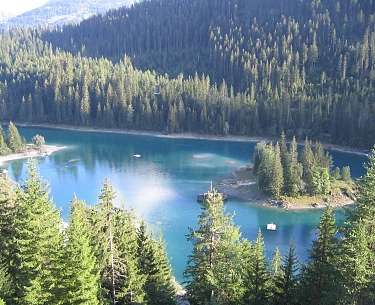 Hiking
A variety of hiking trails are available with almost 250 kilometres around Flims. Enchanted forests, rocky cliffs and clear mountain lakes and streams - there are tours for every taste and every level of difficulty. How about the Rhine Gorge hike, for example, or the 3.6km circular hike around Lake Cauma? If you want to vividly trace the formation of the Alps, you should plan a visit to the Tectonic Arena Sardona UNESCO World Heritage Site. The world's longest treetop path leads over 1.5km from Laax Murschetg to Laax village.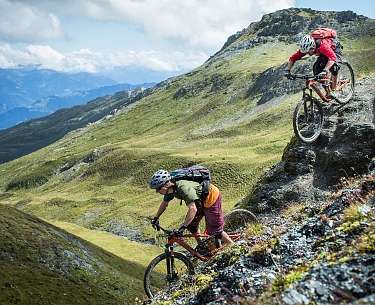 Biken
With a network of almost 330 kilometres of trails nestled in the magnificent mountain scenery, the Flims Laax Falera biking region is a paradise for bikers. Award-winning trails with varying degrees of difficulty make the hearts of mountain bikers beat faster.
The new E- Bike Kulinarik Trail combines sporty biking and pure enjoyment! From Flims Dorf it leads through the idyllic forest landscape to Sagogn and via Castrisch along the unique and imposing Rhine Gorge to Valendas before returning to Flims Dorf.
Winter sports
Welcome to the winter wonderland Flims Laax!
Surrounded by the fascinating Swiss Alps, the purest snow and winter sports fun awaits you here from December to April thanks to its great location. With a view of glittering peaks, you'll find 224 kilometers of groomed slopes, four snow parks, the world's largest halfpipe and snow-sure cross-country trails just waiting to be discovered by winter sports and action fans. Those who prefer a more leisurely pace can explore the numerous natural and artificial ice fields, toboggan runs, as well as snowshoe and winter hiking trails nearby. It becomes especially romantic on a carriage ride through the white-covered Flimserwald. So at Romantik Hotel Schweizerhof in Flims, there is not only a great choice for skiers and snowboarders, but also numerous other outdoor activities for a wonderful winter vacation. How about a winter wellness weekend, for example, where you can explore the extensive snowy landscapes during the day and then really warm up and pamper yourself after returning to the hotel? Everything is possible with us - book your trip to Flims Laax Falera in Switzerland now and convince yourself of the huge nature, sports and wellbeing offer.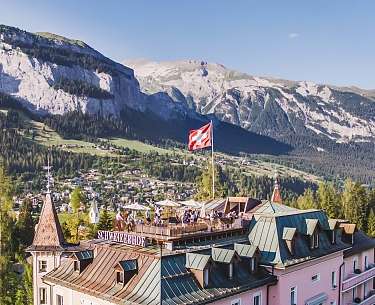 Holiday - Dialysis
It's time for a relaxing holiday. The Schweizerhof team provides a warm and cosy atmosphere in and around the Schweizerhof, while the Flims LAAX Falera region lures you out into the fresh mountain air. When dialysis calls, travel comfortably by post bus to Chur or plan a day trip directly and discover the region on the Ruinaulta round trip with a stopover in Chur. The "graubuendenPASS - 2 out of 7 days" can be obtained by dialysis guests and their accompanying persons at special rates.
You can find more information here.
Schweizerhof Flims
Romantik Hotel & Spa
Schweizerhof Flims Romantik Hotel & Spa
Familie Schmidt
Rudi Dadens 1
Switzerland-7018 Flims Waldhaus
CH - Grisons -
Flims is 135 km from Zurich, 222 km from Basel and 150 km from Lugano. By car, you can reach Flims in 90 minutes from Zurich, as we are only a 20-minute drive from Chur. You can travel comfortably by private car or bus, as well as by public transport.

Take the A3/A13 via Chur and take the Reichenau exit, or you can reach the region after an impressive drive over the Lukmanier or Oberalp passes (passes are only open in summer).
Our GPS coordinates: 46.8270018, 9.2900187..
The regular train connections take you to Chur. There you change to the post bus to Flims, Laax, Falera and get off at "Flims Waldhaus, Caumasee". The bus station is a 3-minute walk from the hotel.
You can find current timetables at www.sbb.ch.

The international airports of Zurich, Basel, Geneva and Friedrichshafen are connected by train and bus, which will take you to Chur and then to Flims..