Located in an idyllic park in the Netherlands, the Romantik Hotel Parc Broekhuizen welcomes you as a magnificent historic building from the 15th century with stylish and modern rooms and upscale star cuisine with its own herb garden. Only about 20 km from the Dutch city of Utrecht, you will find here with us in Leersum, embedded in the Utrechtse Heuvelrug National Park, a powerful place of tranquillity, surrounded by a little touch of luxury, individuality and elegance. This is also reflected in our small lake in the middle of nature - with glittering sunbeams in summer and thousands of ice crystals in winter.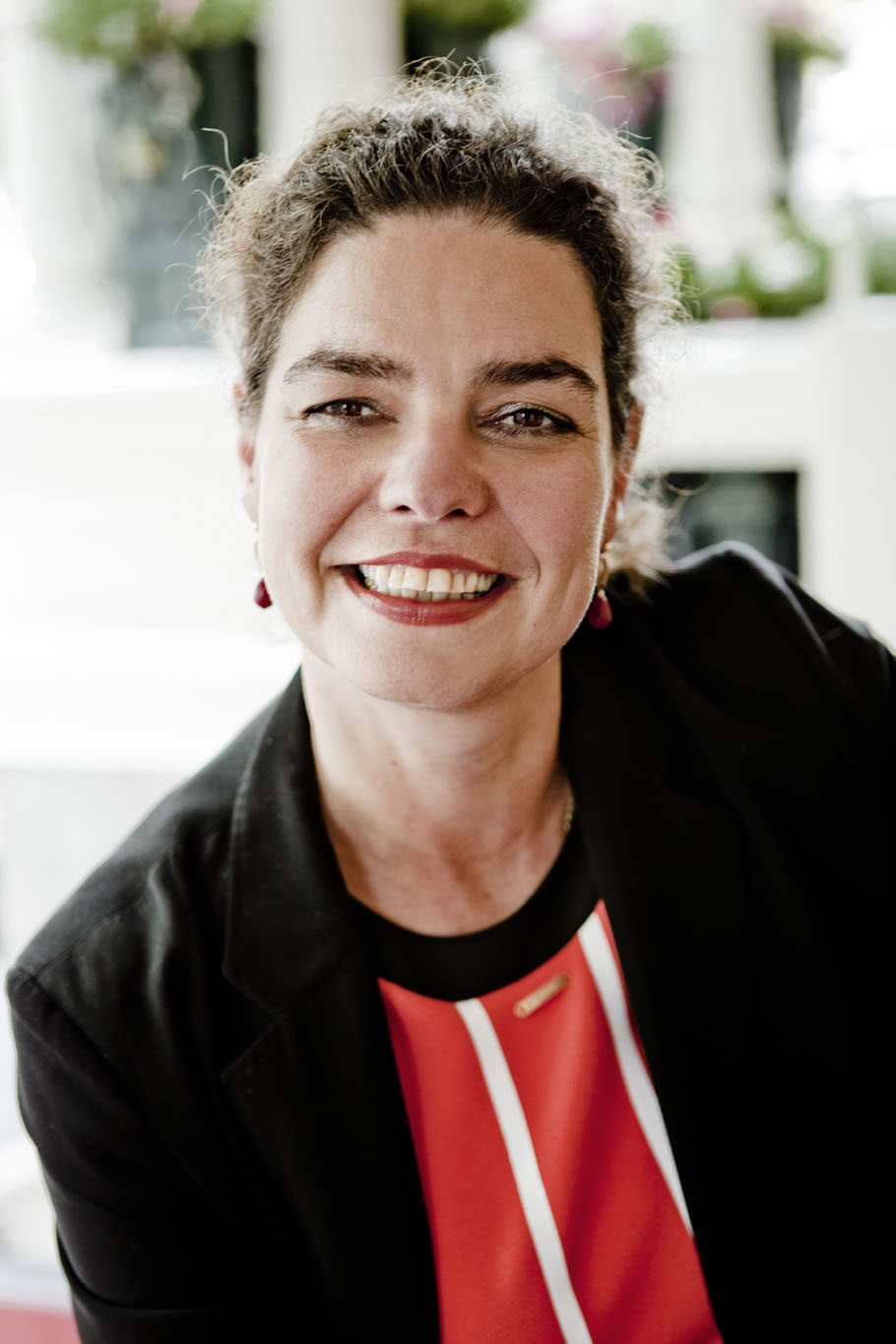 Your host
Host and power woman Anita Bos leads Romantik Hotel Parc Broekhuizen with full commitment and passion. After working in a number of high-quality hotels at home and abroad and previously being the general manager of the Inter Continentals in Amsterdam for seven years, she came to Parc Broekhuizen in 2018. Impressed by the beautiful nature and the quality level of all the details of the property, she immediately took on the challenge of helping to build the image and history of the hotel. She and her great team always strive to give their guests a unique, stylish and luxurious stay in the Netherlands. The house chosen by the hostess, the green park grounds, the cuisine close to the spirit of the times, the herb garden - everything whispers deceleration and pleasure.
Electric Car Charging Station
Free Wifi
Lift
Meeting Facilities
Parking Area
Quiet Location
Terrace
Star cuisine & spirit of the age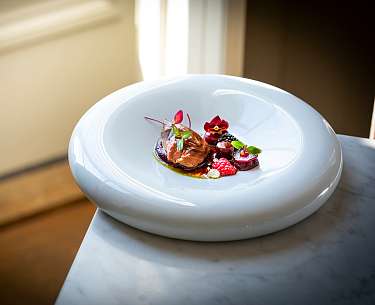 Culinary delights at Parc Broekhuizen
Modern & elegant
Exclusive dining in Restaurant Voltaire or cosy snacking in Bistro LOF - Romantik Hotel Parc Broekhuizen offers its guests culinary delights of the highest standard and surprises you again and again with extraordinary creations by star chef Arturo Dalhuisen and the latest food trends. We source some of our products from our own herb garden and from local traders. Let us spoil you with culinary delights - in summer outside in the green.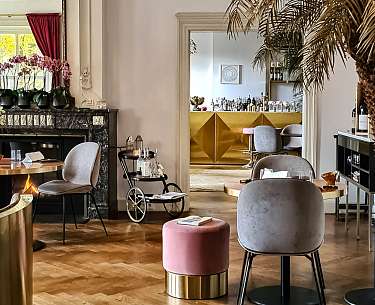 Restaurant Voltaire
Excellent star cuisine close to the zeitgeist
Nestled in our historic main building dating back to 1408, we serve culinary delights of the highest standard in our elegant star restaurant Voltaire. While the historic building carries a long history, in the Voltaire restaurant, named after our precious Voltaire painting in the hallway, you will be welcomed with stylish details and modern cuisine by star chef Arturo Dalhuisen. On warm days and in summer, you can also enjoy our dishes on our secluded terrace.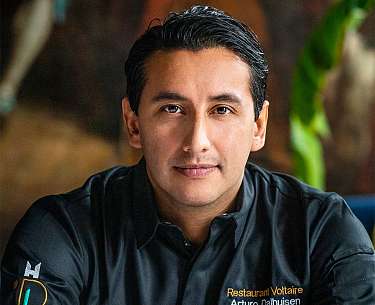 Arturo Dalhuisen
Star chef with passion
Star chef Arturo Dalhuisen has been cooking with passion at Restaurant Voltaire since January 2022. The Romantik Hotel Parc Broekhuizen with its sustainable vegetable and herb garden is the perfect place for him to unfold his unique signature cuisine full of freshness, lightness and elegance in all its glory. He was awarded his first Michelin star at The White Room restaurant at Hotel Krasnapolsky in Amsterdam. Inspiration and motivation to continue growing have been his constant companions ever since. He also gained important experience as Sous Chef of Jacob Jan Boerma in De Leest.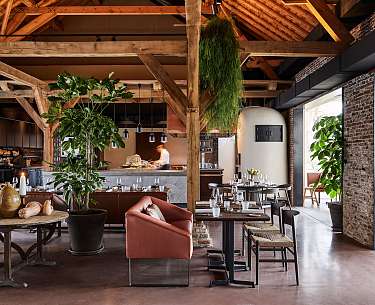 Bistro LOF
Delicious & casual
Our stylishly casual Bistro LOF offers small delicacies such as sandwiches, pizzettes and cakes and is open from Thursday to Monday. Lunch is served here between 12.00 and 14.30, dinner between 17.30 and 20.00. If you would like to eat with us, you are welcome to send us a reservation request in advance by phone or e-mail. For café and tea, please spontaneously find a cosy place with us.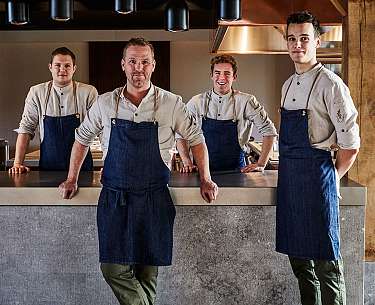 Chef Ewout Eleveld
Top chef Ewout Eleveld and his team spoil you in Bistrot LOF with regional delicacies and creative compositions. The experienced chef, who has already studied with the best chefs in the country, attaches great importance to quality and a respectful approach to nature. Therefore, he also mainly uses products from the hotel's own herb garden and from long-standing local suppliers.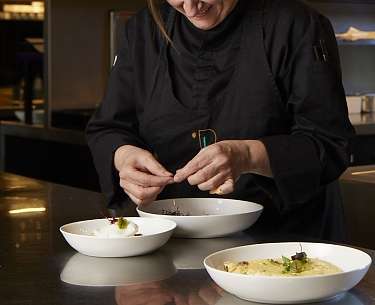 Breakfast
Delicious à-la-carte breakfast directly in the hotel
At the latest when the first rays of sunlight sparkle through our large windows, it's time for the most important meal of the day: breakfast. We spoil you daily with an energising à-la-carte breakfast made from fresh, healthy and predominantly regional products as well as delicious hot and cold drinks. Our breakfast is available in the morning from 08.00 to 10.00 and can be reserved in advance by phone or mail.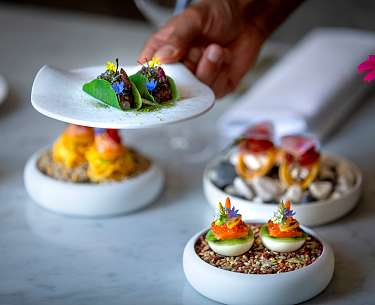 Private Dining
Private dinner events in a beautiful ambience
Thanks to our spacious premises at Romantik Hotel Parc Broekhuizen, we can offer you individual events entirely according to your needs. This includes exclusive private dining, which you can request from us, for example, as part of an event for 7 to 150 guests. Design details from the 18th century, an intimate atmosphere, floor-to-ceiling windows and modern decoration create a beautiful atmosphere full of character in the main house. The exclusive Carriage House, on the other hand, is ideal for larger private dining events. Our possibilities are almost endless - feel free to contact us and we will organise a culinary event for you and your loved ones.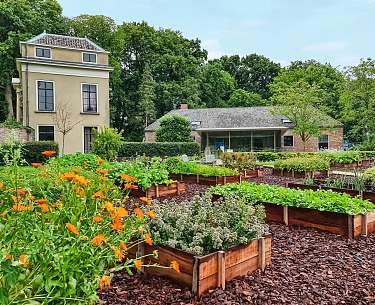 Our herb garden
Sustainability & freshness straight from the garden
Sustainability is very important to us. That's why we mainly use regional products and have our own herb garden, which we lovingly tend. Our herb fairy regularly harvests fresh vegetables and tasty herbs here, which are dried in our pavilion or used directly in our dishes. So look forward to intense, fresh and conscious moments of enjoyment with us that are not only delicious, but also sustainable and environmentally friendly. We also work together with the Hotels for Trees Foundation to contribute to a greener hotel world. We plant a new tree every time a guest decides to skip the daily room clean-up. We also work together with the Hotels for Trees Foundation to contribute to a greener hotel world. We plant a new tree every time a guest decides to skip the daily room cleaning. We also use fresh herbs and lavender from the herb garden to make bath salts, which are available in our suites.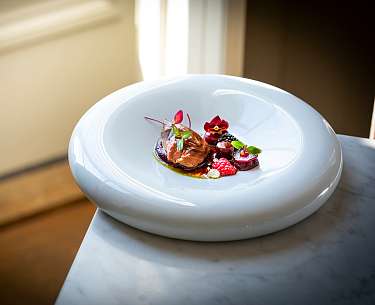 Chefs @ the parc
This spring, the international gourmet festival "Chefs @ the Parc" will once again take place at Romantik Hotel Parc Broekhuizen. Here, Michelin-starred chef Arturo Dalhuisen and chef Ewout Eleveld, together with the well-known top chefs Jacob Jan Boerma and Peter Paul Van Den Breemen, invite numerous Michelin-starred chefs from all over the world and cook together. Experience this exclusive event with over 30 chefs, who have been awarded a total of over 50 Michelin stars, in front of the fantastic backdrop of the park and the historic buildings and book your exclusive ticket now.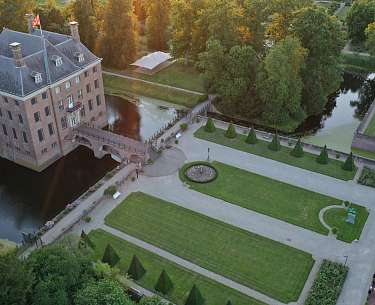 Amerongen Castle
A historic moated castle in the middle of nature
Only a few minutes by car or a long walk from our hotel lies the Kasteel Amerongen, a historic moated castle from the 13th century. The building, which is still surrounded by a well-kept park and an old moat, was first mentioned in a document in 1286. Today, Amerongen Castle is owned by a foundation and can be visited along with numerous historical collections. A visit is therefore worthwhile for lovers of history and art history as well as for those interested in architecture. You can order tickets online in advance.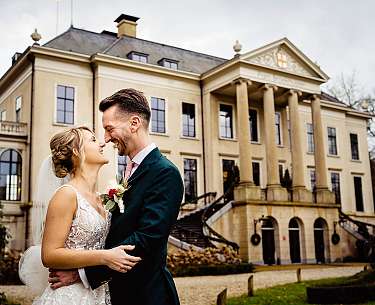 Weddings
Dream wedding in front of a historic backdrop
We fulfil your dream of a very special wedding location: surrounded by idyllic nature and historic buildings, Romantik Hotel Parc Broekhuizen is perfect for a beautiful wedding celebration. Of course, we can also provide you and your guests with our rooms and suites for overnight accommodation if required. Feel free to contact us and we will put together an individual plan entirely according to your own needs, which will make your wedding day a very special experience.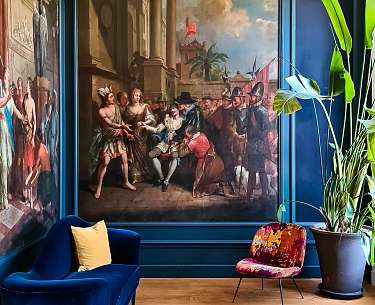 Photo shoots
Dreamlike photo backdrops
Romantik Hotel Parc Broekhuizen has the best conditions for exclusive photo shoots against a beautiful backdrop. Nestled in the Utrechtse Heuvelrug National Park, not only the hotel but also the surrounding nature is perfect for a wide variety of formats. Book our location for advertising shoots, product photography or fashion shoots - we will be happy to help you with the organisation.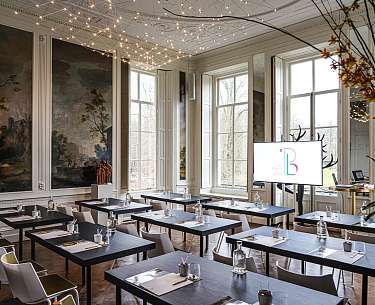 Seminars & conferences
Inspiring meetings with style
The stylish meeting rooms in our main building are perfect for inspiring workshops, seminars, conferences or meetings. Generous windows provide natural lighting here. We will be happy to put together an individual conference offer with a culinary supporting programme that is within your personal budget. Please contact us by e-mail at sales@parcbroekhuizen.nl.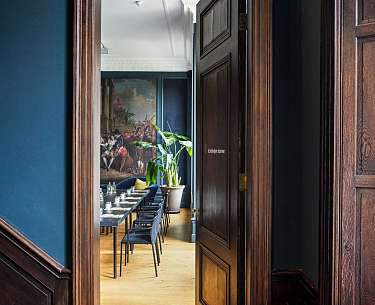 Meeting rooms
At Romantik Hotel Parc Broekhuizen you will find six different meeting rooms and salons that offer the ideal setting for every occasion. Our "Ante Chambre" is ideal for standing receptions for up to 35 people, our Salon inspires with impressive murals from the 18th century and offers 55 square metres of space for your event. The Carriage House covers 324 square metres and, thanks to state-of-the-art technology including sound and lighting systems, nine HDMI screens and a modern kitchen, provides enough space for your event. The Blue Room offers a fantastic view of the park and is ideal for receptions and meetings. In the Gallery Room, five 18th-century paintings by artist Willem Joseph Laquy inspire and provide a private space for small meetings. In "The Serre" you will find a perfect location for receptions, meetings and other events on 66 sqm with a grandiose winter garden.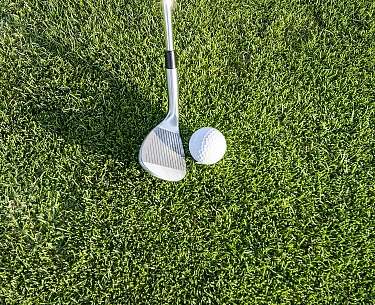 Golf
Golfing in the middle of greenery
For sports enthusiasts and fans of golf, Romantik Hotel Parc Broekhuizen is the perfect starting point for active excursions. The spacious and green area around the hotel is perfect for extensive golfing. Only a few minutes away from our hotel, in the middle of the Utrechtse Heuvelrug National Park, lies the Anderstein Golf Club, among others.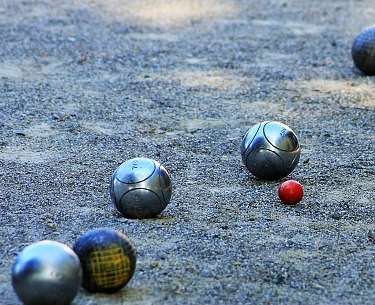 Boule
Fun & games in the garden
Enjoy sporting activities or playful matches in the spacious park area directly in front of our house. There is a small boules station in our garden that you can use with the whole family. Our boules station is freely accessible for you and is perfect for beautiful summer days or whenever you feel like a little activity right at the hotel.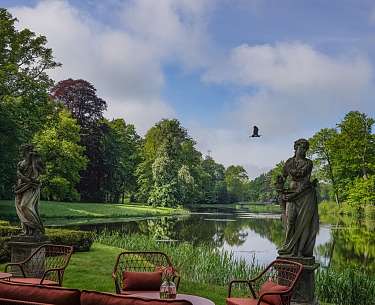 Art @ the parc
Art @ the Parc
There is not only culinary delights and nature to discover in our hotel and on the entire park grounds, but also art and culture. In addition to an original Voltaire painting in the hotel, we are exhibiting numerous sculptures in our garden as part of the Sculptures at the Park - Pastorale 2.0 exhibition, including works by the artists Rik Poot, Nicolas Alquin and Iris le Rütte. You can view the works of art at your leisure during a relaxing stroll through the park.
Romantik Hotel
Parc Broekhuizen
Romantik Hotel Parc Broekhuizen
Anita Bos
Broekhuizerlaan 2
Netherlands-3956 NS Leersum

You can easily reach our hotel in Leersum from Germany via the A1 or A3 motorways. Then take the A12 to Maarsbergen and follow Nederland. On the A12, take exit 22-Maarsbergen. Then follow the N226 and Broekhuizerlaan to your destination.

The largest train station nearby is Utrecht Centraal. From here, you can take bus number 50 to Leersum, Donderberg, for example. From here it is about 1.5 km. You can take a taxi or walk to us through the park.

The best way to reach us by plane is via Amsterdam Schiphol Airport. From here, you can travel via Utrecht by train and bus or conveniently rent a car.