Historic hostel, great view!
In one of the oldest hotels in the Netherlands, you will find traditional and warm hospitality at a high level. Willem van Oranje and Charlotte de Bourbon were married here in 1575 and were enchanted by the fantastic view over the harbour and the lake of Veere. Behind the thick walls of the historic tower, the beauty of antique furniture and comfortable rooms are impressive.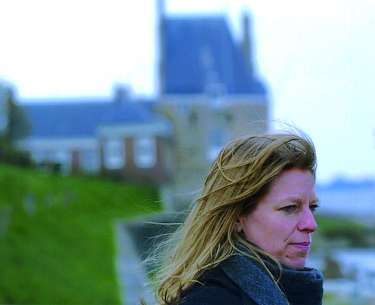 Your hosts
If you have always wanted to live in a tower by the water, you can fulfil this dream at least for a while at Hotel Auberge de Campveerse Toren. But not only princes and other nobles are welcome here. The host family Cranenburgh welcomes all guests with open arms and full of warmth. The hotel has been a family business for many generations, where cosmopolitanism and authentic hospitality are pleasantly combined. Experience an authentic piece of traditional hospitality in the historic ambience.
Our facilities
at Romantik Hotel Auberge de Campveerse Toren
Central Location
Child Friendly
Electric Car Charging Station
Free Wifi
Meeting Facilities
Parking Area
Pets Friendly
Quiet Location
Terrace
Welcome to our 500 year old inn!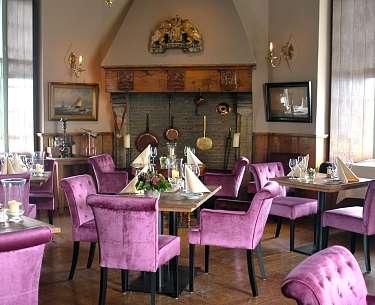 Restaurant Auberge de Campveerse Toren
The restaurant of our house is located on the first floor of the historic tower and offers a wide panoramic view over the Veerse Meer. In this idyllic ambience you can enjoy typical Zeeland specialities such as fish, crabs, mussels and local delicacies. Almost everything comes fresh from the Veerse See and the North Sea every day. Zeeland game is also one of the specialities of the house, which members of the royal family and foreign noble families also appreciated.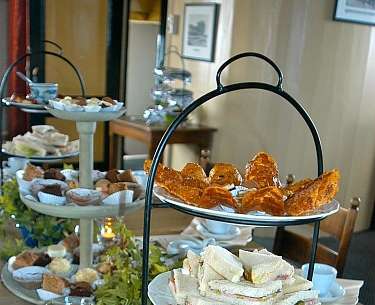 High Tea
Enjoy high tea at the hotel or on an island in the Veerse Sea.
High Tea 28,00 € p.P.
Pot of tea or coffee
Biscuits and chocolate
2 scones with jam and cream
Tarte tatin
Chocolate brownie
Sandwich with smoked salmon
Sandwich crab salad
Sandwich Coppa di Parma
Sandwich egg salad
Homemade Quiche Lorraine
Glass of Cava + € 8
Luxus High Tea 35,00 € p.P.
Glass of Prosecco at the beginning
Tea and coffee of your choice
Biscuits
Homemade chocolate
Homemade pastries
2 scones with jam and cream
Apple tarte tatin
Chocolate brownie
Sandwich with smoked salmon
Sandwich with crab salad
Sandwich Coppa di Parma
Homemade Quiche Lorraine
Chicken pate
Spicy balls Thai style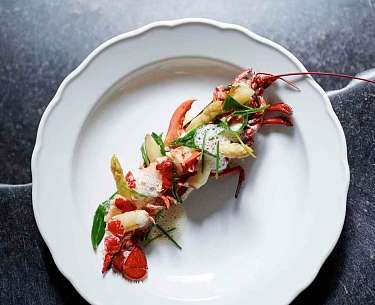 Oosterschelder lobster
From April to mid-July, you can enjoy Zeeland's most beautiful regional product, the Oosterschelde lobster, as part of a 3-course menu. With its unique slightly sweet taste, it clearly stands out from other European lobster species.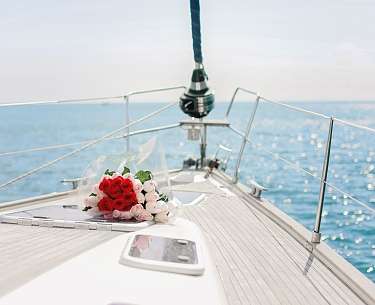 Wedding
Just imagine: You arrive in the old harbour on an antique sailboat, while your guests await you at the harbour entrance. Together with your wedding party you stroll to our hotel to celebrate the wedding ceremony or the dinner party. Get married in the tower with a view of the lake, have a picnic on the beach with family and friends and celebrate in the tower until late into the night - we will be happy to help you plan this special day.
Tower room: 65 people
Herrenkamer: 24 people
Café 2. floor: 40 persons
Terrace: 200 people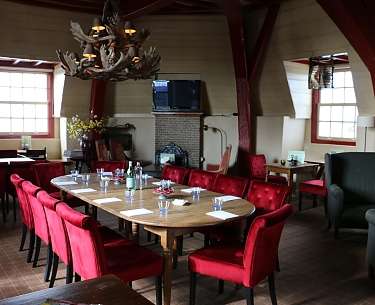 Conferences & Seminars
Romantik Hotel Auberge de Campveerse Toren has a meeting room with a lake view for up to 15 people. You can also take part in a seminar with up to 30 people in the Tower Room. You will get plenty of peace and privacy for brainstorming. The hotel has 14 rooms, all with private bathroom with bath or shower and toilet, TV and telephone.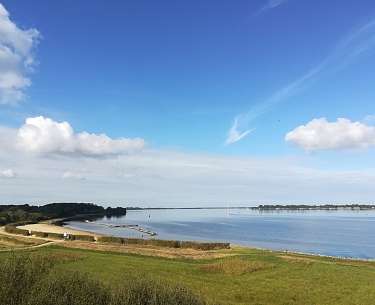 Picnic on an island
When did you last have a picnic outdoors? With your feet in the water? Sail out on the Veerse Sea on your holiday and take a romantic break on the island of Haringvreter, in the middle of the Veerse Sea. The island gets its name from the many seals that used to live here and were called "herring eaters" by the local fishermen. Today, the small islet is surrounded by forest and invites you to take a private break. Contact us, we will be happy to make you an offer including sailing and a picnic basket.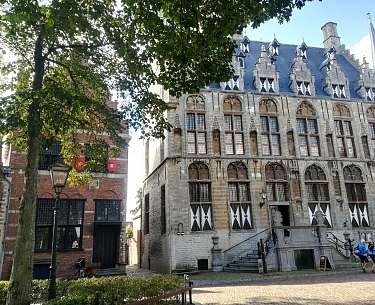 Experience Veere
In Veere you can visit the museum "de Schotse Huizen", where you can get a lot of information about the wool trade between Veere and Scotland. If you are travelling in a group, there is a guided city tour for groups of 8 or more. Take a walk around the historic fortress wall or discover the surrounding area on a hike through the sheep pastures. There's even a wooden raft for your adventure. Discover interesting facts at the following museums:
Sailing
Ship Ahoy! And set sail on the Veerse See. In combination with your hotel stay, book a sailing trip on the Veerse Sea with the boat 'Lady Blue', on which you can also learn to sail! During this unique Zeeland sailing trip you will get a different view of Zeeland. The "Lady Blue" offers space for 5 to 6 people. No sailing experience is necessary, but you should be energetic.
Wellness centre
About seven kilometres from our house, there is a wellness centre with sauna and various massages. There you can choose between different facial treatments, massages or body scrub treatments. A highlight is the traditional and relaxing Lomi-Lomi massage, a spiritual "deep tissue" massage from Hawaii. Do you also crave sporting activity? Then combine your wellness stay directly with fitness or do your laps in the adjacent swimming pool.
Romantik Hotel
Auberge de Campveerse Toren
Romantik Hotel Auberge de Campveerse Toren
Hendrina van Cranenburgh
Kaai 2
Netherlands-4351 AA Veere
NL - Zeeland -

For arrival by car, please use your navigation system. A public car park is available at the entrance to the village or behind the historic complex. The city centre is car-free.

Distance to Antwerp Airport approx. 93km
Distance to Rotterdam Airport approx. 101km
Distance to Brussels Airport approx. 132km
Distance to Amsterdam airport approx. 150km