Time to celebrate!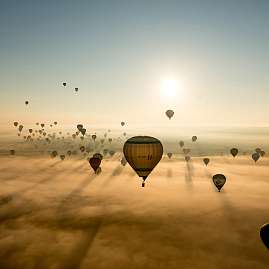 Whether it's majestic air shows, spectacular cultural events or exceptional hotels and restaurants across Europe, life has wonderful surprises in store for us. It is once more time to celebrate!
Grand Est Mondial Air Ballons Festival
Grand Est | France
What started off as a small bet 30 years ago is today the world's largest gathering of hot air balloons. Every other year, half a million spectators from around the world gather to marvel at the colourful air balloon spectacle in the Lorraine Regional Natural Park. The majestic air show, at which hundreds of hot air balloons rise up into the air, is open to the public free of charge and does not require prior registration.
Next date: July 2023
Address: Aérodrome de Chambley Planet'Air,
54470 Hagéville, France