Alpine landscape for hiking
The location is ideal: the alpine landscape impresses with mighty peaks, rugged mountain ranges and a total of 90 hiking routes for all levels - from beginners to professionals, everyone will find the routes that suit them. Hidden in all directions, quiet alpine pastures and cosy huts appear again and again, where visitors can take a break and fortify themselves with culinary delicacies of the region.
In this dream setting, at the foot of the Zugspitze, lies the Romantik Hotel Spielmann in the village of Ehrwald. In addition to the excellent cuisine and the versatile wellness offer, the hotel offers a varied sports, fitness and leisure programme in cooperation with the local outdoor experts from "Bergsport total". From ski tours to mountain hiking, climbing, cross-country skiing, golfing, biking or outdoor sports, everything is included that brings body and soul into harmony, produces happiness hormones, gives strength and new energy. We present some popular offers here.
Trail running - the mountain calls
Follow forest and meadow paths, run through forests and along mountain streams, and when the mountain calls, head high into alpine terrain. Trail running is close to nature, the landscape is enjoyed intensively. The endurance training is easy to control so that no one gets carried away. Beginners can try out easy trails in the valley and advanced runners can dare to try mountain trails with sometimes extreme gradients. A total of 27 trail running routes await sports fans in the region; three different routes start directly at the Romantik Hotel Spielmann.
Exercise under the open sky with your own body weight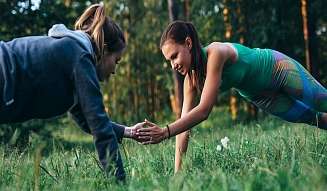 Bike tours - for connoisseurs and adventurers
Which bike type do you belong to? Do you want to cycle leisurely with the family, enjoy the countryside or seek a challenge on mountain tours with off-road sections? Cycling enthusiasts are guaranteed to find the right thing for their needs in the Tyrolean Zugspitze Arena region. Around 3,000 kilometres of cycling routes with over 100 designated tours of all levels of difficulty await cycling fans - whether they are pleasure cyclists or sporty, ambitious bikers. New in the programme for freestyle fans: E-bike trail adventure. With a bike guide, it's off into the countryside on fast tyres over roots, sticks and stones. A little preparation increases the riding fun, which is why technical training is part of the programme.
Outdoor training - all natural!
It all looks so relaxed and easy! Fitness trainer Robin welcomes his guests to the outdoor programme, where they train mainly with their own body weight on completely natural obstacles. Pull-ups on strong branches, overcoming wooden climbing walls, crawling under tree trunks, a few push-ups, then simply running across a forest meadow... Everyone according to their possibilities, no one is overtaxed, play and fun are the top priority.
Climbing - the Zugspitze awaits
This is an adventure for children (from 8 years) and adults, where basic climbing skills are taught. In addition to skill exercises, active and passive abseiling are practised, for example, as well as crossing obstacles, rope bridges and gorges. An easy to moderately difficult via ferrata awaits participants on the mountain adventure on the Wassersteig. Particularly popular among the many tours on offer is the classic climb up the Zugspitze, Germany's highest mountain. The walking and climbing time is around six hours, and the level of difficulty is rated easy. According to the mountain guides, the 1,800 metres in altitude that have to be overcome are less of a technical problem and more of a physical one. The way back is then quite relaxed to compensate: The Tyrolean Zugspitzbahn takes you comfortably back to the Romantik Hotel in Ehrwald.