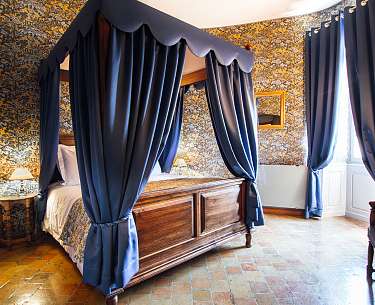 Built in 1235 by the Counts of Macon, Chateau d'Ige has 4 feudal towers in the front and two 13th towers overlooking the beautiful, tranquil gardens at the rear. The rooms are charming and elegant matching the warm welcome which awaits the guests. A further highlight is the suite in the 'Garden Tower' where you can sleep beneath a beautiful gothic style vaulted ceiling. Situated just 12 km from Cluny in Southern Burgundy with its Romanesque churches, vineyards and highly acclaimed local produce which is celebrated in the cuisine served in the medieval style and Louis XIII dining rooms. When the weather is fine you can enjoy your meals on the shaded terrace with the pleasant background noise of gently running water.
Château d'Igé
Guillaume Mithieux
Château d'Igé
France-71960 Igé
FR - Bourgogne-Franche-Comté -

A6 sortie 29 Mâcon centre, N79 dir. Moulins, Montceau, sortie 4 La Roche-Vineuse, dir. Verzé, Igé.
Mâcon-Loché (17km)

Lyon-Saint-Exupéry (105km)
Geneva (168km)